UCLA study finds high microplastic concentrations in urban park playgrounds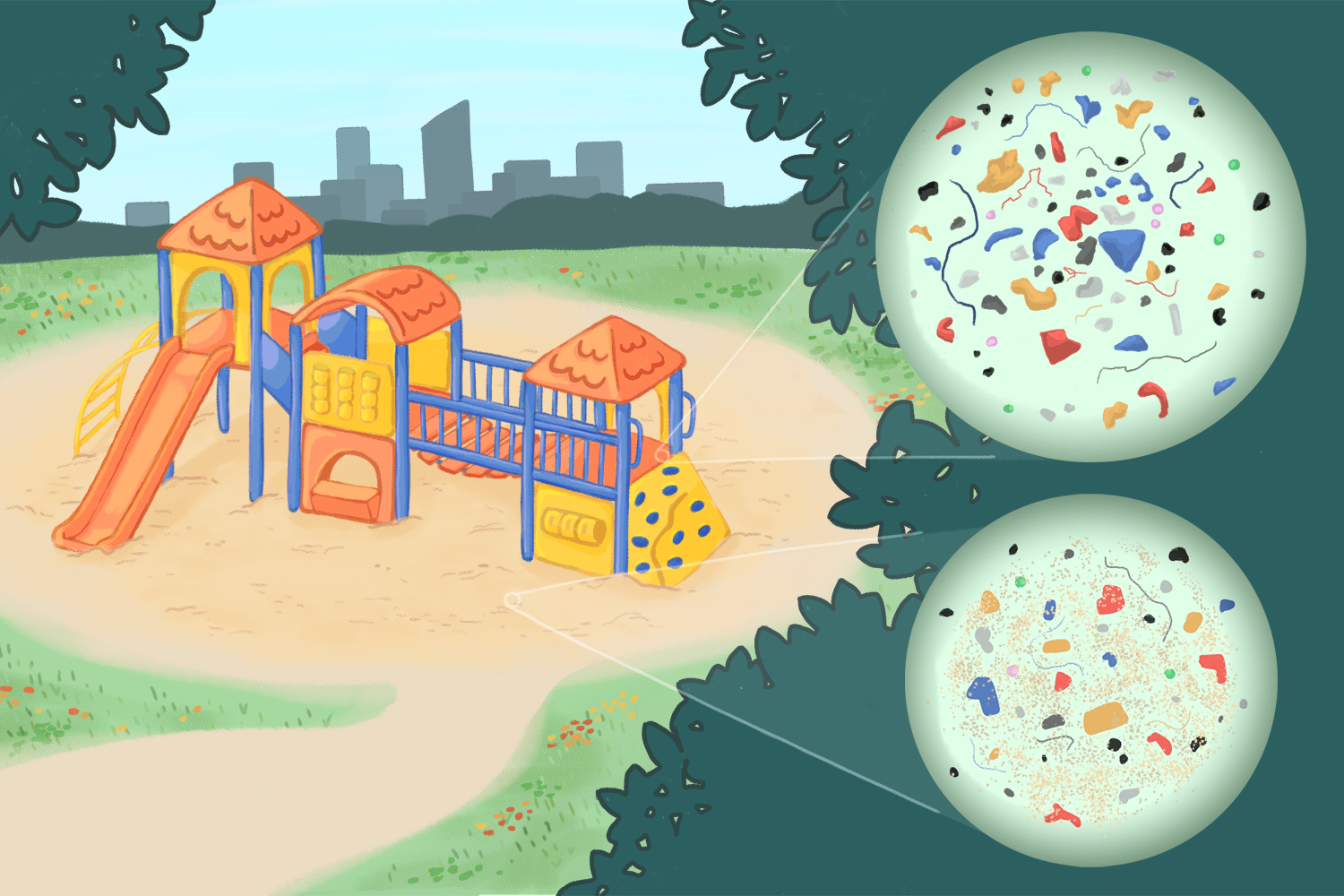 This post was updated Jan. 12 at 11:41 p.m.
UCLA researchers published a study indicating that children's playgrounds contain more microplastics than other areas in urban parks.
The study, which was published in September, found that microplastic concentrations were, on average, five times higher within playground areas compared to non-playground areas in the urban parks tested, said Jamie Leonard, a doctoral student in civil and environmental engineering and co-author of the study. Microplastics are pieces of plastic smaller than five millimeters, said Sanjay Mohanty, an assistant professor of civil and environmental engineering and co-author of the study, adding that people ingest microplastics daily through many activities.
There are not many studies about the possible negative effects of microplastic exposure, as many researchers are studying the number of microplastics in the environment first, Leonard said. However, microplastics have been associated with decreased crop production and changed photosynthesis rates in organisms such as phytoplankton, an important part of the marine food web, she added.
Leonard said the motivation behind the study was to help people recognize the risks microplastics could pose, as many people would not want their children to be consistently exposed to pollutants with unknown risks.
"As an adult, we can make choices, but as a kid, we don't," Mohanty said. "We go to the places where our parents take us, so it's very important to understand the places we take our kids to and see whether there is any negative impact without our knowledge that we are making them face."
The researchers carried out the study by collecting sand samples from various urban parks around the Los Angeles area, said Lea Ann El Rassi, a third-year molecular, cell and developmental biology student and co-author of the study.
Mohanty said the study's findings were surprising as playgrounds are usually built away from major roads and highly developed areas that generate large amounts of microplastics.
The researchers determined the plastic structure of the playground may be contributing to the elevated microplastic concentration, Leonard said, adding that children playing on these structures could be causing small bits of plastic to break off. Ultraviolet radiation may also be leading to plastic breakdown, she also said.
The presence of microplastics in tested soil and weeds indicates that children could possibly be exposed to microplastics through ingestion and inhalation, Leonard said. She added that external factors, including microplastics from food packaging or wastewater, could also be contributing to microplastic concentration in playgrounds.
El Rassi said she hopes this study will both raise awareness of the consequences of plastic usage and add to a larger effort to discover connections between environmental conditions and human health. She added that she would like health officials and other policymakers to understand the results of the study and come up with ways they could minimize childhood microplastic exposure.
Mohanty said he hopes to see future research regarding how different factors influence microplastic contamination. For example, he said research on how socioeconomic factors may affect microplastic exposure levels would be interesting, as factors such as proximity to freeways may cause disparities.
While plastics are currently widely used because of their strength and durability, it is important to be conscious of the fact that society will have to deal with the currently unknown long-term effects of microplastic exposure, Leonard said. If society continues to use plastics in the same way, microplastic contamination levels will exponentially increase, she added.
"The health implications (of childhood microplastic exposure) could be really broad," Leonard said. "We don't know, I guess, what that would do to the body over years and years and years, which is always dangerous."