Op-ed: Low-income Latino students require resources to overcome impostor syndrome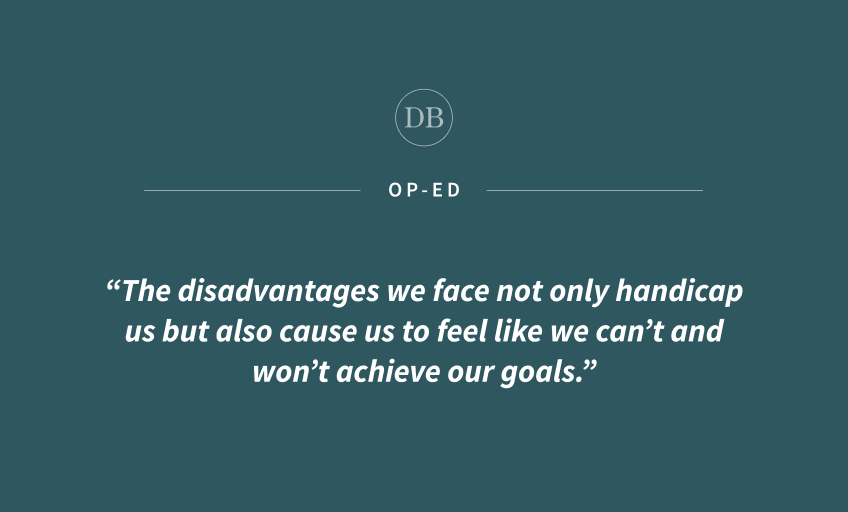 Although UCLA is home to 31,600 undergraduate students, only 21% of students are of Hispanic origin. Arriving at the No. 1 public school in the nation, it is easy to feel overwhelmed, or even outnumbered, as a low-income Hispanic student.
As is the case for many Latino students coming to UCLA from low-income communities, including myself, I felt I didn't belong and was always worried I wasn't good enough.
Turns out, I have impostor syndrome.
Also known as impostor phenomenon, the psychological experience in which high-achieving students underestimate their own self-worth in academia is not an uncommon experience in the Hispanic community.
As the daughter of immigrants, I thought college was the only way to guarantee I had the best future possible. When I was accepted to UCLA, I was ecstatic – but that changed as soon as I stepped foot in a lecture hall. I did not experience the sense of belonging I thought I would.
Recently, I conducted an informal survey among a few of my Hispanic peers who came from low-income communities about how impostor syndrome has affected their time at UCLA, including their academic performance. Around 93% answered "Yes" when asked whether they experienced impostor syndrome at UCLA and described how it negatively impacted their academic performance.
None of the participants' responses came as a surprise to me.
In her response, Brettany Valenzuela, a second-year sociology student, recalled her inability to attend social events or even attend classes on a regular basis because of a troubling self-doubt that left her questioning her future in college.
Although Valenzuela eventually learned to cope with impostor syndrome and embrace her identity, the problem continues to persist within our communities.
Low-income Latinos I know often attend college and pursue careers in medicine or law so they can provide their children with better opportunities than they had.
But when they try to, they face discrimination and microaggressions – but worst of all, they suffer because they feel others are right to assume they do not belong.
Perhaps the problem of impostor syndrome originates in the community one comes from – such as the Latino community – because those same communities lack the resources that students need to feel welcomed at colleges like UCLA.
We are unable to succeed in the same ways as non-Latino students because the resources are simply unavailable or substandard. I know firsthand what it is like to entrust a school with your education and have the institution let you down.
The disadvantages we face not only handicap us but also cause us to feel like we can't and won't achieve our goals.
According to the Pew Research Center, Hispanic students continue to be underrepresented in STEM, making it harder for us to seek the reassurance and gain the confidence we need. On the other hand, students in humanities such as myself often feel out of place in lectures and class discussions. In a previous class of 40 students, I never sat in the same spot yet I was always surrounded by non-Latinos.
Our prestigious institution has failed us numerous times in granting us access to resources both inside and outside the classroom. It has left a tangible impact on our lives.
And yet, too little research has been done on the topic. Today, there have been studies done to determine the increased likelihood of people of color dying from COVID-19 and studies done to determine whether video games impact mental health, but there has yet to be enough substantial research on mitigating the impacts of impostor syndrome for low-income Hispanic students.
And that needs to change.
Studies about low-income Latinos who experience impostor syndrome would undoubtedly help future generations in coping with the experience.
Impostor syndrome results in isolation from one's school community. It is to endure a constant fear of failure and an uneasy sense of unbelonging.
Current and future low-income Latino students should be able to obtain an education without these feelings holding them back.
Elizabeth Cervantes is a second-year history student with a minor in Chicana and Chicano Studies. She hopes to advocate for low-income Latino students who have been impacted by impostor syndrome as well as to spread awareness about the issue.