Dunkin' grand opening stirs up excitement among Westwood community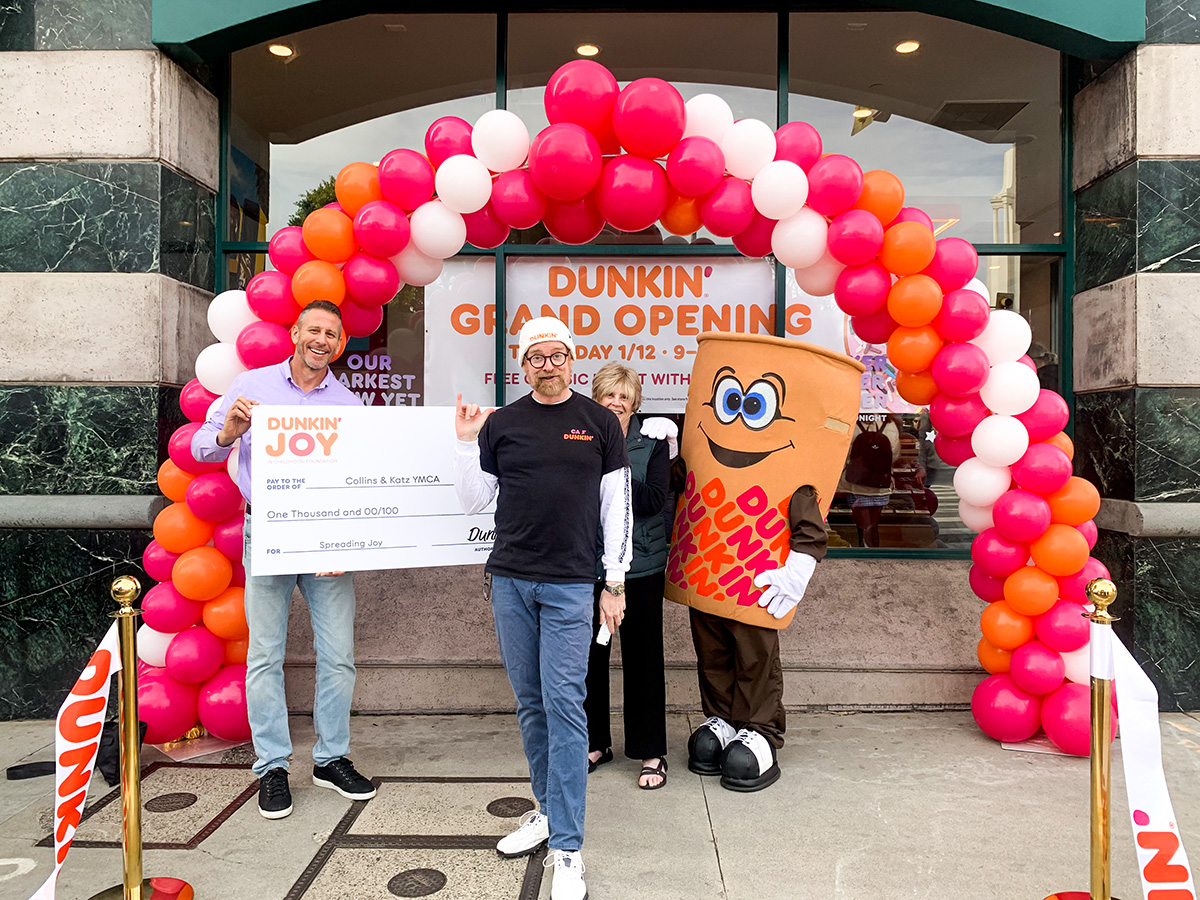 After a soft opening in December, Dunkin' held a grand opening ceremony Thursday morning to introduce its first Westwood location to the community. (Constanza Montemayor/Daily Bruin senior staff)
An official ribbon cutting ceremony took place Thursday to present the new Dunkin' in Westwood Village.
Several dozen Bruins, UCLA employees and Westwood residents gathered on Gayley Avenue on Thursday morning to see the opening ceremony, modern interior design and new technology, as well as enjoy a free doughnut with any purchase.
After launching a soft opening last month and struggling with setbacks because of prior COVID-19 restrictions, Manuel Meacham, the Dunkin' district manager, said he hopes the event will advertise its official opening to the Westwood community and welcome customers to the store. The store's fully cashless and digital format, with self-order kiosks, makes it easier for the UCLA community to quickly grab some coffee and doughnut on their way to work or class, Meacham added.
As the restaurant is one of the first in the company's network of next-generation restaurants, Dunkin' was eager to bring the newest technology to the Bruin community, Meacham said.
"One of the best things we could do to help efficiency and speak to the next generation is to make it fluid," Meacham said. "Everything's on an app now."
Community members gathered around a Dunkin'-themed arch of pink, orange and white balloons to watch for the official ribbon-cutting ceremony. The Dunkin' Joy in Childhood Foundation also presented a $1,000 check to the Collins & Katz YMCA in west Los Angeles at the ceremony as part of Dunkin's mission to work with the community, Meacham said. Outside the store, Dunkin's mascot, Dunkin' Cuppy, greeted guests, who had the chance to spin a wheel to win Dunkin' merchandise.
Patty Grijalva, a UCLA administrative assistant, said she was excited to have a new store in Westwood to pick up coffee and doughnuts from near her place of work.
After hearing about the ceremony through her community in Westwood, Marina Lopez, a sociology graduate student, said she chose to attend the grand opening and grab a chocolate frosted with sprinkles doughnut before starting her day.
"I'm a Dunkin' die-hard," Lopez said.
Some community members have expressed worries about the technology in the new store.
Although she was excited to get a free doughnut, Lopez said she was somewhat worried about the new next-generation model. She said she had concerns the fully digital model might prevent some community members who cannot pay cashless, such as those experiencing homelessness, from visiting the store.
Mauve Spillare, a fourth-year comparative literature student, said the digital format also significantly reduces personal contact between Dunkin' employees and their customers.
However, Steve Palacios, the store's general manager, said he believes the tap system gives employees more opportunity to interact with guests beyond the register. Guests and employees can still interact since the kitchen and tap system are close to one another, he added.
While Dunkin' is still meeting with local businesses and the Westwood community, it is possible future events and possible collaborations are in sight, Meacham said. As Dunkin' settles down, Meacham said he hopes to plan a similar event sometime in the spring for Bruins and the Westwood neighborhood.
"It's great to be here in Westwood, and we look forward to growing a great partnership … and becoming your neighborhood Dunkin'," Meacham said.