Scouting report: UCLA women's soccer vs North Carolina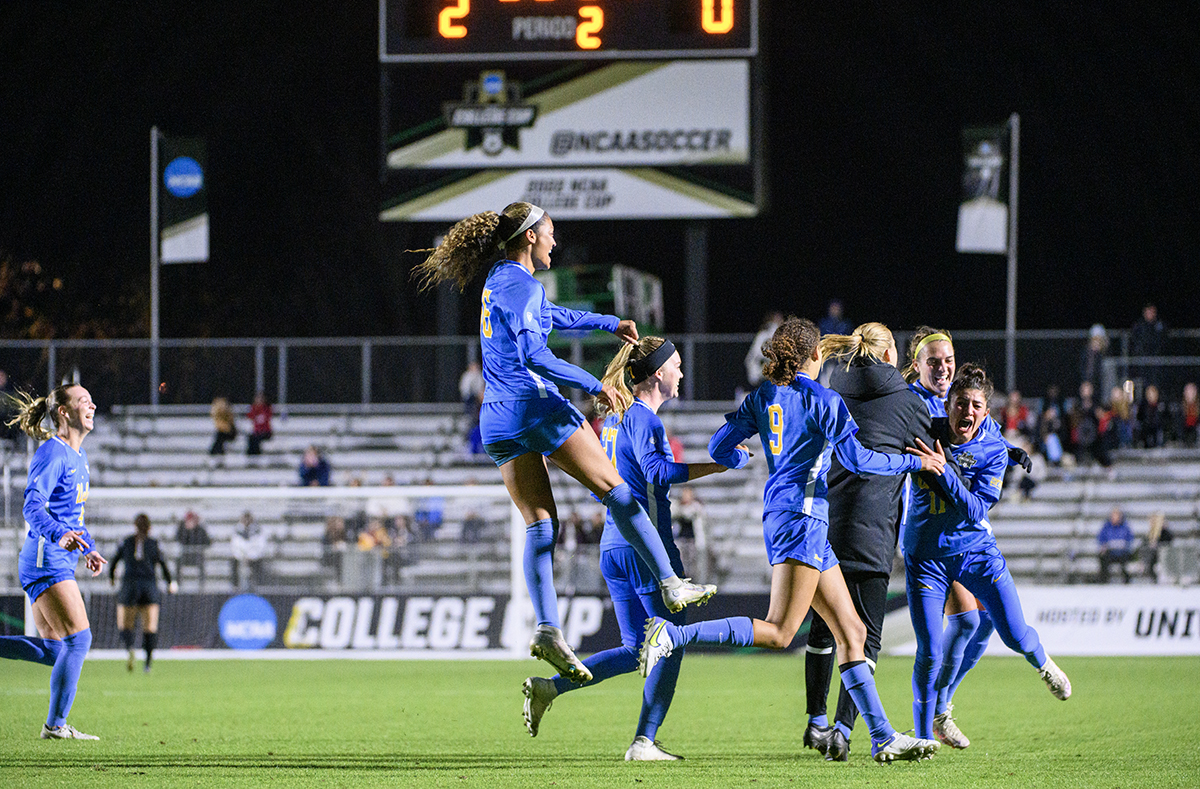 The UCLA women's soccer team celebrates. The Bruins will face No. 2 seed North Carolina on Monday in the National Championship game after defeating No. 1 seed Alabama in the semifinal contest. (Christine Kao/Daily Bruin staff)
No. 1 seed UCLA women's soccer (21-2-1, 9-2 Pac-12) will face off against No. 2 seed North Carolina (20-4-1, 8-2 ACC) in the national championship game at 3 p.m. on Monday. The Tar Heels are attempting to win their 22nd NCAA title, while the Bruins will have a chance to win their second title in program history. Here is the scouting report from Sports staff writer Jay Fenn – who, after growing up in San Diego, is not accustomed to the 30-degree weather in North Carolina.
North Carolina
Goals per game: 2.44
Goals allowed per game: 0.68
X-factor: The greatest collegiate women's soccer coach of all time
Don't get me wrong, UCLA coach Margueritte Aozasa has put together an incredible first season at the helm of the blue and gold – one that includes Pac-12 Coach of the Year, Pacific Region Staff of the Year and the Bruins' first trip to the national championship since 2017.
However, Aozasa will have her work cut out for her Monday when she lines up opposite of North Carolina coach Anson Dorrance.
Dorrance is at the tail end of his 46th season in Chapel Hill. His career boasts a whopping 21 national championships and 921 victories leading the women's team. He is the only coach in NCAA history to win 20 NCAA championships in any sport.
On the bright side for the Bruins, the Tar Heels will be without two All-Americans on Monday night, with 2021 All-American defender Maycee Bell sustaining a knee injury in the opening game of the season and 2022 All-American forward/midfielder Sam Meza missing due to an injury in the ACC tournament.
The Tar Heels are paced up front by defender/midfielder/forward Avery Patterson, who has scored 11 goals and tallied eight assists this season. Forward Ally Sentnor is second on the team in scoring with 10 goals. She seems to be finding top form at the right time, scoring half of those goals in the team's five NCAA tournament games.
North Carolina tends to send a lot of numbers forward when it attacks, which gives it the advantage in the opposing team's third of the field, but leaves it susceptible to counter attacks.
UCLA junior forward Reilyn Turner took advantage of that in the team's earlier matchup this season – a 2-1 victory for the Bruins – when she took the ball the length of the field off a failed Tar Heel attack and scored the game winner.
North Carolina has very few weak spots, so Aozasa will have a tall task trying to outclass the most prolific college coach of all time.
UCLA
Goals per game: 2.71
Goals allowed per game: 0.5
X-factor: Forward Reilyn Turner
Turner has done nothing but score big-time goals over her career in Westwood.
In her freshman campaign, the 2020 Pac-12 Freshman of the Year scored an 86th-minute equalizer and 90th-minute game winner to beat Iowa in the second round of the NCAA tournament. Last season, Turner tallied the lone goal in the blue and gold's victory over defending champion Santa Clara. She has been everything the Bruins needed up front this year, tallying 10 goals and a team-high seven game-winners.
Turner has been quiet on the stat sheet the past eight games, only tallying one goal, which came in the national semifinal win over Alabama on Friday. If UCLA wants to take down North Carolina on Monday, it will need its star forward to do what she's done her whole career and step up when the lights shine brightest.
On the other end of the field, UCLA is led by the Pac-12 Defender of the Year in sophomore Lilly Reale. The second-team All-American is accompanied by fellow sophomore defenders Jayden Perry and Quincy McMahon, a trio that will play the whole 90 minutes on Monday.
Graduate student defender Madelyn Desiano rounds out the backline and has come on offensively as of late. She has scored two goals so far in the tournament, including an incredible goal against Alabama.
Graduate student goalkeeper Lauren Brzykcy represents the Bruins' final line of defense, with 29 solo shutouts over her career. The 2020 Pac-12 Goalkeeper of the Year will don the blue and gold for the final time Monday, where she will look to end her illustrious career on top.
If there has been one weak spot for the Bruins this year, it has been set pieces. The Bruins have allowed a plethora of goals this year off set pieces and have been extremely poor at defending corner kicks against higher-quality opponents.
UCLA allowed a goal off a corner kick in its first matchup against North Carolina earlier this year and allowed another in its 1-0 defeat to Stanford in October. The Bruins simply cannot afford to give up a cheap goal on a free kick if they want to take down an offense as good as the Tar Heels'.
Even with an elite backline and goalkeeper, UCLA will have to play its best game yet to keep North Carolina off the board for the entirety of match.
If Friday's victory against Alabama showed anything, it was that the blue and gold can create a goal at any time with any player. But if I had to bet on one person to be the hero, it's Reilyn Turner.
Fenn is currently a Sports staffer on the baseball beat. He was previously a reporter on the women's soccer beat and a contributor on the beach volleyball and men's and women's golf beats.
Fenn is currently a Sports staffer on the baseball beat. He was previously a reporter on the women's soccer beat and a contributor on the beach volleyball and men's and women's golf beats.