UCLA women's soccer to face North Carolina in NCAA championship game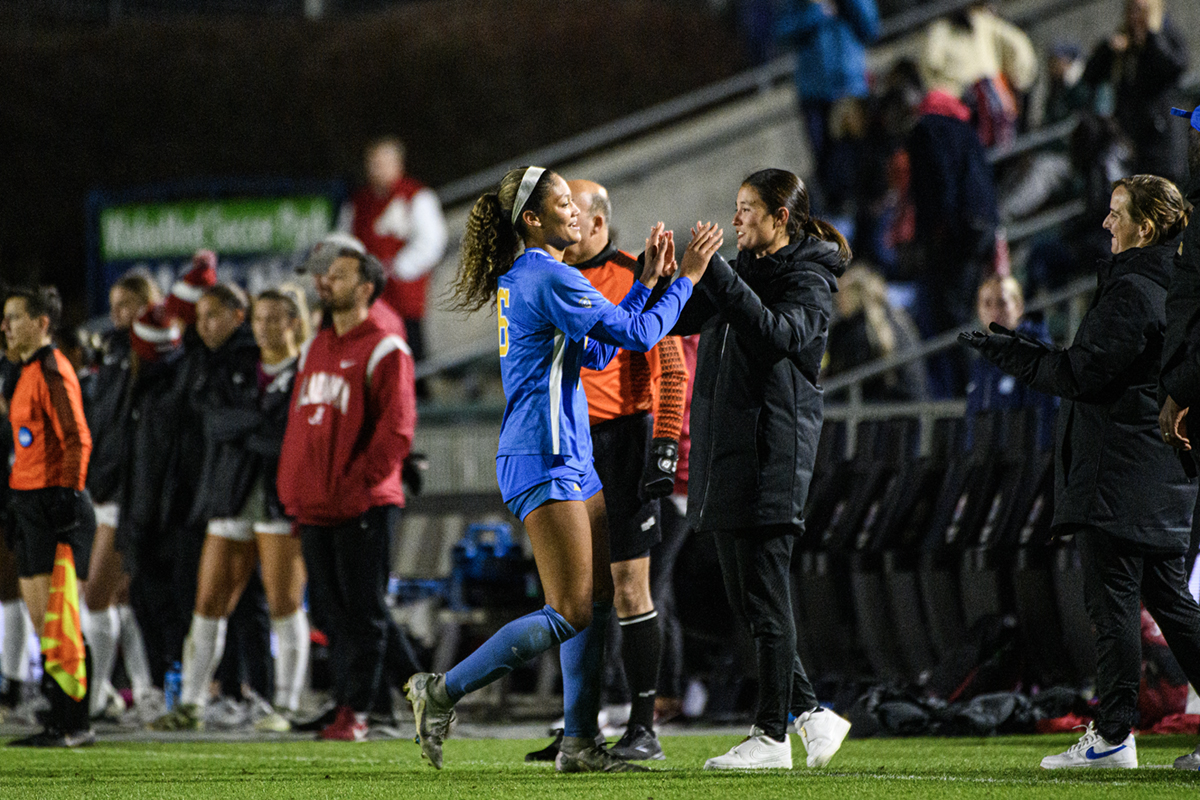 Junior forward Reilyn Turner high fives coach Margueritte Aozasa. No. 1 seed UCLA women's soccer will take on North Carolina in the national championship game Monday. (Christine Kao/Daily Bruin staff)
Women's Soccer
---
No. 2 seed North Carolina
Monday, 3 p.m. PST
Cary, NC
ESPNU
Last season, the second-seeded Bruins walked off the field in tears after being upset in the first round of the NCAA tournament.
A year later, they are set to play in the national championship game against the most storied program in women's college soccer history.
No. 1 seed UCLA (21-2-1) will face off against No. 2 seed North Carolina (20-4-1) in the NCAA championship game Monday in Cary, North Carolina. The Bruins are aiming to take home their second NCAA title in program history, with their lone crown coming in 2013. The Tar Heels are going for their 22nd NCAA championship, with their most recent in 2012.
"It (a national title) was a goal of ours from the very beginning, but quite honestly, at the beginning of season, I wasn't quite sure how attainable that was," said coach Margueritte Aozasa. "To see it actually materialize is kind of like a dream come true."
Aozasa, who is in her first season at the helm of the Bruins, will look to follow in Amanda Cromwell's footsteps and win an NCAA championship in her first year in charge, just as the former head coach did in 2013. The Pac-12 Coach of the Year has plenty of postseason experience after winning two national championships as an assistant at Stanford, including one in 2017 against UCLA.
UCLA handled fellow No. 1 seed Alabama 3-0 on Friday night, while the Tar Heels beat No. 1 seed Florida State 3-2 to advance to the title game. Throughout the NCAA tournament, the Tar Heels have tallied two victories over No. 1 seeds and 16 goals across five games.
The Bruins have accumulated 14 shutouts on the season, including their most recent against Alabama. They are led by the Pac-12 Defender of the Year, sophomore Lilly Reale, and anchored in the back by graduate student goalkeeper Lauren Brzykcy.
Reale said the Bruins will stick to their game plan in order to shut down the Tar Heel offense.
"It's just going to be everyone knowing your role, owning it and really committing to marking your players," Reale said. "It'll be kind of like our coaches say, like a chess match. We just have to figure out ways to break them down and then hold them off offensively."
UCLA traveled to Chapel Hill on Sept. 4 and defeated then-No. 1 North Carolina by a score of 2-1, capping off a road trip that also saw a victory over then-No. 2 Duke. The win over the Tar Heels came off the foot of junior forward Reilyn Turner, who scored the game-winner in the 84th minute goal.
Aozasa said the Bruins will come into Monday with a different game plan after playing a more defensive and conservative strategy in the earlier matchup against the Tar Heels.
"Our approach will be a little different now that a whole season is under our belt," Aozasa said. "We may not have to be nearly as conservative as we were the first time. But, at the same time, we have to respect what UNC does and what they do well, and that's being aggressive going forward."
Brzykcy is the lone member of the UCLA roster with national title game experience, who redshirted her freshman season in 2017 and was on the sideline as the Bruins fell to Stanford in Cary.
The graduate student said she has learned a lot from her multiple visits to the College Cup.
"It doesn't matter how you start, it matters how you finish," Brzykcy said. "Being able to be at those other two cups (2017 and 2019) have shown me all the hard work you really have to do throughout the whole year."
UCLA will kickoff against North Carolina at 3 p.m. PT with the game broadcasted on ESPNU.
Fenn is currently a Sports staffer on the baseball beat. He was previously a reporter on the women's soccer beat and a contributor on the beach volleyball and men's and women's golf beats.
Fenn is currently a Sports staffer on the baseball beat. He was previously a reporter on the women's soccer beat and a contributor on the beach volleyball and men's and women's golf beats.