Bruins hold vigil to honor Urumqi fire victims, support 'zero COVID' protests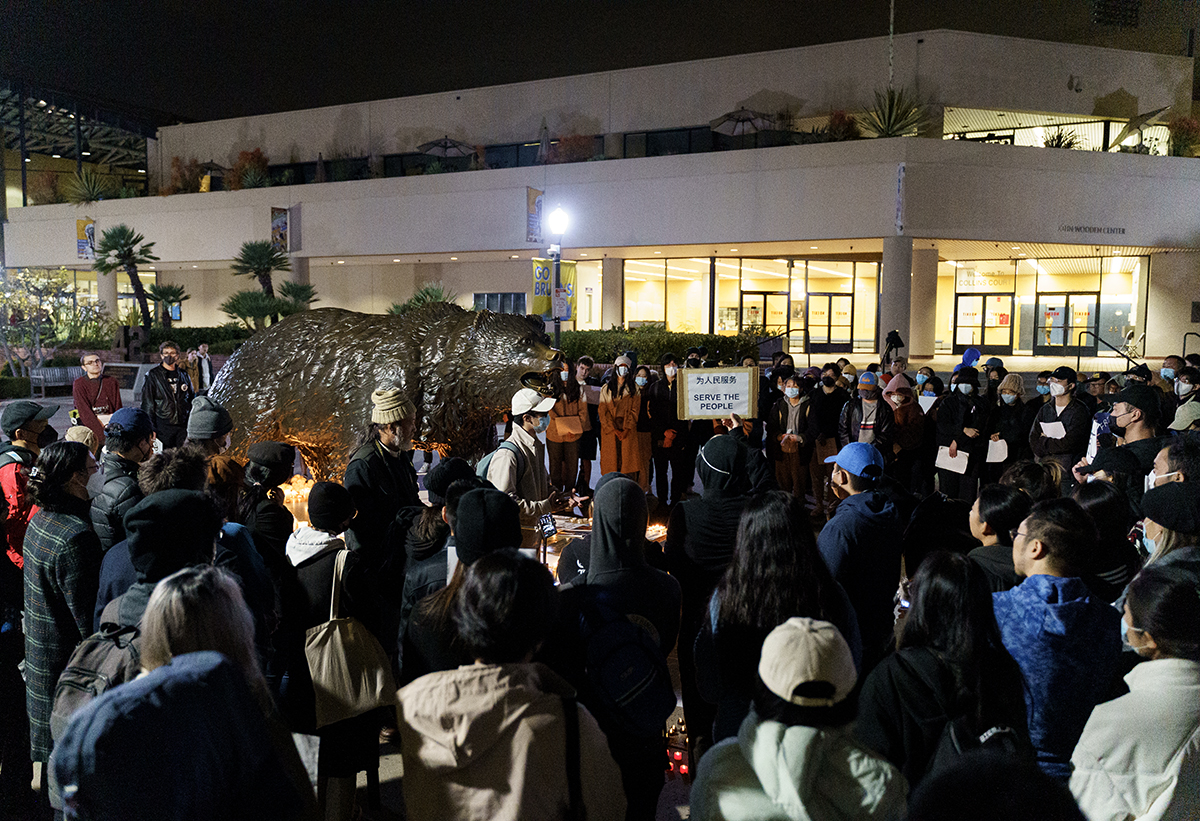 Over a hundred people gather at Bruin Plaza for a vigil. The vigil honored the victims of a deadly fire in Urumqi, China, and stood in solidarity with those protesting the country's "zero COVID" policy. (Esther Ma/Daily Bruin staff)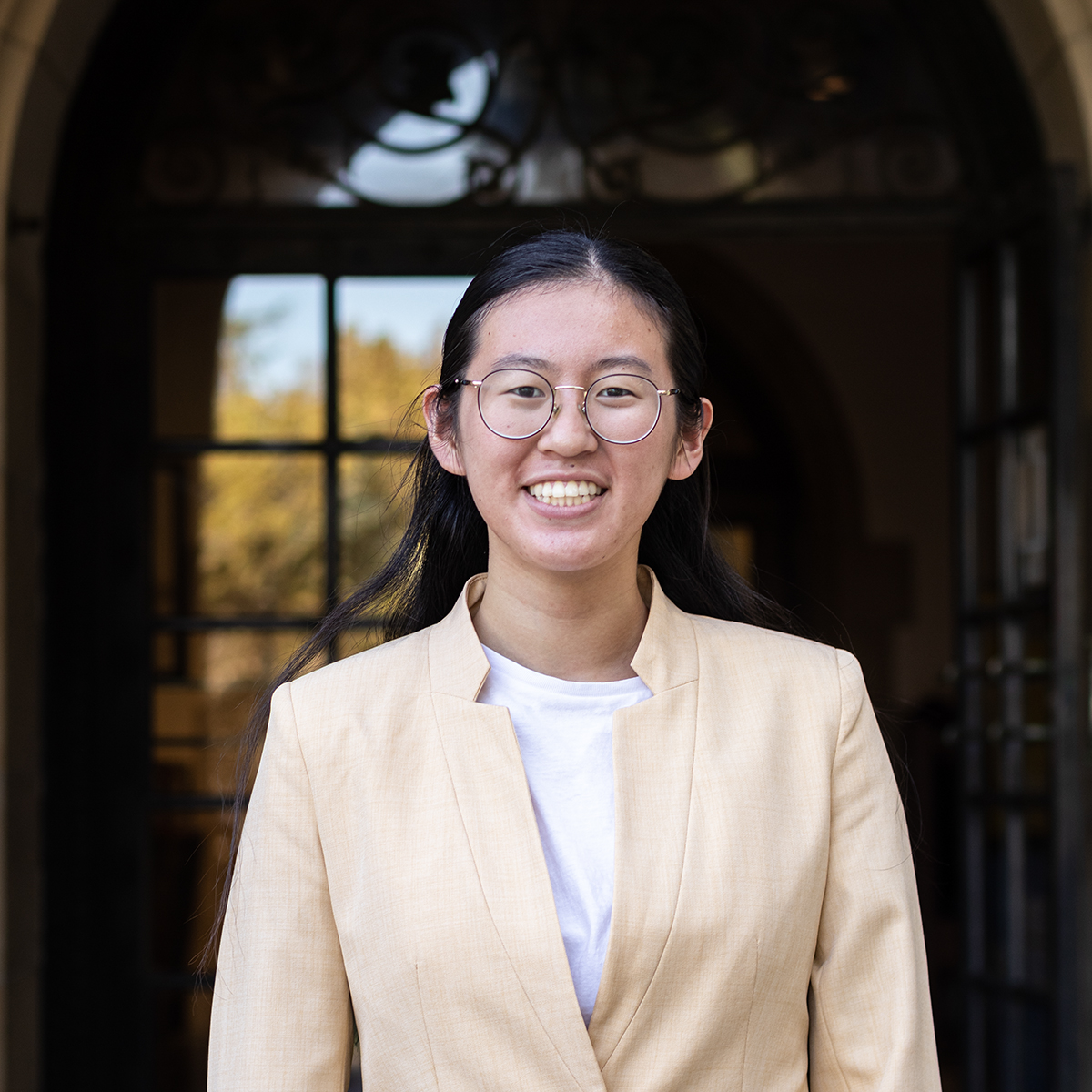 More than a hundred people gathered for a vigil Thursday evening at Bruin Plaza to honor the victims of a recent deadly fire in Urumqi, China.
Attendees placed flowers, signs and candles around the Bruin Bear statue at the student-organized event held in remembrance of 10 people killed in a Nov. 24 fire in the capital of China's Xinjiang region. The event was also in solidarity with recent protests across China in response to its controversial COVID-19 policies. According to witnesses, the apartment building where the fire took place had blocked off exits because of COVID-19 lockdown protocols, possibly delaying rescue efforts and trapping people inside.
According to The Washington Post, China's "zero COVID" policy – which has been in place since early 2020 and includes extensive testing and mandatory isolation in government facilities – has led to people being denied essential medical treatment and subjected to long lockdowns. The policy and deaths resulting from the fire have sparked protests in major cities such as Shanghai and Beijing, marking the largest backlash the government has faced in decades, according to the Associated Press.
Attendees at the vigil, many wearing masks, hats and glasses to obscure their identities, chanted "Free China" and called on government officials to step down. Some shared stories of their own experiences with government restrictions, and others wrote messages of support on signs such as, "Our friends in China on the front line, don't give up!"
Zilana Aikebaer, a neuroscience alumnus who grew up in Urumqi, said her grandmother died because COVID-19-related restrictions prevented her from receiving treatment for cancer.
"I'm surprised that it took this fire to let the whole nation realize that there's something going on," she said. "A lot of my close friends, family, grandparents – they all passed away, and they (their families) don't even have a chance to see them for the last time. So when I heard about the fire, I mean – this is only like an alarm, right? This is only the tip of the iceberg."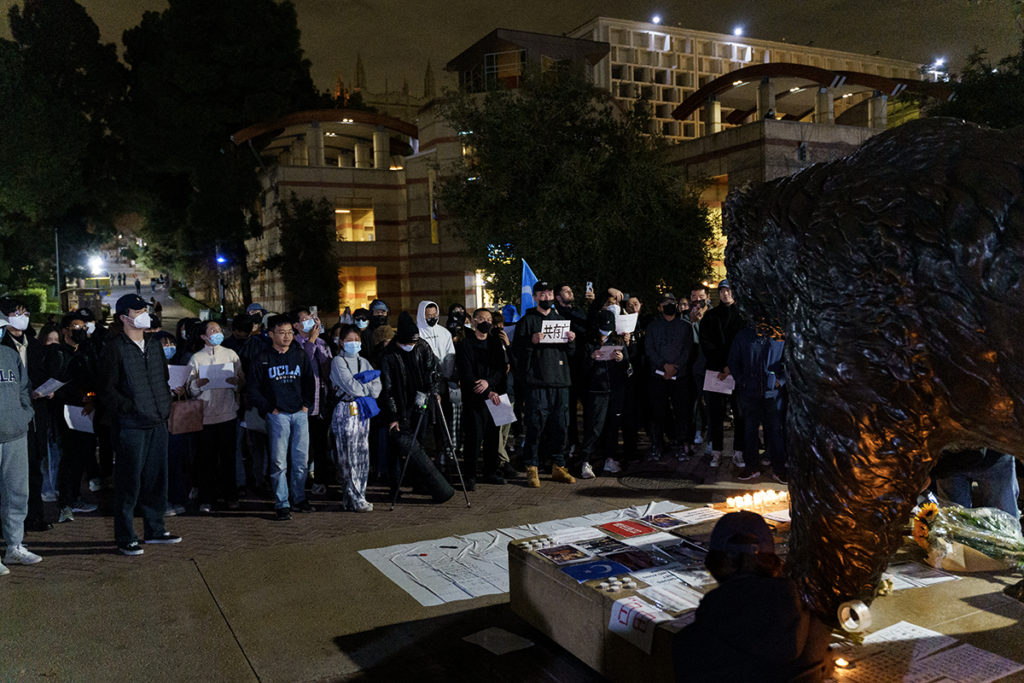 Speakers at the vigil also cited other damaging effects of the policies, such as Shanghai residents running out of food during a lockdown in the spring and a September bus accident in Guizhou that killed 27 passengers being taken to quarantine.
As they spoke, attendees at the vigil held up blank sheets of paper – a known metaphor for the Chinese government's censorship of dissent. According to AP, police have detained dozens of protesters in China, and the government has censored online messages of support for the protests.
An undergraduate student who helped organize the event and wished to remain anonymous out of concern for their safety said events like the vigil are important to show solidarity with those protesting in China.
"Some protesters – they have VPNs, and they can access the videos that are not posted within the Great China Firewall," they said. "We're just doing this to give them more courage to participate in further protesting."
They added that public pressure from people in countries outside China might spur other nations to take decisive action and condemn these events.
Modin, a fourth-year applied mathematics student who attended the vigil and requested partial anonymity out of concern for their safety, said they believe the Chinese government will not be able to sustain the "zero COVID" policy in the face of continued peaceful protests.
Though Chinese officials have continued to defend the policy, local authorities – including the city government of Beijing – began easing some restrictions Monday, according to AP. President Xi Jinping also suggested Thursday that COVID-19 prevention measures might be relaxed nationwide, according to CNN.
"I think it means everything that we here are standing up for people, for our people, because they do not have the power," Aikebaer said. "Us doing this kind of spreads awareness to this whole entire world about what's happening. … Our voices don't just stop here."
Dai-Liu is a News reporter on the science and health beat and a Copy contributor. She is currently a a second-year neuroscience student.
Dai-Liu is a News reporter on the science and health beat and a Copy contributor. She is currently a a second-year neuroscience student.