Beat Breakdown: Daily Bruin's women's volleyball writers discuss what went wrong for UCLA in 2022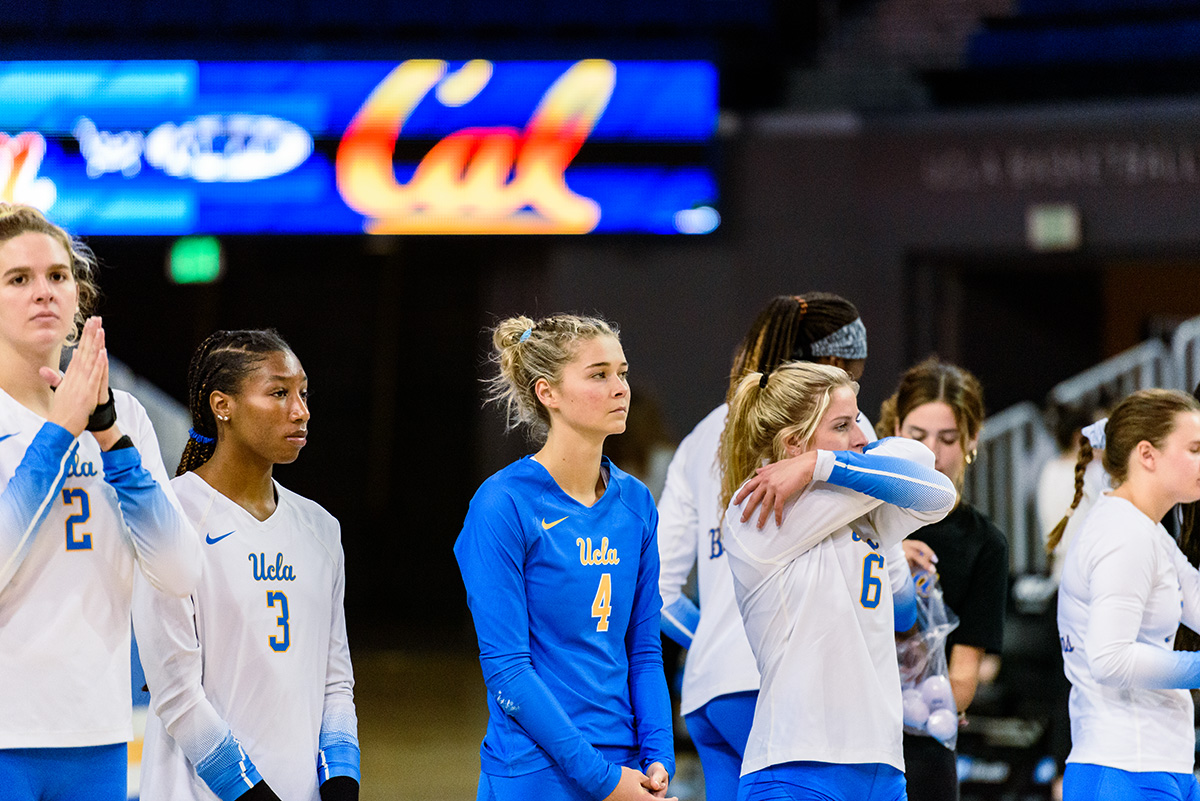 The team stands together during a game. Despite starting the preseason ranked No. 12 in the nation, the Bruins had a lackluster regular season that ultimately cumulated in a lack of a postseason for the third time in program history. (Shane Yu/Daily Bruin)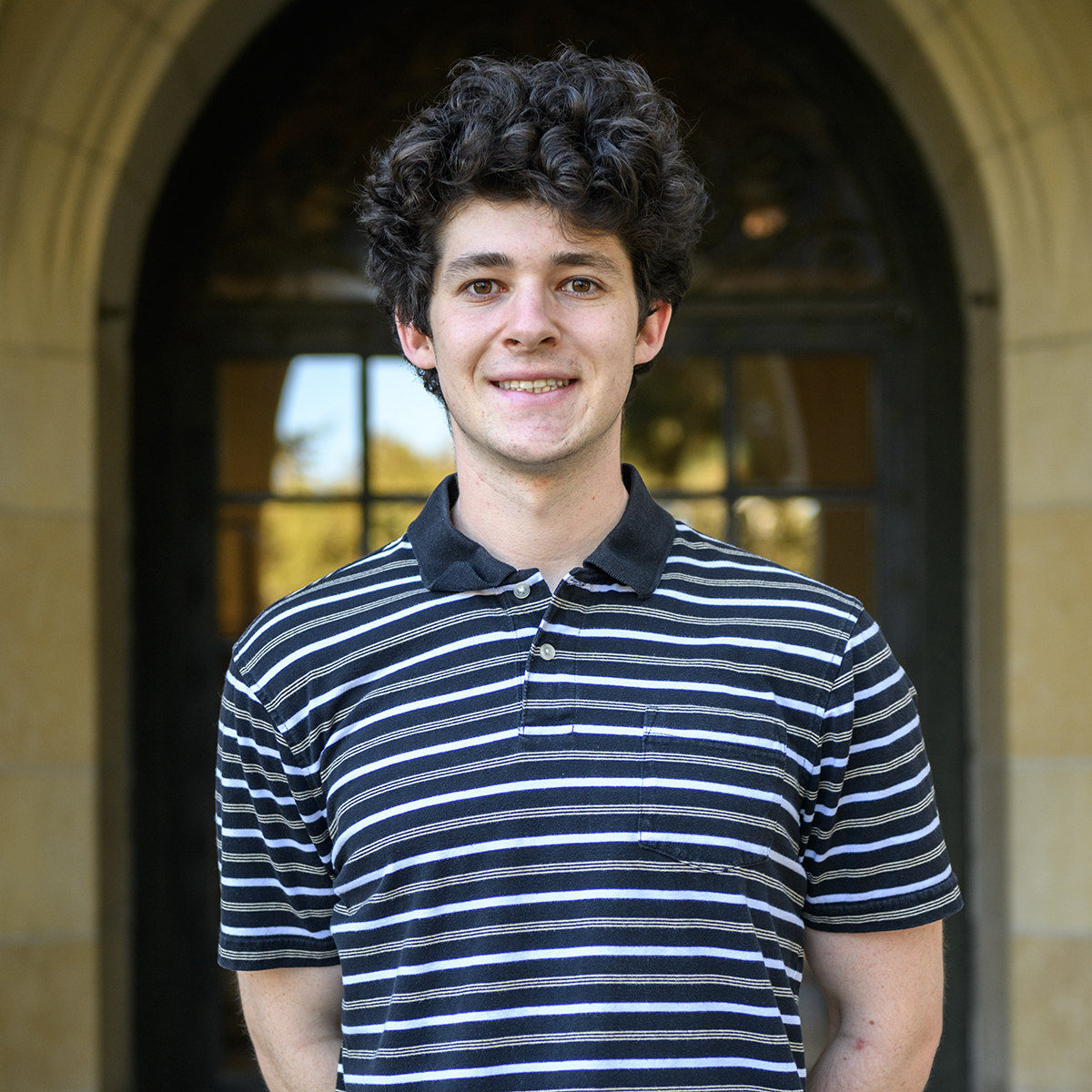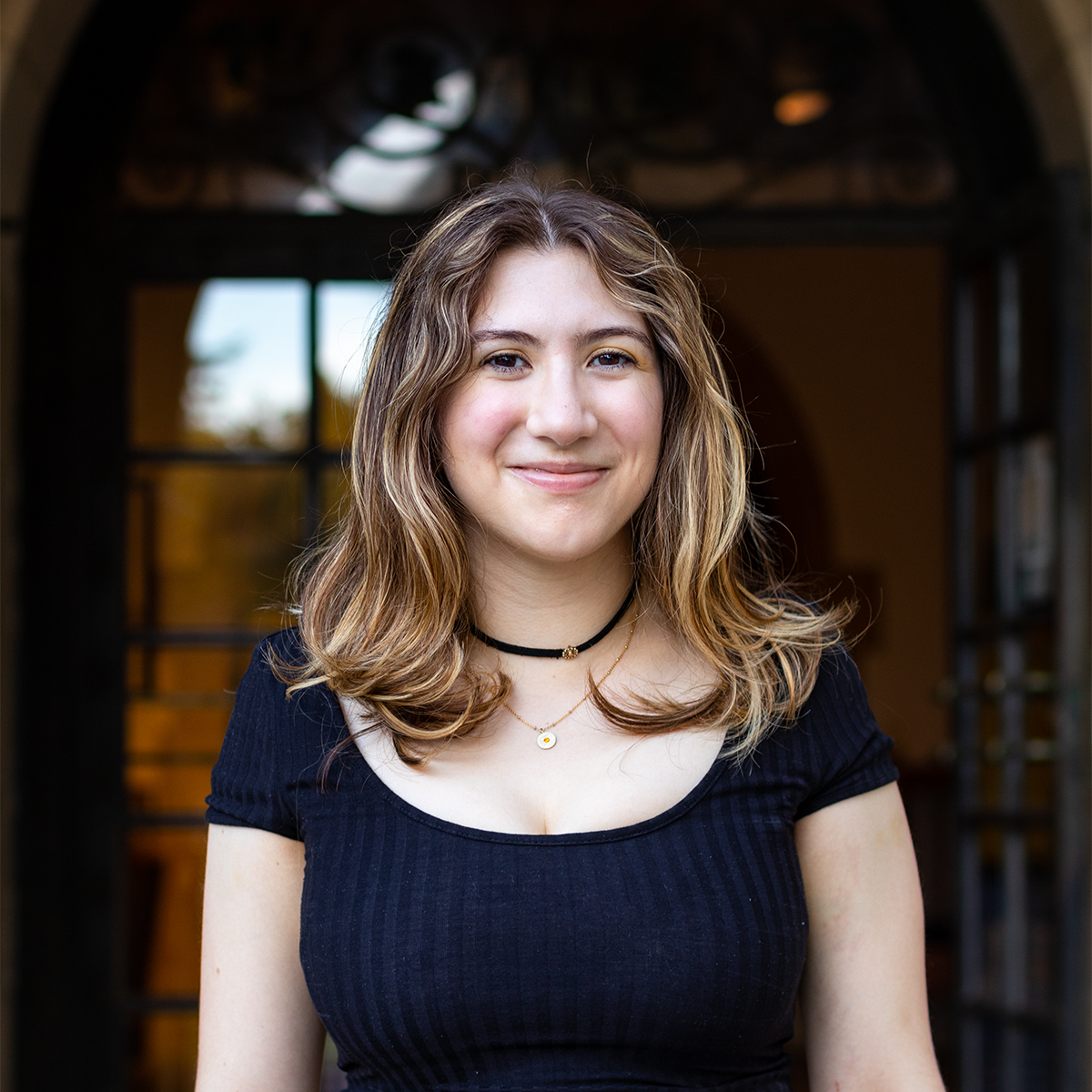 For the third time in program history, UCLA women's volleyball has fallen short of an NCAA tournament appearance. Take a look at how each of the Daily Bruin Sports women's volleyball writers believe the Bruins' 2022 season went wrong.
Genevieve Trimbell
Sports contributor
Bottom line: Injuries don't explain away disappointments
"We need to focus on our side of the net."
Coach Michael Sealy often repeated this refrain in reference to the roster turnover that plagued the team this season.
It was a sentiment echoed after wins and losses, before matches against ranked and unranked teams.
The Bruins certainly had a lot to focus on on their side of the net. Right at the beginning of their season, COVID-19 swept through the team. In mid-October, all three of the Bruins' top middle blockers were out with injuries. And every weekend, it seemed at least one key player was out for an unforeseeable reason.
But for a squad that began the season as the second-highest ranked Pac-12 team in the AVCA preseason poll and the highest in the NCAA Power 10 Rankings, even significant setbacks do not seem to measure up to the level of underachievement UCLA has demonstrated this season. The team finished seventh in the Pac-12 and entirely missed the NCAA tournament for just the third time in program history.
With their leaders in kills, digs, assists and service aces all out of years of eligibility, the Bruins' roster turnover from this year will pale in comparison to what they'll experience in the offseason. And as they wait nine months to face their next opponent, they will need to do a lot of work on their side of the net to avoid the same fate next year.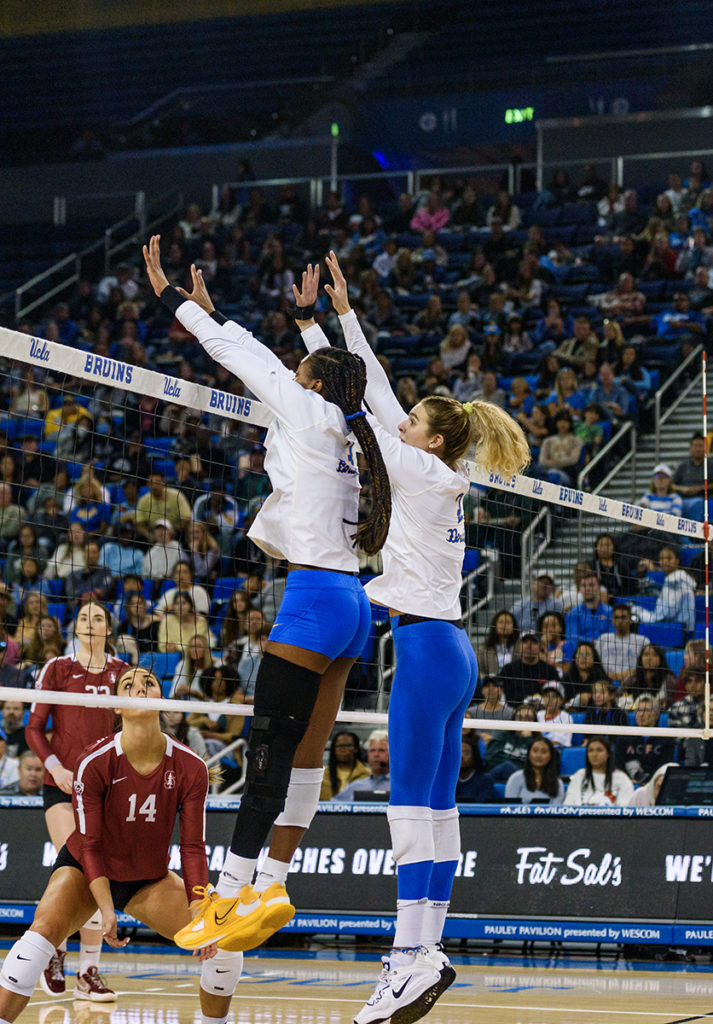 Sophia Vasquez
Sports contributor
Bottom line: A player like Dodson is essential for success
Two words – Anna Dodson.
Despite an underwhelming season for the Bruins this year, the redshirt junior middle blocker proved to be a dominant force on the court.
UCLA ended its regular season as an unranked team, and yet they were positioned at 12th place in the preseason NCAA rankings.
Coming off its first ranked win of the year against No. 24 Washington State, there was still a chance for UCLA to punch its ticket into the playoffs – but only if it could defeat crosstown rival USC.
But UCLA let the victory and the possibility of earning an at-large bid slip right through their fingers.
That night, Dodson tallied seven kills and four blocks.
There is a reason why Dodson was the only player on the team to be selected for the All Pac-12 Team. She was the most effective attacker for UCLA this season, especially during one-on-one hitter-versus-block situations.
Dodson ranked 13th among all Pac-12 athletes with a team-high .330 hitting percentage for the season. She finished the year with 259 kills and led the Bruins with a total of 77.0 blocks.
Entering the 2022 season with just seven double-digit kills over the past two seasons, Dodson achieved double-digit kills in seven consecutive matches and in 13 matches overall this year. She set a new career-high of 15 kills against Arizona in November, and while playing Colorado in October, she recorded 11 kills and 11 digs, marking her first career double-double.
This can only mean one thing for the Bruins: They need Anna Dodson to succeed next year.
Sam Lieberman
Sports contributor
Bottom line: Without depth, UCLA fails to meet lofty expectations
Coaches and writers expected a strong campaign from the Bruins.
But woes on the front row shuttered those dreams.
In August, the Bruins were ranked No. 12 in the AVCA preseason poll and No. 6 in an NCAA preseason volleyball power rankings. With the Bruins bringing in three graduate transfers, including the reigning ACC Defensive Player of the Year in defensive specialist/libero Mackenzie Cole and two fall 2021 AVCA All-American honorable mentions in middle blocker Lauren Forte and setter Matti McKissock, hopes were high.
But UCLA finished the season 16-13, with a 2-12 record against tournament-bound teams and a 14-1 record against non-tournament-bound teams, following a pattern of mediocrity that has overshadowed the Bruins since their first loss of the season to Utah State.
Lack of depth in the middle blocker position played a factor in the Bruin's poor play. Forte only played 5 matches, averaging 2.30 points per set in the 2022 season, and sophomore Francesca Alupei – who came in second on the team in total blocks despite only seeing the court in 15 of 29 matches – tore her ACL halfway through the season, limiting the Bruins to two middle blockers. Redshirt senior Tristin Savage played well in the starting role, and Dodson earned all-conference honors, but it wasn't enough.
While Savage had the best campaign of her five year career, matching up to the level of Alupei and Forte is difficult. Nevertheless, Savage tallied 44 kills and ranked fourth on the team with 43.0 total blocks, coming into the offense strong when the team needed her the most.
Losing two – sometimes three – out of four middle blockers is enough to cause any team trouble.
Three starters – Cole, McKissock, and double-double machine graduate student outside hitter/opposite élan McCall – have run out of eligibility. The Bruins may lose a fourth starter in Dodson if she decides to transfer. It will be up to the younger members of the team – and potential recruitment through transfer portal – for the Bruins to replace the gaps on their roster.
But never fear. UCLA can turn it around next season and return to the NCAA tournament where it belongs.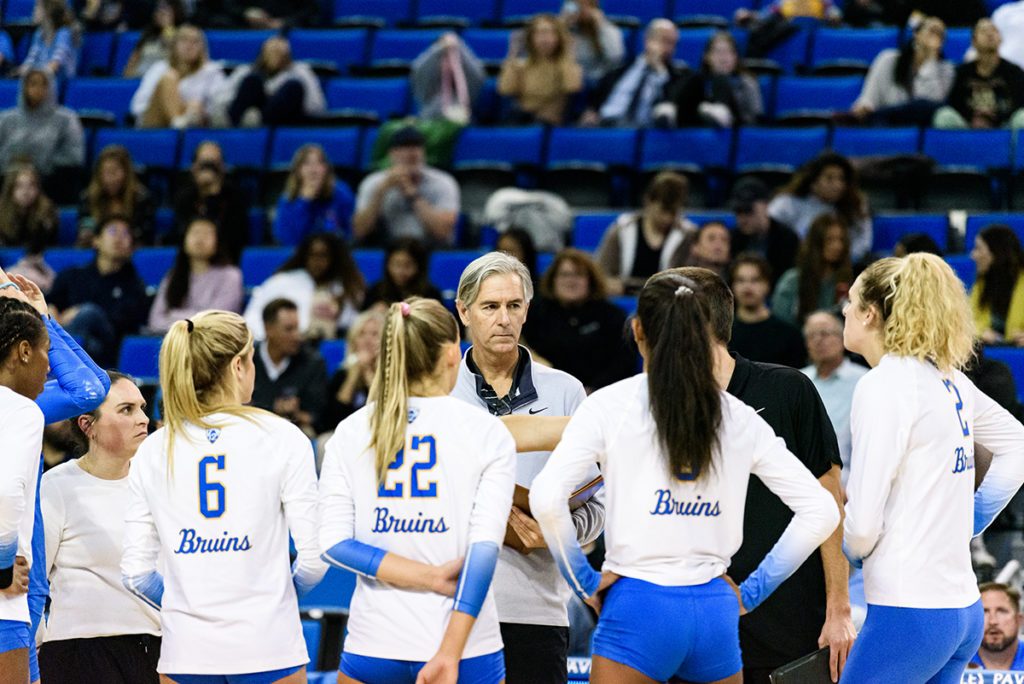 Amelie Ionescu
Assistant Sports editor
Bottom line: Sealing the deal
How long can a national championship keep a program afloat?
Especially a national championship under an inherited, established program.
A national championship followed up by three missed NCAA tournament appearances in a single coach's tenure. The only three missed appearances on the national stage in program history.
My co-writers above covered most of it.
UCLA women's volleyball has been underperforming.
The team couldn't find depth where it needed it.
Despite Dodson continuing to be a force on the court, a single Pac-12 All-Conference nomination is not enough for the Bruin program.
A storied legacy is crumbling. Volleyball – beach, men's and women's – have always been dominant programs for UCLA. The history of greatness combined with the draw of a UCLA degree should be enough. But I'm sitting here writing this instead of gearing up for an NCAA prediction.
Former coach and volleyball Hall of Fame inductee Andy Banachowski's success was "unmatched." Upon his induction, Banachowski had the most wins in women's volleyball history, only trailing UCLA men's former coach Al Scates in all-time wins. During Banachowski's tenure, he compiled a postseason record of 119-22 with 21 Final Four appearances and back-to-back NCAA championships in 1990 and 1991.
Despite retiring in 2009, Banachowski is the one who recruited and coached most of the 2011 national title squad. Since 2013 – with all years of Banachowski-recruited players graduated – the Bruins have not gone past the regional finals, dropping out in the second and third round in all but one year, if they even did manage to see the national stage.
With Sealy stepping down, 2023 opens a flurry of doors for the Bruins.
But the fate of the legacy remains to be seen.