Professors express concern over strikes as finals approach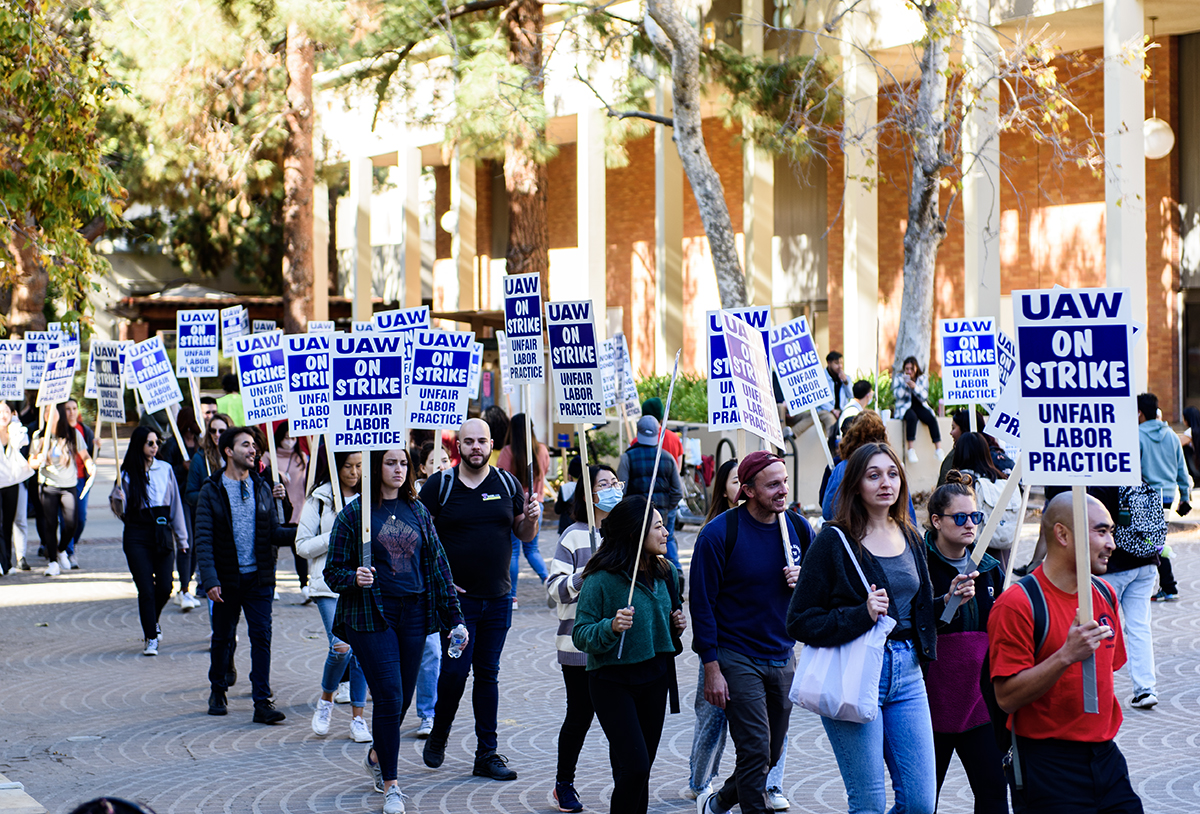 Strikers gather outside Pritzker Hall as part of a University of California-wide academic workers strike. Many professors have altered their classes and assignments in response to the absence of academic workers. (Myka Fromm/Daily Bruin)
Many professors are unable to acclimate to the absence of their student workers amid an ongoing University of California-wide academic worker strike.
Postdoctoral scholars, teaching assistants, student researchers and other academic workers represented by the United Auto Workers began their UC-wide strike Nov. 14, rallying for more equitable pay, solutions to rising housing costs and improved working conditions. The strike is now entering its third week. In response, professors said they have begun to readjust their class structures and assignments to make up for the loss of TAs.
Michael Rich, a professor of astronomy, said he has had to cancel assignments and relax grading since students are not receiving the same amount of instruction from TAs.
The lack of TAs has also forced some professors to entirely restructure their finals. Rich added that he will have to proctor his final exam alone, which has led him to shorten the assessment.
Other faculty have chosen to cancel classes and join the picket line in support of student academic workers. Michael Chwe, a political science professor, created a blog to organize a faculty-led strike and said the strike has helped demonstrate the necessity of academic workers, who have not yet had their demands met in negotiations.
"You don't know how important something is until it's taken away," Chwe said. "We really feel that, and so we need to respond."
Chwe added that he converted his classes to question-answer sections and feels professors should not try to do the jobs of their TAs during the strike.
Shannon Speed, a professor of American Indian studies, anthropology and gender studies, said she has been striking in support of the academic workers and will continue to strike until their demands are met, even if that means holding classes at the picket lines.
"Homelessness and hunger, those were the primary issues our graduate students were dealing with at UCLA," said Speed. "And that's just wrong."
Faculty members who continued working said they have assumed the many responsibilities of their academic workers. Caitlin Solone, a disability studies professor, said she has had to take on many hours of additional grading, test proctoring and individually assisting classrooms with hundreds of students in class or at office hours.
Many professors have had to support each other in order to continue instruction. Solone said some professors, including those for the classes she has assisted, were not prepared for the effects of the strike.
"I already see the issues around final grades popping up." Solone said. "There's not a clear record of what agreements were made with the TA and what was expected from the students."
As finals week approaches, some faculty said they are looking for solutions to address the lack of student workers. Those who chose to keep their final exams in place will be left to assume the positions normally occupied by multiple student workers.
With students largely outnumbering professors, Solone said professors are sacrificing the quality of grading.
"When it comes to grading 120 papers myself, there's going to have to be some give and take," she said.
Overall, many faculty have expressed concern over a prolonged strike leading to other consequences within the UC community, such as delayed grading, decreased office hours and altered finals. Chwe said a more immediate solution to the strike would be better for all involved.
"The quicker that the UC can negotiate in good faith with the union, the quicker that we can all get back to normal," Chwe said. "I think everyone wants that."