Scouting report: No. 15 UCLA women's basketball vs. No. 1 South Carolina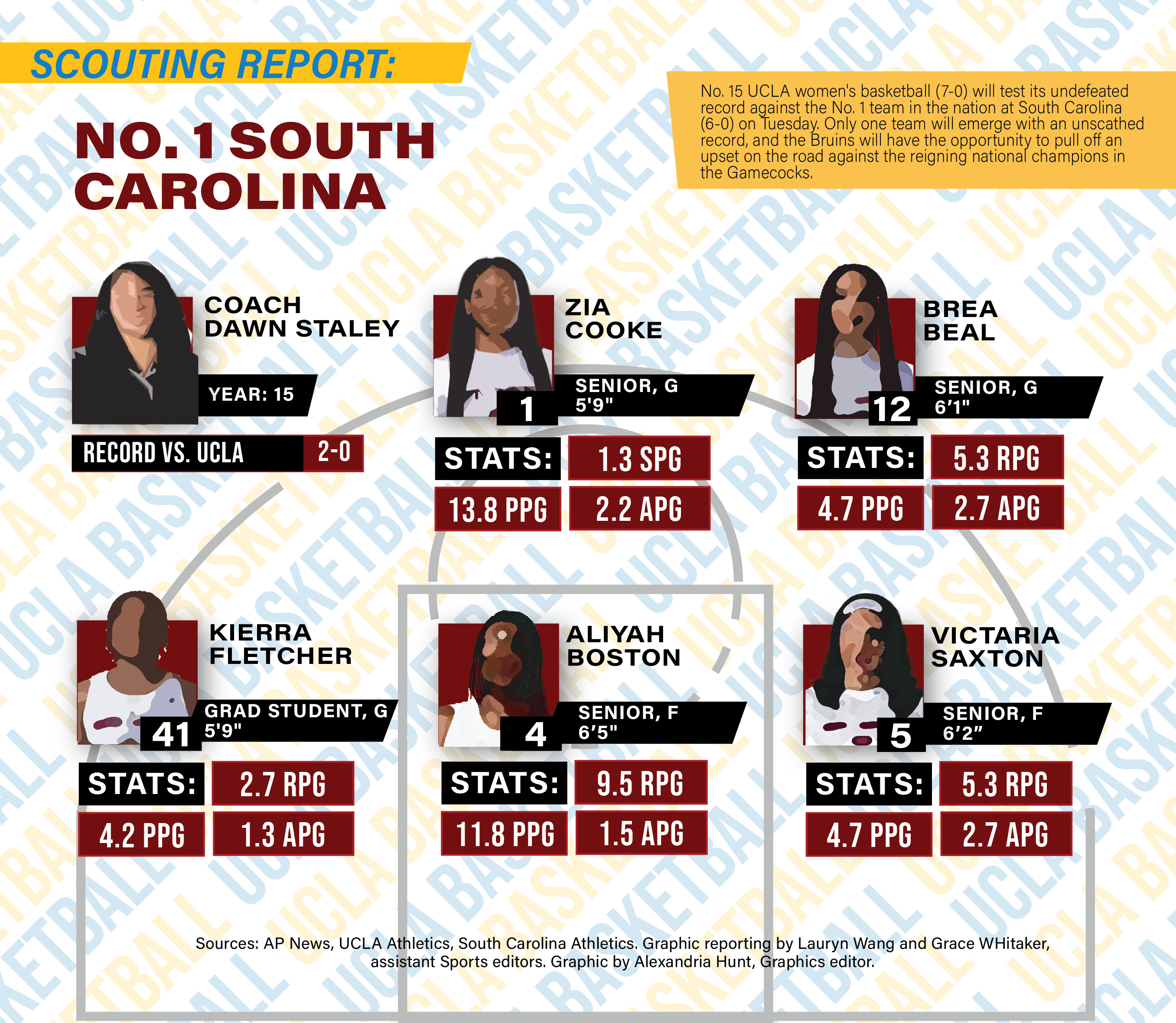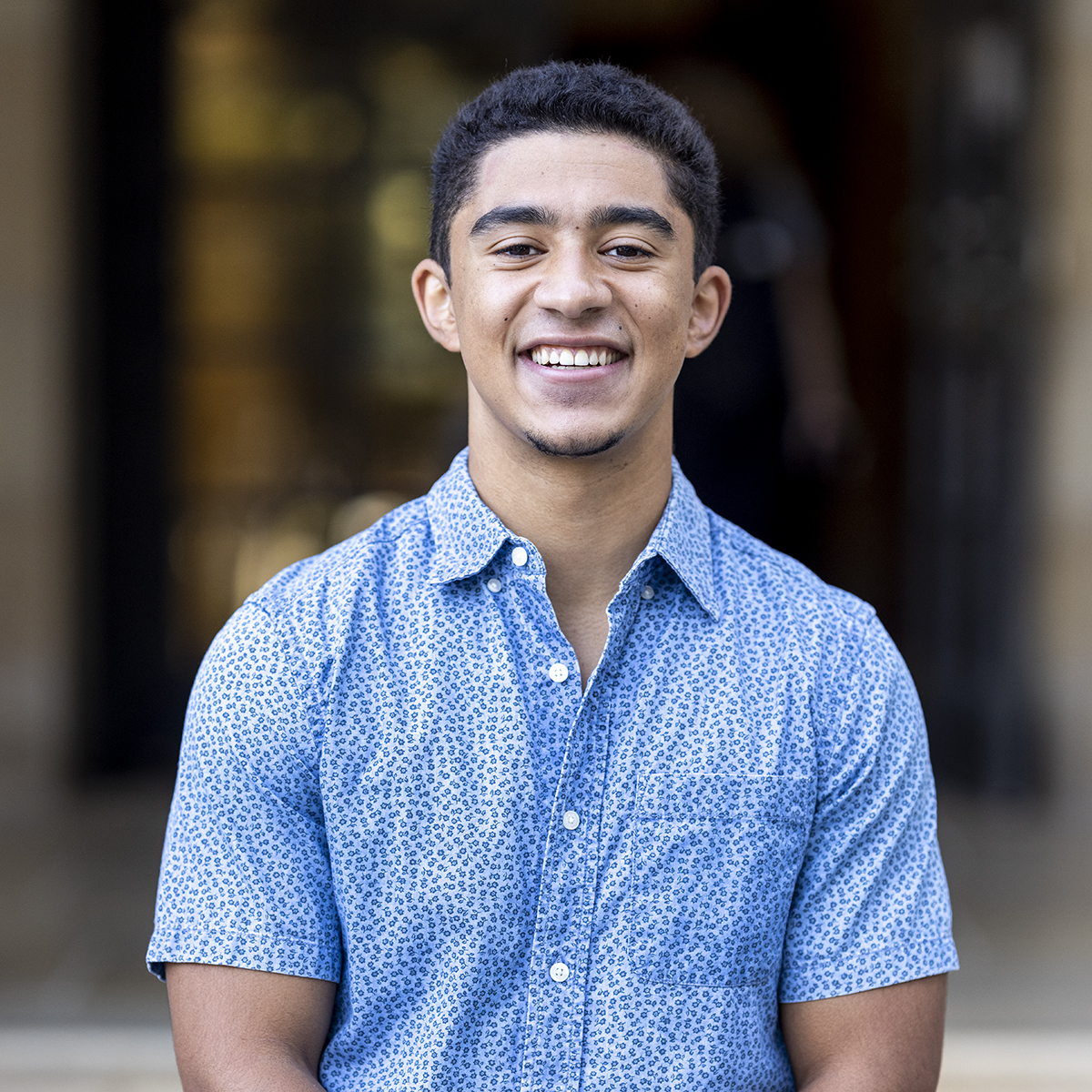 No. 15 UCLA women's basketball (7-0) is set to face No. 1 South Carolina (6-0) at the Gamecocks' Colonial Life Arena on Tuesday afternoon in its second contest opposite a ranked opponent this season. After starting the 2022-2023 campaign just outside the AP poll, the Bruins have jumped to No. 20 and now No. 15 with their unblemished resume that includes wins over then-No.11 Tennessee and Marquette to clinch the Battle 4 Atlantis championship. Tuesday's contest will be UCLA's ultimate test as South Carolina returns four of its five starters from its national championship run last season, headlined by reigning AP Player of the Year and Naismith Defensive Player of the Year Aliyah Boston.
Personnel
Coach: Dawn Staley
Starting Lineup: G Zia Cooke, G Brea Beal, G Kiarra Fletcher, F Aliyah Boston, F Victaria Saxton
Best Player: F Aliyah Boston
X-Factor: G Zia Cooke
Stat profile
Points per game: 84.5
Field goal percentage: 50.3%
Points allowed per game: 43.8
Field goal percentage allowed: 26.4
Regardless of the sport or level, rarely does a team win the championship and come back even better.
But South Carolina might be an anomaly.
After winning the national championship last season, the Gamecocks brought back four members from its starting five for the 2022-2023 campaign and added a transfer to immediately fill the fifth space. The squad is almost entirely the same, and nearly every player has another full year of experience.
Daunting.
South Carolina is anchored by forward Aliyah Boston. In the Gamecocks' last contest against Hampton, Boston began the third quarter sidelined with a boot on her foot. The 2022 SEC Female Athlete of the Year would've been a significant loss for the Gamecocks. This season, she's second in leading scorers on the team with 71 points and leads with 57 total rebounds.
But after suiting up sans boot at practice Monday, Boston is expected to be on the floor against the Bruins. The 6-foot-5 senior has continued to prove herself invaluable, putting up her fourth double-double of the season and 64th in her career against Cal Poly, which is the most among all NCAA players. She notably has been able to rise in tight plays, including a shot that tied the game up against No. 2 Stanford with two seconds left in regulation, taking the Gamecocks to victory in overtime.
Boston has found herself in early foul trouble in at least a couple of the games this season, which is an important factor to note for Tuesday's matchup against the Bruins. Getting the Bruins to the line may be a threat to the Gamecocks' success, as the blue and gold is almost 80% from the charity stripe.
The other starting forward, Victaria Saxton, who stands at 6-foot-2, offers a versatile matchup for the Bruins on both ends of the court. The senior is the current captain of South Carolina, having started in all 37 matches for the Gamecocks and achieved double-digit rebounds in seven of those contests last year.
Saxton has averaged 5.3 points and 3.5 rebounds per game this season and is reliable from the charity stripe, sinking 9-of-12 free throws. While she went 0.00% from behind the arc last year, she sunk her first 3-pointer on her third season attempt in South Carolina's matchup against Clemson on Nov. 17. Whether this is an indication of the Gamecocks increasingly spreading the floor or Saxton's commitment to expanding her skillset, it may be made clearer on Tuesday.
Boston garners most of the attention for South Carolina, but guard Zia Cooke would be the best player on many of the best teams in the country.
The 5-foot-9 senior was an All-America Honorable Mention in her previous two seasons after averaging 15.9 and 10.7 points per game as a sophomore and junior, respectively. Despite being relatively undersized, her ability to change speeds and finish in traffic allows her to score all over the floor regardless.
She also has some of the best handles in the entire country.
If Cooke has weaknesses, they're best summed up by her 0.8 assist to turnover ratio in her past two seasons. The point guard's 1.7 assists per game in 2021-22 was remarkably low given her respectable passing skills, though that's at least partially because of the nature of the Gamecocks' offense and Boston's dominant presence.
But it's those same factors that makes her 2.3 turnovers per game in her previous two seasons eye-opening. Despite all the necessary ball handling and passing skills, her decision-making can still be questionable at times.
Cooke has improved in both realms thus far this season with an assist to turnover ratio of 1.6 through her first six games, but going up against the defensive presence of UCLA senior guard Charisma Osborne and the full court pressure of freshman guard Londynn Jones will put her improved ball security to the test.
With four of its five starters back, South Carolina's starting lineup has looked slightly different this season thanks to the addition of guard Kierra Fletcher. The graduate student transfer from Georgia Tech missed all of last season with an injury, but she's already a key cog in the Gamecocks' rotation.
At 5-foot-9 like Cooke, Fletcher improved her scoring output in each of her four seasons with the Yellow Jackets. In her last healthy season prior to this year, she averaged 13 points per game and made 23 three-pointers at a 35.9% clip after making just two threes in her previous three seasons.
Though she's averaged just 4.2 points per game in her first six with the nation's top-ranked team, she clearly has some offensive firepower if needed. She's also a sneaky good defender as well, as she totaled 40 or more steals in each of her first three collegiate seasons.
Alongside Cooke and Fletcher is senior guard Brea Beal.
The 6-foot-1 guard adds necessary size to a lineup that features the undersized pair, and despite never averaging more than 7.1 points per game for a season, she's capable offensively in her own right. In South Carolina's overtime win at No. 2 Stanford earlier this year, Beal hit a clutch three-pointer with 14.9 seconds left in regulation to bring the Gamecocks within one.
If the Bruins double Boston while still focusing closely on Cooke and Fletcher, don't be surprised if Beal hits a couple shots that flip momentum on Tuesday.
Carlson is currently a staff writer on the football, men's basketball and women's basketball beats. He was previously a reporter on the softball and men's golf beats.
Carlson is currently a staff writer on the football, men's basketball and women's basketball beats. He was previously a reporter on the softball and men's golf beats.