Op-ed: Academic workers are striking to create a better campus for everyone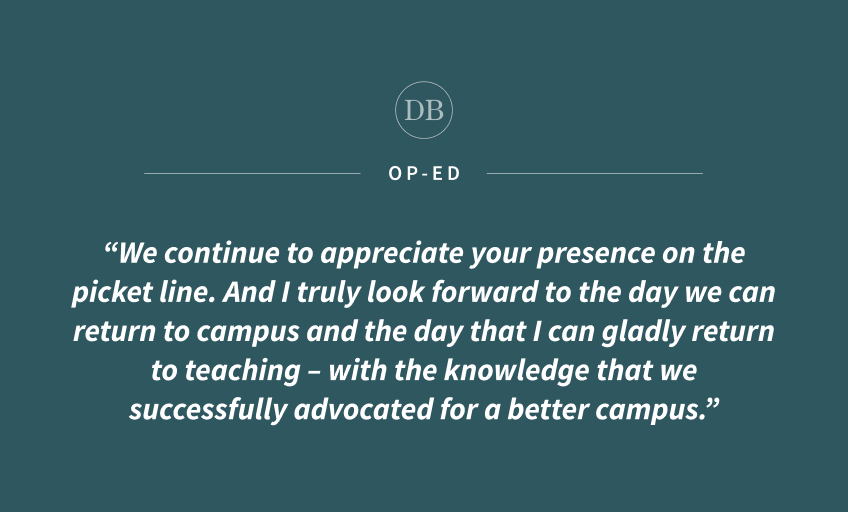 This post was updated Nov. 30 at 8:40 p.m.
On Nov. 14, graduate student employees, postdoctoral scholars and student researchers began our strike. This strike is a response to unlawful bargaining actions – we demand that the University of California address our requests for higher wages, better support for international students and families and more.
United Auto Workers 2865, UAW 5810 and Student Researchers United-UAW are composed of over 48,000 members across all campuses in the UC system. More than 36,500 of these members voted to authorize this action.
This is now the largest academic worker strike in United States history. During the strike, graduate student workers will not hold class, respond to student messages or grade any coursework until we reach an agreement with the UC.
I was a teaching assistant for French classes during the past academic year. I adore teaching and am deeply grateful to have met so many bright and motivated learners. This year, I accepted a fellowship and chose not to teach, even though I would have received a small raise. I took this funding partly because my working conditions in the UC were untenable. These conditions remain unacceptable for my coworkers and for our students.
Many undergraduate students know the struggle to make ends meet all too well. Student workers at UCLA are not allowed to work over 20 hours per week, with a minimum wage of $16.25 per hour. For those with demonstrated financial need, it becomes difficult to remain housed – on or off campus – let alone fed, healthy and prepared for class.
Graduate student workers are going on strike for similar reasons. On average, teaching assistants in the UC system make about $24,000 annually. My funding package ensures an annual pay of $27,000 maximum, largely through work as a TA with additional support from my department.
At the same time, a two-bedroom apartment in Weyburn Terrace's graduate student housing costs $1,464.50 per month and a studio costs about $1,651 monthly.
The vast majority of my funding has therefore gone toward keeping a roof over my head. Many of my peers have had to choose between paying rent or buying groceries and necessities. This choice is one that no one should have to make, and it is something that is within the University's power to prevent.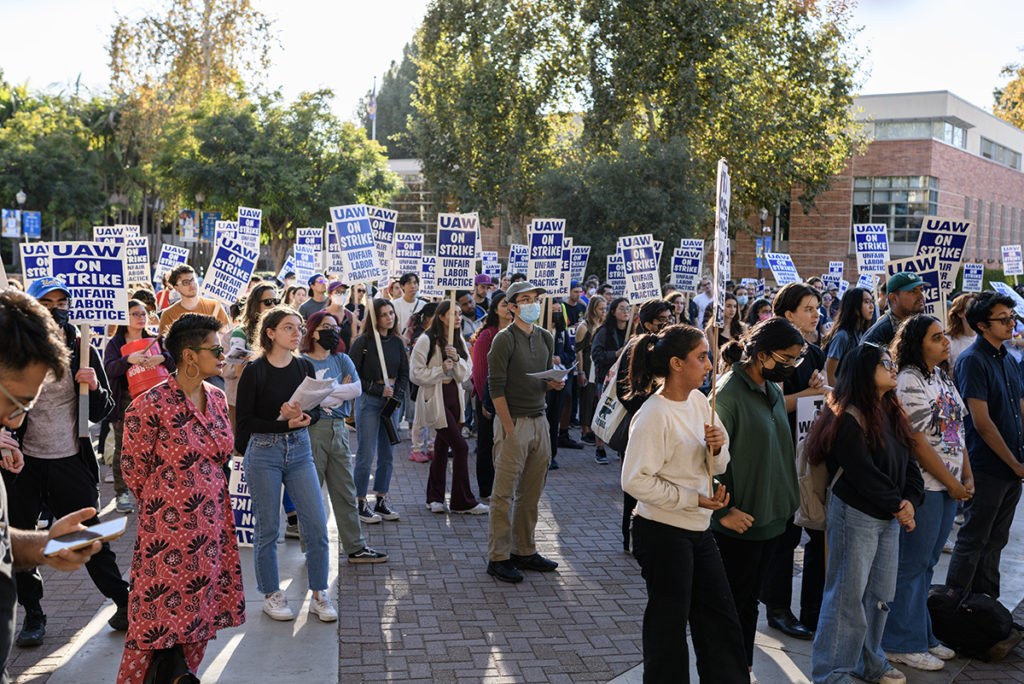 I know that it is nearly impossible to focus on your studies when your basic needs are not being met. Similarly, graduate students cannot be good instructors, complete coursework or pursue research until we have attended to our own needs.
Our working conditions are your learning conditions, and our university's conditions define our living conditions. We are going on strike because we know the UC truly can make a difference for all of us.
We want better support for international students and better protection against harassment in the workplace. We want better health care for family dependents, and forms of transport that protect the environment.
In fact, we want these changes for everyone in our community. Our staff, adjunct instructors, lecturers and student workers deserve better pay and support from the UC. Through work stoppages and similar actions, our unions have historically gained key benefits, including improved wages and protections and campuswide health insurance.
The only way we can pursue this goal for everyone is by organizing together – by honoring the picket line and openly sharing our support. That work starts with all of us, and must continue until the end of the strike.
Students especially must be aware of how UCLA's administration is working against all of us. On Nov. 9, for instance, the Office of the Executive Vice Chancellor and Provost emailed students, inviting them to notify administration in the event that graduate students refuse to provide instruction.
I would like you to consider how administrators are responding to these simple requests: a safe environment to work in and a living wage so that we can pursue our research and support our students. Whatever you do, do not cave to any attempt at surveillance and intimidation from the administration.
You may miss your TAs and classes, and you may wonder what the rest of this quarter may look like during the strike. You may wonder about your exams and final grades, especially as the strike may continue into December. We miss you just as much, and we hope to reach an agreement that will serve all of us at UCLA.
In the meantime, we hope to see you bring your support to the picket line. We will continue to picket throughout campus from 8 a.m. to 4 p.m.
You can remind your peers of the situation and bring them to the line. You can join together to write a letter calling on the UC to meet our demands. There is even a letter of solidarity that undergraduates can sign through the Action Network.
We continue to appreciate your presence on the picket line. And I truly look forward to the day we can return to campus and the day that I can gladly return to teaching – with the knowledge that we successfully advocated for a better campus.
Alexa Barger is a third-year doctoral student in the French section of the Department of European Languages and Transcultural Studies.