Bruin 101: On-Campus Housing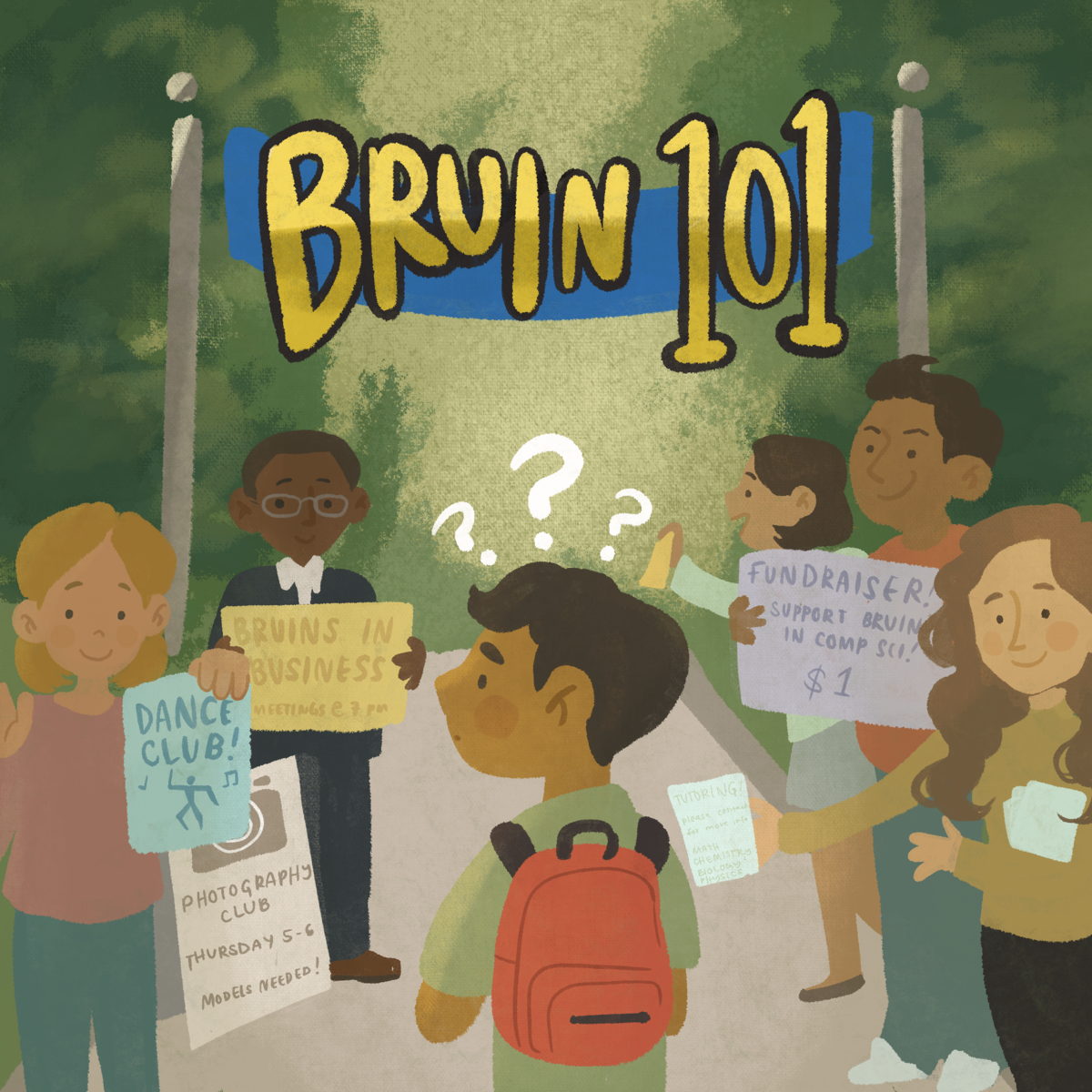 (Katelyn Dang/Daily Bruin senior staff)
In this episode of "Bruin 101," a Daily Bruin podcast about life at UCLA, Podcasts contributors Wendy Minn, Kyla Ventura and Sonia Wong describe on-campus housing options and give advice on what housing to choose and move-in.

Sonia Wong: Hello and welcome to Bruin 101, a Daily Bruin podcast that is made by Bruins for Bruins. In this series, we hope to help students and prospective students learn about and adapt to UCLA by providing insight into the school, sharing helpful tips and discussing concerns. In this episode, we will be talking about on-campus UCLA housing, breaking down the types of housing and sharing a bit of our own experiences and stories of living on campus. So before we go further into the episode, let me first introduce the main housing options we have on the Hill. There are four main housing options, which are classics, deluxes, plazas, as well as suites. Classics are the cheapest options, whereas suites are the most expensive options. So for classics, we have double and triple rooms, which essentially just means that each room has a number of two or three people living together. All the classics are located at Dykstra Hall, Hedrick Hall, Rieber Hall and Sproul Hall. The special feature about classics is that it has the most number of rooms on the same floor. There's no AC in each individual room, and the entire floor shares one communal bathroom, communal bathroom referring to just having a common shared bath across the entire floor, which is different from shared baths which we will mention for the plaza housing later on. So secondly, we have deluxes. Deluxes are also divided into double and triple rooms. They're located in Gardenia Way, Holly Ridge, Sproul Cove, Sproul Landing, Olympic as well as Centennial building. Slightly different from classics, the deluxes have AC in each individual room. However, deluxes also share a communal bathroom across the same floor. Thirdly, we have plazas. A special feature of a plaza is that it actually features single rooms, and we call those pods in plazas. Similarly, they also have double and triple rooms. So all the plazas are located in De Neve Plaza, Hedrick Summit, Rieber Terrace, Riebe Vista, as well as Sunset Village. Plazas are one of the rooms with the biggest room size, there's AC in the room, as well as an option for a shared or private bath. If it's a shared bath for plazas, usually two rooms share and are connected by a bathroom, whereas for a private bath plaza a single room uses a bathroom. As for the single pods that we mentioned earlier, they are also able to share a communal living room across five to six different rooms, and there is a shared bathroom shared amongst all pod members. Lastly, we have suites. Suites are also divided into doubles and triple rooms. Two rooms usually share a common living space as well as a common bathroom. The suites are located in Hitch Suites and Saxon Suites. Despite the increase in living space with the shared living room, there is no AC in any of the suites. At the start of the quarter, we have moving season where everybody comes back, no matter returning UCLA students or new freshmen students and they return to campus. And obviously it's a hectic time for everybody because everybody has to move all their stuff back on campus. And so today, we decided it'd be a good time to discuss our own experiences with living on campus. So does anybody like to start with their own housing experience, and you know what type of housing you guys lived in before
Kyla Ventura: I can start. So my experience is probably different than most people. But I'm immunocompromised, so I went through the CAE, which is the Center for Accessible Education. I got an accommodation to only have one roommate as a freshman, and then a shared bath. And that became problematic because I got assigned a 25 year old roommate, and she was a senior. And so I didn't really get that bonding experience with having a roommate, who's your friend and all of that. So then I ended up moving down the hill to Sunset Village, and then I was in a double still, and my roommate was really nice. We had a private bathroom, which I don't recommend because it does feel a little bit dirty because there's only two people and there's less responsibility. Then I ended up going home for winter quarter, and I came back and lived in a different room in Sunset. So I had a different experience, but it ended up being good. I do like living in a double with a shared bath. I think that that was the best way to do it. How about you guys?
Wendy Minn: For me, I was in, actually, the same dorm for an entire year. The mark that I actually ended up moving out was my year anniversary with the room. So I lived in Centennial, which was a brand new dorm. I was the first person to live in it. I really liked that because it was really clean. And it just happened to be that the new buildings also were the biggest ones as well, so that really worked out for me as well. It was a deluxe triple, so it had AC and I refused to get anything that didn't have AC. I got a triple because of the price, and I really liked that. At first I was a little bit worried about sharing a room with two other people when I've never shared a room before. But it was really great because I went random and I ended up really loving my roommates. So that worked out really well for me. What about you, Sonia?
SW: Yeah, I could say the same. I also lived in my dorm for the entire year. And luckily, I didn't have to move out at all. But I would say I was definitely a little nervous in the beginning because I went for plaza triple with a shared bath, which meant we had three people in each room and both of the rooms shared a bathroom. And because I was an international student, and I didn't take much initiative in looking for roommates online before coming on campus, I went random. And that was why I was super nervous, because I'd have to share my living space with practically five other strangers. But thankfully, everything worked out. And it was all really nice. And I think one thing that I really liked about the plaza was that we got a decent amount of space in the room. Even though it was still pretty cramped, we had a shared bathroom to ourselves. And the bathrooms were actually cleaned weekly by somebody assigned, that, by the staff assigned. So hygiene-wise, I think the bathrooms were okay. And we also had AC in the room. So that was also really nice. And we were able, because we had two rooms that were connected by a bathroom, we were able to share more space after we all got close. And we had practically an extra room to study in if we really wanted to go over and hang out with other people as well. So I definitely recommend it. Yeah, and one thing really special about the dorms is that on each floor, or each area of the dorms, we have something called an RA. So an RA is essentially a residential assistant, so they look out for your students, whatever dispute there is, whatever issue there is with the dorms, students know where to look for their RAs. RAs usually get their own room on the floor. One really special thing about being an RA is that you also get free housing for the entire year, so it's a pretty popular option for certain students to actually try to apply to be an RA this year. But unfortunately, I missed the deadline, because I missed the message that our RA sent. And when I tried to send her a message, she replied two, three days later, so I completely missed the deadline because I never really got a response, so that was my experience with it. And I've also heard that you have to stay up at certain hours, like late hours and after quiet hours, just to look out for different students. So if free housing is something that you're looking into, or just to better connect with the housing community, being an RA is definitely something you can consider as well.
KV: Yeah, also, just to add, when I was having a lot of problems, I did go to my RAs first, and they were really helpful in like, "Oh, this is who you contact, or I'll contact them for you". And then, yeah, so I think they're just a good resource to have.
SW: So after discussing all the housing options, what do you guys think, are some of the housing options you would consider for the upcoming year, and how did you actually make that decision?
WM: I'm actually not living in the dorm, I'm doing a university apartment. And that was mainly because I wanted to cook for myself, whereas on the Hill – which is the area where all the residential communities are located – there are no stoves. I mean, technically, the Hitch Suites have a place you can rent. But if I'm being honest, it's really old, and not necessarily the kind of place that anyone would really want to cook. So there's that and also, Hitch happens to be pretty far. For me, since I'm in Centennial it was really close. But yeah, that wasn't what I wanted. But I actually really enjoyed my Centennial dorm. For me, I had half a floor, so my communal bathrooms were really clean. And there weren't that many people because the rooms were also bigger, so things were more spaced out. So if I were to live in the dorm again, I would probably do Centennial, or Olympic actually, because Olympic is a little bigger and a little closer. What about you, Sonia?
SW: Yeah, so after discussing with my roommates, we actually decided to go up to a suite double, because we really wanted the living space. So mainly a place where we could hang out with everybody and, you know, occasionally host some get-togethers if we wanted to, on the weekends. So that's how we decided on a suite double. I would definitely say, we were a bit nervous about the AC situation, but we'll see how it works out. And I've heard from other people that have lived in the suite say that the way they coped with it was to install fans in the room. So maybe we'll look into that. But I definitely think it's a fresh experience. But I'm also a bit nervous because I'm living in Hitch, so that'll be a little further of a walk, but that also gives me a little bit more exercise. So yeah, I'm pretty excited about that. And I definitely agree with Kyla on the shared bathroom situation, having lived in a shared bath with a triple last year. I think for this year as well, one thing we really learned was to have a regular schedule of cleaning even if there was somebody else to clean for us. And it's always really good to establish some ground rules like, for example, to have a really brief or just a general schedule of around when everybody prefers to shower, whether it's in the morning or at night. And I think that's something you definitely have to learn when you live with other people. So it makes it more easy, or it makes it easier for everybody to really schedule their time, especially when you're in college in such a busy environment.
KV: So, Wendy, with the university apartment, is it not on the Hill? Is it far from campus, or where is it?
WM: Yeah, so it's not on the Hill. It's on Gayley mainly. So mine is actually Gayley Heights, so I'm at the corner of In-N-Out. It's definitely closer to South Campus now, for me personally, but now North Campus is actually further than where I was on the Hill. So that's unfortunate as a North Campus major, but otherwise, it is nice, because the Hill is hilly, and so I don't have to go up and down the hill anymore. And everything's just flat around here, which is pretty nice.
SW: So what are some of the reasons, or how did you guys go about deciding what types of housing that you wanted? For example, for Wendy, I remember, you said that you wanted some space to cook, and that's why you eventually settled on an apartment. But what are some other factors that you guys would say are important to you guys when looking for housing?
WM: So for me, I personally cared a lot about price. And I also didn't want to do a single or double because I thought that might have been lonely, especially as an introvert. It was really good having two other roommates because I was forced to befriend them, versus only having one friend. So that was really nice. And then just as someone who can't really tolerate the heat, I refuse to go like AC-less. So deluxe triple was really my best shot. And I happen to get my first choice, which was really nice.
SW: Yeah, even though I don't necessarily agree with the communal bathroom part – and that was a huge part in how I decided on the living space and what ideas I had in mind for housing – I would definitely say being in the dorms is a really good way to get out of your comfort zone. So I went for a plaza triple, which had a shared bath. And a shared bath is slightly different from the communal bathrooms in the sense that you only share a bathroom between two rooms, so less people over an entire floor. And this to me was a decent amount of people sharing the bathroom, and also because I heard of a lot of scary stories and, you know, weird things you find in communal bathrooms. And that's what really put me off from being in the dorms with a communal bathroom. But one thing that I also really valued was also the social environment in the dorms. So I definitely decided to go for a triple so that we had a decent amount of people to hang out with in the room but we also have a decent floor culture, like I did at Rieber Vista. So despite being a plaza, I found that most people on my floor— I lived on the second floor my first year, and I found that most people on our floor were pretty outgoing, and everybody was pretty open to hanging out with each other, and you could just go around knocking on people's doors and just drop by and say hi during the first few weeks, and I was actually really relieved to find that plazas are less lonely than people make it out to be. So that's also part of my reason in deciding on a suite next year because I feel like I made a decent amount of friends, and that, I realized that there are a lot more opportunities to make friends other than being in the dorms, such as being active in a lot of clubs, and just being more proactive in classes. So what about you, Kyla? What are some of the things that helped you decide on where you are living in right now?
KV: Yeah, so I did the random roommate first year. So this year, I tried to do the roommate search. And so I wanted to be lower on the Hill, like in Sunset again, because I really liked that location, but she wanted to be up in Hitch, so Rieber Terrace was our middle ground. When you walk into the lobby, they have the laundry right there, an ice machine, and I think when I lived in Rieber Vista originally, it was hard to find that ice machine or sometimes the microwave, you had to leave the building. And so I think that's just a perk. And then I love The Study, so I'm right there. So I think those are just contributing factors.
SW: Yeah, I definitely agree that amenities around the building or the dorms can definitely be a decisive factor. For example, last year, I actually didn't expect that there was only one microwave that we shared across the entire building. So every time I had to reheat food, say like late at night, or try to make food for myself because I was on like an 11P meal plan, it was definitely a little bit difficult, and definitely something that I would look out for in the upcoming year. So speaking of just sharing a singular microwave across the entire building, it's really important to look around for a microfridge, which is basically your microwave and mini fridge combined into one. And UCLA happens to have the option of renting one, so you can sign up to be in the queue for requesting a microfridge in the room and you're limited to one per room. And you can do that at the start of the school year. But apart from that, since it's pretty popular among students, because obviously, there's not microwaves everywhere in the dorms, you'd have to do it really, really early. So even if you don't land a place, or if you don't land a microfridge by the start of the school year, I would definitely say still try to look for options online, because that'll come in really handy and you'll never know when you need to use it. So what are some other tips you guys have for moving in, or what are some things that you think are essential for the dorms?
WM: For me personally, I've actually moved in early both times. And that's been really nice to just have time to get unpacked and settle in. And also without the hecticness of everyone else moving in. So personally, I'm living in a six-person apartment, so that'd be like five other people moving in. And I just can't imagine all those move-in parts in the apartment at once. So I'm glad to have been able to ease my way in essentially. So my first year I was in the dorms, I was a move-in assistant. So that was really nice, because I remember walking down to grab dinner, and I would see people in a line and just waiting there for hours and I'd be finished with dinner and coming back and just chilling and everyone's out there in line, like all the traffic and movement. So I would definitely recommend trying to move in early if you can, whether it be like a move-in assistant, or just like a sooner time if possible.
SW: Yeah, I definitely agree that while it can be pretty exciting to move in with everybody at the same time, I would say it took me a lot of time to move in last year. I think I waited in line for at least an hour just to get my card. And there was a lot of stuff that happened when I moved in. Because last year before we moved in my roommates and I weren't super familiar with each other and we were all freshmen so nobody really knew what we were doing. So we ended up moving in at the exact same time. So the furniture situation definitely wasn't ideal. So definitely say for future reference, and also a small piece of advice, would definitely be to communicate with your roommates before moving in. So everybody has at least like a window of one or two hours to get all their stuff settled, or at least moved into the room. And so it doesn't get too crowded for everybody. And before we end the episode, are there any interesting stories, whether it be happy memories that you guys had about living in the dorms, or just really bizarre memories?
KV: The first time I walked into my dorm, I went into the restroom just to look around. And I think my suitemate didn't know that anyone was going to be there. And she was just getting dressed in the middle, like the community space. So yeah, maybe on your first day just knock when you're walking into places. But yeah, that was awkward. And that was how we met.
WM: Since you mentioned the bathroom situation. When I moved into Centennial, since it was a brand new building, they didn't have the bathrooms labeled. So for the entire first week, I was using the boys bathroom. And there's actually no difference between the Centennial ones. Like once I started using the girls bathroom, I was like, "Okay, there's like literally no difference." But yeah, that was pretty awkward. And I'm glad someone told me, like one other girl moved in, and she was like, "I think that's the boys bathroom." And I was like, there's just like a circle and a triangle. And I just assumed the triangle was the girls for whatever reason. So yeah, that happened before. Now they're labeled, so don't really make that mistake ever again.
SW: Yeah, I've also heard that in communal bathrooms. One really weird thing is, regardless of whatever card you have, you can actually swipe into both the boys bathroom and the girls bathroom. So I think that's why that mishap happened. And yeah, to end I also have a story about bathrooms as well. But it's not really a particularly bad one. It just so happens that because at the start of the quarter, we were all trying to get used to the dining halls. So my roommates and I and also our suitemates in the other room, all decided to get breakfast, lunch, dinner all together. But half of us ended up all getting food poisoning. So that's when we realized how important it was to have our own little bathroom so we didn't always have to run out to the bathrooms. And we could always look after each other when somebody was, you know, peeking in the bathroom and just look out for each other in a smaller, more tight-knit space. But overall, I would definitely say I really enjoyed living on the Hill, and I'm pretty excited for what's to come in the upcoming year.
KV: Yeah, I think also just to add, I had a lot of problems with housing and contacting them and things like that last year. So I do just recommend just going in person or calling and getting on top of it right away instead of like trying to wait things out. Because it was really hard to deal with them once everything— once everyone had already been moved in and like there was nowhere else to go, you know?
WM: Yeah, on that note, all of us talked about our experiences and we definitely did have different ones like with the random roommates with communal bathrooms, so your experience will definitely be unique to your own as well. Hopefully our different experiences can help you get an insight as to what you might see.
SW: Bruin 101 is brought to you by the Daily Bruin UCLA student newspaper. You can listen to the show and others by the Daily Bruin on Spotify, Apple Podcasts and SoundCloud, and a transcript for the show is available at dailybruin.com. Thanks, everyone. See you next week.