Opinion: UC academic workers' strike reaffirmed importance of my activism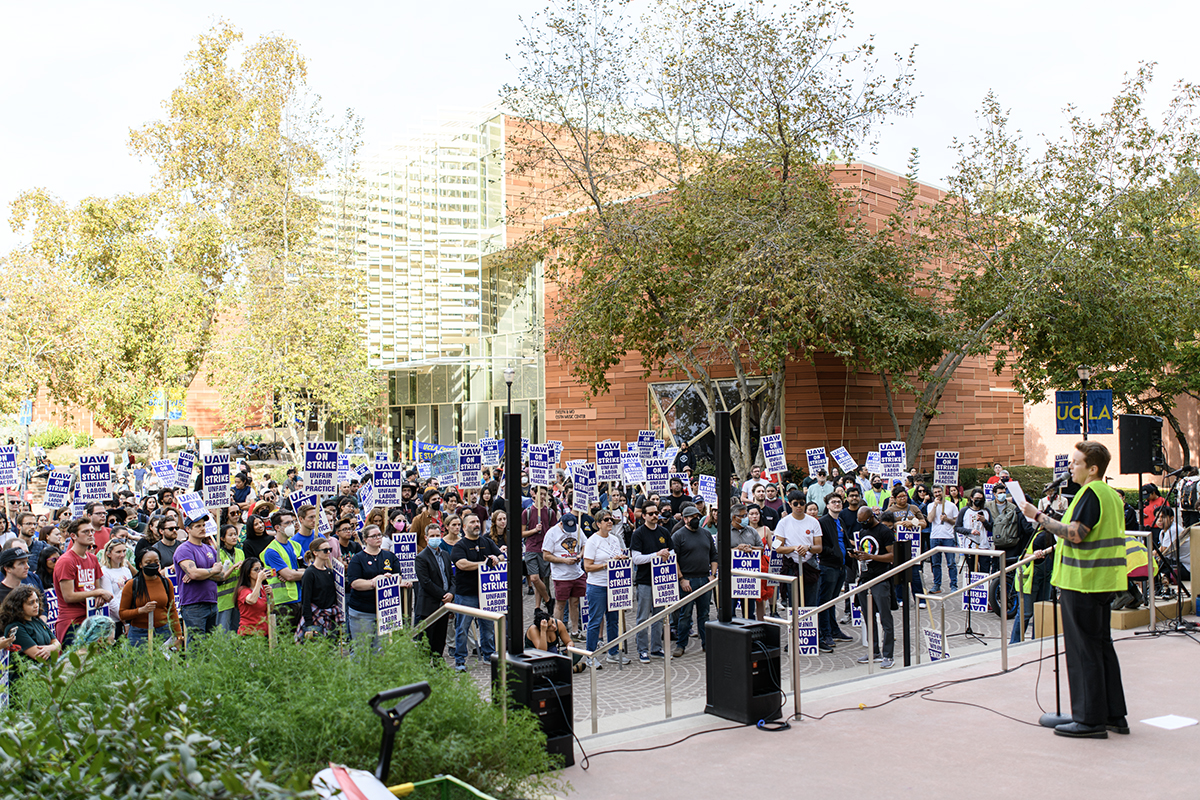 A large crowd of striking academic workers holds a rally near the Evelyn and Mo Ostin Music Center. (Myka Fromm/Daily Bruin)
It's been two weeks since the beginning of the University of California academic workers' strike for labor rights. From nearly every corner of campus, one can hear picketers over megaphones chanting slogans such as "Shut it down!"
I learned quite a few things during my week following the strike around campus and springing out of bushes to pepper groups of strikers with questions.
First, I realized that many of the strikers are so kind that they were willing to take time out of their day to have conversations, and guerilla-style questioning wasn't actually necessary. Even on the fifth day of the strike, everyone I stopped was excited, warm and happy to talk to me.
I started out with this approach for good reason; I admit, I was intimidated. I haven't covered anything this consequential before. People's livelihoods and academic careers are at stake.
But by the time I was done, the strike was no longer so daunting – it was inspirational.
To my surprise, the strikers were up at the crack of dawn. As the 8 a.m. lecture crowd was trudging to class and Chancellor Gene Block was walking his poodles, the strikers were already chanting and marching on the sidewalk. Every day, they showed up bright and early with the same powerful energy.
The fact that they are so resilient makes sense, though. After all, these are the same people who deal with all of the dreadful papers we undergraduates turn in.
That spirit of determination was apparent throughout the week. One of the most surreal moments was watching the strikers boldly storm Bunche Hall while classes were in session.
I looked across the open courtyard to see strikers on all floors marching and chanting in one cohesive, electric stream. The adrenaline and sensory overload I experienced at that moment were incredible.
I also had a chance to talk to some student workers who discussed how the strike has personally affected them, and they were all in good spirits and optimistic about the outcomes of the negotiations.
"If the bargain's successful, it immediately goes into effect, which would significantly affect our living conditions," said Cybele Kappos, a doctoral student in political science and graduate student in statistics.
Every day, strikers face the fact that their actions are directly conflicting with their commitment to education. They are disrupting the entire UC system and putting so much on the line because they believe so deeply in their cause.
Martin Luther King Jr. once said that if a man hasn't discovered a cause worth dying for, life is meaningless. The strike has reminded me of that sentiment.
I think everyone should attend a protest or go on strike in their life. Everyone should care about something enough to miss out on pay, wake up at an ungodly hour, storm a building, chant for an eternity, sit to inhale a Chipotle burrito and get back to it without even the 30 minutes of rest recommended for proper digestion. Then, show up the next day to do it all again.
I wear a wristband that says, "What's your movement?" Honestly, before observing the strike last week, I only vaguely remembered that those words meant something. Every day, I read them over and over, but they didn't inspire me anymore.
I had been going through the motions of activism, working for change for my community – the Black community – without the passion I began with.
It's hard to stay inspired with any pursuit, especially as an activist. It is an exhausting, perpetually uphill battle.
This strike reminded me that regardless of what right you are fighting for, whether that may be human rights, environmental rights or animal rights, all activism requires resilience, boldness, courage and enthusiasm. It also requires feeding off the energy of your fellow activists.
As both an undergraduate student who seeks to hold our institution to a higher standard and an activist, I'm giving kudos to the strikers. They truly reinspired me.
I encourage all of my fellow students to let the strike inspire you too. When you walk around campus, take a moment to close your eyes. Listen, and I mean really listen, to the strikers' chants and the beating of the drums.
Then ask yourself: What's your movement, and what are you willing to sacrifice for it?