Scouting report: UCLA football vs. California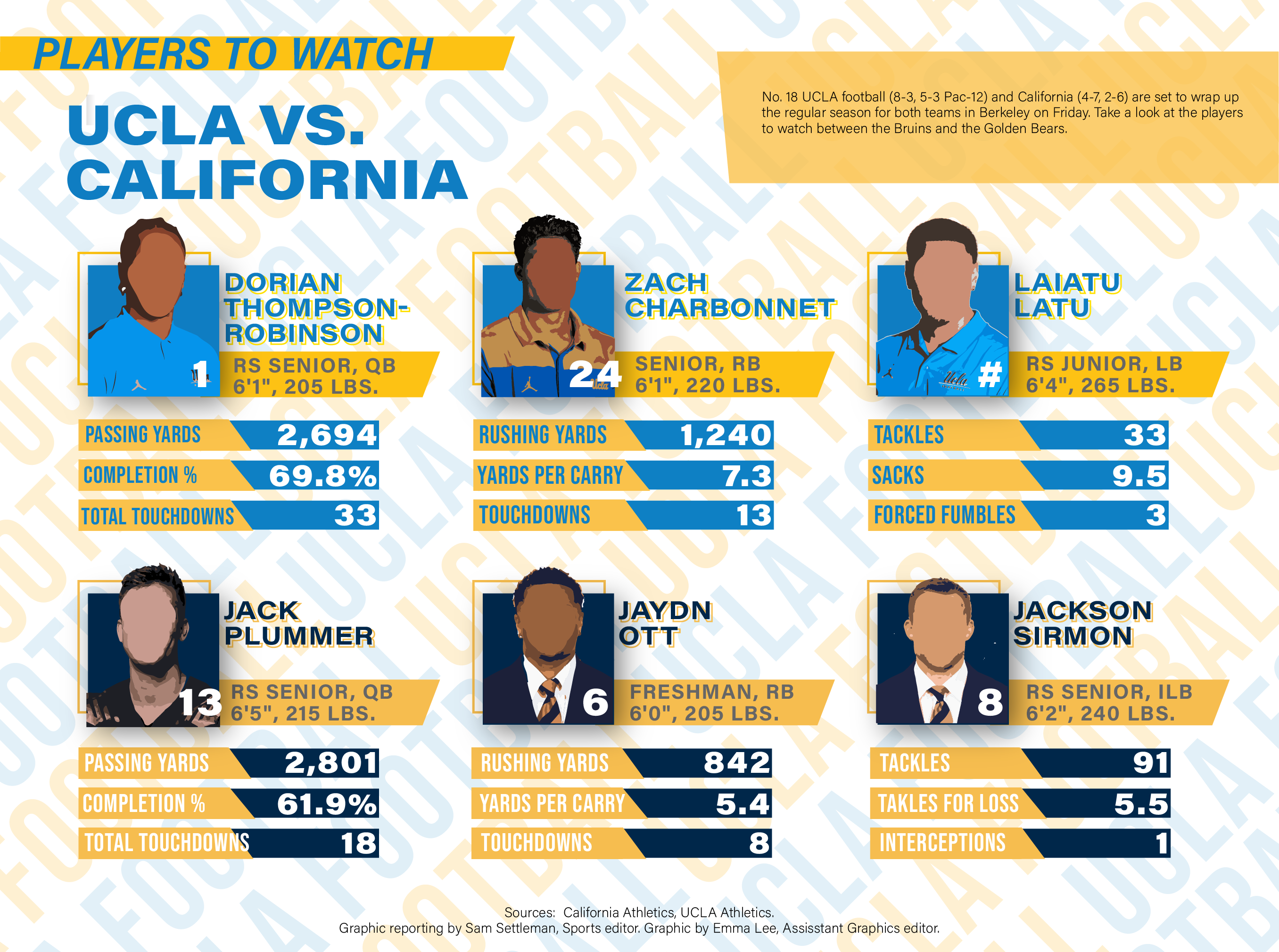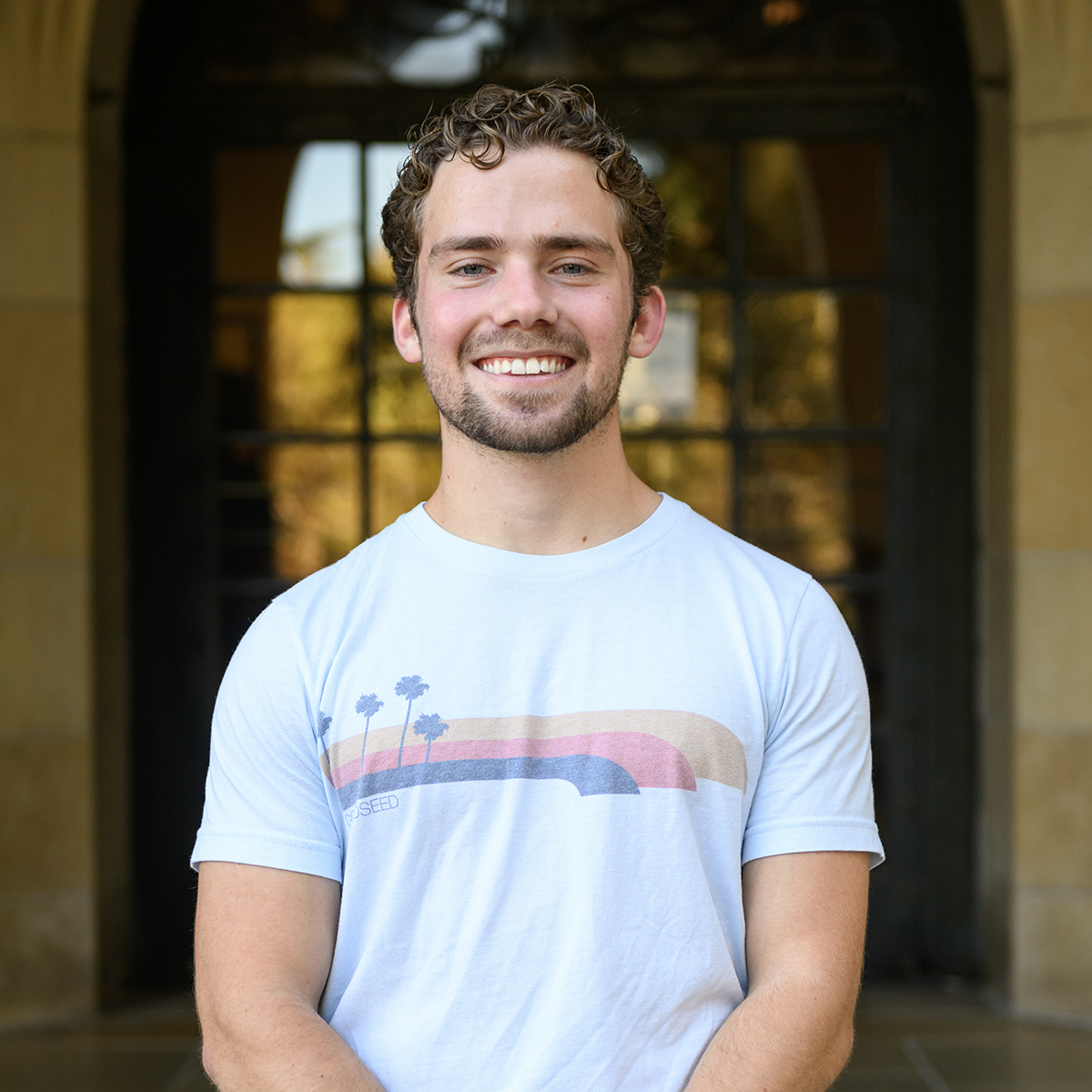 No. 18 UCLA football (8-3, 5-3 Pac-12) will close out the regular season in Berkeley with a showdown against California (4-7, 2-6) on Friday afternoon. The Bruins will look to avoid a third straight loss, while the Golden Bears will attempt to close out a season to forget on a high note. Here is this week's scouting report from Sports Editor Sam Settleman – who can't believe the regular season is already coming to a close.
Cal's offense
Offensive scheme: Pro-style
Run-pass percentage: 58.9% pass, 41.1% run
Strength: Rushing offense (sometimes)
Weakness: Play-calling
X-factor: RB Jaydn Ott
The Golden Bears simultaneously have one of the worst rushing offenses and one of the best running back prospects in the country.
It doesn't make much sense, but hear me out.
Cal is one of 11 teams in the country that averages less than 100 rushing yards per game. Take away an anomalous 354-yard performance against Arizona and Cal rushes for 73.8 yards per game – which would be second-to-last in the country. On three separate occasions this season, the Golden Bears have run for 35 yards or less.
And yet, Cal's rushing offense is led by one of the most promising players in the Pac-12 in true freshman running back Jaydn Ott. A four-star recruit out of Norco High School – the same program that produced Oregon-turned-USC standout running back Travis Dye – Ott has burst onto the scene in year one.
One of the top true freshmen in the nation this year and a likely freshman All-American by season's end, Ott has already broken numerous freshman records in Cal program history with his unique combination of size, speed and agility.
Ott would reach the 1,000-yard mark on the ground with 158 yards Friday, and he has tacked on 38 catches for 270 yards to boot – reminiscent of the numbers put up by former Cal running back and Super Bowl champion Shane Vereen.
So what's the problem?
Cal's offense has been far from a consistent product this season. So much so that after a 156-yard outing against Oregon State two weeks ago that included nine rushing yards on 16 attempts, the Golden Bears parted ways with two members of their coaching staff.
After three seasons apiece with the program, offensive coordinator Bill Musgrave and offensive line coach Angus McClure were let go by Cal 10 games into 2022. With coach Justin Wilcox having a defensive background, the Golden Bears' play-caller for the rest of the year is a mystery.
In the offense's first game without Musgrave at the helm against Stanford last week, Cal played the first half like it has all season: passing more than running. For whatever reason, the Golden Bears threw 27 times in the first half and ran the ball just six times].
Unsurprisingly, Cal scored six first-half points on two field goals as Ott rushed for zero yards on three carries. When Ott started getting touches in the second half, the offense came alive. A 21-point second half behind 97 yards on 15 carries for the running back spurred a comeback win for the Golden Bears.
Cal has had success when it trusts Ott and the ground game.
Conversely, UCLA's rushing defense has regressed in recent weeks. The Bruins held four of their first five opponents under 100 rushing yards but have since given up 170.2 rushing yards per game in their last six contests.
UCLA's defense doesn't get better through the air, whereas Cal has some weapons that could test the Bruins' secondary.
The Golden Bears' passing game is led by quarterback Jack Plummer, a transfer from Purdue. Plummer fits the mold of a mediocre Pac-12 quarterback, with no rushing threat and a tendency to make a bad decision every once in a while.
Beyond Ott – a common option out of the backfield – Plummer's top targets are wide receivers J.Michael Sturdivant and Jeremiah Hunter. When neither of those two is open, Plummer often holds onto the ball too long and forces throws into bad spots instead of throwing it away.
Plummer will likely give UCLA at least one chance to get an easy interception Friday. And if it feels like that would be the first pick for a while for the Bruins' secondary, that's because it would be. The blue and gold's secondary has just one interception since Sept. 30.
Interception or not, UCLA should be able to contain a confused Cal offense.
The Golden Bears' offense is young and still trying to adjust after a staff shakeup two weeks ago. If Cal opts to put the ball on the ground, Ott should have a solid day running the ball and could have a shot at breaking the 1,000-yard mark. But ultimately, it won't be enough to keep pace with UCLA's offense.
Cal's defense
Defensive scheme: Nickel 2-4-5
Strength: Takeaways
Weakness: Lack of pressure
X-factor: S Daniel Scott
Like they are on the offensive side of the ball, the Golden Bears have largely retooled on defense this season.
When these two teams met a year ago, Cal entered the contest ranked first in the Pac-12 in scoring defense. The Golden Bears have slipped to seventh in that category this season – and ninth in total defense – largely because they got a lot younger on defense in 2022.
Cal starts just two seniors – and a pair of true freshmen – on defense. Last season, this group was led by then-sixth-year senior outside linebacker Cameron Goode and then-senior safety Elijah Hicks, both of whom have since departed for the NFL.
Its two senior starters, safety Daniel Scott and inside linebacker Jackson Sirmon, are unquestionably the leaders of this defense. Sirmon scooped up a fumble and returned it for a touchdown to ignite Cal's comeback win over Stanford, with Scott adding a late interception to seal the deal.
Forcing turnovers has proven to be this defense's saving grace, as the Golden Bears rank tied for 38th in the country with 18 takeaways on the season – a rank that significantly outpaces their standing as the 105th-ranked total defense.
Cal is particularly porous against the pass, conceding 287.7 yards per game through the air, a mark that makes the Golden Bears the fifth-worst passing defense in the nation. The lack of success against the pass starts with Cal's ability, or lack thereof, to generate pressure.
The Golden Bears rarely elect to send pressure, instead often opting to drop seven or eight into coverage. With just 18 sacks on the season, they rank tied for 97th in the country in sacks per game. And given their numbers against the pass, dropping extra players into coverage clearly hasn't been the solution.
Friday should provide the perfect opportunity for redshirt senior quarterback Dorian Thompson-Robinson to get back on track after a four-turnover day in UCLA's loss to USC. If the Bruins can take care of the ball, they shouldn't need to get very creative to put up easy offense against the Golden Bears.
Settleman is currently the Sports editor on the football, men's basketball and gymnastics beats. He was previously an assistant editor on the gymnastics, women's soccer, women's golf, men's water polo and women's water polo beats and a contributor on the gymnastics and women's water polo beats.
Settleman is currently the Sports editor on the football, men's basketball and gymnastics beats. He was previously an assistant editor on the gymnastics, women's soccer, women's golf, men's water polo and women's water polo beats and a contributor on the gymnastics and women's water polo beats.