UCLA football gears up for end of regular season after loss to USC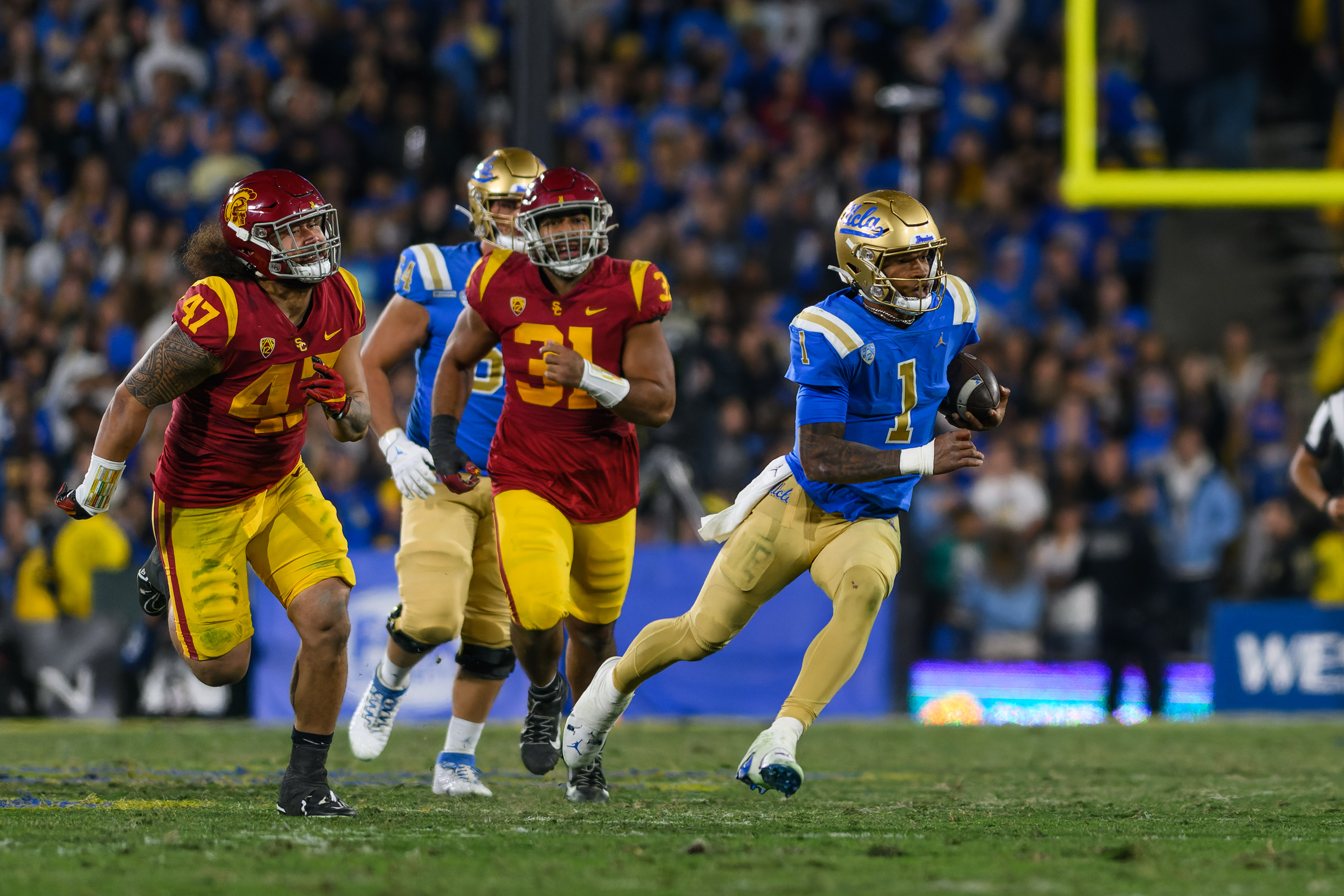 Redshirt senior quarterback Dorian Thompson-Robinson runs away from USC defense. Thompson-Robinson and No. 18 UCLA football will close out the regular season with a matchup against California on Friday. (Anika Chakrabarti/Photo editor)
Football
---
California
Friday, 1:30 p.m.
California Memorial Stadium
FOX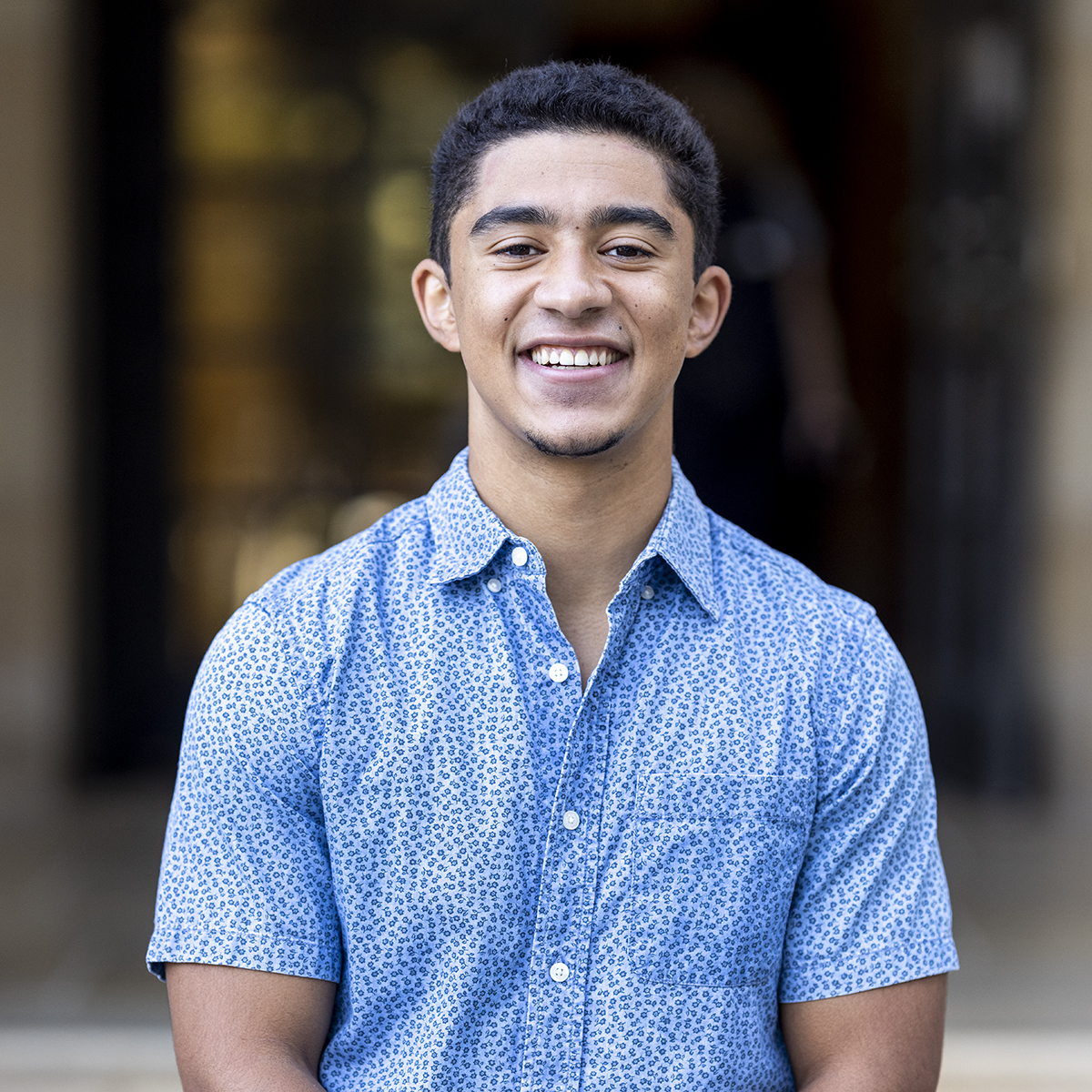 Dorian Thompson-Robinson admitted that it's not easy to move on from a crosstown rivalry defeat.
"(It's) super difficult. That's the one you want every year. That's our championship," Thompson-Robinson said.
But after his 390-yard, six-touchdown performance was overshadowed by four costly turnovers in a loss to USC on Saturday, the Bruins' redshirt senior quarterback said he's far too familiar with criticism to let it distract him before his final regular season game donning the blue and gold.
"I've gotten the hatred and all the stuff that comes with being a quarterback early," Thompson-Robinson said. "I turn my notifications off on my phone, and I don't even worry about it. I'm out here enjoying Westwood, enjoying my time as a Bruin and just trying to love on my teammates."
Thompson-Robinson and the rest of No. 18 UCLA football's (8-3, 5-3 Pac-12) seniors will close out their regular-season careers with the blue and gold, looking to end a two-game skid at California (4-7, 2-6). The Black Friday contest in Berkeley comes less than a week after the Bruins' 48-45 defeat to their rival Trojans that officially removed UCLA from Pac-12 championship game contention.
With one less day to prepare, the Bruins began practicing Sunday night for their matchup with the Golden Bears, less than 24 hours after their Rose Bowl heartbreaker. Coach Chip Kelly reflected on the loss and highlighted Thompson-Robinson's turnovers as a deciding factor.
"It was a classic football game, two teams going toe-to-toe," Kelly said. "As we always talk about, the team that usually loses the turnover battle in this league isn't going to win the game. We created one, but we turned it over too many times and ultimately ended up losing in a close one."
In his final game at the Rose Bowl, Thompson-Robinson threw for over 300 yards for the second time this season and accounted for a season-high six total touchdowns. But he also threw three interceptions and lost a fumble on the Bruins' 15-yard line.
Despite the disappointing end to his final battle for the Victory Bell, Thompson-Robinson still heads into his regular-season Bruin curtain call amid his best statistical season on many fronts.
The Las Vegas native's 24 passing touchdowns are already three more than his previous best, his 69.8% completion rate is nearly five points higher than his career high, and he's just eight passing yards and 66 rushing yards away from his largest season totals of his career. After incurring a hand injury in the USC game last weekend, Thompson-Robinson immediately practiced Sunday night. He is expected to play Friday, according to Kelly, with a chance to achieve those career marks.
While Thompson-Robinson and the blue and gold were unable to duplicate their 2021 success against their crosstown rivals, the Bruins' final regular season opponent did just that last weekend.
California is coming off its second straight win against Stanford. After winning in blowout fashion with a 41-11 win last season in Stanford, the Golden Bears survived at home to defeat the Cardinal 27-20 in the 125th edition of the Big Game on Saturday.
When asked about the potential to still finish the season with 10 wins with a victory Friday and in a bowl game, Kelly emphasized that his team is not looking past a Cal team that is better than what its record suggests.
"Ten doesn't mean anything unless you get to nine," Kelly said. "They (Cal) had lost a couple of games in a row, but … they should have beat Notre Dame at Notre Dame. … (They) played really well two weeks ago – it was 41-35 against USC. We expect them to throw everything at us, and we've had battles with them since I've been here."
Last season, the Bruins quickly ended the Golden Bears' post-rivalry win momentum with a 42-14 blowout win at the Rose Bowl, and they have won seven of the last nine matchups against their University of California counterparts.
Despite UCLA's recent success against Cal, redshirt junior offensive lineman Raiqwon O'Neal said this season's matchup against the Golden Bears is unique because of each team's current form.
"We lost two games in a row. We wanted to get out here and get better and perform for our fans and perform for our team, perform for our brothers," O'Neal said. "We're going to play Cal, which is a hard, competitive team. And they're coming off of a win as well."
The blue and gold's 2022 matchup with its secondary rivals comes at a unique time, with UCLA currently working against the UC Board of Regents to leave Cal and the rest of the Pac-12 behind for the Big Ten in 2024. The potential move became even more ambiguous after the Regents postponed their final decision last week.
Through the uncertainty of their future and the damage from Saturday's defeat, Kelly said the Bruins are ready to close out their regular season the right way.
"We don't really have a lot of time to feel bad or sorry for ourselves, and that's not the mode or the M.O. of this team," Kelly said. "They were great, really attentive in meetings – we're excited to play this Friday."
Carlson is currently a staff writer on the football, men's basketball and women's basketball beats. He was previously a reporter on the softball and men's golf beats.
Carlson is currently a staff writer on the football, men's basketball and women's basketball beats. He was previously a reporter on the softball and men's golf beats.