UCLA men's water polo to take on Washington & Jefferson in postseason opener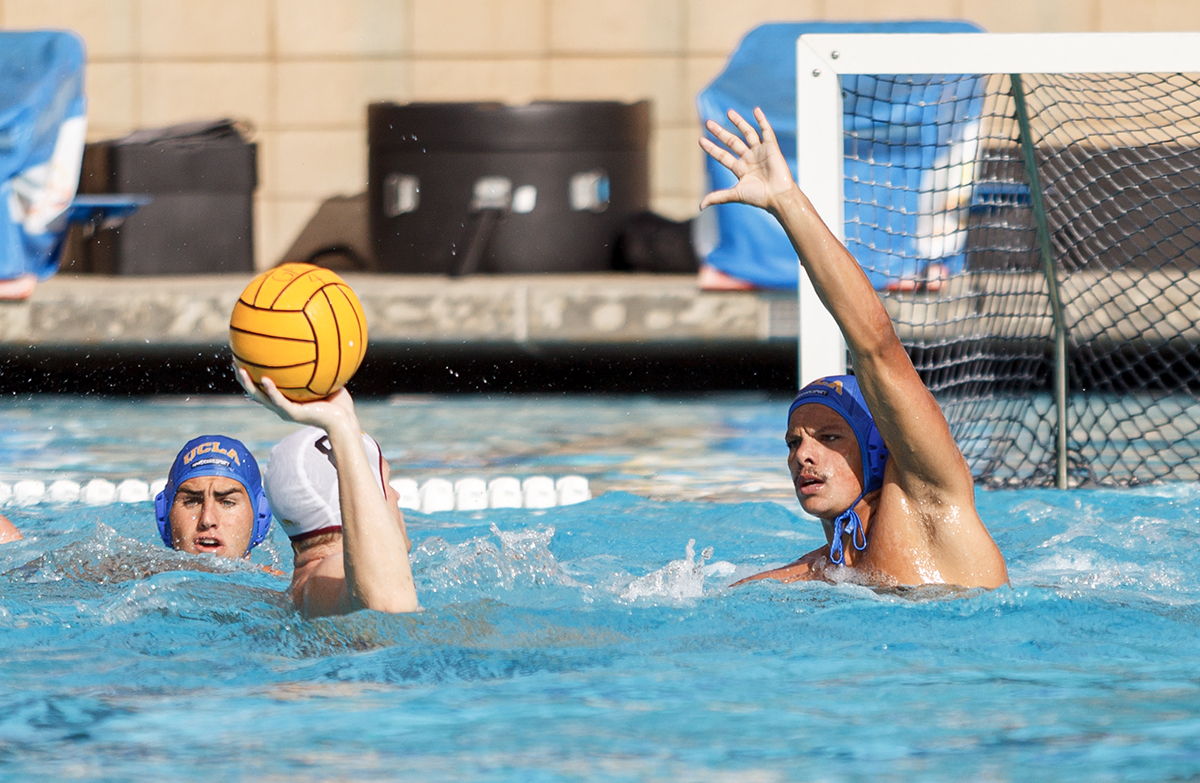 Senior center Gabe Discipulo reaches out of the water on defense. (Joseph Jimenez/Assistant Photo editor)
Men's Water Polo
---
No. 6 seed Washington & Jefferson
Friday, 1 p.m.
Uytengsu Aquatics Center
No TV info
After a double overtime comeback win against USC, the Bruins are set to start their postseason at the home of their rivals.
No. 3 seed UCLA men's water polo (21-2, 2-1 MPSF) will face No. 6 seed Washington & Jefferson (9-6, 2-3) on Friday at Uytengsu Aquatics Center to kick off the three-day Mountain Pacific Sports Federation tournament. With a win in round one, the Bruins would move on to the semifinals for a potential matchup with No. 5 seed USC.
Following a back-and-forth contest against the Trojans to cap off the regular season, senior attacker Tommy Gruwell said it was important for the team to focus on the basics.
"When stuff doesn't go well is when we go away from our fundamentals and what we usually do as a team," Gruwell said. "So, just honing in on those fundamentals and focusing on what we need to do as a group and being on the same page."
Friday's matchup against Washington & Jefferson will be the first between the two schools in history. Despite having games against many of UCLA's potential opponents in this weekend tournament, such as Penn State, Washington & Jefferson has not traveled farther west than Texas.
Even with a new opponent on the schedule, coach Adam Wright said the team is not going to change its ways.
"Reality is, we have a great opportunity starting Friday, and we know it gets tougher from there, but for us, the big thing is … training," Wright said. "Anytime you are going to play for a tournament, you have got to prep for anybody you potentially see. For us, that includes a good amount of film."
Wright added that finding motivation would not be difficult, recognizing the tournament as one of the last opportunities for the Bruins to play together.
"This is where things get decided if you get to keep playing as a group or not," Wright said. "It's wide open, and we have the best conference in the country and a lot of good teams."
UCLA has been undefeated against USC this season, picking up two wins at neutral sites and one at home. However, the Bruins have yet to make the trip to Uytengsu Aquatics Center this season.
With the tournament on the road, senior center Gabe Discipulo said the team wants to generate its own energy.
"The fans were great and awesome last week, but we think the energy should come from us," Discipulo said. "That's going to change in a different arena."
With a potential rematch against USC on the horizon should both teams win their first-round matchups, Wright said being able to win in all venues is necessary.
"If you want to be the best, you have to be able to do it home and away," Wright said. "There are no guarantees that we play beyond this weekend. It's important that we keep that at the forefront."
If UCLA and USC both advance past their opponents in the first round, they are set to face off against each other in the semifinals. If the Bruins pull out a win, they will advance to the finals to compete for first in the west. However, if USC comes out on top, UCLA will compete for third place in the west, possibly in a rematch against California. This would be the first time the Bruins face the Golden Bears since their loss during the regular season.
As the season comes to an end and the NCAA tournament approaches, Discipulo said the Bruins are focused on what's directly in front of them.
"The way to get things done is to take things one day at a time, one game at a time, one play at a time," Discipulo said. "This weekend, we're going to get a lot of good games and a lot of good opportunities."
UCLA will face off with Washington & Jefferson at Uytengsu Aquatics Center on Friday at 1 p.m.