Q&A: Daily Trojan Sports editor talks expectations for Saturday's rivalry football game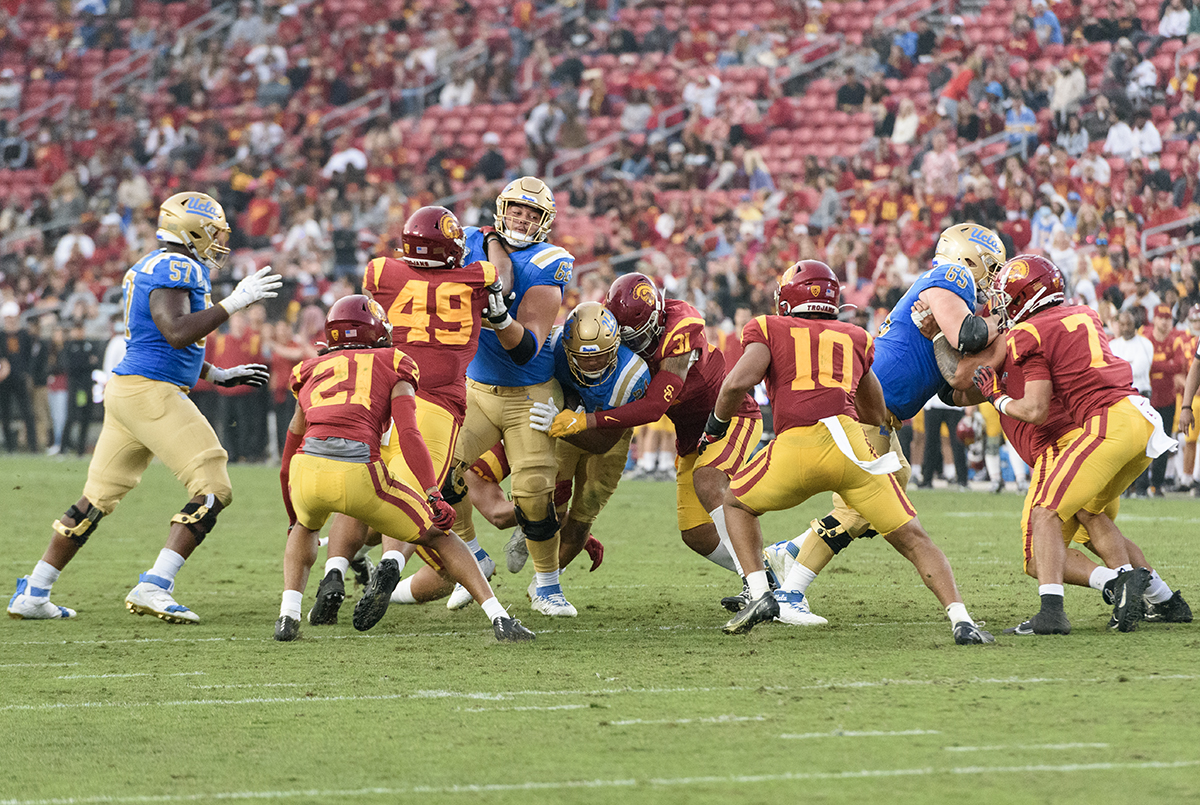 UCLA football takes on USC in 2021. The Bruins and Trojans will face off again Saturday. (Daily Bruin file photo)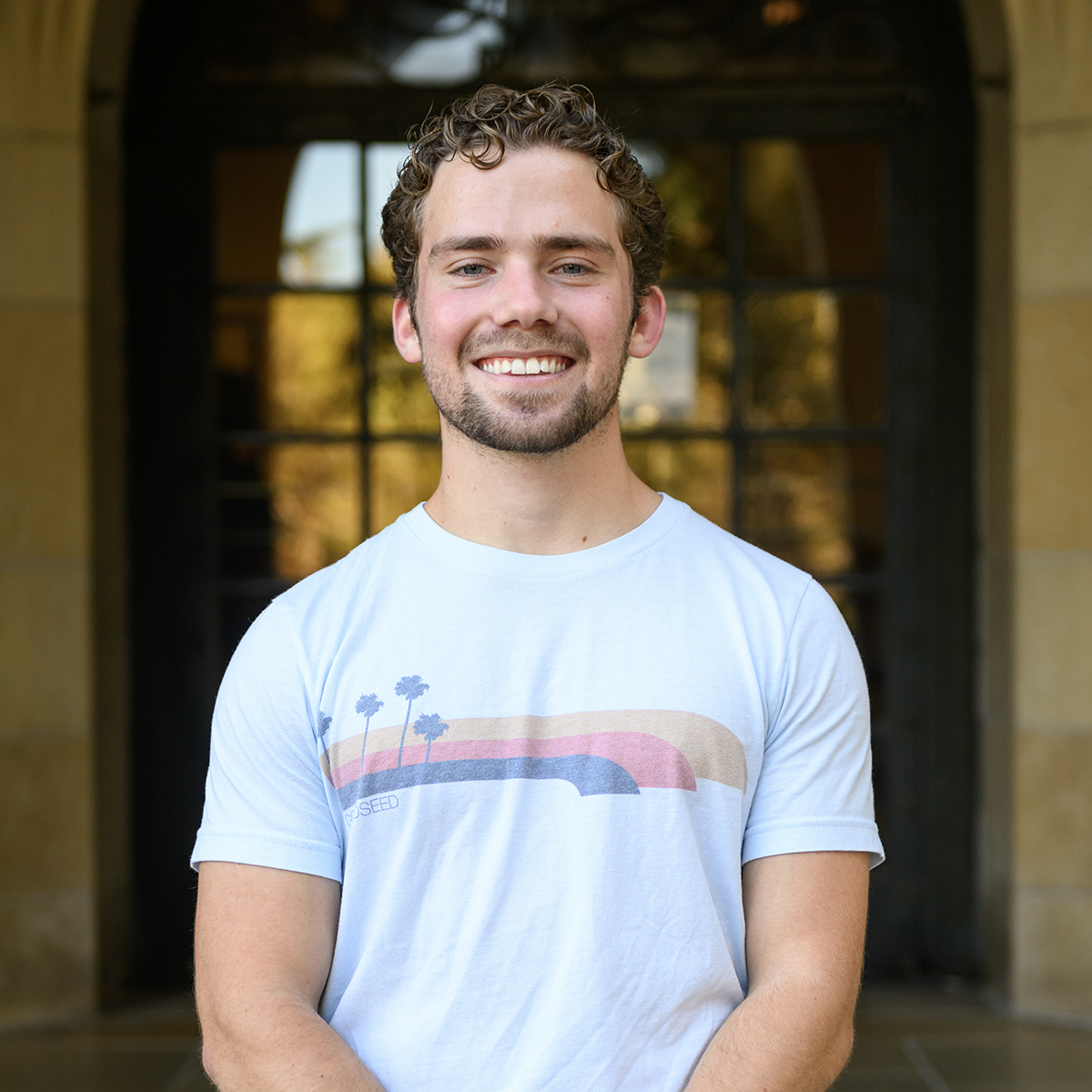 No. 16 UCLA football (8-2, 5-2 Pac-12) will host No. 7 USC (9-1, 7-1) on Saturday evening at the Rose Bowl in a game that could have significant implications for the Pac-12 championship. Prior to the game, Daily Bruin Sports Editor Sam Settleman sat down with Daily Trojan Sports Editor Patrick Warren to discuss this year's crosstown clash.
This interview has been edited for length and clarity.

Daily Bruin: I think everyone for the last couple of weeks has expected this matchup to be a matchup between two 9-1 teams. And then UCLA loses to Arizona and all of a sudden the narrative around this game changed a little bit. Nevertheless, it's still a huge game that should have a big impact on who's going to end up playing for the Pac-12 championship at the end of the day. In a big-picture sense, how important is this game on Saturday?
Daily Trojan: I think it's huge just because USC has had a lot of strong moments this year, but they haven't really beat a lot of great teams. And I think UCLA will be among one of the better teams they have the opportunity to beat. With Pac-12 consideration and, I mean, (College Football) Playoff consideration – if that's still a possibility for USC – each win is crucial in showing that you belong in the conversation. The players are talking about how it's just another game, but obviously the history of the rivalry is in everybody's minds, especially this year – it's one of the first years in a while that both teams have been relevant in this college football conversation for the whole season – until yesterday (Saturday) maybe. But I think this matchup will still be a really highly anticipated matchup and I think a high-scoring matchup too.
DB: On the USC side, this is a team that has yet to beat a team currently in the CFP top 25. So if USC loses Saturday, they're still 9-2, but Pac-12 championship is borderline off the table at that point, 0-2 against ranked opponents – I don't want to say it's a must-win for USC, but what's the narrative around this team if they do lose that game on Saturday?
DT: I think if they lose this game, it's that they couldn't really beat equal or above-equal competition. You can't call this season a disappointment because of what it has been, especially turning around from 4-8 last year. But I think it would be definitely a sour taste in the mouth of a lot of USC fans, who are coming into the week feeling pretty good probably, with UCLA losing and USC riding to a victory over the ferocious 1-9 Colorado Buffaloes. So I think it would be a bummer, especially considering the fact that it is pretty much winner get in – winner gets into the Pac-12 championship – which would be quite a turnaround from last year. So I think it will be kind of indicative of not being able to win the big games necessarily if USC is not able to come out with a victory at the Rose Bowl this weekend.
DB: Give me the rundown on Lincoln Riley. He's a high-profile coach, someone who was expected to do big things with this team this year. But what's the general consensus on what he's brought to USC in year one?
DT: It really seems like he's done an excellent job of practicing cohesion. USC had so many different transfers from all over the country, people who had never played together. And I think there was a lot of concern going into the season about how well people would mesh (and) how cohesive the offensive and defensive units would become. And there's still some questions on that defensive end for sure, and the offense isn't always looking perfect. But I do think that Riley had done such a good job of kind of building this feeling of community and team. I think everybody really does subscribe to all the cliches of getting along and hanging outside of practice and stuff like that. I think the head coach is a big part of that. Just from a football standpoint, the play-calling has been really good. It's been really fun to watch him have these weapons – especially early on in the season when USC was healthier – having (wide receiver Jordan) Addison, (wide receiver) Mario Williams in the mix and just seeing what (quarterback) Caleb Williams is truly capable of. Riley is a quarterback whisperer for a reason. He's got a really good offensive mind, and I'm interested to see what the future of the defensive side of the ball will look like for USC. There's definitely a lot of questions to be answered there. But I do think that offensively it looks like Lincoln's got a good thing going.
DB: This USC team is obviously one that's propelled by its offense and especially a couple of huge transfer additions this season with Caleb Williams, Jordan Addison, among others. Where is this offense most dangerous in your opinion?
DT: I think just the wide receiver depth is really, really underrated. We've seen that with Addison and Mario Williams going out in the last couple weeks. Tahj Washington, he's a receiver who's been at USC for a while and kind of has not had a lot of opportunity to shine. But with Mario Williams and Addison being out, he's really broken into the mix and has the second highest receiving yards on the team. Also, another transfer, (wide receiver) Brenden Rice, son of Jerry Rice, has been very valuable the last couple games. He got a touchdown against Colorado, his former team. You can kind of go down the list – Kyle Ford, Michael Jackson III, Terrell Bynum – they've all really filled in well. And I don't know if that speaks to Caleb's ability to find people who might not be as elite as Addison or Williams, but I also think it just speaks to the depth that USC has at the wide receiver position. One thing that will be tough is to evaluate the depth at running back, but I also think that that's pretty good too. With (running backs) Austin Jones and Raleek Brown filling in the gaps, it will be tough, but I do think that USC has the players to do it.
DB: Speaking of big transfers, losing (running back) Travis Dye for the year to a season-ending injury is a big deal, huge loss for this team. How much does that change USC's ability to be multidimensional on offense?
DT: Dye is so valuable because he could – sort of old-school running back – just ground and pound. He could move the chains. Austin Jones, he had a good couple first games. It was kind of a little bit of a two-headed monster with him and Dye, and then Dye just kind of took over that battle and throughout the rest of the season saw a large majority of the carries. We've been able to see what Austin Jones can do in the Colorado game. Not necessarily the best benchmark test against that defense, but he looked solid – I think he was averaging 10 yards per carry or something. So between him and Raleek Brown, who's a really promising freshman who's got a lot of speed and is really dynamic (and) can catch the ball, and Darwin Barlow, another young running back – I think that the depth is there. I don't know how much USC will be able to rely on their run game as they used to. But I do think having a senior like Austin Jones to step in – I think it's super valuable to have a seasoned running back to replace Dye, as opposed to just having a couple young guys.
DB: We talked about the offense a lot, but it's no secret that this defense has been a point of weakness for USC all year. Where do you think this defense has been most susceptible this season, and what does it have to do to slow down UCLA's offense on Saturday?
DT: The running defense has been just pretty tough lately. USC has seen a lot of quarterbacks that can run like (Arizona quarterback Jayden) de Laura kind of run all over them. Injuries has kind of played a part in that, with (inside linebacker) Eric Gentry being out, with (inside linebacker) Shane Lee being banged up. But it also just seems like there's just not a lot of communication that's at least successfully going on. There's a lot of times where there's an open guy down the field and it's not really clear who was supposed to cover him. So I think with UCLA and with DTR (redshirt senior quarterback Dorian Thompson-Robinson), his rushing ability and obviously his passing ability, I think that there is a way to expose USC's defense and get big plays. That's kind of been a big issue all year: allowing big plays. USC has had a problem doing that. So I think that if UCLA is able to kind of set up the run and make USC respect the run, then they can really take advantage of kind of a spotty secondary at times, and it could be a problem for the Trojans.
DB: What's your score prediction for Saturday's game?
DT: I think it's going to be a high-scoring game. Give me 42-38 USC.
Settleman is currently the Sports editor on the football, men's basketball and gymnastics beats. He was previously an assistant editor on the gymnastics, women's soccer, women's golf, men's water polo and women's water polo beats and a contributor on the gymnastics and women's water polo beats.
Settleman is currently the Sports editor on the football, men's basketball and gymnastics beats. He was previously an assistant editor on the gymnastics, women's soccer, women's golf, men's water polo and women's water polo beats and a contributor on the gymnastics and women's water polo beats.