Gameday Predictions: UCLA vs. USC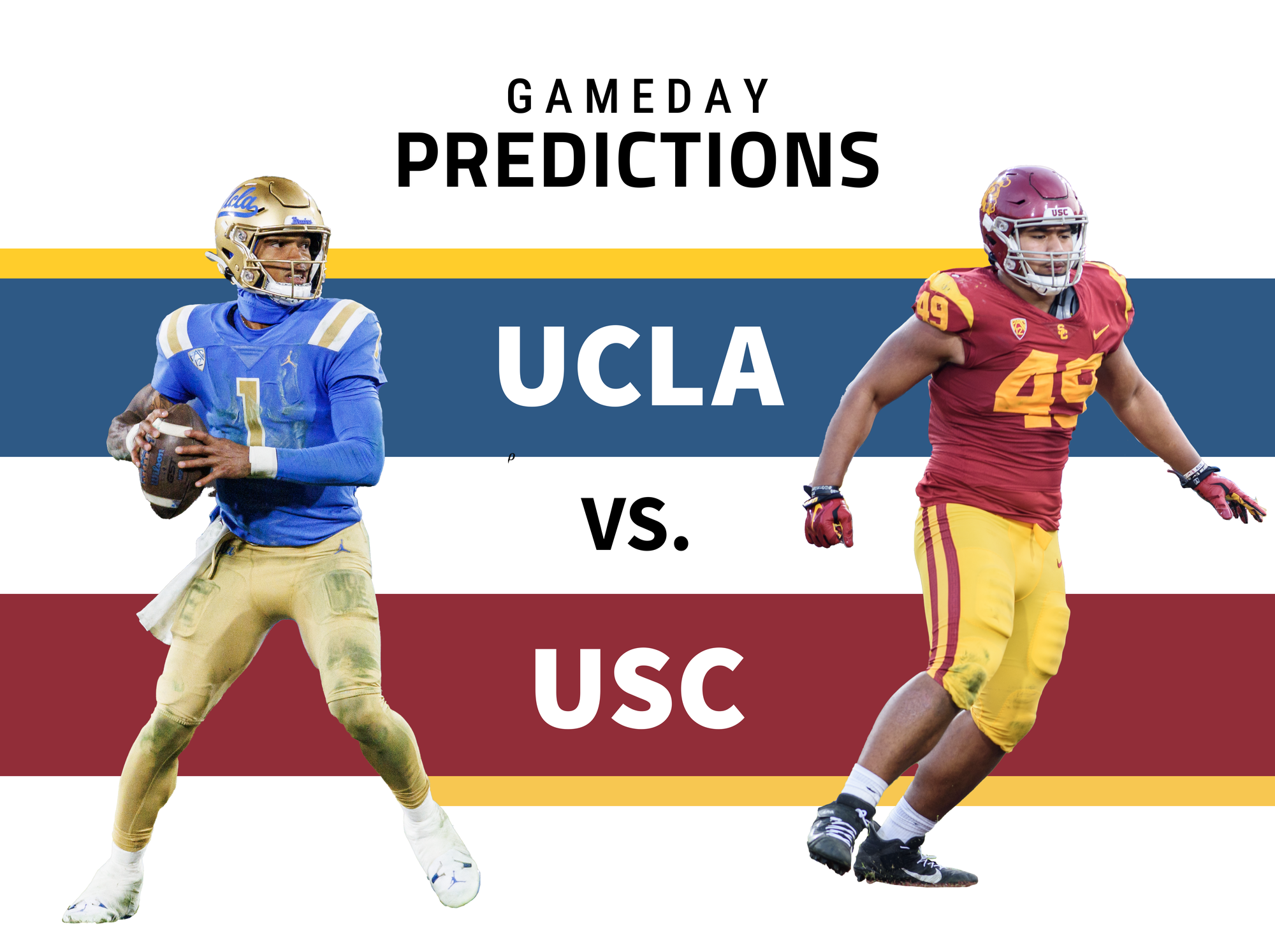 Pictured are UCLA football redshirt senior quarterback Dorian Thompson-Robinson (left) and USC defensive lineman Tuli Tuipulotu (right). (Left to right: Photos by Shengfeng Chien/Daily Bruin staff, Daily Bruin file photo. Photo illustration by Maya O'Kelly/Design director)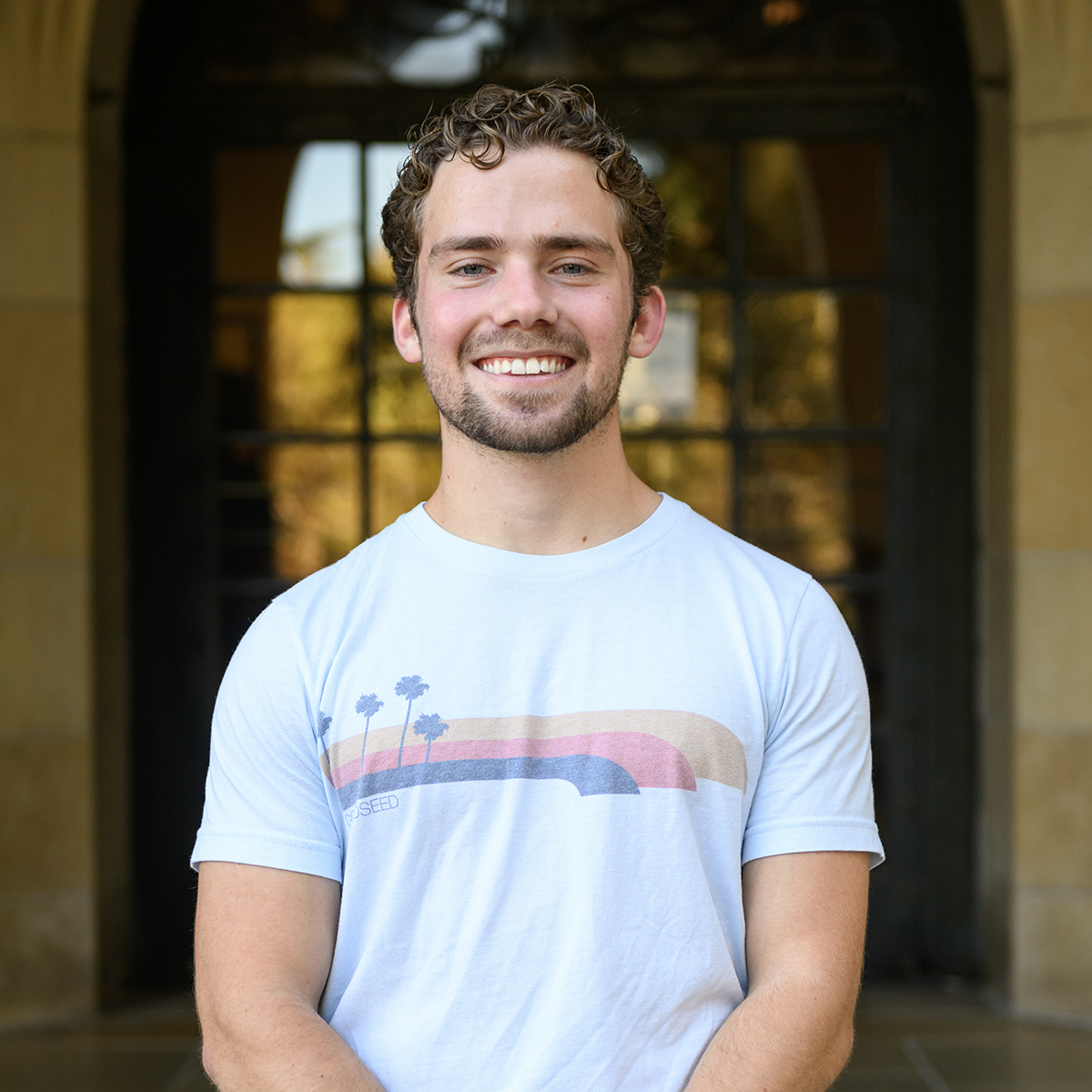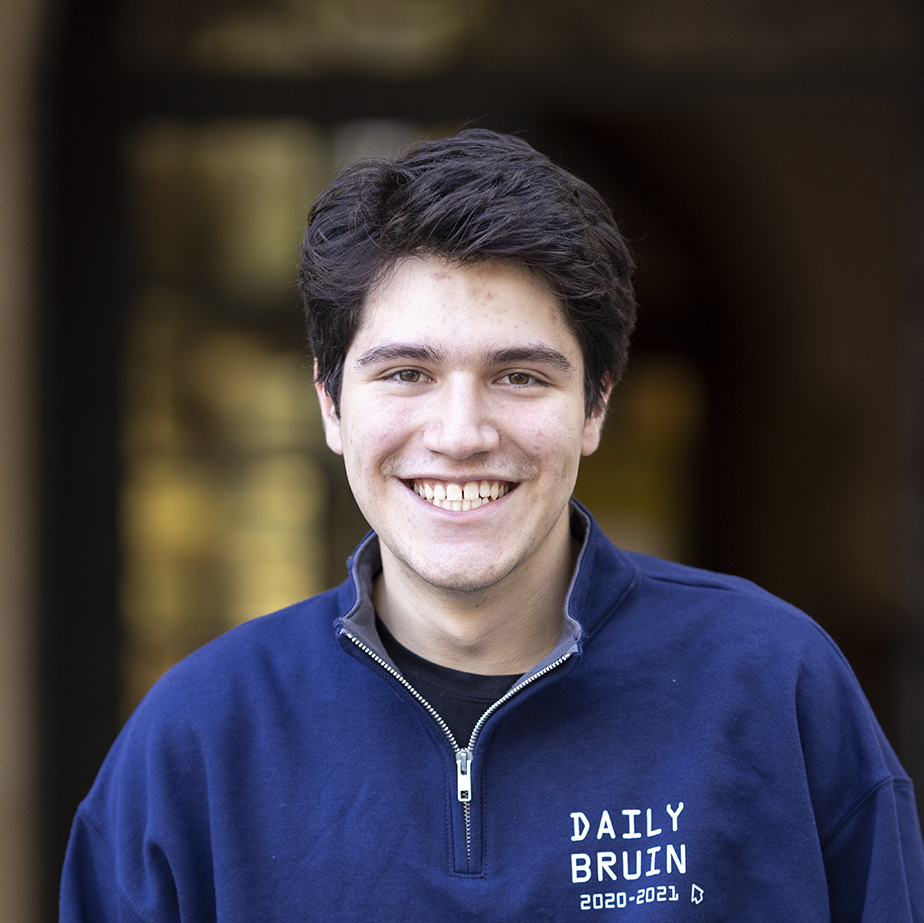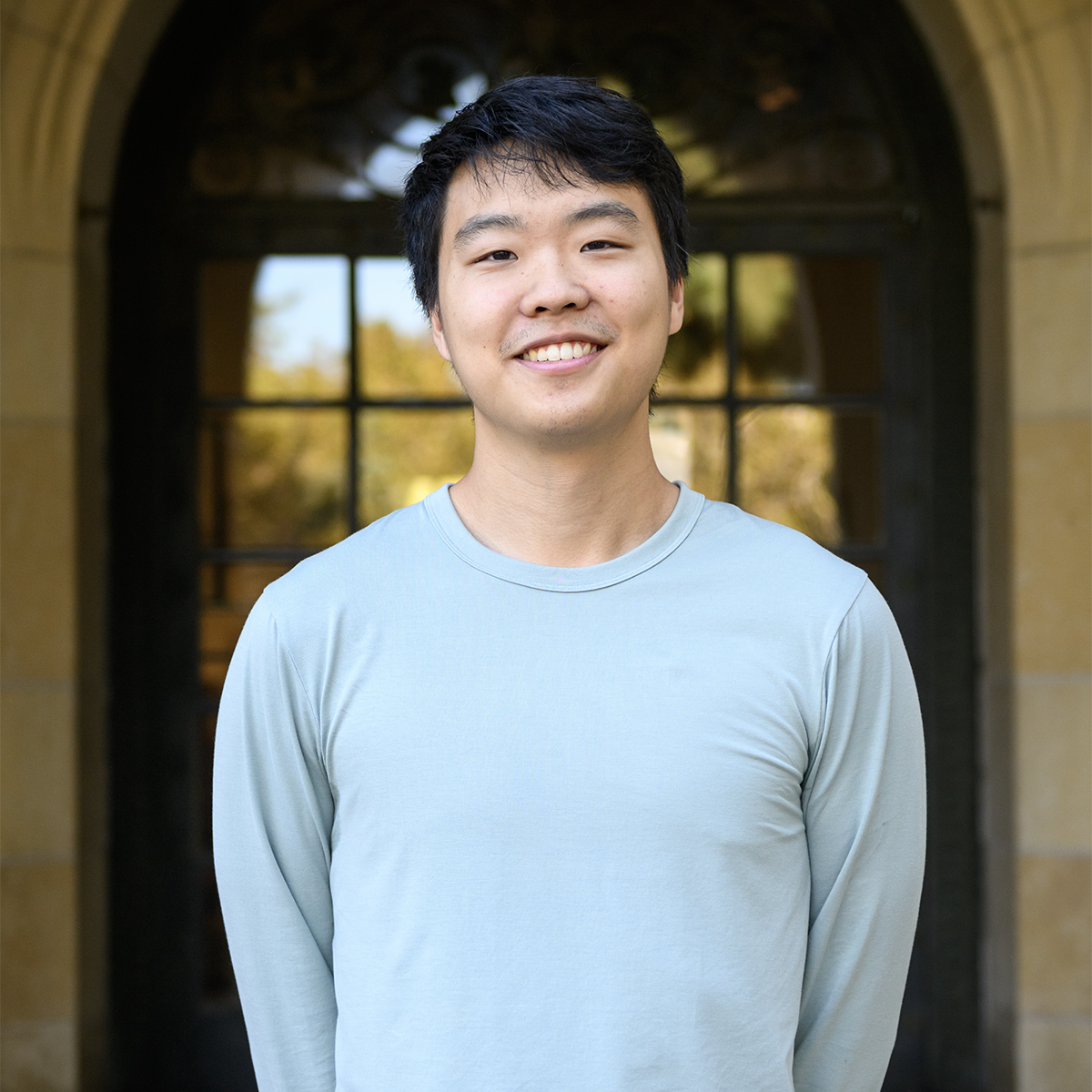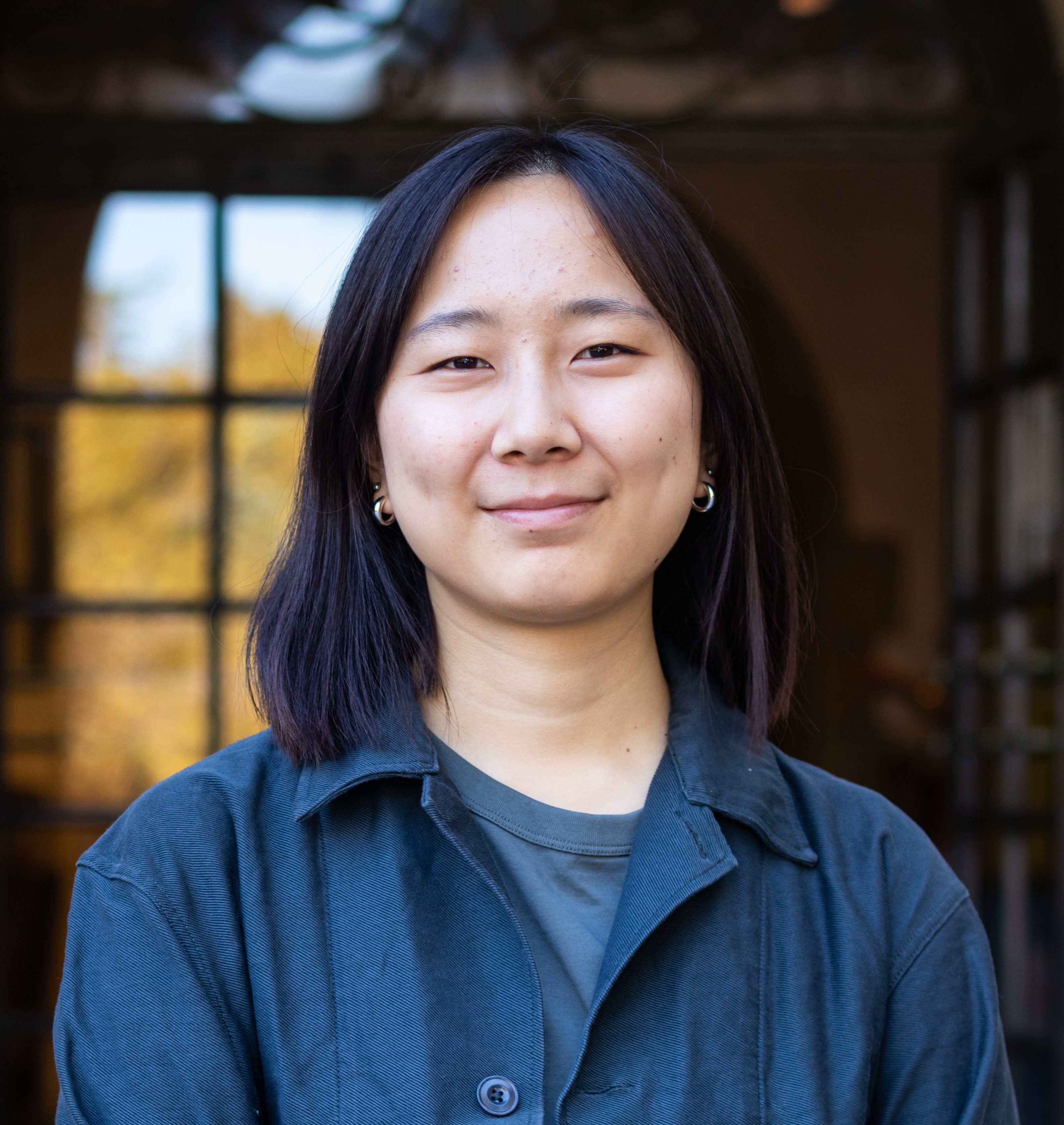 Sam Settleman
Sports editor
Prediction: UCLA 49, USC 42
On September 28, 1929, UCLA and USC battled for the first time.
In its second season in the daunting Pacific Coast Conference, the blue and gold was the youngblood going up against the reigning conference champions – the odds stacked against the Bruins.
It would've been an underdog story for the ages. Instead, UCLA lost 76-0.
For 20 straight years, USC dominated the crosstown rivalry, blanking the Bruins on multiple occasions. It was no rivalry in any sense of the term.
Until 1950 rolled around.
UCLA took down USC 39-0 at the Coliseum, and 72 years later, the all-time record has evened out. Since the midway mark of the 20th century, the rivalry between the Bruins and Trojans has told the story of a back-and-forth battle, with many miles traveled for the coveted Victory Bell.
The 1990s belonged to the Bruins, and the 2000s to the Trojans, but for the better part of 72 years, this matchup has been a coin flip.
Saturday will be no different.
A pair of top offenses matching up against a pair of weak defenses. Two of the premier quarterbacks in the conference. A battle between two of the top offensive masterminds in the game.
No doubt about it, this one will be a shootout. Don't expect a 0-0 tie reminiscent of the Jackie Robinson days in 1939.
Touchdown after touchdown, lead change after lead change, this game will surely be decided in the final quarter. But ultimately, UCLA will add one more in the win column in this historic rivalry – a victory that would make the 1929 Bruins proud.
Jon Christon
Daily Bruin senior staff
Prediction: UCLA 41, USC 48
Despite what the respective student populations might say, UCLA and USC are more similar than people think.
Well, at least on the gridiron they are.
Both teams feature absolutely electric offenses, with Chip Kelly and Lincoln Riley – two of the best offensive minds in football – at the helm of their respective programs. Each has a human highlight reel quarterback, with redshirt senior Dorian Thompson-Robinson and Caleb Williams under center. And both teams play like defense is optional.
Suffice to say, it'll be a fun contest in Pasadena on Saturday.
And, after last week, I'm giving a slight edge to the Trojans.
UCLA lost to a downright terrible Arizona team a week ago, a game that caused me – and many across the country – to rethink what we thought we knew about the blue and gold.
First, the Bruins' offense is incomplete. Thompson-Robinson looked shaky as his team scored a season-low 28 points in the loss. Senior running back Zach Charbonnet did not look 100% after missing the Arizona State game two weeks ago, and redshirt junior wide receiver Kazmeir Allen – who was critical in UCLA's win over USC a year ago – did not play because of an undisclosed injury.
I am also less confident the Bruins' defense can be anything more than a stick of butter against the hot knife that is USC.
UCLA had plenty of trouble stopping Arizona's playmakers, and it'll only get harder when it matches up against Williams and wide receiver Jordan Addison.
The Bruins will still hold their own Saturday, but if last week taught us anything, it's that this team is far from elite.
Francis Moon
Daily Bruin senior staff
Prediction: UCLA 51, USC 45
Saturday will likely be the last football game I attend as a UCLA student, so let's take a trip down memory lane.
After moving into my freshman dorm in September 2019, my introduction to the school's football team came later that day as everyone on my floor gathered in the lounge. What a first impression it was, as the Bruins pulled off the third-largest comeback in FBS history.
But a couple weeks later, my initial experience at the Rose Bowl quickly turned sour as the blue and gold fell behind by three scores just six minutes into a game against Oregon State.
I watched from the corner of the end zone as the defense got burned time and again before I left back to Westwood at halftime. I didn't go to another game that year, and I watched from home as UCLA lost the Victory Bell to USC, allowing a 19-year old Kedon Slovis to put on an all-time quarterback performance in the rivalry.
Ditto to my sophomore year in 2020, when the Bruins blew a chance at a winning season with back-to-back close losses – including one to the Trojans – to finish the year 3-4.
But since then, as a writer for the Daily Bruin, I've covered an electric win over LSU in 2021 and UCLA's biggest win in recent memory against Utah earlier this season while also watching the team trample its crosstown rivals last year. Even still, there have been several hiccups, most recently a disappointing loss to Arizona last week.
The point is, there's two very distinct UCLA football teams I've witnessed.
One offers a sliver of hope, before crushing every little crumb of it when you least expect. The other takes that same potential and blows it out of the water. The question is which version will show up Saturday.
This will be a shootout. Both the Bruins and Trojans have exhibited defensive weaknesses all year, and it is about to come back to haunt one of them.
As I go through my final round of rivalry week as a student – and to keep my streak of the blue and gold going undefeated when I'm in the press box – I'm going to bet on the latter.
Victoria Ke Li
Editor in chief
Prediction: UCLA 49, USC 45
Unlike my fellow predictors, I have never been a Sports editor. Nor have I ever watched a football game in my life. This Saturday's will be my first.
But I refuse to let this disadvantage stop me. As the former Science & Health News editor, I turned to the most scientific method of all: astrology.
In the interest of time, let's just take a look at quarterbacks Thompson-Robinson and Williams. Interestingly enough, their birthdays are only four days apart, making them both – unfortunately – Scorpios.
This does, however, raise an interesting question: Is being a Scorpio a requirement to be a quarterback at a Pac-12-soon-to-be-Big-Ten school? I'll let Sports investigate that one later.
Thompson-Robinson's air–water sign combination as a Scorpio sun, Aquarius moon could present a new challenge for him now that we're in peak Scorpio season. As a Taurus moon, Williams has a much more balanced combination going for him with the additional earth sign in his astrological chart, translating to a more balanced offensive attack.
I will admit, my analysis has limitations, as I was unable to find their time of birth via Google search, which prevented me from ascertaining their ascendant sign.
However, I think that another approach is foolproof. Thompson-Robinson is clearly the elder of the two by approximately three years. He was born in 1999 while Williams was born in 2002. But more importantly, his birthday happening earlier in the month of November makes it clear that he will rise out on top Saturday.
Four days earlier equals four more points to the Bruins. And that's science.