Nobilio sinks 7th hole-in-1, women's golf looks to boost consistency in offseason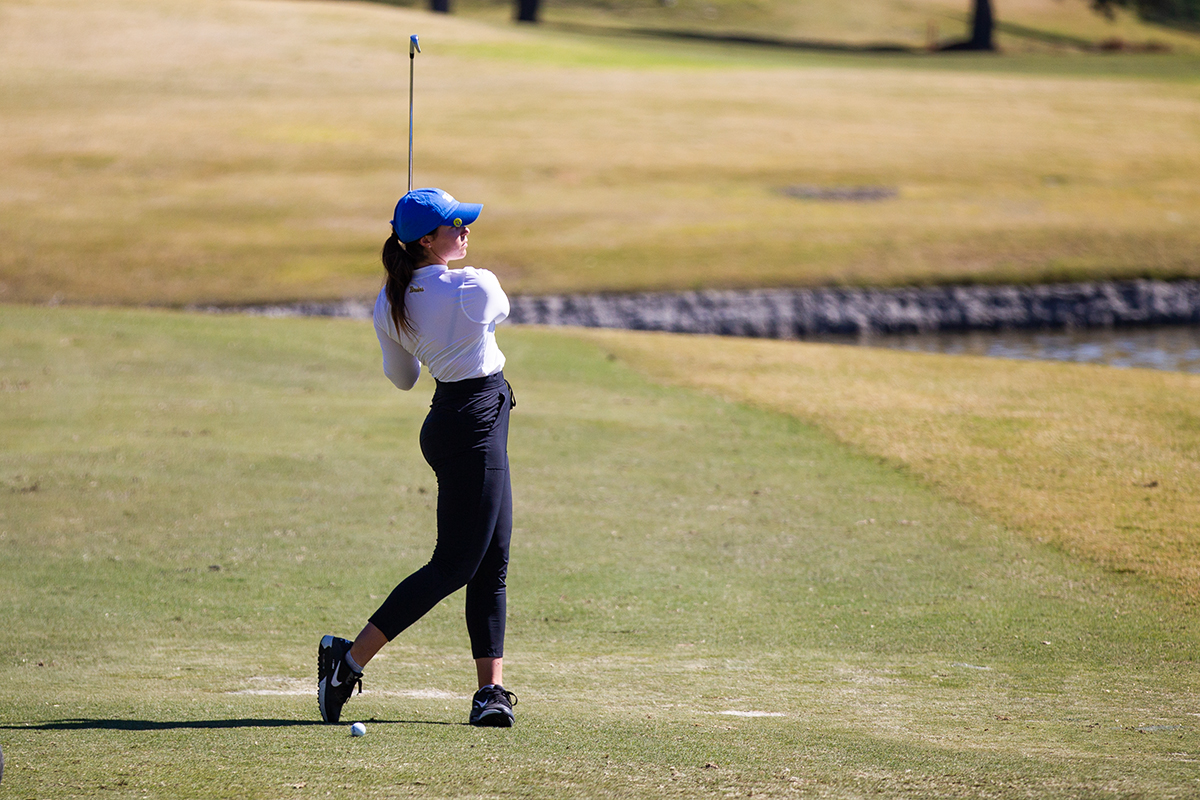 Redshirt sophomore Alessia Nobilio follows through on a practice swing at The Gold Rush Tournament. (Joseph Jimenez/Assistant Photo editor)
Alessia's holes-in-one
The odds of an amateur golfer making a hole-in-one on a par three are 12,500-1.
Redshirt sophomore Alessia Nobilio has beaten those odds, not once, not twice, but seven times. Eleven years ago, then-10-year-old Nobilio earned a one on her scorecard for the first time.
Nobilio remembers using her driver off the tee box on a par three. She said the hole felt long when she was that age.
"I mean, today, it would be a very short par three," Nobilio said. "But at the time, it was a long one for me, so I hit a driver. And the ball just bounced before the green and rolled into the hole. I remember my dad standing behind the green and screaming."
Recently, she carded her seventh and first collegiate hole-in-one at the Nanea Pac-12 Preview. On the 11th hole of the Nanea Golf Club course, Nobilio stepped up to the box with her 7-iron to start the par three.
Nobilio said at first, she did not even realize that she got a hole-in-one.
"I hit my shot, and I could still see the ball from the tee box," Nobilio said. "I only realized when I got to the green, and I couldn't see my ball anymore. I knew I hit it very close, but I didn't think it was in."
In 2017, Nobilio played alongside professional golfer Sergio Garcia in the Rolex Pro-Am at Golf Club Milano, where she carded another hole-in-one on the 12th hole. Nobilio and Garcia were two players on a team of four, joined by two amateurs.
Nobilio said she has developed a post-hole-in-one routine, opting to keep the ball rather than continuing to use it.
"I write on the ball after the round," Nobilio said. "I write the date and the golf course, and then I keep it in my house."
As the fall season comes to a close, Nobilio can look forward to the winter and spring, when she will have more opportunities to add another ball to her hole-in-one collection.
Teamwide inconsistency in the fall
The Bruins are in a two-and-a-half month break from tournament play, but the work to improve their game continues.

No. 23 UCLA women's golf completed the fall season after notching its best finish at the USF Intercollegiate, where it earned second place with a score of even-852. With its next tournament set to occur on Jan. 23, the blue and gold has a substantial break from tournament play.
Coach Carrie Forsyth said issues may arise if her players don't take advantage of the time off.
"For the players who continue to work hard and use the time well, (this break) is definitely beneficial," Forsyth said. "But if they put their clubs away and don't touch them for a month, it's not great."
While sophomores Caroline Canales and Zoe Antoinette Campos have frequently found themselves atop the Bruins' scorecard, the team has yet to put five players in the top 40 during stroke play tournaments.
Canales said her ball striking throughout the fall season has led to her consistency on the scoreboard.
"Actually, last year's offseason, so last November, (my coach and I) really tried to create a swing where I could trust it and rely on it under pressure," Canales said. "And have a swing where there was little variation, meaning I wasn't having a two-way miss. I wasn't missing drives both left and right, so when I missed a shot, I knew where it was going."
Out of the three-stroke play tournaments during the fall, the Bruins saw the least variation in their scores at the Blessings Collegiate Invitational. There was a 22-stroke differential between the top UCLA finisher, Campos, and the bottom UCLA finisher, senior Annabel Wilson.
In contrast, the blue and gold saw its biggest difference at the Nanea Pac-12 Preview. Canales, the Bruins' top finisher, carded a score that was 33 strokes better than senior Yuki Yoshihara. The winning team – No. 1 Stanford – saw a 26-point differential between their top and bottom finishers.
Forsyth said the offseason will provide a chance for players to work on aspects of their game they have been struggling with.
"If we have to start over again in January with some of the things that the girls know they need to be working on right now, then that's going to set us behind," Forsyth said. "But I think ultimately, the girls' motivation is in the right place. I believe that we are going to get a lot closer to that consistency in the winter and spring quarters than we were this fall."
When the mid-season break comes to end, the Bruins will have six more tournaments before the postseason to shrink the gap between their top and bottom finishers.
Baker is currently a Sports contributor on the swim & dive beat.
Baker is currently a Sports contributor on the swim & dive beat.