Upset loss to Wildcats complicates UCLA football's path to Pac-12 championship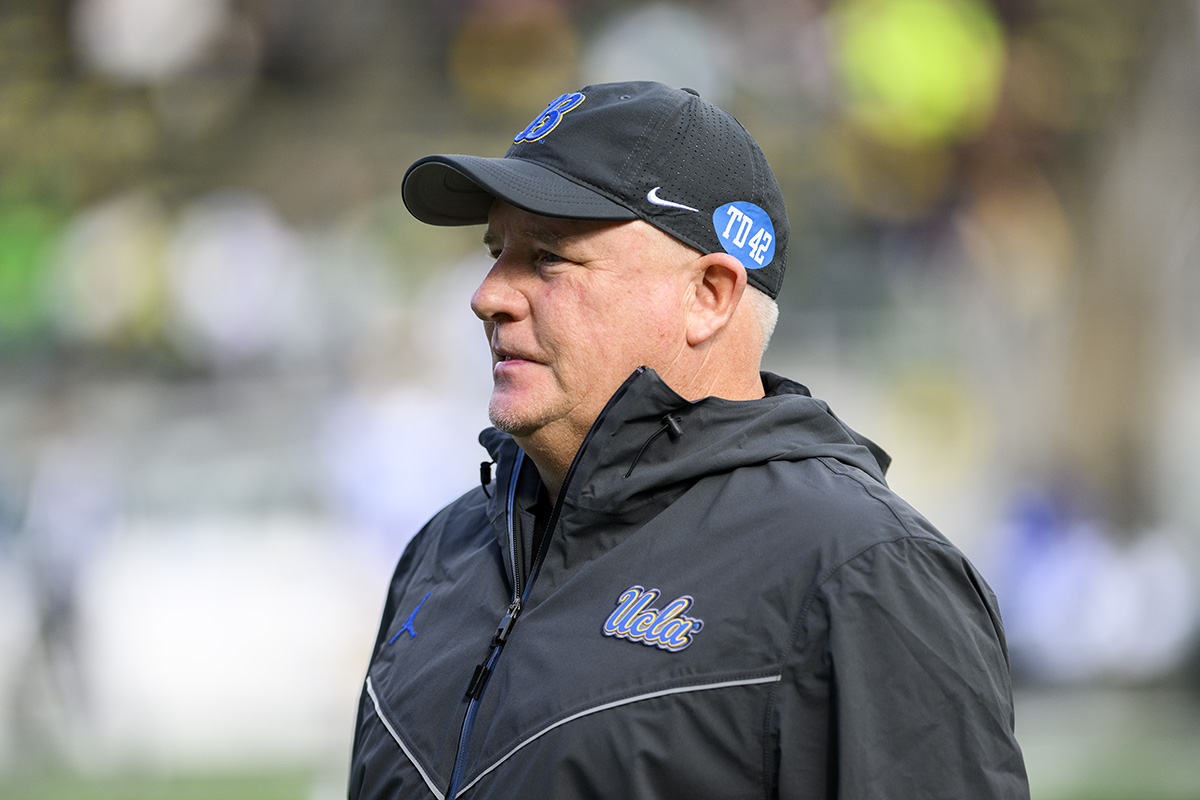 Coach Chip Kelly stands on the field before a game against Oregon. UCLA football fell to 8-2 after an upset loss at the hands of Arizona on Saturday. (Megan Cai/Assistant Photo editor)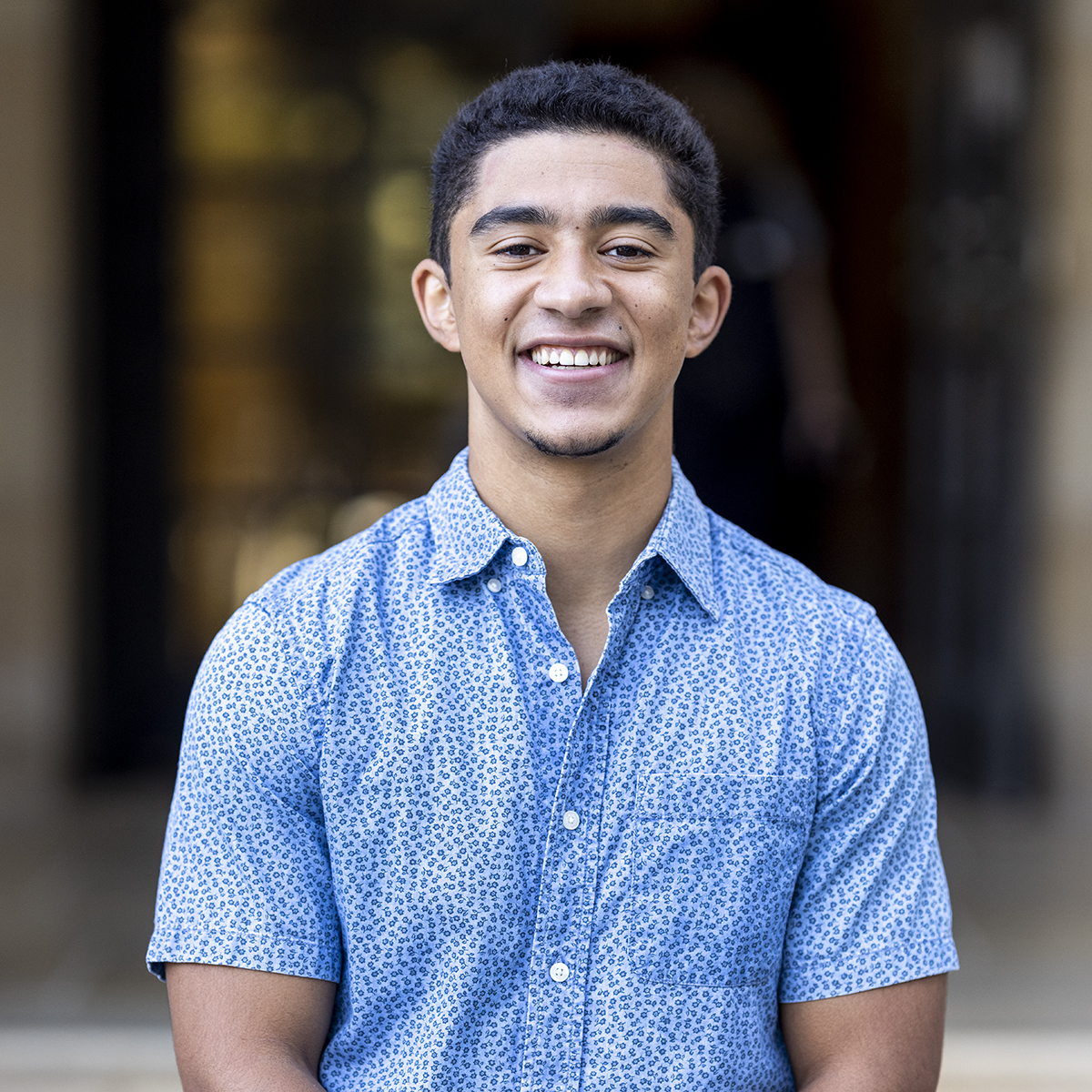 This post was updated Nov. 17 at 10:44 p.m.
Heading into last Saturday night at the Rose Bowl, the Bruins were one win away from a historic crosstown rivalry matchup.
Defeat an Arizona team that came in 1-5 against Pac-12 opponents, and the blue and gold would have continued to control its own destiny in the conference.
The Trojans would have been the last true regular season test for the Bruins, with both teams likely ranked in the top 10 and keeping a College Football Playoff or Rose Bowl berth in their sights.
Instead, No. 16 UCLA football allowed 30 points for the fifth time in its last six games in a loss to a Wildcat team that was 1-11 last year. As nearly 20-point favorites, the Bruins gave up 312 pass yards and a backbreaking fourth-quarter touchdown drive similar to last season's upset loss against Fresno State.
And yet, despite his defense costing UCLA the right to control its path to its first Pac-12 championship appearance since 2012, coach Chip Kelly expressed faith in his defense Monday.
"I'm very confident (in the defense)," Kelly said. "(Arizona quarterback) Jayden de Laura made a lot of off-schedule plays where he just was a football player. Sometimes, you got to give him credit on what a great player he was on that particular night."
De Laura did scramble around before completing passes on many key plays Saturday, but the blue and gold's defense had already come into the matchup ranked 92nd in the country in pass yards allowed per game. The week prior, UCLA's defense had given up 36 points and 349 passing yards against Arizona State.
Now they rank 102nd. But still, the offensive-minded Kelly defended his secondary, led by defensive coordinator Bill McGovern.
"I think our scheme is sound. I think our players do a really good job with it," Kelly said. "They have a great understanding of it."
Coming into the contest, the Bruins' eighth-best scoring offense in the country had been able to hide the team's lack of success on the other side of the ball for all but one game this season. But UCLA's first sub-30-point offensive performance in 13 games proved to be too little to keep up with Arizona's seventh-ranked passing offense.
Redshirt senior quarterback Dorian Thompson-Robinson came within a few feet of completing a 72-yard game-winning touchdown drive in just over a minute. Instead, the signal-caller's pass to the end zone on the final play of the game was thrown too far in front of the diving redshirt senior wide receiver Jake Bobo.
After coming up just short, Thompson-Robinson said the team has to move on quickly and prioritize the little things in-house.
"We're far from worried about that (loss) now," Thompson-Robinson said. "Stop worrying about everybody else and what everybody else has to say about us. We've got to get back to the nitty-gritty of it and what we do on a week-to-week basis."
The Bruins will now move on to their first home game against the Trojans with fans in attendance since 2018.
UCLA ended a three-game losing streak against USC with its 34-27 win in front of a full Rose Bowl that season. Senior offensive lineman Jon Gaines II reminisced about the win, led by former UCLA running back Joshua Kelley, ahead of this year's senior night matchup.
"It was a crazy experience, especially with Josh Kelley," Gaines said. "To see him have the game he had, being able to celebrate his success, was great and just, as a team, it was amazing."
Now blocking for senior running back Zach Charbonnet and company, Gaines and the Bruins will play a senior night rivalry matchup in what will potentially be the last game at the Rose Bowl for him, Charbonnet, Thompson-Robinson and plenty of other key seniors.
Because of the loss against Arizona, the scenarios in which UCLA can have a chance to return to the Rose Bowl in the postseason have dwindled.
If the blue and gold wins out, Oregon defeats Utah this week and Washington loses one of its final two games, UCLA will earn a spot in the Pac-12 championship and play for a trip to the Rose Bowl game. Otherwise, this Saturday will be a Pasadena curtain call for many seniors.
Thompson-Robinson said he's ready for the sentiments that will be felt Saturday evening against the Trojans.
"I'm obviously trying to stay as level-headed and calm as possible, but obviously I know the emotions that are going to come with it," Thompson-Robinson said. "Getting to have my family out there on the field with me and just getting to enjoy this moment … (and) feeling the blessings that come along with it."
Carlson is currently a staff writer on the football, men's basketball and women's basketball beats. He was previously a reporter on the softball and men's golf beats.
Carlson is currently a staff writer on the football, men's basketball and women's basketball beats. He was previously a reporter on the softball and men's golf beats.