Inspired by her legendary coaches, Margueritte Aozasa aims to bring UCLA success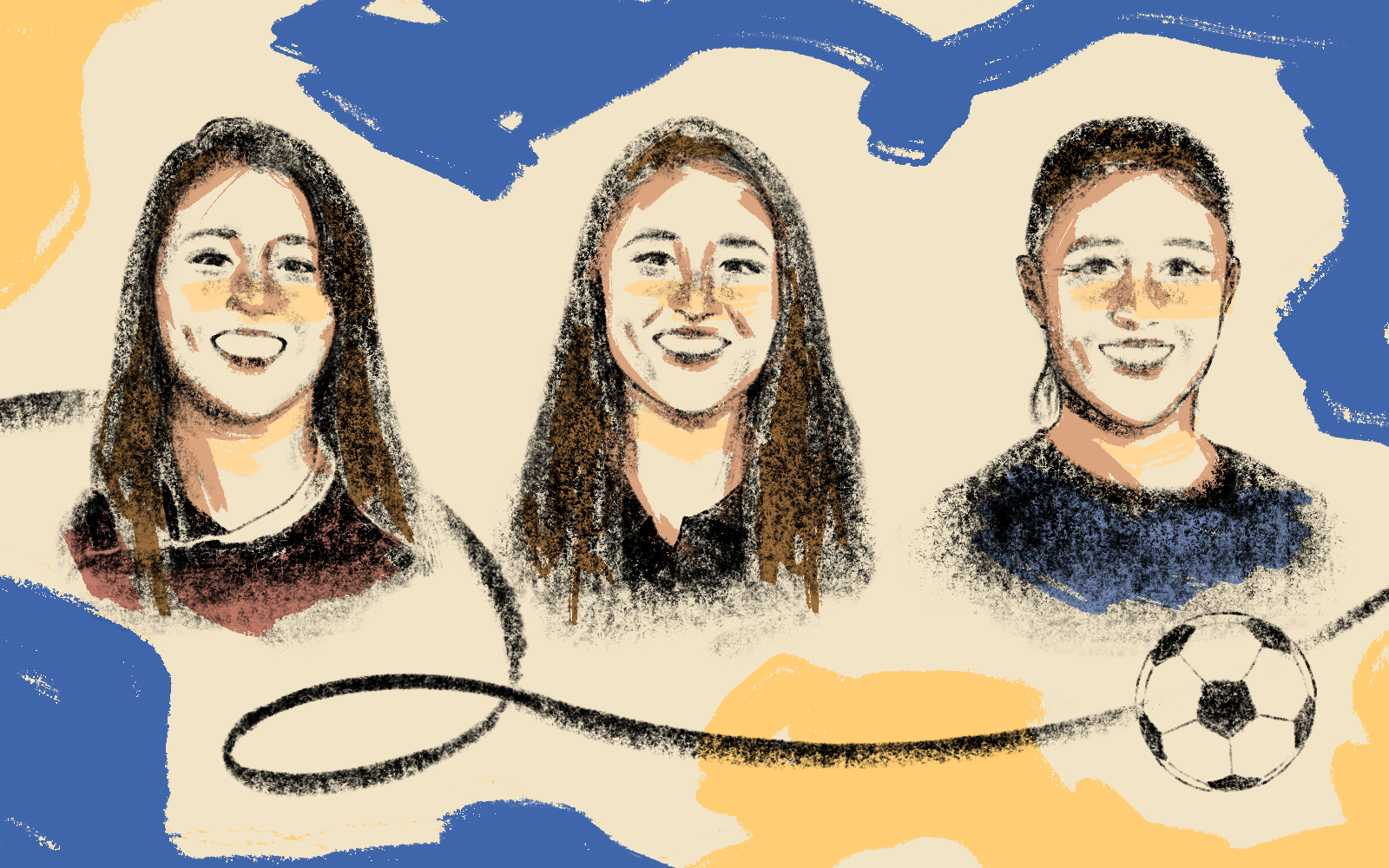 (Isabella Lee/Illustrations director)
A four-year starter at one of the top soccer programs in the country? Check.
A multiple-time national champion as an assistant coach? Check.
A rookie head coach leading the top-ranked team in the nation? Check.
UCLA women's soccer coach Margueritte Aozasa has won at every level. And at age 32, her soccer journey is realistically just beginning.
However growing up, Aozasa didn't even want to play soccer. She had her eyes set on a different sport.
"My family knew absolutely nothing about soccer," Aozasa said. "My greatest dream was to be a major league baseball player until I was like 12."
With a twist of fate, she transitioned to the soccer pitch, where she met a coach that would change her life: Albertin Montoya. Montoya is currently the technical director of the MVLA soccer club – the same club Aozasa played for growing up – and was recently appointed as the interim head coach of the NWSL's Washington Spirit.
Aozasa played for Montoya her entire club career and credits him for being the reason she fell in love with soccer.
"I was super fortunate to have an incredible coach early on in my career, who I would consider my greatest mentor now," Aozasa said. "He's always been by my side, just leading me through the game, and that's really how I found the game."
Aozasa's hard work and passion for the game paid off, because despite tearing her ACL twice in high school, she earned the opportunity to play Division I soccer at Santa Clara from 2008-2011.
While playing for the Broncos, she was able to play under another legendary coach, Jerry Smith, who has the fifth-most wins in women's college soccer history and has won two national championships across his 36 years at Santa Clara.
Aozasa said playing under Smith gave her a new perspective on how to approach the game.
"Jerry really pushed me as a tactician in the game or a strategist just because that's how he sees the game," Aozasa said. "He thinks of the game as a game of chess."
Aozasa started 67 games across four years at Santa Clara as a midfielder and center back and eventually became a captain her senior year. She was also recognized as a West Coast Conference All-Academic team member during her junior campaign in 2010.
After her career for the Broncos came to an end, Aozasa knew right away she wanted to get into coaching.
"Jerry used to tell me all the time, 'You're going to be a coach,'" Aozasa said. "So as soon as I graduated, I really turned my sights towards coaching."
Aozasa returned to her former club team to coach a variety of age groups. However, when Stanford coach Paul Ratcliffe had an assistant coach position open up, a stroke of luck led him right to Aozasa.
Ratcliffe's daughter was one of Aozasa's players at the time, so when he needed to fill a gap on his staff, the young coach was right at the top of his list.
"As soon as that job opened, he actually approached another parent in the club just to put the feelers out," Aozasa said. "Two weeks later, I was working at Stanford."
Under Ratcliffe, Aozasa coached for seven seasons with the Cardinal and won two national championships and five Pac-12 titles. She also coached two MAC Hermann Trophy award winners and four players that eventually went on to be selected first overall in the NWSL Draft.
Aozasa said she loved her job at Stanford, and at the time, she had no immediate plans to leave it.
"I was extremely happy at Stanford," Aozasa said. "I was extremely fortunate to work with incredible young women on the field, to work with an incredible staff, and my family's from there. It was a perfect situation. For me to leave, it was going to take something exceedingly special."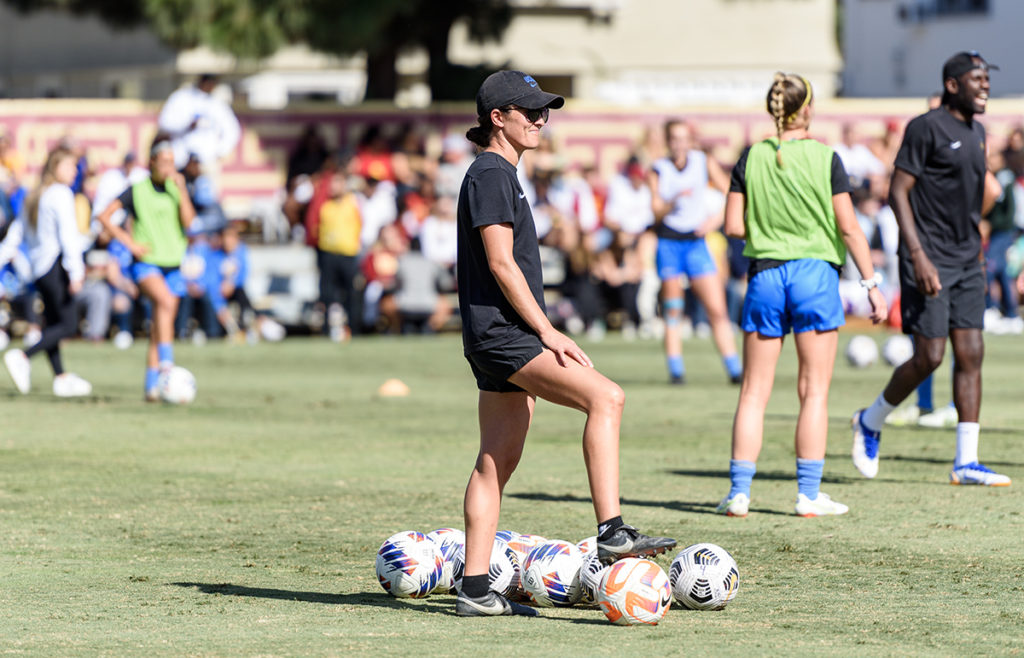 And then special fell right into Aozasa's lap just as it had seven years before.
The summer after the 2021 season, the UCLA job became available and Aozasa decided to apply, with it being the only program she took a stab at. Then, on the same week as her wedding, she interviewed for the position and was offered the job the following week while on her honeymoon.
When Aozasa arrived in Westwood, she immediately made it the staff's goal to connect with each and every player and get to know them not just as soccer players but as people too.
"That was something that Margueritte did before her staff was hired, making sure she met with each player individually," said assistant coach Molly Poletto. "We know that they're great soccer players – the entire country knows that – but being able to get to know them as human beings first was the most important part."
Senior defender Kylie Kerr said she noticed right away how much of an effort the coaching staff was putting in to connect to each player.
"They (the coaching staff) really care about us as people, and they want to see the best in us on and off the field," Kerr said. "We've (the seniors have) really made it our mission to make everyone feel included and feel like they have a voice and that they're not scared to play."
Aozasa's first season at the helm of UCLA started with immediate success, kicking off the season 13-0 with road victories over then-No. 2 Duke and then-No. 1 North Carolina. The Bruins finished their regular season 17-2 and earned a No. 1 seed entering the NCAA tournament while spending nine consecutive weeks at the top of the national rankings.
With the regular season all said and done, Aozasa was awarded the Pac-12 Coach of the Year as the first rookie coach to ever win the honor.
Poletto said although Aozasa has remained extremely humble throughout the season, she deserves all the praise and awards that are coming her way.
"It's really special, what she's doing in leading the program," Poletto said. "On a personal level, I am so proud how she has progressed, from even last January, being able to lead the group and then being able to enjoy some of the moments. You can't ask for a better person to receive such a distinguished award."
As UCLA enters the second round of the NCAA tournament with a chance to win its first national championship since 2013, Aozasa's soccer journey continues, but her legend in Westwood is just beginning.
Fenn is currently a Sports staffer on the baseball beat. He was previously a reporter on the women's soccer beat and a contributor on the beach volleyball and men's and women's golf beats.
Fenn is currently a Sports staffer on the baseball beat. He was previously a reporter on the women's soccer beat and a contributor on the beach volleyball and men's and women's golf beats.