Scouting report: UCLA vs. Arizona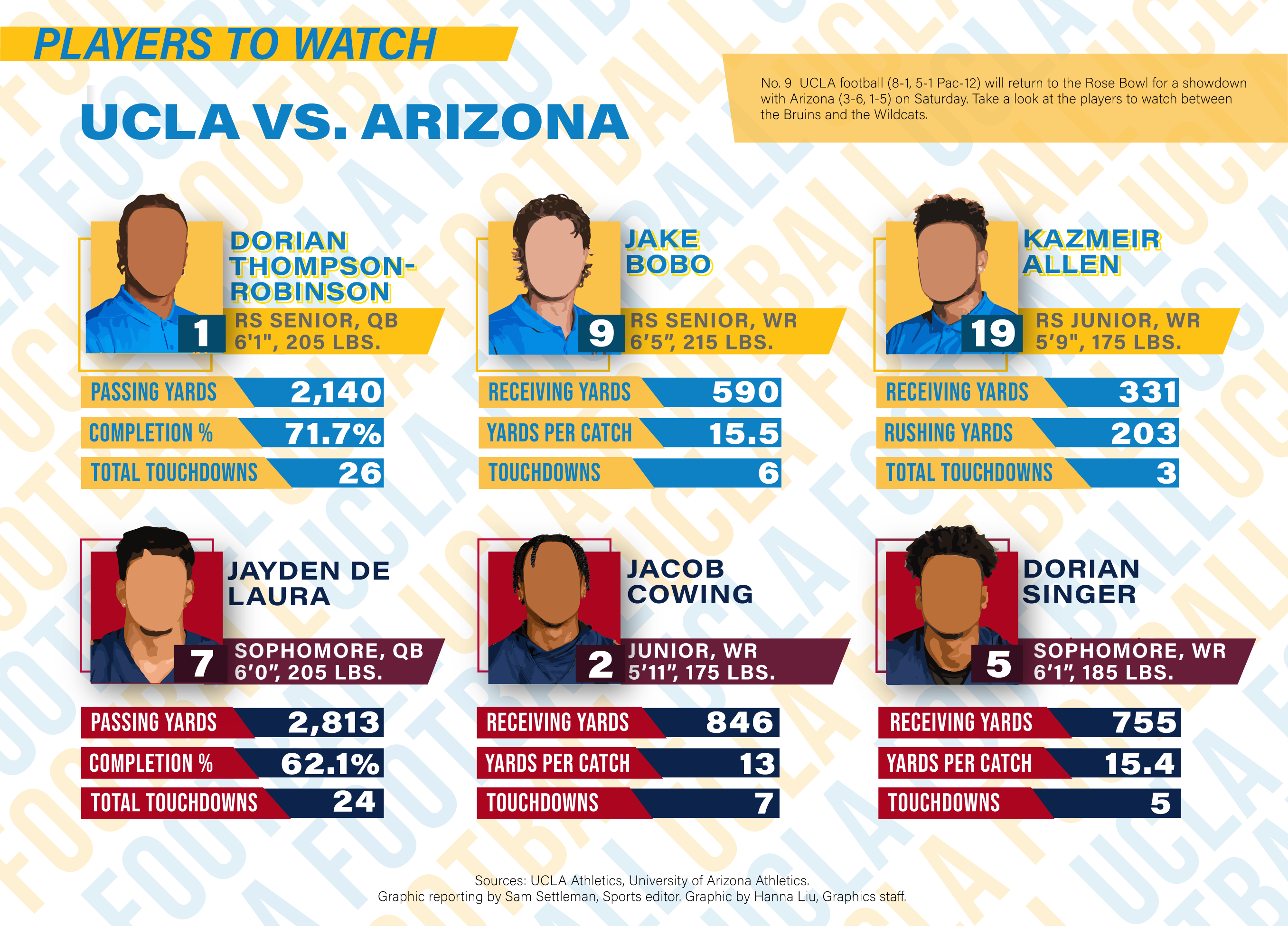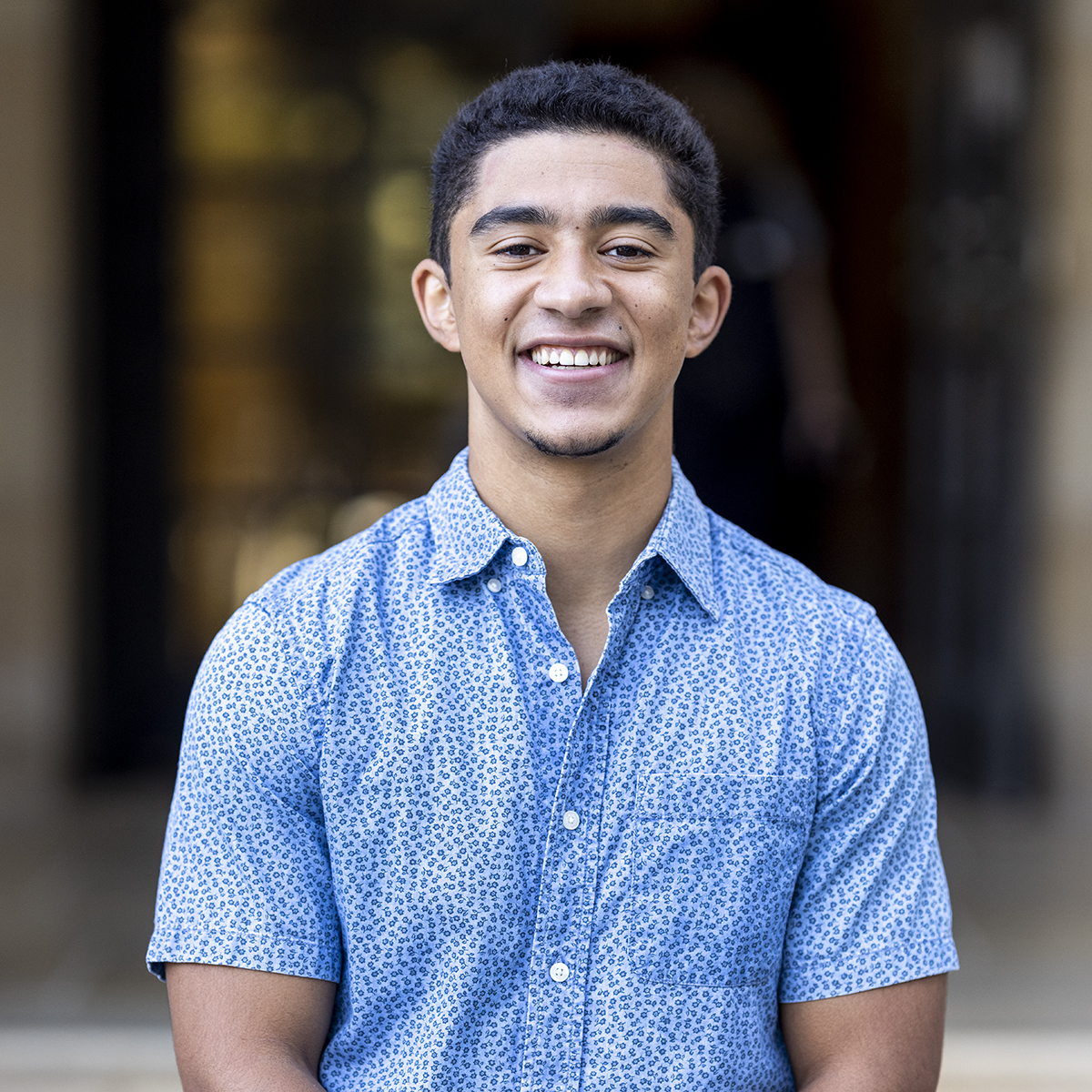 With just one week until one of the most highly anticipated matchups against USC in decades, No. 12 UCLA football (8-1, 5-1 Pac-12) will look to avoid falling victim to a look-ahead loss when it hosts Arizona (3-6, 1-5) this Saturday night. The Bruins are coming off a 50-point, 400-rushing-yard offensive performance in Tempe, while the Wildcats will play the last of their five straight games against the conference's five ranked teams. Here is this week's scouting report from staff writer Gavin Carlson – who is still tweeting why UCLA shouldn't be below USC in the College Football Playoff rankings.
Arizona's offense
Offensive scheme: Air-raid
Run-pass percentage: 60.5% pass, 39.5% run
Strength: Explosive passing game
Weakness: Offensive line
X-factor: QB Jayden de Laura
After a combined 1-16 record in the previous two seasons and utter incompetence across the board, Arizona's rebuild in 2022 has finally unveiled at least one strength: an air-raid offense.
The Wildcats might still be a bad football team, but they sure can throw the ball around the yard.
Behind the arm of sophomore quarterback Jayden de Laura, Arizona's passing attack ranks seventh in the entire nation, averaging 328 passing yards per game.
Yes, that number is largely based on the Wildcats' 41.6 pass attempts per game and 60.5% pass rate, which rank ninth and eighth in the country, respectively. But, led by former offensive coordinator and interim head coach at UCLA and current Arizona head coach Jedd Fisch, the Tuscon program is doing exactly what a bad football team should do – find the one thing you're good at and stick with it.
Behind an offensive line that was largely viewed as one of the three worst in the Pac-12 coming into the season, the Wildcats use a combination of quick, short throws and de Laura's scrambling ability to overcome their weaknesses up front. Oftentimes you can flip a coin to predict if a play is going to end with the young quarterback running for his life before making a backyard-style heave downfield.
Sometimes it leads to Patrick Mahomes- or Kyler Murray-esque magic, but since pressuring the quarterback against Arizona usually only requires sending four or five, it also equally results in chaotic deep throws into traffic.
De Laura is tied for first in the conference with eight interceptions and ranks ninth out of 11 eligible Pac-12 quarterbacks with his 62.1% completion percentage, but that doesn't deter the Wildcats' play caller and the gunslinger himself from continuing to dial up long-range bombs to one of the best receiving corps in the conference.
Arizona's primary target – wide receiver Jacob Cowing – ranks first, tied for first and second in the Pac-12 with 65 receptions, seven receiving touchdowns and 846 receiving yards, respectively. He'll likely be a game-time decision this weekend because of an injury, but he should be UCLA's top priority to stop if he plays.
Wide receiver Dorian Singer is the offense's second option through the air, but still ranks third in the conference with 755 yards receiving. His contested, one-handed touchdown catch against USC was also one of the most impressive catches of the Pac-12 season.
And finally, not many offenses can boast a third option that ranks tied for first in their conference in touchdown catches, but the Wildcats can with Tetairoa McMillan. In addition to his seven touchdowns, the 6-foot-5 wide receiver still ranks in the top ten in the Pac-12 in receiving yards while slotting in at third in the conference when it comes to his 17.4 yards per reception.
In sum, Arizona has three weapons – including two vastly improved underclassmen – for its young quarterback to grow with. With no thoughts of competing in the conference or even making a bowl game, it makes sense why the Wildcats are choosing to air things out and let everyone develop.
Sprinkle in an average rushing attack that ranks sixth in the conference with 137.8 yards per game, and Arizona has itself an offense on an upward trajectory. It'll probably be after the Bruins leave the Pac-12, but the Wildcats might be respectable sooner than originally thought thanks to their offense.
Arizona's defense
Defensive scheme: Nickel 2-4-5
Strength: Being better than Colorado
Weakness: Being worse than everyone else
X-factor: S Jaxen Turner
When I talk about Arizona showing signs of a successful program overhaul, that only refers to one side of the ball.
Defensively, this team is still awful.
The Wildcats rank 128th out of 131 teams in points allowed per game at 38.2, and they'd easily be the worst defense in the Pac-12 if not for Colorado's historically bad defense.
For starters, Arizona's pass rush is virtually non-existent.
The Wildcats sack the opposing quarterback on just 2.6% of plays, which ranks second to last in the entire country in front of the aforementioned Buffaloes. Arizona's defense also joins Tulsa and Colorado as the only three defenses in the country that average less than a sack per game.
In their most recent defeats against USC and Utah, the Wildcats' defense essentially gave up on rushing the passer and rushed just four or even three defenders at Caleb Williams and Cameron Rising. It seems like Arizona knows its secondary is bad, but dropping eight into coverage doesn't matter if the quarterback has all day to throw.
In a surprise to just about nobody, the strategy hasn't worked too well for the Wildcats, who rank 100th in passing yards allowed per game. Washington quarterback Michael Penix Jr. and Williams combined for 927 passing yards and nine passing touchdowns in back-to-back games against this defense earlier in the season.
Yet amazingly enough, the Arizona rush defense is even worse.
The Wildcats' 218.7 rushing yards allowed per game and 5.8 yards allowed per rushing attempt rank 125th and 126th in the country, respectively. Now they're tasked with stopping a UCLA attack that leads the nation in yards per carry and just rushed for over 400 yards without its star running back in senior Zach Charbonnet.
The Wildcats might throw for over 300 yards and still risk giving up more on the ground. If that doesn't sum up this Arizona football team right now, I don't know what does.
Carlson is currently a staff writer on the football, men's basketball and women's basketball beats. He was previously a reporter on the softball and men's golf beats.
Carlson is currently a staff writer on the football, men's basketball and women's basketball beats. He was previously a reporter on the softball and men's golf beats.