Freshman Adem Bona to debut in men's basketball game against Long Beach State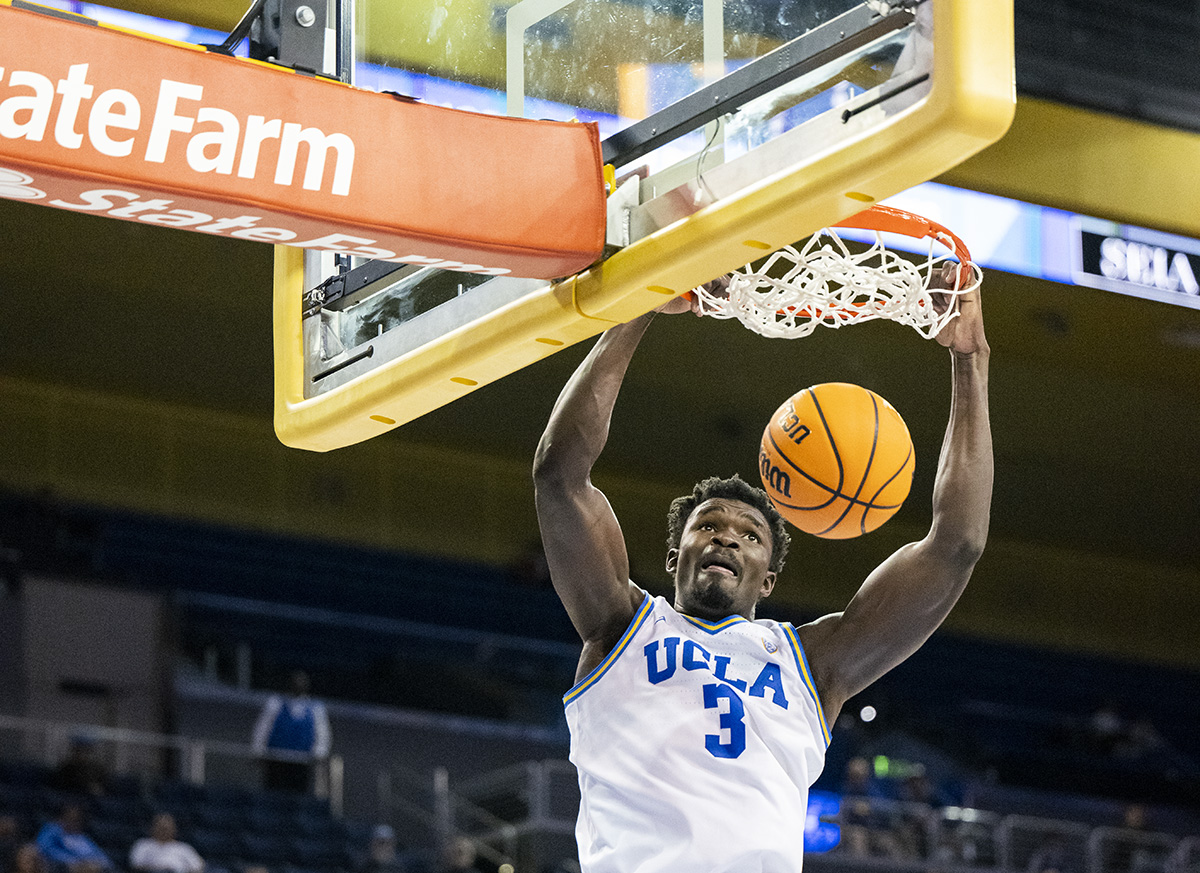 Freshman forward Adem Bona finishes at the rim with a dunk. Bona will make his debut for No. 8 UCLA men's basketball Friday night. (Jason Zhu/Daily Bruin staff)
Men's basketball
---
Long Beach State
Friday, 8 p.m.
Pauley Pavilion
Pac-12 Networks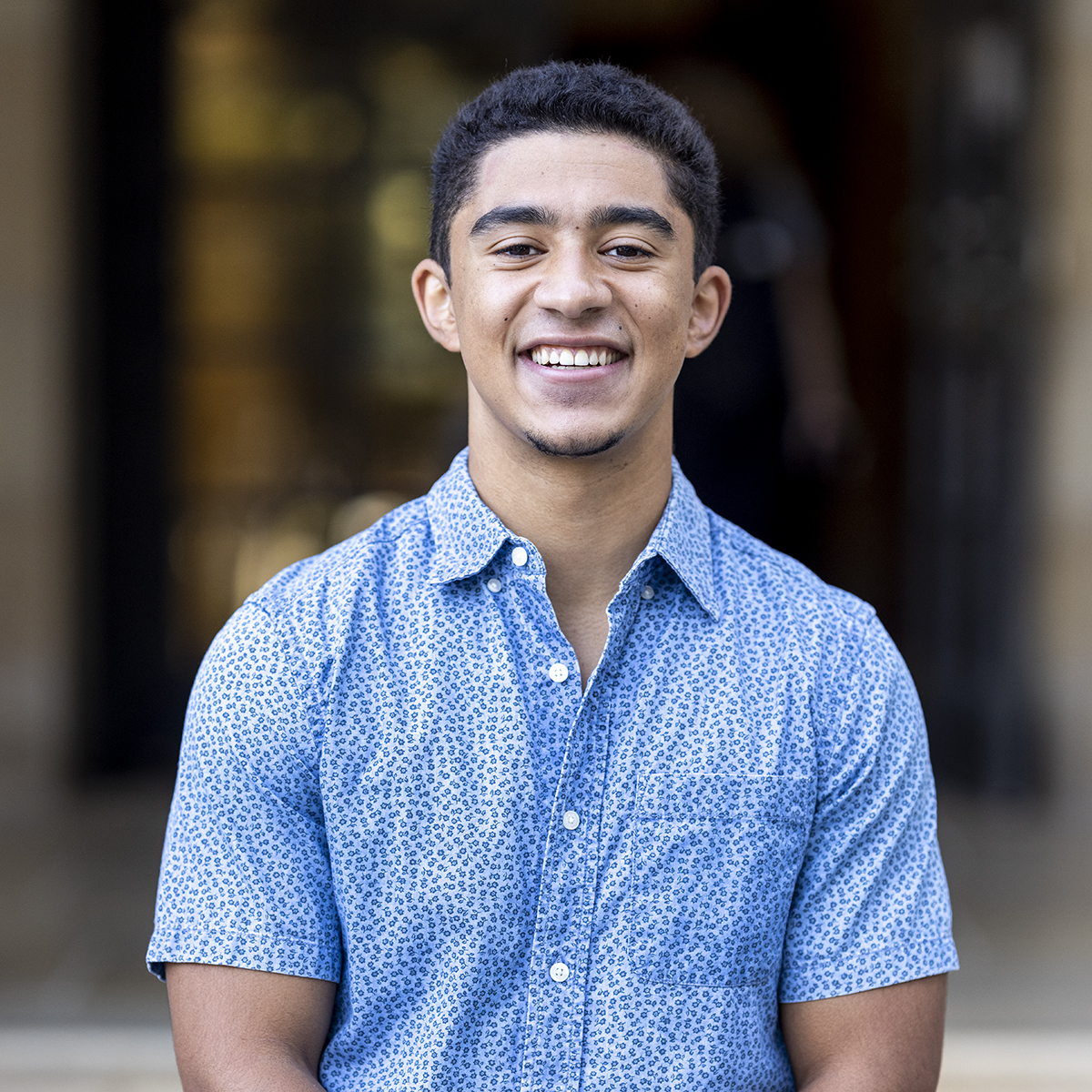 After an NCAA ruling forced him to sit out the season opener, a five-star freshman will make his Bruin debut Friday night.
Freshman forward Adem Bona is expected to start in his first game for No. 8 UCLA men's basketball (1-0) when it takes on Long Beach State (1-0) at Pauley Pavilion on Friday. The 6-foot-10 McDonald's All-American and No. 16-ranked recruit in the country was not allowed to play in the Bruins' first win of the season against Sacramento State on Monday after the NCAA held him out for undisclosed reasons.
Coach Mick Cronin replied with a simple "yes" on Wednesday when asked if Bona would be available for Friday's contest.
The Nigeria native impressed on the defensive end in UCLA's exhibition contest Nov. 2, totaling five blocks, one steal and six rebounds after getting the start and playing 20 minutes.
Junior guard Jaylen Clark said Bona is the largest threat challenging him as the Bruins' best defender.
"Y'all haven't even seen Adem's debut yet," Clark said. "I always have a joke with him – that's my biggest competition for Pac-12 Defensive Player of the Year because he's a monster."
Clark is coming off a historic two-way performance in the season opener, scoring 17 points on perfect 7-of-7 shooting while tallying eight rebounds and seven steals against the Hornets.
According to @OptaSTATS on Twitter, he's the first player in the past 20 years – in men's and women's professional or Division I basketball – to put together such a stat line.
Clark, who combined for 13 steals and three blocks in UCLA's exhibition and season opener, said the addition of Bona will allow him to be even more aggressive on the perimeter.
"Especially the way we play this year, I know if I do get beat, I've got somebody behind me," Clark said. "If I'm playing in front of the ball, I don't feel like I get beat very often, but if I'm out there gambling and stuff like that, I know if I do get beat, Adem's going to go send it back out. … It makes me a lot more comfortable."
Redshirt senior forward/center Kenneth Nwuba got the start in place of the absent Bona on Monday and posted four points, three rebounds and a block in 24 minutes.
Redshirt freshman forward Mac Etienne also logged 14 minutes at the five off the bench in his official return from his ACL injury and first game action since March 2021. He shot just 1-of-9 from the field for two points but grabbed seven rebounds, swatted four blocks and had two steals.
Cronin praised Etienne's willingness to step up with Bona out and said he was happy with the young big man's overall performance while crediting freshman nerves for his 11% shooting from the field.
"Mac could have easily said, 'Hey, coach, I'm not ready.' But we needed him on Monday with Adem out, and I was really happy," Cronin said. "It's going to take a while probably for him to calm down on offense, and that's probably the biggest thing with all of our freshmen."
In addition to Bona's official debut and Etienne's bounce-back opportunity, another pair of freshmen will look to continue to improve against Long Beach State on Friday after playing their first collegiate game Monday.
Freshman guard Amari Bailey scored 10 points on 5-of-10 shooting in his first start and 26 minutes of collegiate basketball, while fellow freshman guard Dylan Andrews scored his first two points of his college career in 11 minutes off the bench.
The freshmen will get their first chance to play a Long Beach State team that UCLA has played in six of the last seven seasons.
The Bruins defeated the Big West program 100-79 early last season, scoring 100 points for the first time since a triple-overtime victory over Pepperdine in 2020. The blue and gold then played Long Beach State again in January of last season, winning in similar fashion with a 96-78 victory.
Senior guard/forward Jaime Jaquez Jr. said more nonconference games such as Friday's are needed for the team's younger players to continue to grow.
"It's going to take a little time for everyone to really just get settled into their role and what they're expected to do," Jaquez said. "But at the same time, we're all expected to do the same thing – share the ball, play defense and play as hard as we can."
The Bruins and Beach tip from Pauley Pavilion at 8 p.m. on Friday.
Carlson is currently a staff writer on the football, men's basketball and women's basketball beats. He was previously a reporter on the softball and men's golf beats.
Carlson is currently a staff writer on the football, men's basketball and women's basketball beats. He was previously a reporter on the softball and men's golf beats.