Di Martire brothers put family over LA water polo rivalry after moving from Italy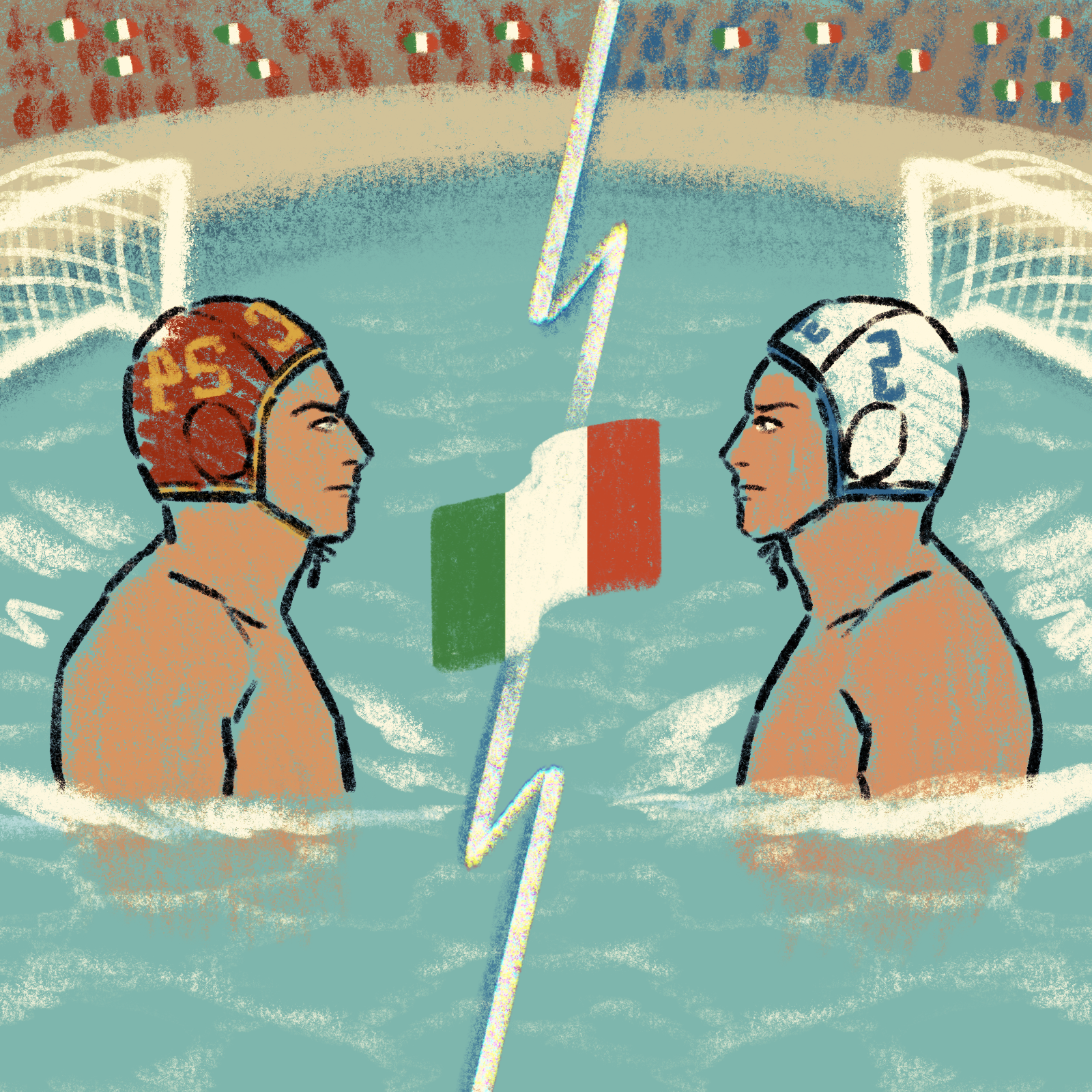 (Isabella Lee/Illustrations director)
Over 6,000 miles away from home, two brothers are learning how to adapt to life in a new country – together.
Originally hailing from Naples, Italy, Gianpiero and Massimo Di Martire each pursued different educational pathways after high school but eventually landed on American collegiate water polo teams.
After being recruited to play for UCLA men's water polo, a major bump in the road – the COVID-19 pandemic – kept Gianpiero sidelined for the entirety of his freshman year and forced him to redshirt. The unfortunate timing of Gianpiero's admission to UCLA coincided with the onset of the pandemic and left him unable to attain a visa to move out West.
However, Gianpiero made the best of his situation and focused his time and energy on his studies.
Coach Adam Wright said Gianpiero's effort in the classroom is admirable, especially considering the added difficulties that he has to face as an international student.
"When English is your second language, it's extremely challenging to come to a university like UCLA that is so academically challenging," Wright said. "The first thing that became apparent is just how serious he was about his studies and the way he excelled in the classroom. … He got great grades online (his freshman year), and then he was able to come out his second year and his efforts and demonstration towards academics were just as incredible."
Over the course of his time at UCLA, Gianpiero has earned a slew of academic awards, including a spot on the UCLA All-Academic Team for having the highest GPA on the team.
Gianpiero said his older brother had a significant impact on his decision to pursue a degree in business.
"I follow my brother in everything," Gianpiero said. "My brother was getting a degree in business economics back in Italy, and at the time, I was undecided between economics and engineering. I chose economics because of him, and I really like it as a degree."
While Gianpiero followed in his brother's footsteps academically, it was Massimo who followed his brother to the United States. After earning a degree in business economics in Italy, the older Di Martire brother is now a graduate student – and water polo player – at USC.
Gianpiero said moving across the world was difficult, but having his brother live down the road helps ease the pain of being so far away from home.
"He's everything to me," Gianpiero said. "He's my best friend, and we're always in touch. … It's not easy to keep in touch with someone with a nine-hour difference in time zones. … Having my brother here, it's great because I can call every time during the day, and I know I have a family member 20 minutes away. It's such a great thing."
In much the same way as his brother, Massimo said moving to the U.S. after spending his entire life in Italy was a difficult transition and admitted that Gianpiero has been immeasurably helpful in his adjustment to life in a new country.
"In all honesty, he helped me so much," Massimo said. "It was the first big change in my life. Moving from Italy to USC at 22 years old, it's pretty late for the average student. … It's very important for me to have him here because when I'm going through difficult moments, I know that he's there for me."
Gianpiero said his time in America has been great, and he wants to find a job in investment banking here after he graduates – a sentiment echoed by Massimo.
"I really love the U.S.," Gianpiero said. "I love my life here, I love the people I have met here, and I would really like to stay and work in the U.S. … I'm going to stay here for as long as I can."
To make his dreams come true, Gianpiero is devoting all of his time and energy to perform at the top of his game, both in and out of the pool. In doing so, Gianpiero has notched an appearance on the Mountain Pacific Sports Federation All-Academic Team and has racked up the third-most goals for the Bruins this season.
Wright said Gianpiero's biggest strength in the water lies in his intelligence.
"It was very clear from day one, he likes to be a student of the game," Wright said. "He's one smart player for us. He's so passionate about doing things right and puts so much effort into understanding why we do things. … It's clear, whether it's through dialogue or questions in the pool, he really spends the time to have a really strong understanding of the fundamentals in our system."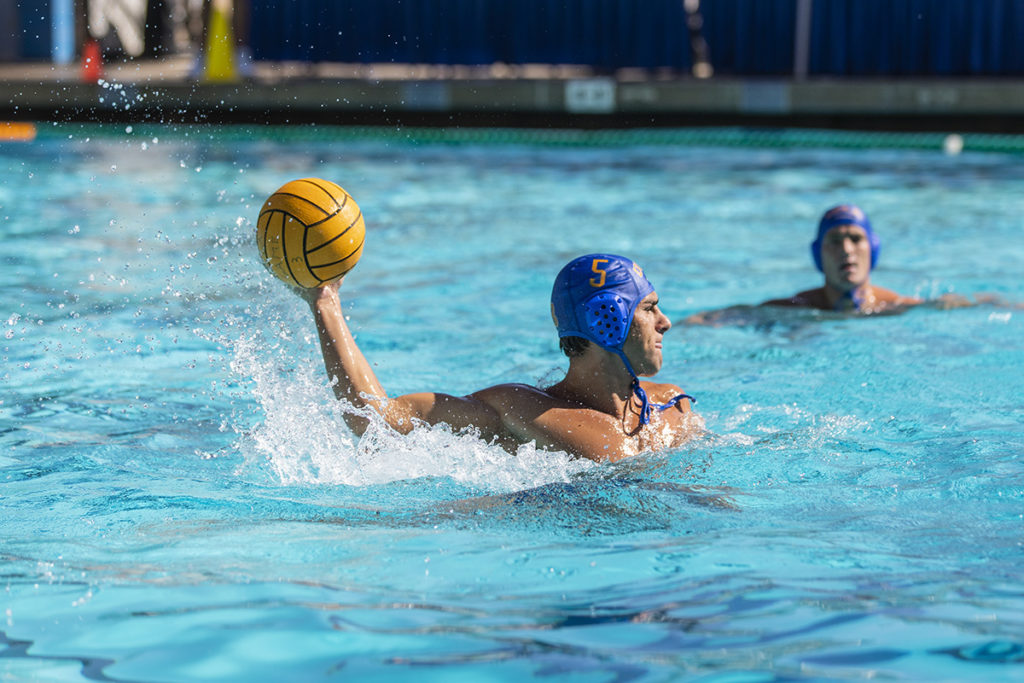 The two brothers have already played against each other twice earlier in the season, with the Bruins winning both matchups against the Trojans. These games marked the first two times that the pair have ever suited up against each other.
The brothers' first introduction to the sport was through their father, Fulvio Di Martire, a former Italian international water polo player, who is making the trip out to Los Angeles to watch his sons play against each other Friday.
Massimo said he and Gianpiero grew up playing water polo together, and playing his brother represents a strange dichotomy between wanting to see his best friend succeed but also wanting his own team to win.
"It's (the game Friday is) going to be really funny," Massimo said. "It's probably the first time our dad is going to watch his two sons play a game against each other. We've always been teammates, so for him, it's going to be like a war of different worlds. I'm just looking forward to seeing his reaction when we're guarding each other with different caps on."
Regardless of the outcome of the game Friday, the brothers will still look for each other with open arms after the final buzzer rings.
Massimo said his relationship with his brother is indescribable.
"We're very, very, very close," Massimo said. "We share everything, every emotion, every feeling, everything."
Lizar is currently a Sports contributor on the women's water polo beat. He was previously a contributor on the men's water polo beat.
Lizar is currently a Sports contributor on the women's water polo beat. He was previously a contributor on the men's water polo beat.