Jordan Chiles brings home gold, silver medals at 2022 world championships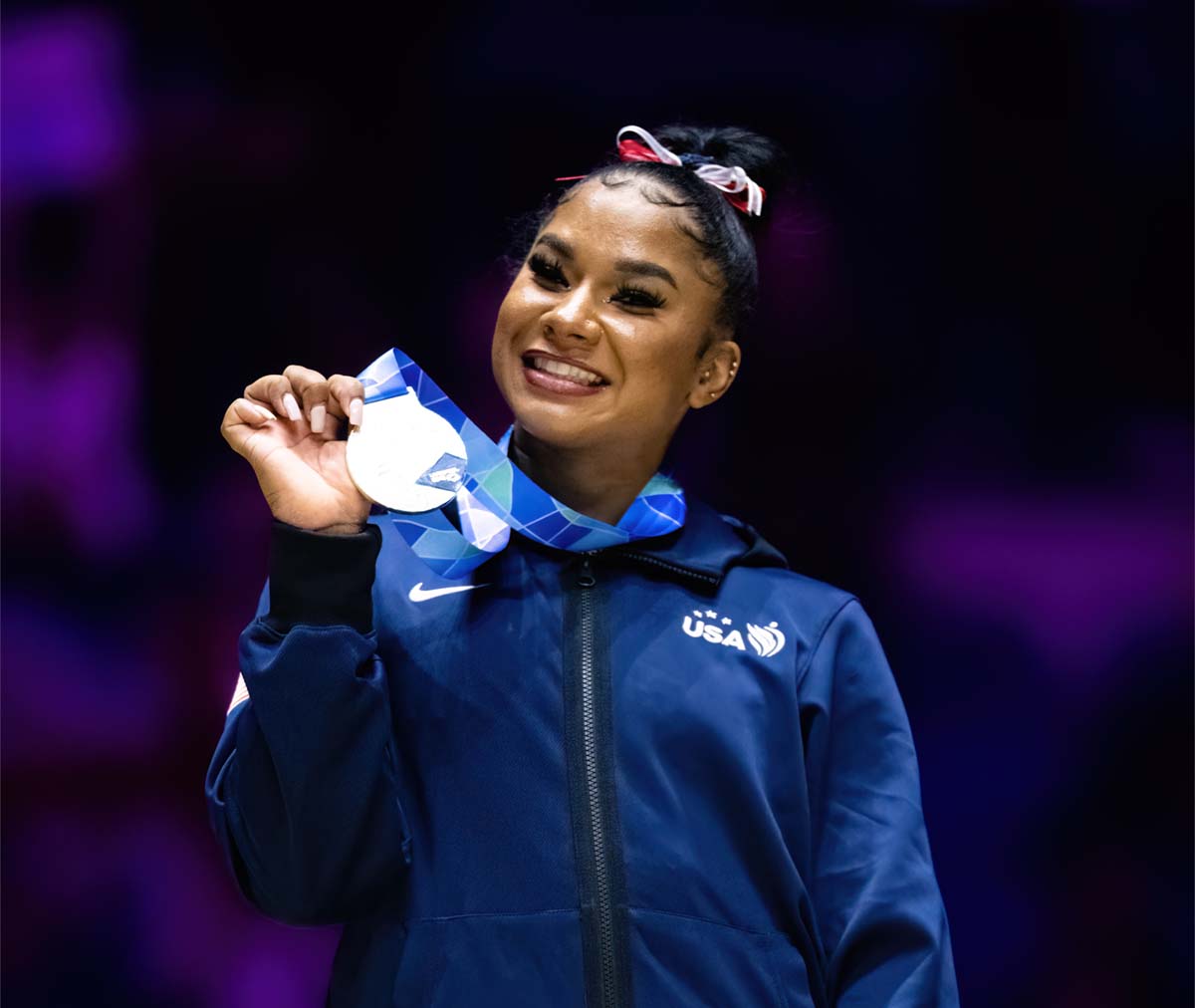 UCLA gymnastics sophomore Jordan Chiles poses with a medal at the 2022 World Gymnastics Championships. (Courtesy of John Cheng/USA Gymnastics)
Going into last week, Jordan Chiles was an Olympic silver medalist, three-time national all-around medalist and NCAA All-American.
Now, the UCLA gymnastics sophomore can add world champion to her list of accomplishments.
After four attempts to make a world championships team, Chiles made it on Team USA's 2022 squad and wound up garnering a team gold medal and silver medals on vault and floor at the 2022 World Gymnastics Championships in Liverpool, England. Her appearance at the event was the first for the seven-time national team member.
A potential medal threat on nearly every event, Chiles competed all four events in the qualification round Oct. 29.
Team USA began competition on floor, with Chiles putting up a 14.100, the best score among her teammates. Her score would hold through the competition, earning her the fourth spot in the floor finals, just one-tenth behind the first-place competitor.
Chiles competed two different vaults in qualifications, once again vying for a spot in the event finals. She received high execution marks from the judges on both her Yurchenko double full and her Lopez, with execution scores of 9.466 and 9.366, respectively, which was the highest combined execution score from any vaulter that day. Her performance qualified her in second place, just under two-tenths behind fellow American Jade Carey.
In the third rotation, Chiles successfully stayed on the bar and punctuated her routine with a nearly stuck dismount, counting another hit routine for the USA.
Going into the final rotation, Chiles was set to qualify for the all-around finals, keeping pace with the entire field, including eventual all-around champion Rebeca Andrade. But Chiles uncharacteristically came off the beam on both her acro series and leap pass, resulting in a score of 11.366.
Her final all-around score of 53.998 landed her behind teammates Carey and Shilese Jones, disqualifying her from the all-around finals.
While Chiles would not be making an appearance in the all-around finals, her performances helped Team USA qualify in first place to the team finals, over 2.5 points ahead of the next qualifier Great Britain.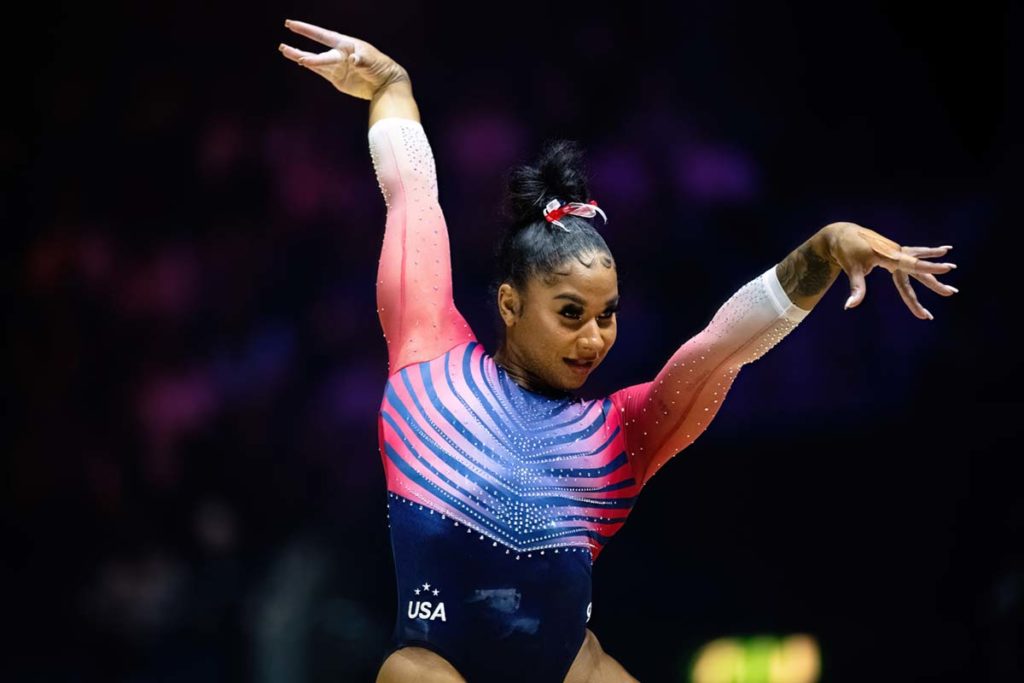 In the team competition, Chiles was once again slated to compete on all four events, delivering hit performances on vault and bars before rotating to beam.
The three up, three count format of team finals ensured that the pressure would be on for Chiles, who showed a shaky performance on the event just two days prior. But she rose to the occasion and delivered a 13.333, the highest of the three American competitors.
On floor, Chiles represented the final performer of the entire meet. With all eyes in the arena on her, she performed a modified version of her NCAA routine to roars of applause. Her 14.000 was more than enough to earn a victory for Team USA, bringing its final score to 166.564, over three points higher than second-place Great Britain.
The victory was the United States' sixth in a row, a record in World Gymnastics Championships history.
But Chiles wasn't done yet. After a day of rest with a gold medal in tow, she returned to the competition floor to compete for the vault title. Beginning again with her double-twisting Yurchenko, Chiles posted the highest execution score of the final with a 9.500. A nearly-stuck Lopez gave her an average score of 14.350.
Chiles ultimately placed second behind Carey, who scored a 14.516. The medal was Chiles' first individual medal in a world championships or Olympic meet.
Finally, Chiles returned to the floor for her last competition of the championship. She delivered her signature showmanship and powerful tumbling en route to a 13.833. Her score put her on top of the standings until final competitor Jessica Gadirova outscored her with a 14.200, giving Chiles her second individual silver medal of the week.
Chiles entered her freshman season with UCLA mere months after winning an Olympic medal and now will enter her sophomore season with three more medals to her name.
Trimbell is currently a contributor on the gymnastics and rowing beats.
Trimbell is currently a contributor on the gymnastics and rowing beats.