Bruins Built This: Poppin – The Party Platform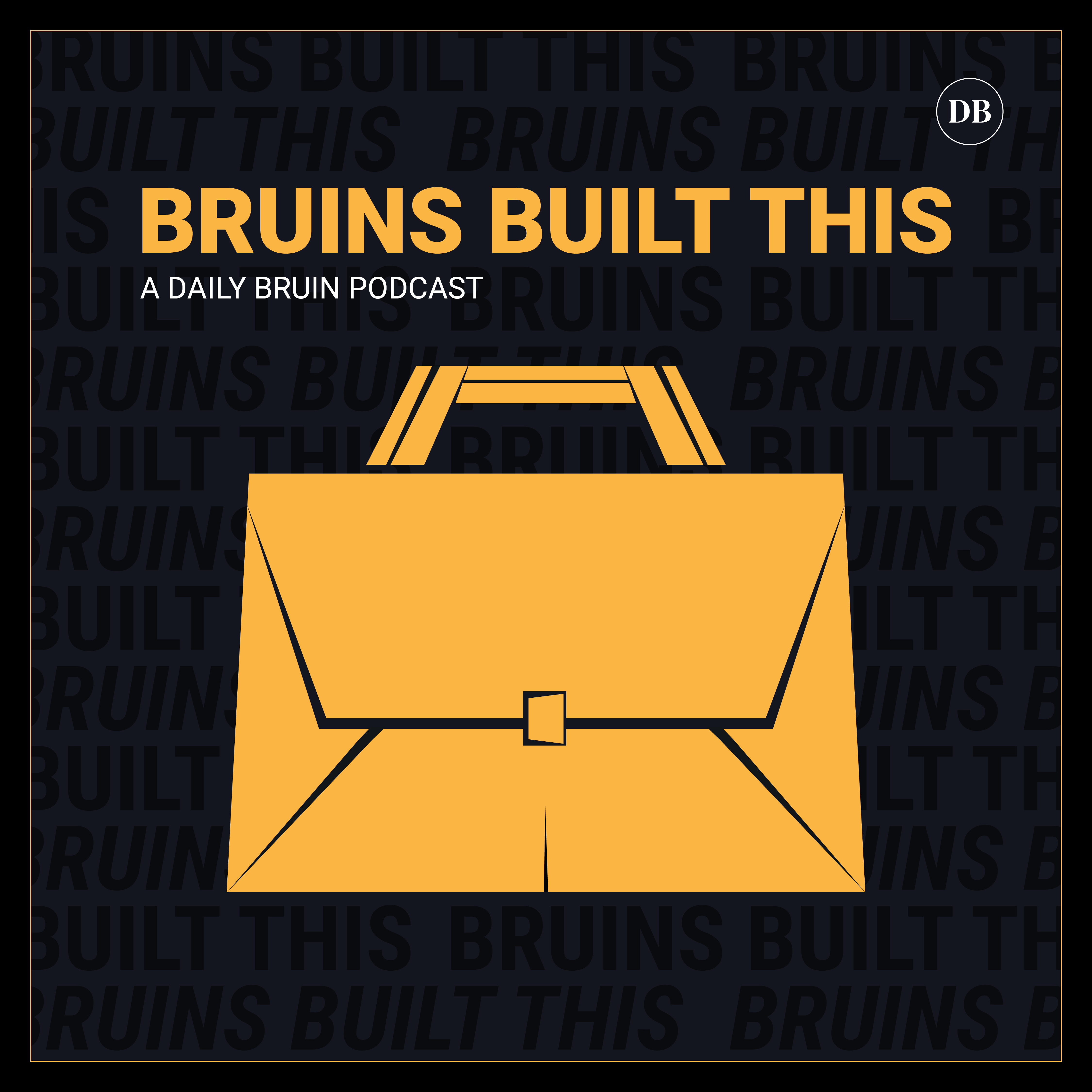 (Alex Yoo/Daily Bruin senior staff)
In this episode of "Bruins Built This," a Daily Bruin podcast highlighting student and alumni entrepreneurs, Podcasts contributor Lexi Fleck interviews Tejes Srivalsan of Poppin – The Party Platform about how he created the party-finding app and what has inspired him.
Lexi Fleck: Hello and welcome to "Bruins Built This," the Daily Bruin podcast about UCLA student and alumni entrepreneurs. My name is Lexi Fleck, a Podcasts contributor, and I am here for another episode of "Bruins Built This." Today I'm interviewing Tejes Srivalsan who created the app Poppin. Poppin – The Party Platform is an app where you can browse parties near you by using a variety of different filters. And also, you can host events on the app, both large parties and small gatherings, and manage who will be attending. We will be diving deep into the beginning of the journey of Poppin and the hopes and dreams for the app on the podcast today. Hello, Tejes, and welcome to "Bruins Built This." We're excited to talk to you.
Tejes Srivalsan: Thank you for having me.
LF: So first off, when did you start Poppin? And what inspired it?
TS: Sure. I started popping about 14 months ago. I was actually working on a dating app at the time with my friends, and I just graduated high school. It was about two months after I graduated. We're working on this dating app for about two weeks at Starbucks every day trying to be a bit productive during summer, and while driving over there one day, my friend had called me and he said he was throwing a party. And he said, "Dude, this is so hard. I've never thrown a party before." And this was right as COVID was, the situation is improving, and kind of my generation or my high school class didn't really have that social experience that other high school classes did. It was that that got me thinking, you know, I'm working on an app right now, a dating app seems kind of hard, and an app for parties would be pretty cool. And it'd be pretty cool if I also know where all the parties are by virtue of having the app. So I was like, I would definitely use that app. I feel like a lot of people my age would use it. So that was kind of how we had the initial idea. I was like, I just pitched the people I was working with. I was like, "Guys, I think we should work on a party app instead. I feel like people would download that and I could see it actually getting users." And that was the initial idea. And then from there, we pivoted and, you know, had new ideas and, you know, changed a lot. But that was the initial idea, you know, an app where anyone could post a party or find a party.
LF: How did you kind of learn about the process for app development would you say?
TS: Sure. I honestly didn't know much. I'm from the Bay Area, so I think a positive benefit is that Silicon Valley is right there. And everyone is always talking about startups and app development and building a product. So I knew very, like basic coding, and that was part of the reason. It was the summer between my senior year of high school and my freshman year at UCLA, and that's the summer where you're very free and we're definitely wasting a lot of time. But I wanted to do something productive. And thinking of products and startups, I've always been interested in them. So I thought I might as well build something and be kind of productive if I'm going to all these parties as well. So yeah, I knew a bit of coding, and I had friends who were better than me at it. So we just kind of looked online, knew what we did, and put together a very, very scrappy MVP or minimum viable product.
LF: Did you have any apps that you were inspired by that you kind of based off of Poppin?
TS: Yeah, I was very fascinated by DoorDash. Partly because DoorDash— I use DoorDash, not just for food, but I actually delivered with DoorDash during the pandemic because I was just sitting at home, and I was thinking I need to find a way to make money and I'm stuck at home all day. So if I could drive around in my car, and you know, play music with my friends, just drive around all day delivering food, making money. I'm from the suburbs, so that's all you do anyway. So delivering food, in addition to that, is just awesome. You know, I was just very surprised at how easy it was to do that, and I got fascinated by this concept of a two-sided marketplace where the consumer can also be a service provider. And something with parties, I noticed, is it's very hard to host an event. There's so many things involved. And if we could build a way that simplifies the process of promoting and organizing a party and ensuring that everyone is safe and whatnot throughout the process of it, it would be very, very cool that people could go to a party when we post one another week and kind of decentralize the events space.
LF: When this app was getting popular, how did you kind of get the word out for it? And how did you get people to join your business?
TS: So when we started in the Bay Area, initially our strategy has always been just throw parties because every, you know, young adult college student just wants to go to a party. So we literally said, "You can come to our party for free." And I'd use all my DoorDash money to host a party. And I said, "You can come to the party for free. All you got to do is save your spot on the app." And that's what we did in the Bay Area. And within the first week of being on the App Store, we got 1000 downloads. And that's when I realized, you know, I want to take it more seriously. So coming to UCLA, we've been working on rebuilding the app because we've realized, you know, this has potential. We've validated our concept and it makes a lot of sense to really go after this. And UCLA is the perfect school in terms of being in LA, being a party school to an extent, having a bunch of smart people to work with on a product like this. It was kind of in my mind that coming to UCLA, we really want to do this. And I kind of started an Instagram account called Poppin UCLA. And I was like, in the meanwhile, while we're rebuilding our product and making it really good and have a lot of nice features and whatnot, it would be cool to kind of serve the same purpose of telling people where the parties are. Because I was coming in as a freshman at UCLA, I had no idea where the parties are. And I would hear whispers or see flyers and hear people talking about them and whatnot, but I thought, what if I started this anonymous account with the same brand name and just see where it goes? I think it would be a fun social experiment and kind of learn more about the consumers we would be targeting when the app comes out. And people took to the account really well. And very soon I saw friends— I wouldn't tell my friends that I was running it, but I'd see my friends say, "Yo, Pop and UCLA posted a party," and I would be like, "That was me," but I'm not gonna openly say it. But it was very interesting to see people following and I noticed that, I mean, everyone is very, you know, cautious about who they follow on Instagram. Like, Instagram follower ratios are important, and it's not easy to gain a following on Instagram. But parties were just such an attractive concept to college students and learning where parties are is just something that just everyone seemed to want. And the demand was so high that the account just started growing very, very naturally. All throughout this process, we're also building the app. But I wanted to build the brand kind of before the product came out, so when the product came out, we would automatically have, you know, a base of people to go to and say, "Hey, we've released an app." So we started throwing parties, we started, continued advertising parties and really built the brand and tried to create this persona of you know, this person who suddenly knows where every party at UCLA campus is and telling you kind of like secretively. The account is private, we tried to make it feel exclusive and cultivate that brand image. And then when the app came out, you know, we had 2000 UCLA downloads within the first 24 hours. And it just really went from there. And now we've got 5000 UCLA students using the app, we've surpassed 10,000 users. We actually broke top 100 on the App Store, which is really exciting. So it's been a crazy last couple of weeks, I think by building the brand and building the account and getting people really engaged with this concept. And we wanted it to feel UCLA. Considering UCLA as the No. 1 public school, we often fall short to Berkeley in terms of startups and like tech and whatnot. And there's so many big startups coming out of Berkeley, MIT, Stanford. And UCLA has all the resources available for that to happen. But you know, other than Duffl, I don't think many people can name many in the last couple of years. So we wanted to also make it feel like, you know, a UCLA-started brand so students could get behind it and, you know, support our mission of making UCLA the party scene and just generally the event scene and, you know, making it easier for people to socialize and meet new people.
LF: Yeah, it's awesome. It seems like Poppin is super successful. And were there any obstacles that you can think of at the beginning of the journey that kind of made you question like, is it all worth it?
TS: Yeah, definitely. There were so many times. I mean, I've never really thrown parties before this. I was just like, it's kind of just this hat that I decided to wear as part of running this. So like, throwing events is very stressful. It's just something that as much as I enjoy it at the end of the night, like throughout the night I'm stressing, making sure everyone has a good time, making sure like, you know, we put money down at a venue, so making sure we make our money back. So there's like, I mean, every time there's a big launch, or there's a feature gone wrong, or something in the app, it's very stressful. Actually, with our current launch— so we threw a party this past week, or sorry, maybe a week and a half ago now on UCLA, on frat row. We had sold 433 tickets through the app. So people had trusted our app, put their money, put their bank account information in and, you know, bought a ticket. And when you buy a ticket, you have a QR code that you can scan in at the door. And the morning of the party, I was tinkering with the settings, and I don't know what I did but the party disappeared on the app. I was freaking out because I was like, 433 people paid money to go to this event, you know, got their hopes up. And this is our first event. This would be terrible that our first paid event goes completely awry. So we had to spend like four hours in the morning figuring out what went wrong and at the same time, it was how I had to do customer service on the Poppin UCLA account and telling people like, "Don't worry, like we have your tickets. We're just working on a bug to make sure the party is back up." So the whole morning, making sure it comes back up. We finally got it up about four hours before the event, and the scanning and everything worked perfectly. But it's moments like that I feel like something is always going wrong. And we're trying to put out multiple different fires on the event-throwing end, on the product end and the brand end. So there's so much stuff going on. But yeah, I mean, there's many times I'm like, I don't know if this is worth it, the stress of so many moving parts. But I think we just have to think about the vision and why we started this in the first place. And I think that's more powerful, and that's what keeps myself and the team going throughout all of it.
LF: With technical difficulties like that, would you say that your team has been super helpful with it?
TS: Yeah, our team is phenomenal. We have pretty much all college students on our team. And I think that's something that's kind of understated because most of the apps you download and use on a daily basis are developed by people with years of experience. You know, they're getting paid ridiculous salaries to do this. And we're all doing this right now unpaid or putting our own time after class and whatnot into this product. Our team is really phenomenal. I would like to think UCLA: best designers, best product developers, best business students all collaborating on different parts of the company. And we come together, and I think we're a really fun group as well and we enjoy each other's company. So beyond just the shared interest of making this vision and this product successful, I think we're trying to build a very fun team, culture and brand. Our mission is to make anyone feel included in social events and the event scene overall. So with our team, we tried to do that and reflect that as well.
LF: Yeah, the environment you work in I feel like is crucial to the success of the company.
TS: One hundred percent, yeah. I think UCLA is perfect for that because it's such a work-hard, play-hard school that we've met the perfect people who grind in the morning so we can get features out and new partnerships and whatnot, and in the night, we're all having fun together.
LF: Did you ever see in your future that you would be creating an app?
TS: I think ever since I was young, I always felt like I was a bit of an out-of-the-box thinker. I always just enjoyed doing my own things and following the trend. I've never been extremely school oriented. I've always enjoyed doing things outside the classroom. Combined with the way I was raised and the area I was raised in, I think that combination has led me to startups. But I think more than anything, my focus, or at least my goal in life is to be completely free in what I have to do. I don't want to be constrained by, you know, any circumstances. And I think startups are an extension of that. And I think building an app right now is probably the best way to operationalize that. Just apps in general have been doing very well. People spend more time on their phones, and it's a great way to get attention on your product. So yeah, I would say, generally, the startup route or entrepreneurship is something that I've always had my eyes on, just because it suits the lifestyle that I want to lead in the future and gives me the flexibility and freedom to pursue what I want, which is my ultimate goal. And I think an app is the best way for me to accomplish that while in school and to target the market of young adults who are interested in socializing.
LF: Yeah, I definitely agree. What is it like balancing school and academic life with the app?
TS: I'm not great at balancing them, to be honest. I wish I had a perfect answer that I could say that I was at school from, you know, time A to time B and then work on the app later. But I honestly am not a great student. I'm more passionate about the app, and just general entrepreneurship. So I'm grateful that a lot of my classes are online and recorded. And I think entrepreneurship, just by virtue of what you're working on, is kind of a 24/7 process. This is on my mind when I wake up and this is on my mind when I go to sleep. And I'm just infinitely more passionate about my work on Poppin, just startups in general, than I am about my classes. So I wish I had a better, more respectable answer. But my balance kind of looks like focusing on Poppin with everything I have and then using the remainder of time on school and trying to be as successful as I can so my parents are not too mad at me.
LF: That makes sense. It's hard to balance life.
TS: Definitely, definitely. In terms of social life, I think it's pretty easy because Poppin gets me in fun social scenarios. And going to parties is market research, or at least that's what I tell my parents, and customer discovery is just talking to people at parties. So in that case, I like to think I have one of the best jobs in the world. I don't know where I can go from here. Like, I don't know if I can find a job more fun than this. I think in terms of Poppin, it blends my social life and professional life.
LF: Yeah, that's awesome. What would you say is your biggest piece of advice to aspiring entrepreneurs like yourself?
TS: I think the most I've learned about anything is just by doing it. I mean, I've had a lot of ideas growing up that I just didn't act on. Poppin was an idea that just came into my head randomly. And just setting it into motion I think has been an extremely educational process. I mean, 90% of startups fail, and statistically, Poppin will fail. I just want to be pragmatic. I think it's going to succeed 100% but statistically looking at numbers of startups succeeding, it would likely fail. But I believe in this thing called the successful failure, which is even if you fail on paper, or you didn't succeed financially, or you didn't get as many users as you wanted, or you couldn't create the value that you initially desire to, I believe processes like starting a company, building a team, hiring people, working on a product are so rewarding that the lessons you learn from them are worth more than the time you put in. And I think that's kind of our goal with the team, is we've acknowledged how much of an uphill battle we have ahead of us. But we all know that the process and the journey of doing this is going to be so rewarding for all of us in terms of personal and professional experience that it's all worth the while. And regardless of the outcome – and we all 100% believe that it's going to be successful and this is going to revolutionize the way people interact socially – we still believe that even if we fail, it's still gonna be worth our time.
LF: You said that you think it's inevitable that Poppin will kind of fall off the market?
TS: Not necessarily. I'm saying statistically, most startups fail. So I think to be an entrepreneur, you have to be unconventional, and you have to see value where others don't. Because essentially, you're bringing in something new to the world that didn't exist before. So we are realistic in the fact that if we look at event apps in the past, and we look at startups in the past, the general trend is that if you start a startup, you will fail. However, we don't share that belief. I think our team is a group of individuals who believe that we are going to succeed no matter what, even if the odds are against us. And I think that's what it means to be an entrepreneur, is to take that risk, because you're going to create significant value for the people around you.
LF: That's really inspiring. And to wrap it up, what would you say are your hopes and dreams for this app?
TS: Yeah, I think we have a lot of goals with this app. I personally want social media and the apps on our phone— you know, a lot of these apps focus on connectivity and community, but I feel like Instagram, TikTok, Snapchat and all the major apps don't really practice what they preach. I feel like you're just connected with people through a screen, which is important, but it's limiting. And I think the pandemic showed everyone how important in-person connection is. So with Poppin, our goal is to be that bridge between meeting new people. We want to increase community, we want random meetings to occur and you meet your new best friend or someone you're going to work with. We want to increase the accessibility for that. And I don't believe that nightlife or parties or social events should be controlled by the few. If anything, I think it should be controlled by the masses, so that anyone can have a fun experience at their fingertips. And most importantly, we believe that we need to build the infrastructure to make that transpire safely and in a process where everyone is respected because in social events in the last 10 years, the rates of sexual assault, violence, property damage and all of those negative occurrences have increased dramatically. And with Poppin, while we're enabling connectivity, we want to ensure that we have the processes that people can feel safe and respected throughout that process. So you know, fostering a social climate where everyone feels comfortable meeting one another, and they have access to that like they've never had before.
LF: Tejes, thank you so much for talking with me today. I really appreciate hearing from you and your business, and I'm really looking forward to seeing where Poppin goes.
TS: Thank you so much for your guys's time.
LF: "Bruins Built This" is brought to you by the Daily Bruin, UCLA's student newspaper. You can listen to the show and others by the Daily Bruin on Spotify, Apple Podcasts and SoundCloud, and a transcript of this show is available at dailybruin.com. Thank you, and we'll see you next time.