Op-ed: Students deserve easier access to health care with transparent pricing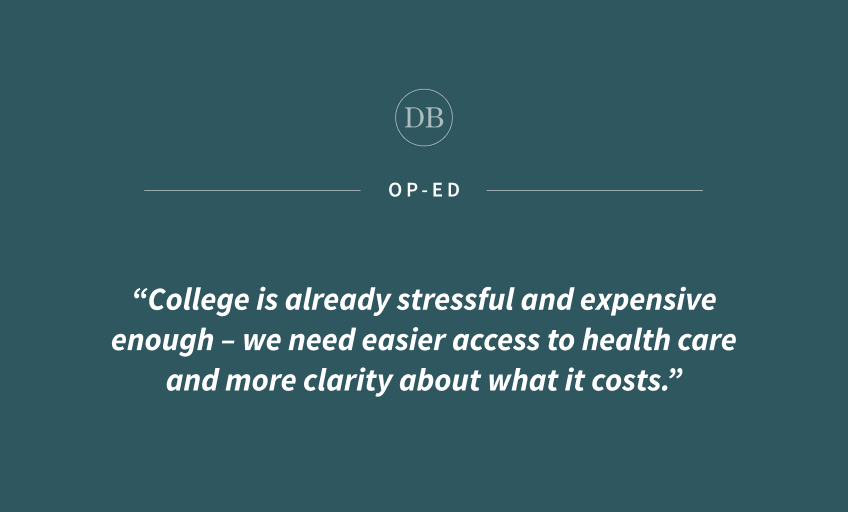 Students should never feel the effects of inaccessible or unaffordable health care.
When I first moved across the country to UCLA, I was unaware that I was going to be hit with a wave of new viruses. Especially amid a pandemic, the onset of college results in the contact of germs, which can easily cause illnesses.
When this happens, it is unfortunately extremely difficult to find an urgent care center and book a timely appointment at the UCLA Arthur Ashe Student Health and Wellness Center. As college students, we have enough challenges to deal with. We deserve to have an easy avenue to health care and not feel isolated in times of need.
However, I know all too well what happens when we don't have that access.
A month into fall quarter, I woke up one morning with a horrible headache, awful nausea, a fever and body aches. For around an hour, I took some general medication and waited to see if it would wear off.
By the third hour, I was curled in a ball on my dorm floor unable to move because of how sick I felt. Around midday, I called the Ashe Center.
But to my surprise and disappointment, I was informed there were no available appointments, and the next time I could come in was in a month.
At this point, I was stressed, so I called the telehealth phone line, when I was put on hold and did not receive much help. After various phone calls with my parents, and upon feeling even worse and that something was very wrong, I decided I needed to go to an urgent care center.
By this time, however, it was late evening, and my roommate and I had to frantically search for an urgent care center that would still be open by the time we could get an Uber. We made it with ten minutes to spare.
When we arrived, I was already nervous and uncomfortable going in. It didn't help that my roommate was forced to sit on the side of the road late at night instead of being allowed to accompany me inside. During my appointment, I was scoffed at by the male assistant for my choice of outfit and reprimanded for wearing a sweatshirt. At the same time, my questions about cost and the necessity of antibiotics were dismissed by the doctor.
By the time I went home, I felt even worse than before. I was also billed more than $1,000 for the appointment with no explanation as to why.
My dad and I tried to contact the doctor but were met with a stern refusal to talk. Now, months later, we are still dealing with the situation.
As college students, we deserve better treatment, greater transparency and more options. I have been seeking out other ways to maintain my own health, including exercising, eating more nutritious food, downloading health care apps such as Caraway and prioritizing sleep.
We come to college for the academics and the social life, but getting sick derails all of that. College is already stressful and expensive enough – we need easier access to healthcare and more clarity about what it costs.
Annamarita Sofis is a second-year business economics and psychology student at UCLA.