First Thursdays event celebrates Friendsgiving with cooking tips at block party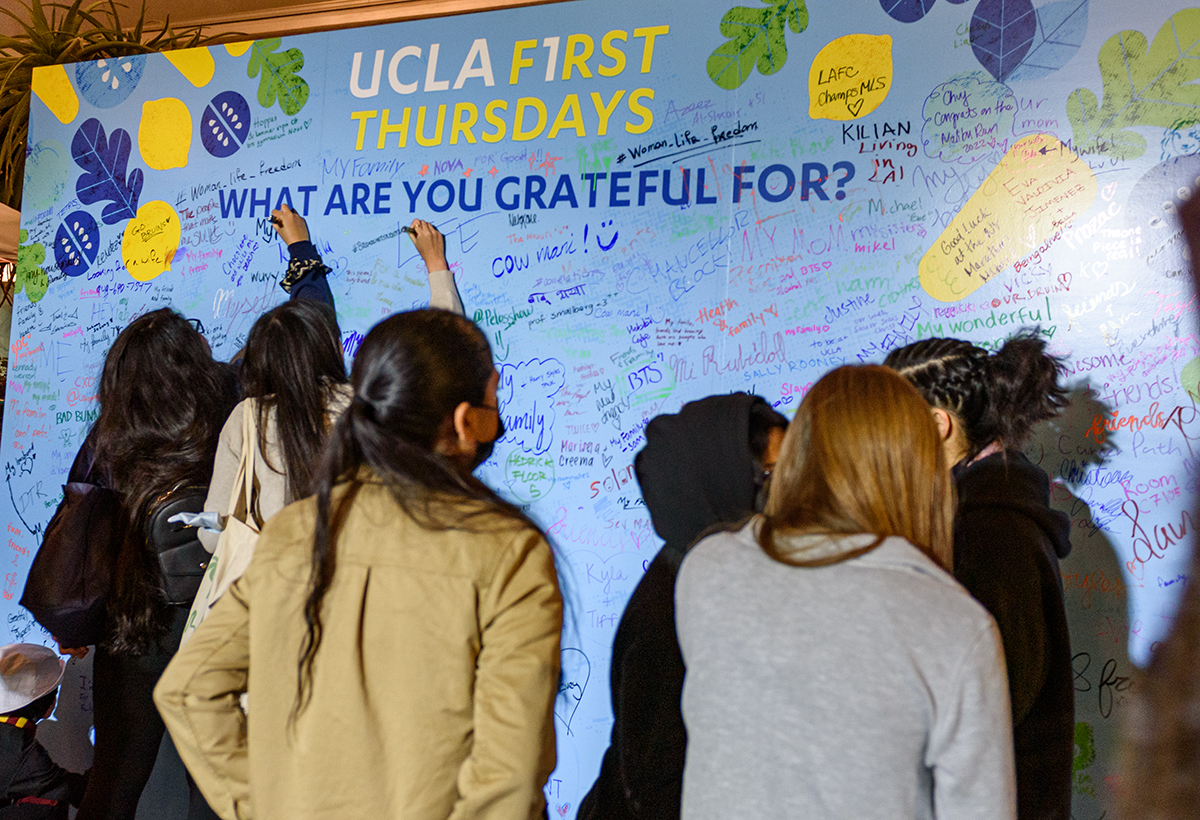 UCLA and Westwood community members write on a poster at November's First Thursdays event. First Thursdays aim to reconnect the university and local businesses after the start of the COVID-19 pandemic. (Neha Krishnakumar/Daily Bruin)
Hundreds of students and UCLA community members celebrated the start of November with a Friendsgiving dinner, cooking competitions and other autumn activities at this month's First Thursdays event.
The event, which took place in Westwood Village, offered fall festivities and challenges, such as blind taste tests and hot sauce sampling, alongside its usual photo exhibits, food trucks, music and various business stands, including Pooka's Eats and Frontier Kettle Korn.
First Thursdays, launched in March, is part of the university's effort to revitalize Westwood Village, which experienced a lack of connection with students during the COVID-19 pandemic. Jennifer Poulakidas, associate vice chancellor for government and community relations, said the event unites the UCLA community and Westwood Village by exposing students to the businesses adjacent to campus. The goal of this month's event was to share tips for cooking on a budget, Poulakidas added.
Chancellor Gene Block was also present at this month's First Thursdays to promote UCLA's efforts to provide students with healthy food.
Julia Rhoton – culinary arts coordinator and chef instructor for the UCLA Teaching Kitchen, a program that provides nutrition education on campus – demonstrated how to make healthy and affordable recipes, such as an apple crisp and a chicken entree, during the event. Rhoton said the block party and UCLA Teaching Kitchen confronted the difficulties of cooking by showing ways to make food without expensive equipment.
"As long as you have some simple ingredients and basic knowledge, you can make really delicious food," she added.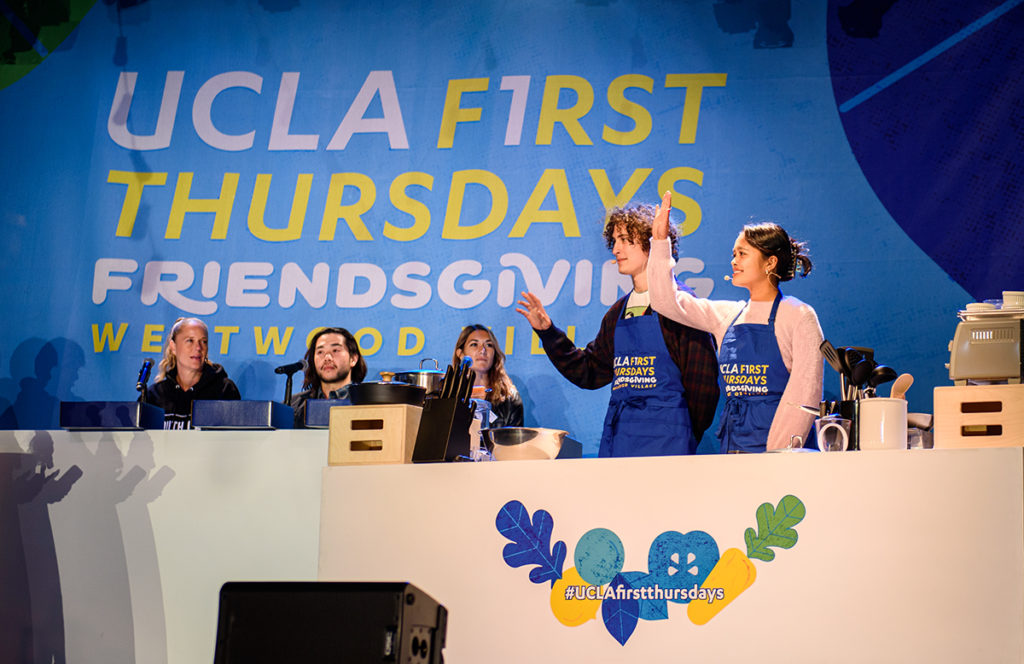 Many students went to the block party to enjoy a night of fun and free food and take a break from studying.
Lisa Le, a fourth-year human biology and society and political science student, said she wanted to take advantage of the gratuitous opportunities UCLA offers before graduating. Before the block party started, there were already long lines and a lively atmosphere, Le added.
"Since freshman year, I have been going to a lot of events hosted by UCLA, and it is always a good turnout," she said.
Ashley Chen, a doctoral psychology student, said the block party allowed students to engage with the community and de-stress after midterms. Chen added that one challenge at the event consisted of trying up to 10 hot sauces, ranging from mild to extremely spicy, to win a food truck meal ticket.
Sarah van der Walt, a first-year astrophysics student from South Africa, said she knew about First Thursdays even before committing to UCLA and participated to feel more immersed in American culture.
"I really liked the concept of Friendsgiving that they have going on here. It's just a welcoming environment, and I like seeing all the students out and about," she added.
Contributing reports by Shaanth Nanguneri, features and student life editor.