UCLA women's volleyball takes down Arizona State to secure three-game win streak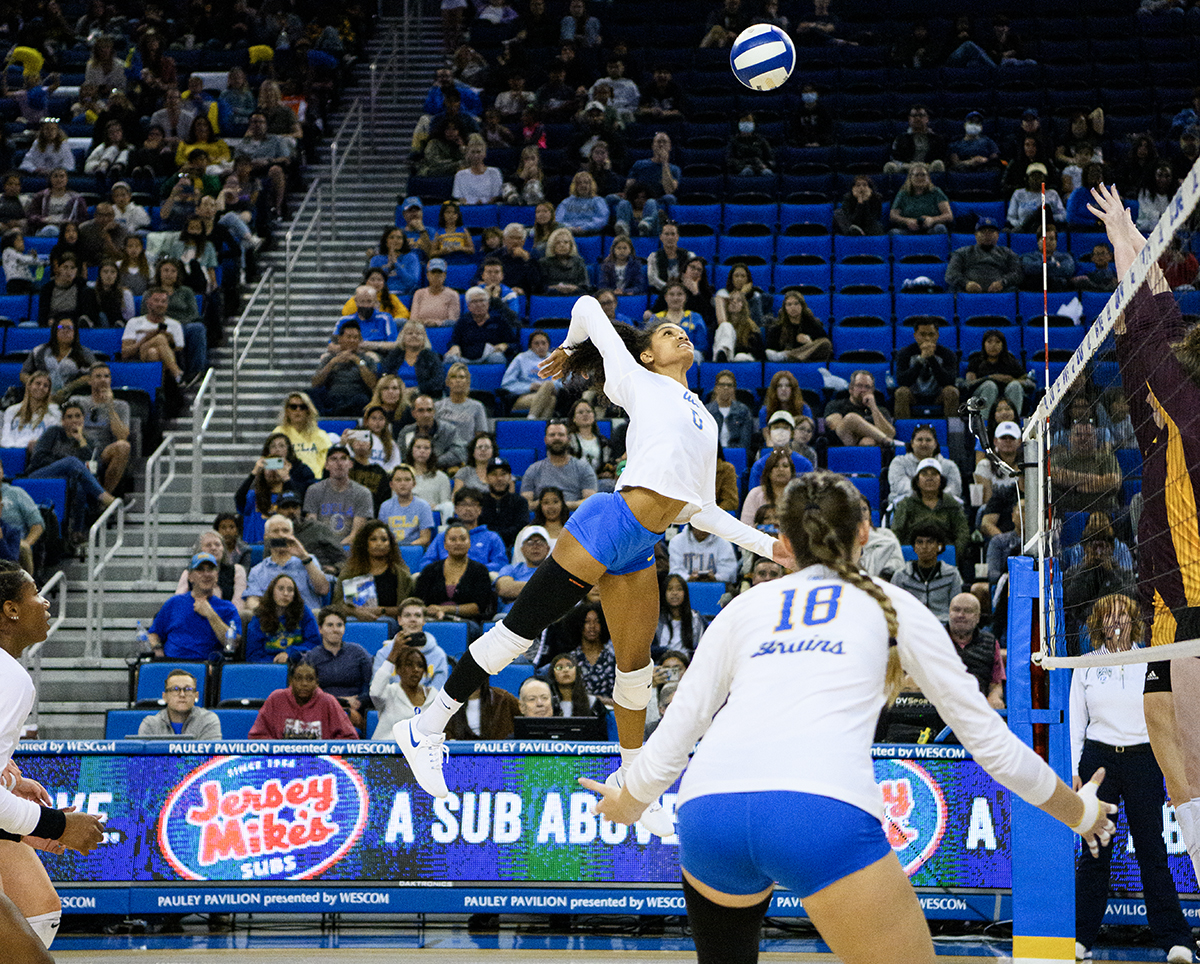 Graduate outside hitter/opposite élan McCall gets a kill. McCall led the Bruins in kills, blocks, and service aces as the team swept the Sun Devils on Sunday. (Alex Driscoll/Daily Bruin staff)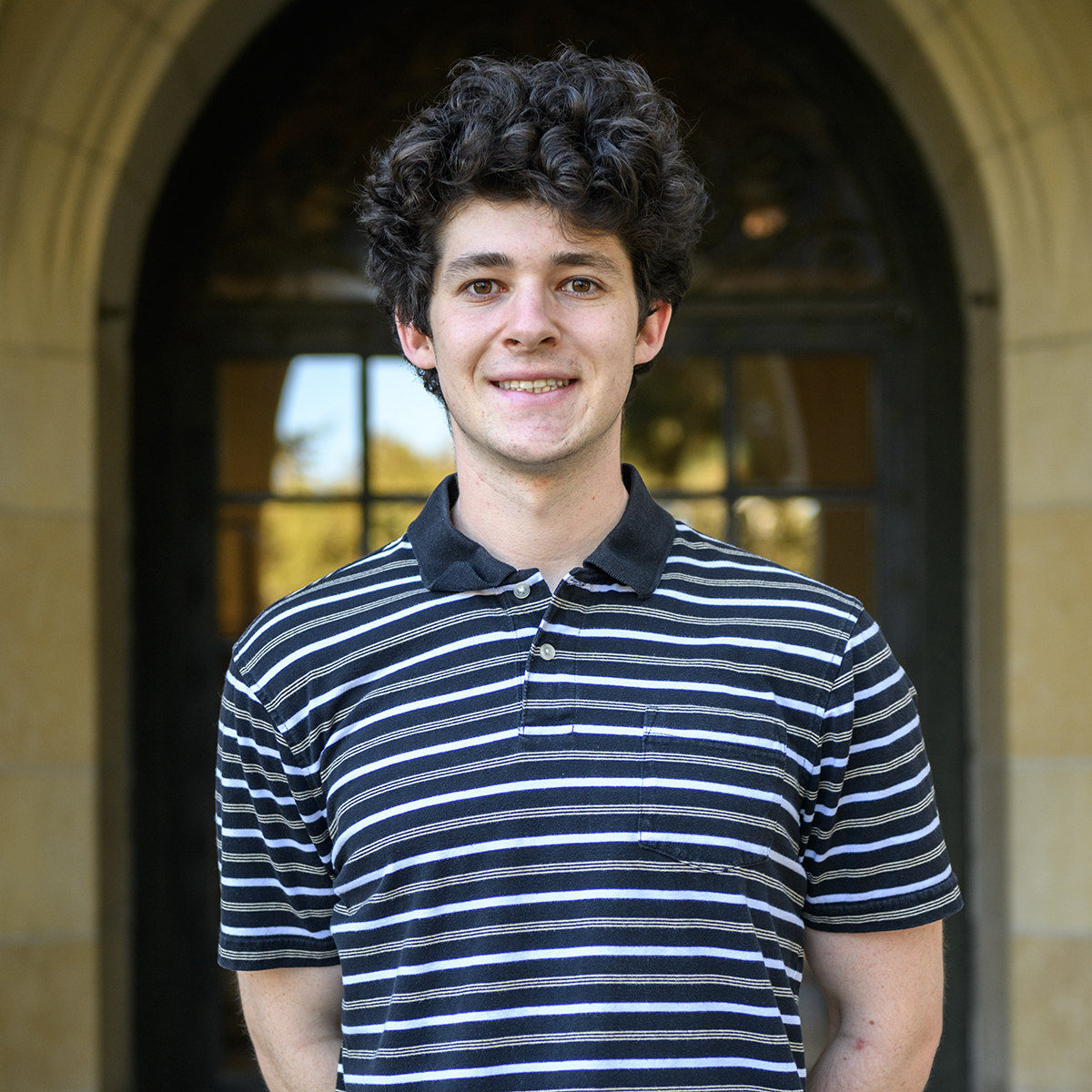 On its fifth match point of the contest, Arizona State's effort to equalize the score fell short.
An attempted kill rebounded off two Bruin blockers and floated toward the ground. But graduate outside hitter/opposite élan McCall planted her left leg and leapt right, swinging her right arm and gaining enough power to force the ball back over the net.
The next play saw Arizona State hit the ball too long, giving UCLA the sweep.
"It kind of just happened," McCall said about her diving effort on the match point. "I did what I felt was necessary. I don't know, I just did it."
With UCLA women's volleyball's (13-10, 7-7 Pac-12) 3-0 victory over Arizona State (11-15, 5-9) on Sunday, the Bruins improved to .500 in conference play while the Sun Devils dropped their ninth conference loss. The match marked three straight wins for UCLA and three straight losses for Arizona State, as the Bruins now move to 14-1 in the two schools' last 15 showdowns.
The win also comes on the back of a 3-1 defeat of Arizona (13-12, 3-11) at Pauley Pavilion on Friday, in which redshirt junior Anna Dodson scored a career-high 15 kills.
McCall finished the Arizona match tied with Dodson at 15 kills and the Arizona State game with a .297 hitting percentage and five digs. McCall also led the team with 16 kills, four blocks and three aces.
UCLA stayed in front of its opponent for the majority of the first set, with Arizona State only getting the lead at 8-7. Through the set, the Bruins tallied 17 kills on 44 attempts while holding the Sun Devils to nine kills on 30 attempts.
At set point, redshirt freshman defensive specialist/libero Katie McCarthy substituted on for her first point of the match to serve. In her moment to shine, she struck an ace to ice the first set for the blue and gold.
The second set saw the blue and gold jump out to an early lead that it never relinquished. UCLA hit .545, with 19 kills and one error on 33 attempts to win the set 25-15.
"Even though we won the first set, I don't know if we were necessarily as clean as we like to be," coach Michael Sealy said. "So the second set, all of a sudden, about the early part, we made a couple of plays that were very surgical. And that gave us a ton of momentum."
The third set was the longest of the season for the blue and gold and the longest since their spring 2021 NCAA tournament loss to BYU.
Arizona State jumped out to a 10-6 lead, but UCLA fought back – getting 12 of the next 16 points to come out in front 18-14. Nevertheless, the Bruins couldn't clinch the set in under 25 points, and at 24-22, the Sun Devils won two points to force extra points.
"We were up 19-16 and made some uncharacteristic errors that allowed them to catch up," said Sealy. "Once you let them back in the match, then it got a little bit tight."
A subsequent back-and-forth saw UCLA defending three set points while Arizona State fended off four match points before UCLA finally managed to secure the victory.
"We know how to fight, and we've definitely had a lot of experience to eventually pull those sets out," graduate setter Matti McKissock said. "I think it just shows that we've grown a lot throughout the season and that we're definitely playing our best volleyball right now."
In the match, Dodson tallied 13 kills – her fifth consecutive match hitting double-digits. Junior outside hitter/opposite Iman Ndiaye and sophomore outside hitter/opposite Charitie Luper chipped in with nine and eight kills, respectively. McKissock added 42 assists, notching 3.5 more per set than her season average.
For Arizona State, junior outside hitter Marta Levinska tallied 14 kills while senior outside hitter Iman Isanovic added 12 kills of her own. Senior setter Shannon Shields finished with a double-double, getting 25 assists and 12 digs.
UCLA will remain in Westwood next week as they host California on Thursday and No. 8 Stanford on Saturday for its final homestand of the regular season.