UCLA women's basketball tames Cal Poly Mustangs in first game of new season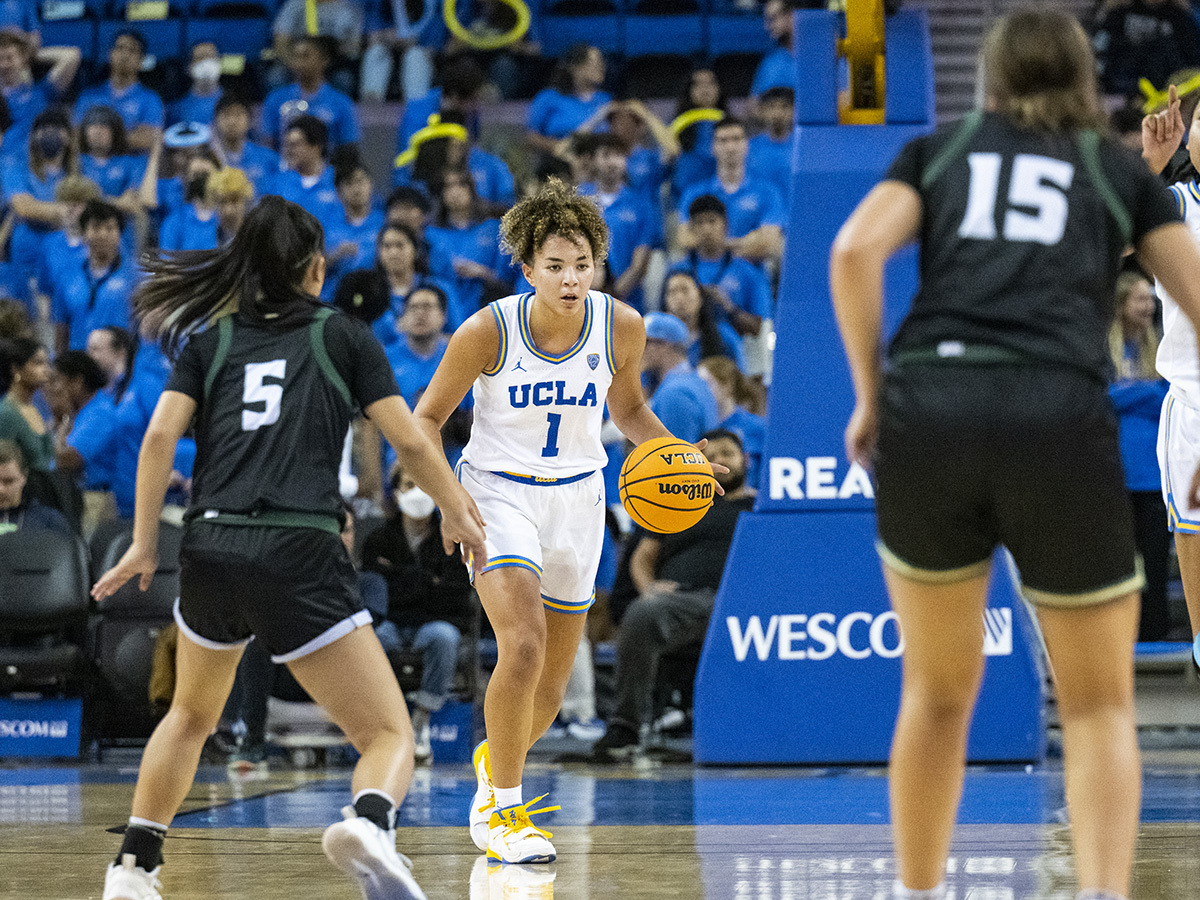 Freshman guard Kiki Rice dribbles the ball down the court. Rice made her debut Monday and collected 12 points and seven assists against the Mustangs. (Anya Yakimenko/Daily Bruin)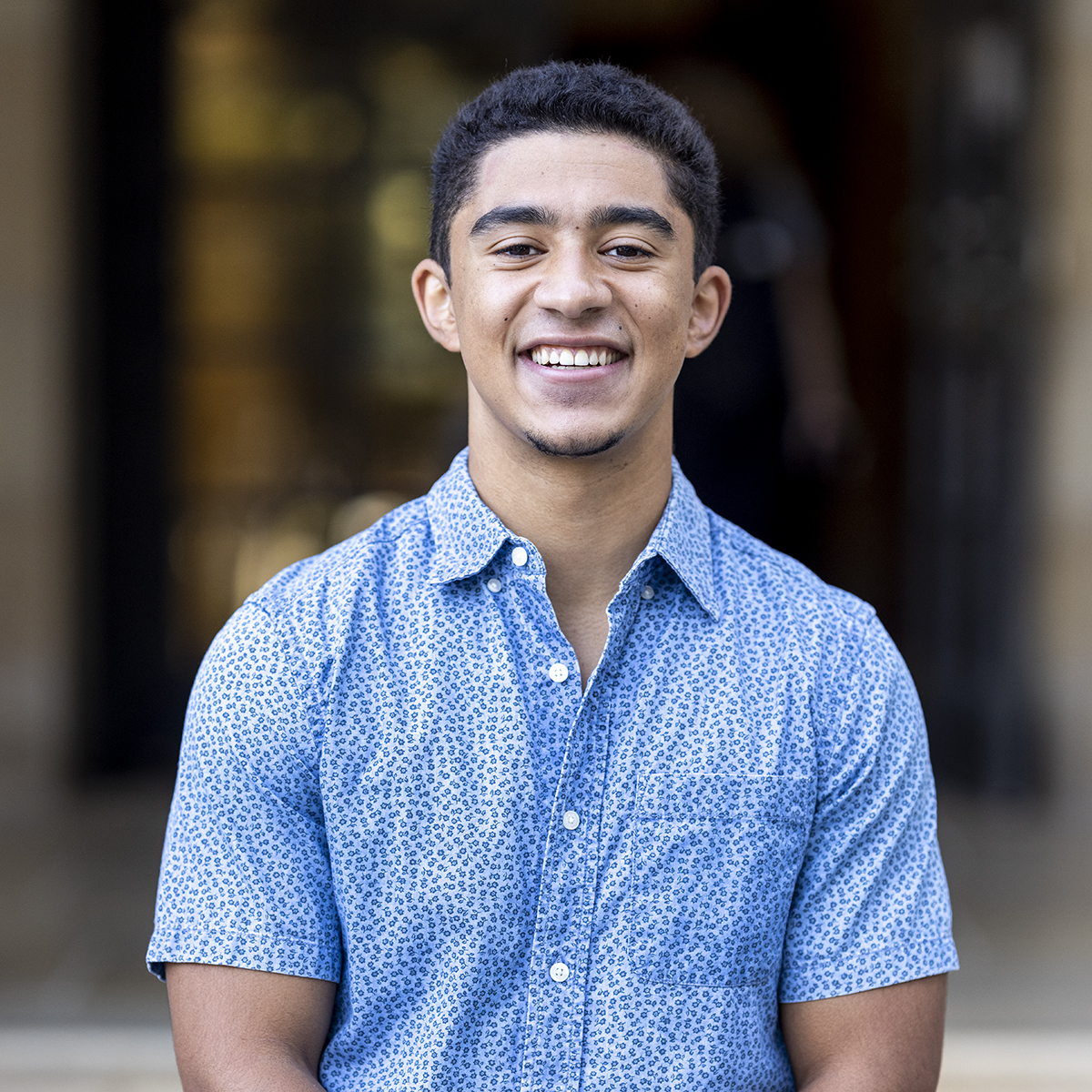 This post was updated Nov. 8 at 10:54 p.m.
After limited rotations because of injuries in recent years, the Bruins showed off their new-look squad's depth in a season-opening victory.
All five freshmen members of the nation's top recruiting class scored as UCLA women's basketball (1-0) commenced a new era with an 84-48 win over Cal Poly (0-1) on Monday night in Pauley Pavillion. McDonald's All-American co-MVPs Kiki Rice and Gabriela Jaquez each scored in double figures during their Bruin debuts, while redshirt sophomore forward Emily Bessoir collected 14 points, grabbed nine boards and swatted three blocks in her first game in 20 months after tearing her ACL.
Senior guard Charisma Osborne ultimately led all scorers with 20 points on 6-of-11 shooting and a perfect 6-for-6 from the free throw line, while adding nine rebounds and five assists.
With the win coming in the first game of a doubleheader with the men's basketball team, Jaquez – the younger sister of men's senior guard/forward Jaime Jaquez Jr. – reflected on her highly anticipated UCLA and Pauley Pavilion debut.
"It was really exciting to play in Pauley. I've been watching my brother's games here all the time," Jaquez said. "We've been waiting for Nov. 7. … All of my family came out, and so it was really an amazing moment for me."
The Bruins rotated their squad early and often, as all five freshmen made their debuts within the first five minutes of the game. Rice didn't score her first collegiate points until the second quarter, but dished four assists in the first quarter without a turnover while running the point.
Rice – the reigning Gatorade Female High School Athlete of the Year – said she overcame early nerves in her first collegiate game.
"At first, (I) definitely was a little bit nervous in my first college game," Rice said. "But once I started to settle into the game and do what I need to do out there, I just got confident. I got a lot of assists early on. To see my teammates get going, it helped me settle into the game."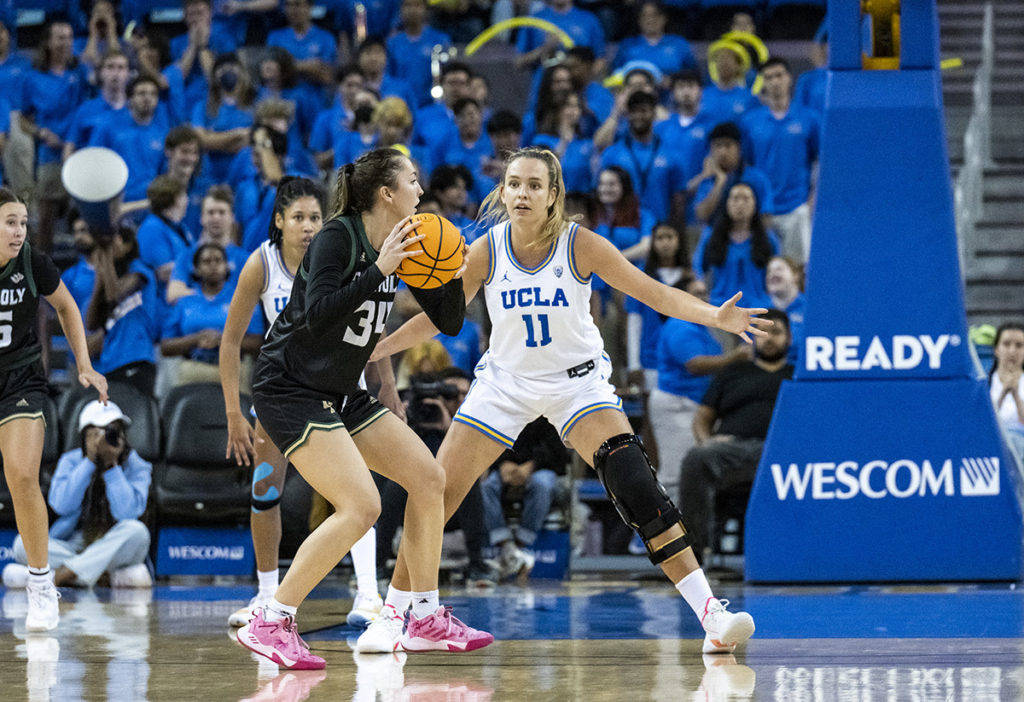 Bessoir led all players in points and rebounds in the first quarter, scoring seven points on 3-of-4 shooting attempts and grabbing five rebounds in her first game action since March 2021.
The blue and gold showed off its full-court press, forcing six turnovers and scoring 11 points off the defensive pressure in the opening period to outscore the Mustangs 25-11 in the first quarter of the season.
The opening quarter foreshadowed the Bruins' stifling defense throughout the contest, as they forced 20 total turnovers and held their first opponent of the season to less than 40% shooting from the field in all four quarters.
Rice joined the scoring sheet in the second quarter, scoring back-to-back baskets on her first two shot attempts of the game before scoring a crafty right-hand reverse layup. Rice led all scorers in the quarter with eight as UCLA extended its lead to 45-25 at halftime.
Coach Cori Close said she loves Rice's composed demeanor more than any stat line.
"One of the things I admire most about her is she never gets too high or too low," Close said. "She's very cerebral, she's learning constantly, and I love the fact that she's just steady – it's not dependent on whether her shots go in, or she makes a mistake or not."
After shooting 42.1% and 46.7% overall in the first two periods, respectively, the Bruins' offense had its most efficient quarter of the game, shooting 53.3% and scoring 24 points in the third.
Osborne continued her consistent scoring with five points in the first three minutes of the second half, while Rice added another pair of baskets and assists. Osborne finished with seven in the quarter, while Bessoir limited the Mustangs defensively, collecting three blocks in five minutes.
UCLA finished off its first game with its strongest defensive quarter, holding Cal Poly to 3-of-12 shooting from the field and forcing eight turnovers. Despite its lowest scoring output of the game, the Bruins extended their lead to 36 before the final horn.
The blue and gold accomplished all of this without graduate senior guard Gina Conti, who was expected to play her first minutes for the Bruins after missing all of last season.
UCLA rotated 10 different players for the first time in several seasons, and with one more key debut still on the way, a new era is brewing in Westwood.
"I had to learn how to sub again," Close said. "We want to pick up full court. We want to make people feel uncomfortable, and it was nice to do that again and be able to demand levels of excellence."
Carlson is currently a staff writer on the football, men's basketball and women's basketball beats. He was previously a reporter on the softball and men's golf beats.
Carlson is currently a staff writer on the football, men's basketball and women's basketball beats. He was previously a reporter on the softball and men's golf beats.