UCLA women's volleyball to face two Arizona teams in weekend home games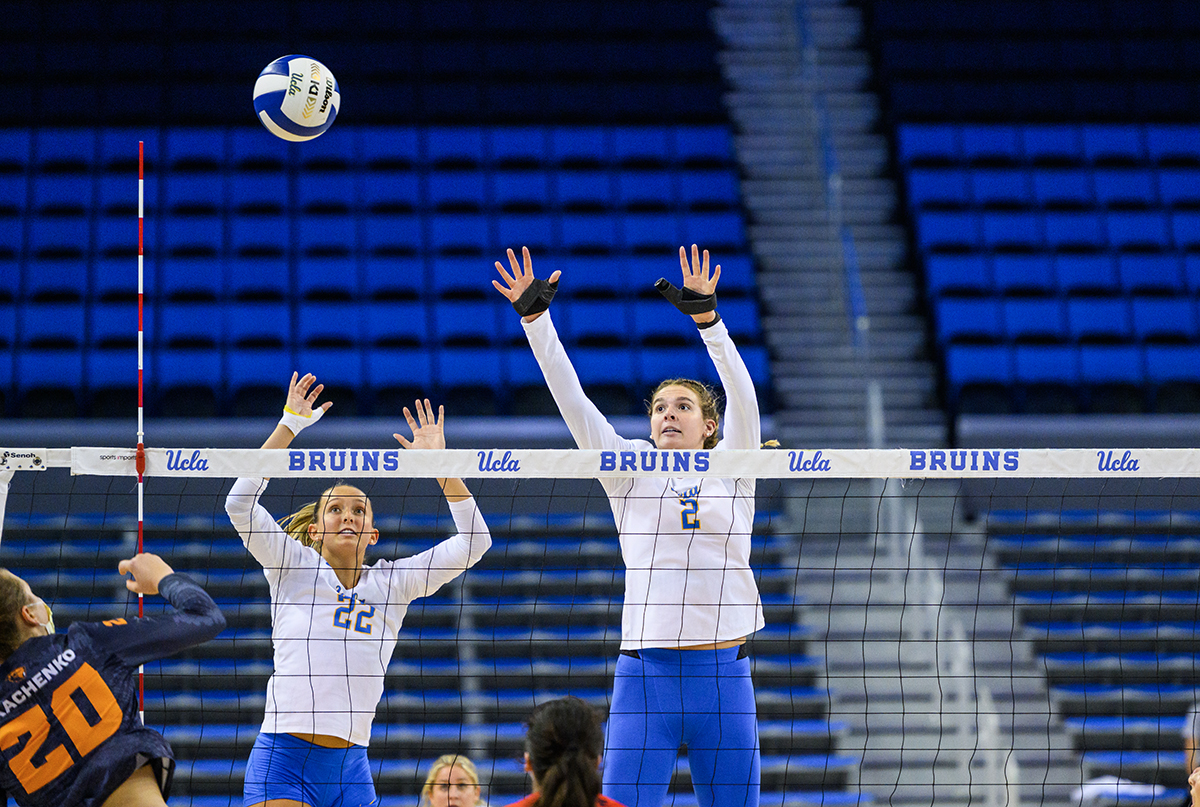 Graduate student setter Matti McKissock (left) and redshirt junior middle blocker Anna Dodson (right) go up for a block. Dodson returned after an injury to post a season-high 11 digs against Colorado on Oct. 28. (Mattias de los Rios Rogers/Daily Bruin)
Women's Volleyball
---
Arizona
Friday, 7 p.m.
Pauley Pavilion
UCLA Live Stream
---
Arizona State
Friday, 12 p.m.
Pauley Pavilion
Pac-12 Networks
After an upset win on the road, the Bruins will look to complete a pair of season sweeps at home.
UCLA women's volleyball (11-10, 5-7 Pac-12) will face off against Arizona (13-10, 3-9) and Arizona State (11-13, 5-7) on Friday and Sunday, respectively. This weekend's games come after UCLA swept Utah on Sunday, after previously losing to them in four sets earlier in the season.
A pervasive aspect of UCLA's season has been the turnover in the starting lineup because of injuries and illness. Returning from an absence, redshirt junior middle blocker Anna Dodson posted a season-high 11 digs against the Buffaloes.
Sophomore outside hitter/opposite Charitie Luper said having Dodson back on the court was revitalizing to the team's energy.
"We missed her a lot," Luper said. "Having her back was much needed. She brought the fire today (Sunday against Utah) and for Colorado."
With a key cog in their lineup back – Dodson currently is third on the team in kills and blocks this season – the Bruins will bring additional depth into upcoming matches with the Wildcats and the Sun Devils.
Coach Michael Sealy said clean play and limited errors were key aspects of the win against Utah and would continue to be a focus moving forward. The game against the Utes tied for the Bruins' fourth-fewest number of errors in a game this season with 15 across all three sets.
"I thought we did a good job of playing clean volleyball for long stretches of time," Sealy said. "The times where we did maybe have a few plays where we didn't, we bounced back really quickly and got back on track."
Dodson said the blue and gold has a lot to learn from the games last weekend as they attempt to implement new techniques in practice and in their upcoming matches.
"Going into the gym and still figuring out what we need to work on and those little pieces that let us fall behind in the Colorado game is going to be important," Dodson said. "Also bringing in more of that consistent and clean volleyball we had today into this week's practice."
Across their previous matches, Dodson also noted the team's struggles with out-of-system setting were a part of their game that the Bruins will have a chance to fine-tune against the schools from the Grand Canyon State. Dodson said this was an area of concern from the Colorado game that the Bruins will look to work on in practice.
"We realized that our out-of-system setting was a little off from the Colorado game and the balls were too far off the net," Dodson said. "We had a lot of success making that change and then working on that in just that one day of practice … having one or two more days of practice is going to be beneficial."
As for whether or not their previous victories will factor into their training plan, Luper said UCLA will remain focused on their personal goals, not their opponent.
"It's hard to beat a team twice, especially those good teams," Luper said. "We're just going to play our game and not do too much, just do what we know how to do."
UCLA will begin play against Arizona at 7 p.m. on Friday at Pauley Pavilion.
Trimbell is currently a contributor on the gymnastics and rowing beats.
Trimbell is currently a contributor on the gymnastics and rowing beats.