The Quad: Midterm exams or midterm elections? Bruins weigh in on voting challenges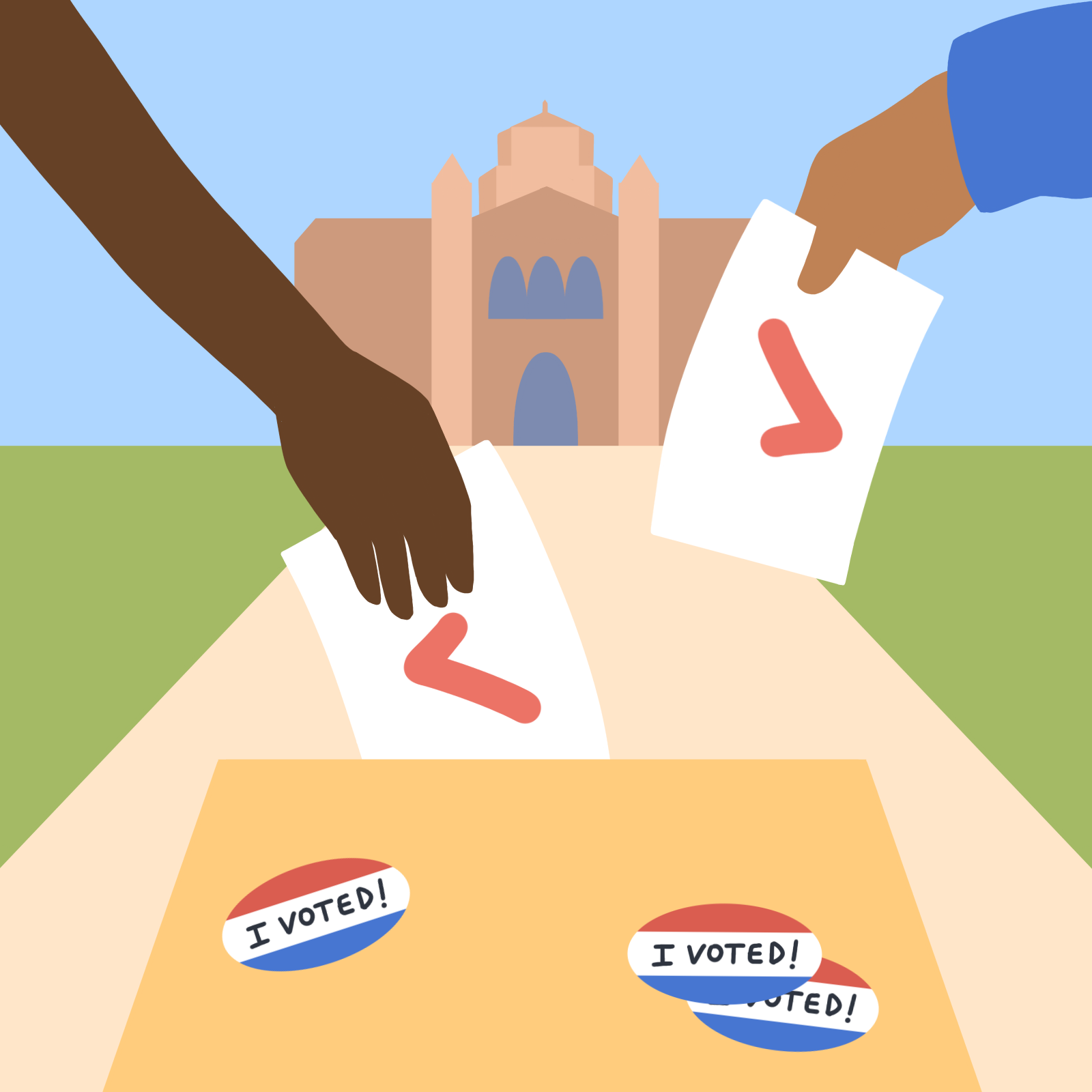 (Isabella Lee/Illustrations Director)
As Election Day approaches, Bruins may have more than one type of midterm on their minds.
The United States midterm elections happening Nov. 8 will determine which candidates will represent each state in Congress.
Voters will decide on 435 seats in the U.S. House of Representatives and 35 seats in the Senate. This year's candidates have largely focused their campaigns on taxation, abortion rights and crime rates.
This puts undergraduate students in a unique position to politically shape the country with each choice they make on their ballots, as their experiences may inform their approach to voting differently than other groups.
According to the National Study of Learning, Voting, and Engagement, 44.5% of eligible student voters at UCLA voted in the 2018 midterm elections. This rate was 5.4% higher than that of other institutions but lower than the 53% voting rate seen in the total U.S. population, according to the same source.
Octavia Jo, a third-year political science student, said she felt it is much more common for students to discuss midterm exams during the quarter as opposed to talking about voting.
"Midterms are important, but voting is important too," Jo said. "It's really hard to make your own time for voting, and then also keeping your grades."
Jo added that one aspect of voting particularly important to her is elevating minority voices in politics.
Out-of-state students can also have different experiences being miles away from home, particularly as they may opt to use an absentee ballot.
Hazel Stocco, a third-year political science and statistics student, is an out-of-state student and said she votes using an absentee ballot to continue to play a part in the politics of her hometown.
"It's definitely been interesting, especially when you're a college student voting in a completely different part of the country where I don't get campaign ads for my local politicians," Stocco said.
Stocco added that one challenge she faced when voting was finding reliable information on candidates that are not incumbents.
"I'm at least lucky that this year, for this election, I'm in a class that's allowing me to have more resources on how to actually search up information on these public officials," Stocco said.
Experiences inside and outside of the classroom can also have an influence on students' approaches to voting.
Cameron Katz, a third-year political science and psychology student, said his time working in different elected officials' offices in Los Angeles has informed his perspective on voting.
"I think that's just given me kind of a good appreciation for what these systems in place are and what the systems in place can do, that I think really doesn't get touched on enough," he said.
Katz added that education can motivate more eligible students to exercise their right to vote.
"When it comes down to it, everybody wants to believe in something. So really giving them the tools to know what the options are, and how best to execute on that is going to be, I think, what makes the most difference when motivating students to vote," Katz said.
Voter turnout is historically lowest among those aged 18-24, a trend observed most recently in the 2020 presidential elections, according to the U.S. Census Bureau. Challenges with requesting absentee ballots and finding time to vote can impede student voters, but strong motivations to make voices heard may overcome this.
"I think it's really good to pay attention to what we can do as younger people about the policies that the government proposes," Jo said.