Gameday predictions: UCLA vs. Stanford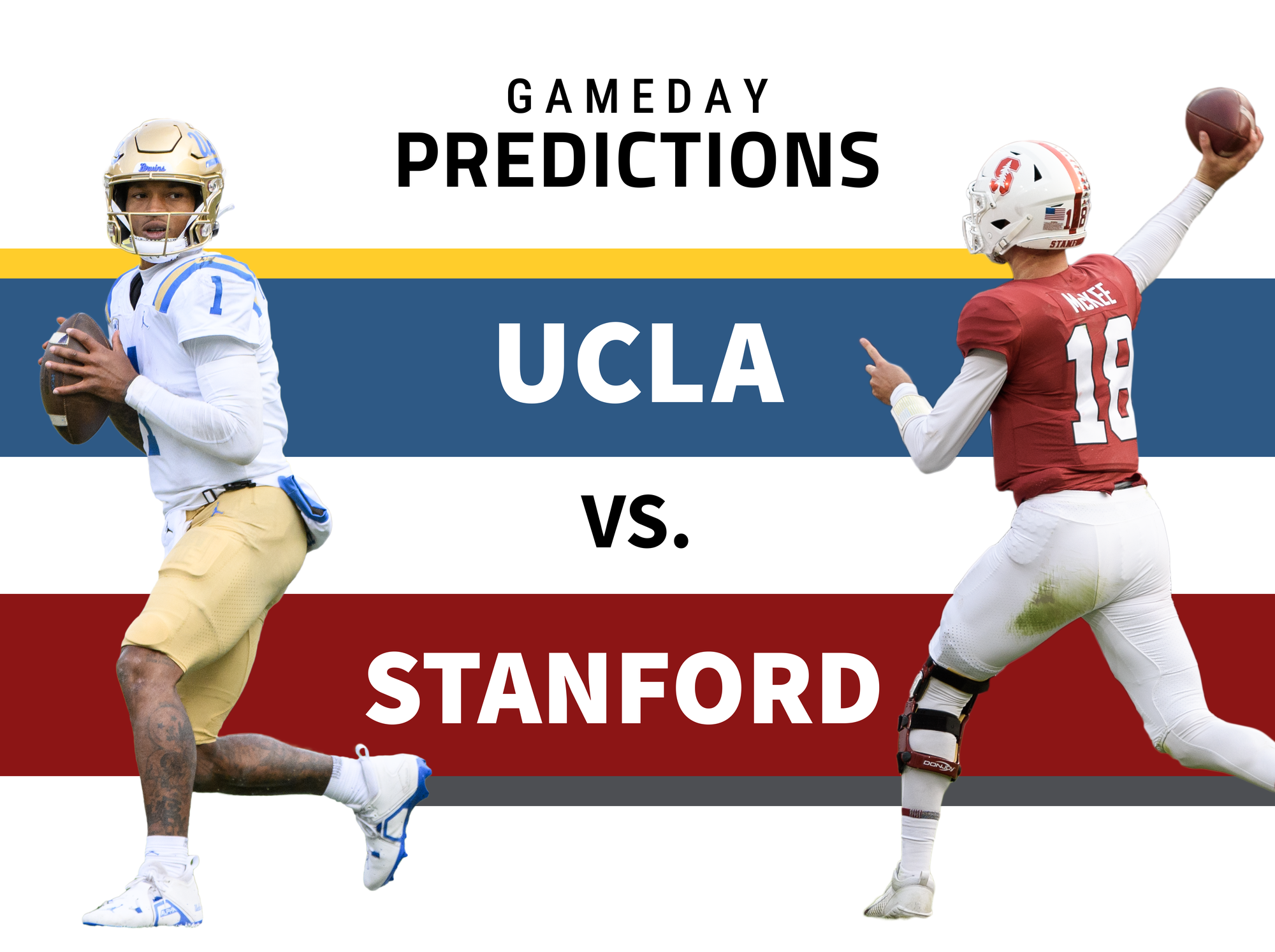 Pictured are UCLA football redshirt senior quarterback Dorian Thompson-Robinson (left) and Stanford quarterback Tanner McKee (right). (Photos by Jeremy Chen/Assistant Photo editor. Photo illustration by Maya O'Kelly/Design director)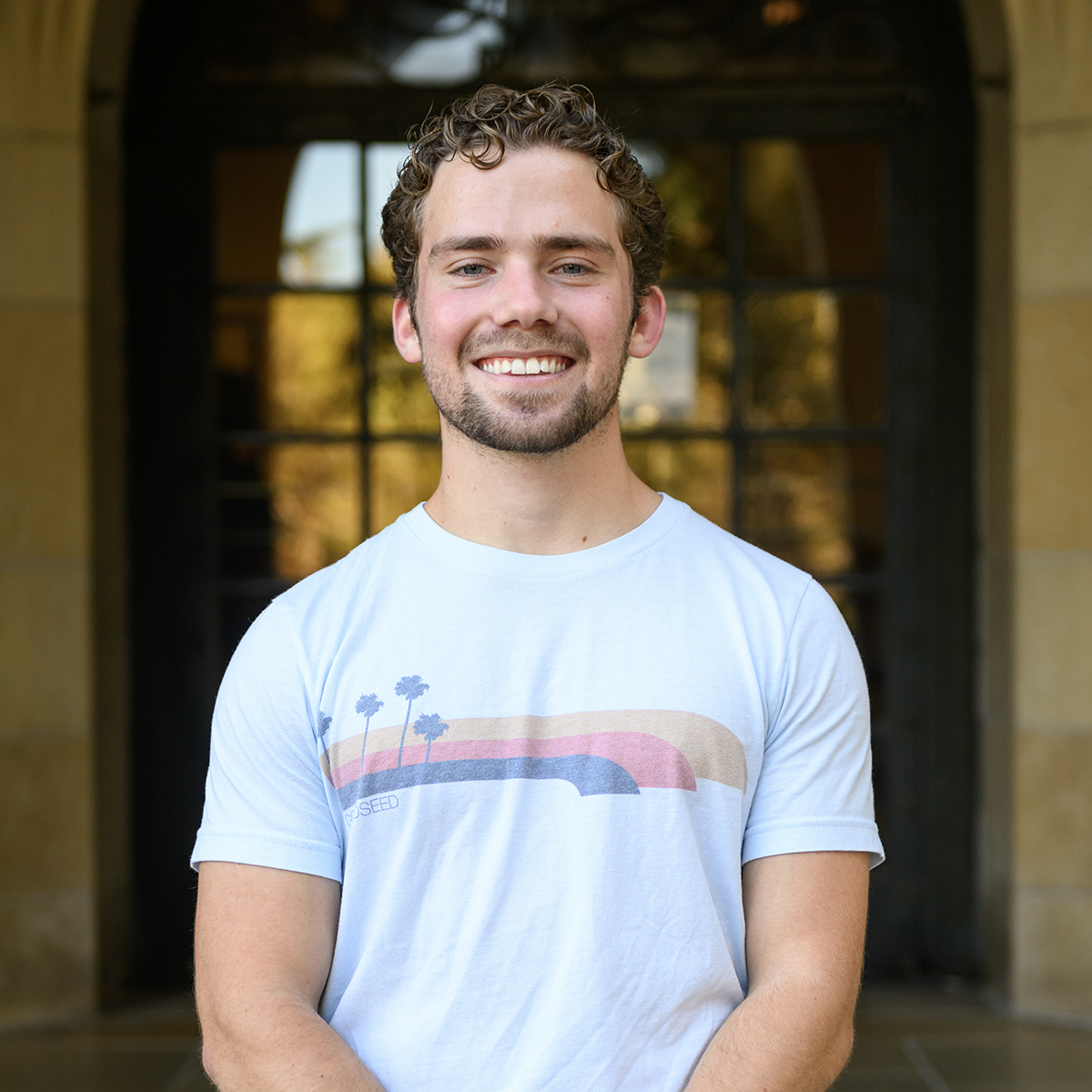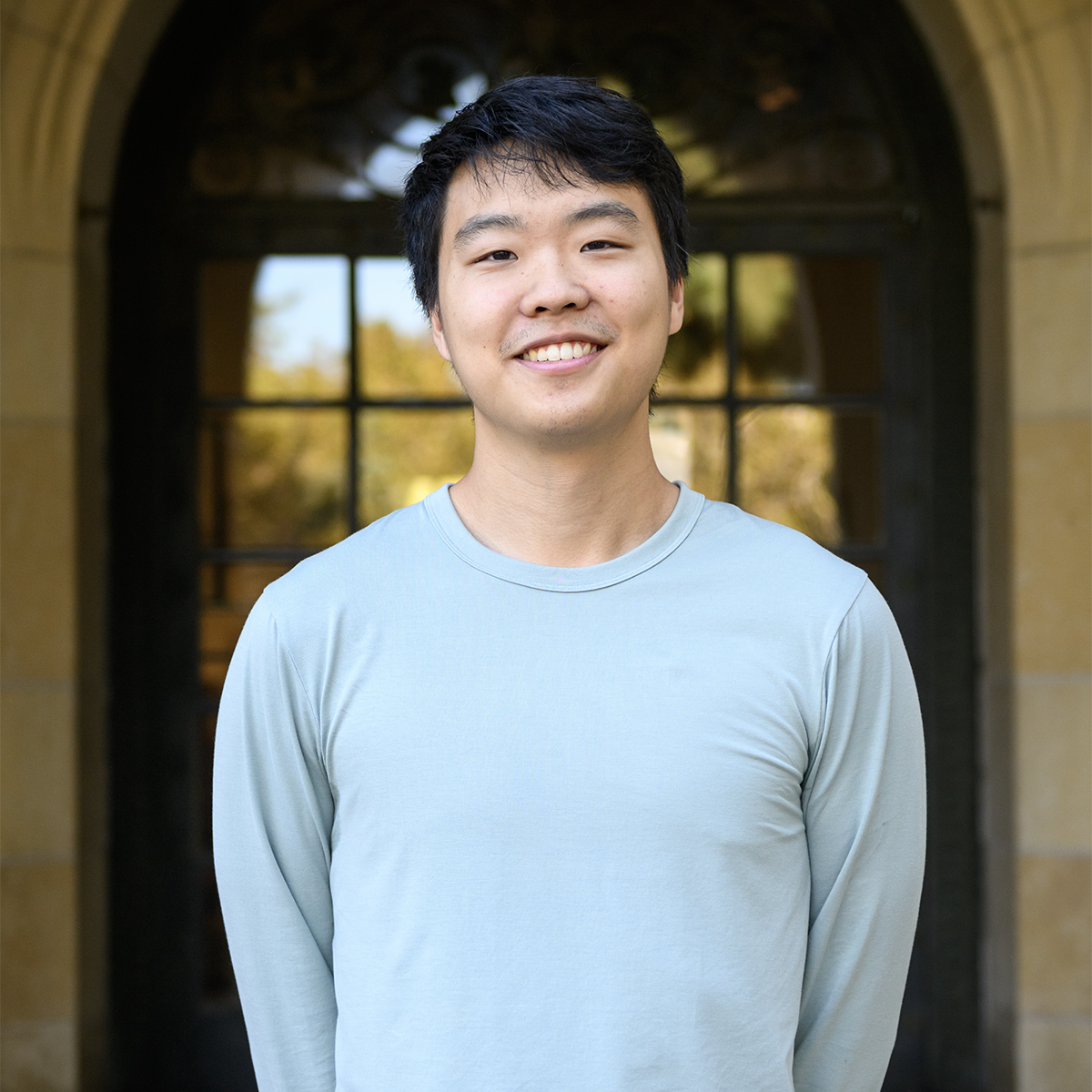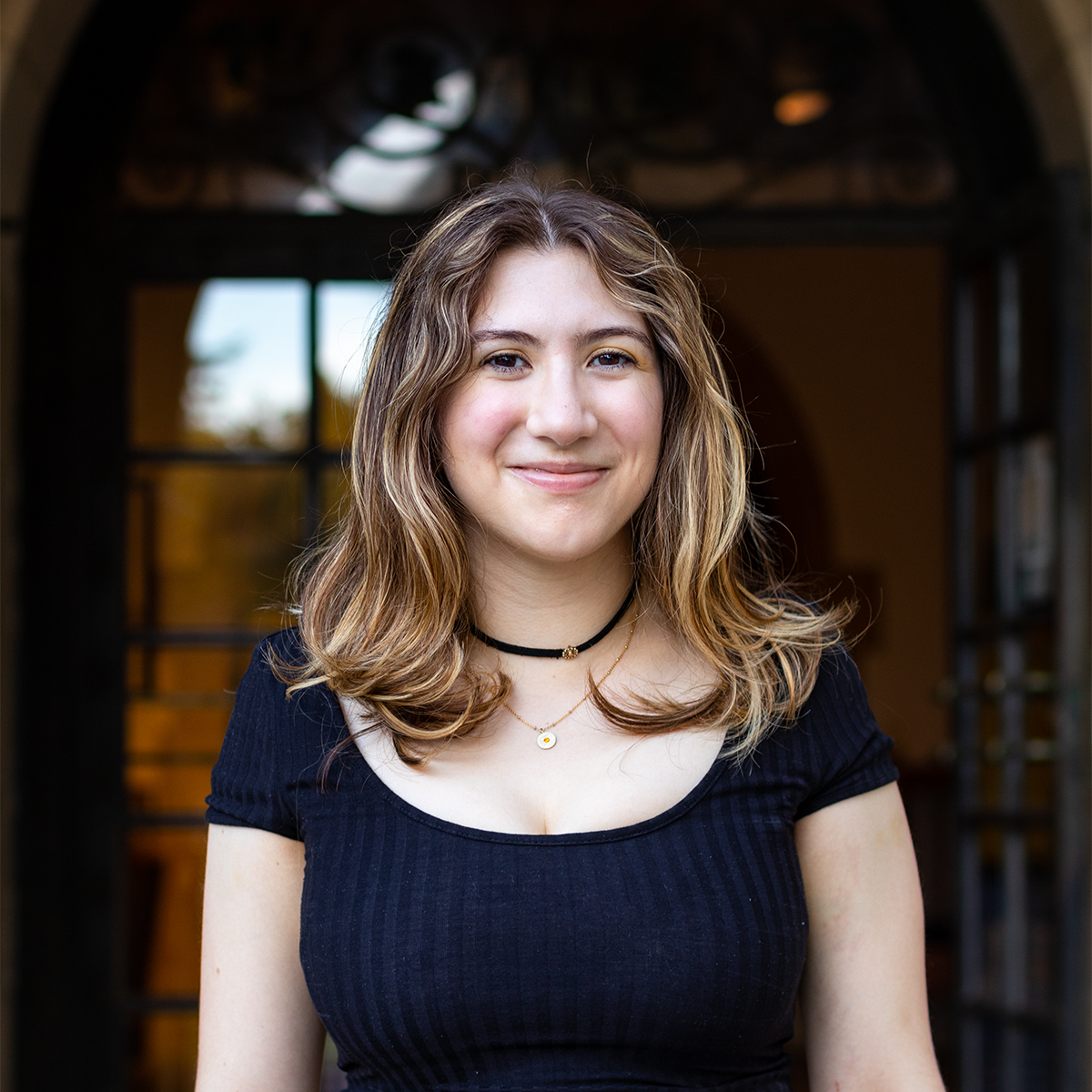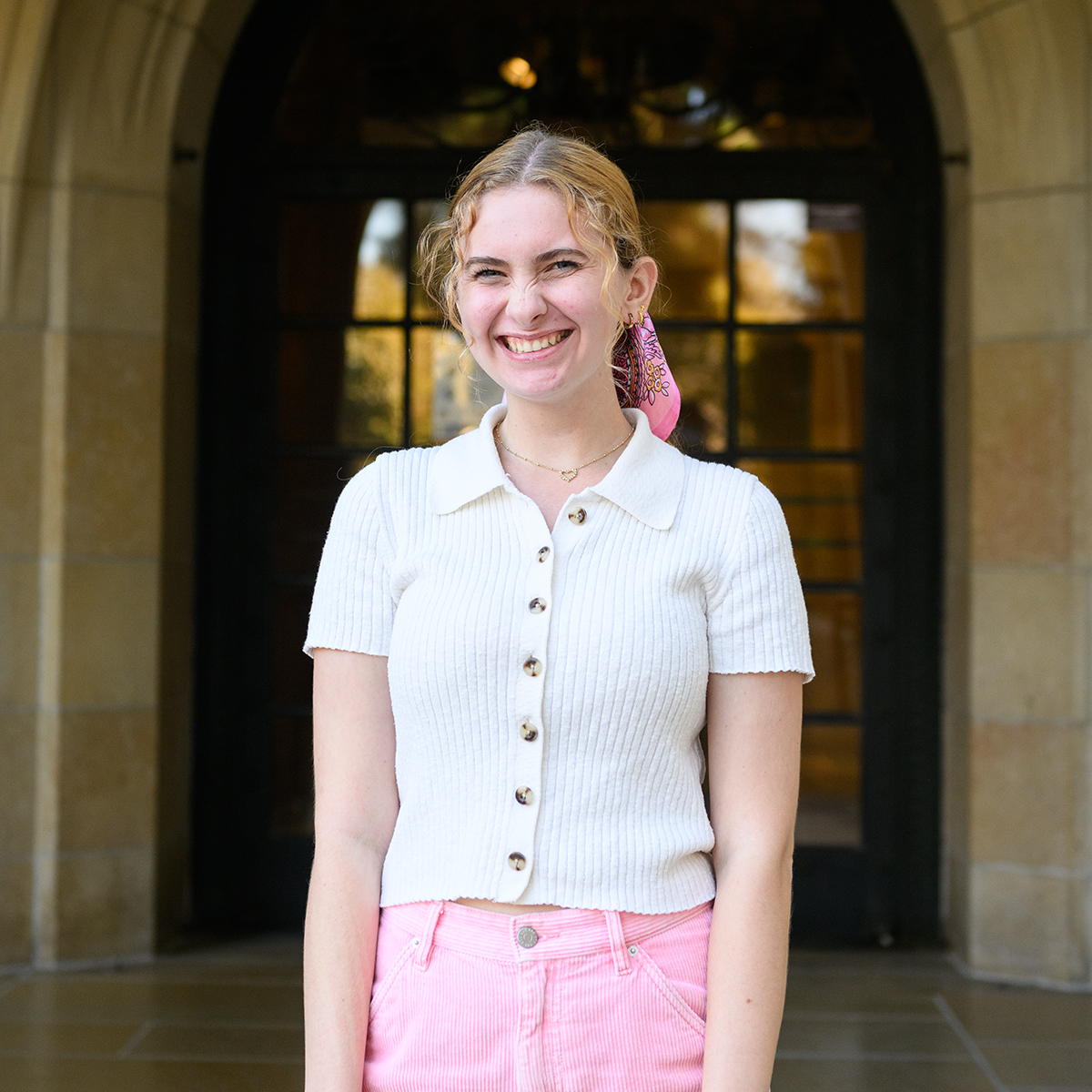 Sam Settleman
Sports editor
Prediction: UCLA 38, Stanford 21
I'm 0-for-3 on my last three predictions.
Needless to say, and while my colleagues might vehemently disagree, I feel like I'm due.
The good news for me is that there are few better opportunities to break out of a predicting slump than this one.
Returning home after its first loss of the season against an overmatched opponent, UCLA will be a heavy favorite to take down Stanford at the Rose Bowl on Saturday. Given the magnitude of this game in terms of putting the Bruins back on a path to the Pac-12 Championship game, I find it hard to imagine UCLA will fumble this opportunity.
The Cardinal currently sit dead last in the Pac-12 with a 1-4 conference record. But all four of Stanford's conference losses have come to teams in the upper half of the Pac-12. On the other hand, the Cardinal's two wins since a season-opening victory over Colgate have come by a combined three points.
Stanford is led by a potential first-round pick in the 2023 NFL Draft in quarterback Tanner McKee, but coach David Shaw and company have done little over the past two years to prove this team can compete in the Pac-12.
I predict UCLA gets out to a three-possession lead in the first half against Stanford's porous rushing defense, as senior running back Zach Charbonnet adds a couple more touchdowns to his total. From there, the Bruins will control the clock in what should be a relatively uneventful contest.
If not, it might be time for me to hang up the metaphorical predicting cleats.
Francis Moon
Daily Bruin senior staff
Prediction: UCLA 49, Stanford 30
The Bruins are looking to reverse a losing trend against a team that has turned a rocky start into a recent surge.
This sounds an awful lot like last week when UCLA was getting ready to take on Oregon for the top spot in the Pac-12 – and we all know how that ended.
But fret not because that's where the similarities stop.
UCLA and its next opponent sit on opposite ends of the conference standings, with Stanford having nowhere to go but up. But recent history tells a different story, as the Bruins haven't been able to beat their Bay Area rivals at the Rose Bowl since 2008, most recently losing in Pasadena in double overtime in 2020.
After four straight losses, the last of which came on a game-winning touchdown by Oregon State, Stanford is coming off two gritty, low-scoring victories over Notre Dame and Arizona State.
McKee and the passing game have shown flashes, but the quarterback has compiled zero touchdowns in his last two outings and habitually breaks down in the red zone. Instead, much of Stanford's recent run has been powered by its bend-don't-break defense that has managed to keep games close.
Come Saturday, though, the Cardinal defense will meet its match.
The Bruins should establish a ground-and-pound strategy from the get-go and feed Charbonnet. Stanford's rushing defense is average at best and has allowed more than 160 yards four times this season, amounting to each of their losses. The Cardinal should still be able to keep the game from getting too out of hand, though, which will only fuel the largest offensive output of the Bruins' season.
On defense, UCLA should see success if it pressures McKee early and often. With its top wide receiver in Michael Wilson likely out for the year, Stanford will continue to have a tough time finding the end zone but has shown it can put together long drives and muster some points against a susceptible defense.
But with the added history between the two programs, the Bruins will leave no doubt and right the ship on their run to the conference title.
Amy Ionescu
Assistant Sports editor
Prediction: UCLA 42, Stanford 24
What I've learned from the last three bouts of predictions is to never trust Sam.
Fortunately for both of us, Stanford currently sits at the bottom of the Pac-12 standings with an overall low-scoring offense.
Now of course, Stanford can't be all bad. The Cardinal are coming off back-to-back wins for the first time all season, while the Bruins have just shattered a nine-game winning streak of their own.
The rest of the season for Stanford, however, holds a different story. The Cardinal's only win of conference play was by a single point, while their first three Pac-12 games featured losses by double digits. In contrast, the Bruins downed their first three conference games by at least a touchdown.
On the other hand, UCLA barely slipped past South Alabama, a team it was projected to beat sizably, by a point off the foot of redshirt junior kicker Nicholas Barr-Mira.
Can UCLA football down another conference opponent and remain in the running for the Pac-12 Championship? Yes. Will they? Hopefully.
But this prediction doesn't have anything to do with stats or players – not really at least. The homecoming game will be my first time ever watching UCLA football play, and I will watch a win.
Abi Siatkowski
PRIME director
Prediction: UCLA 66, Stanford 43
Exactly nine months before this weekend's game, UCLA and Stanford found themselves face to face.
Let's set the scene. Just like this weekend, the Bruins had the home advantage on their side. The student-athletes, I'm sure, jittered with the nerves of facing the only university in the nation with more NCAA titles than UCLA. The blistering wind of a Pasadena winter night engulfed the arena.
Okay, so maybe that last sentence was a bit of an exaggeration.
My point is, on Jan. 29, UCLA and Stanford met at Pauley Pavilion for a good old game of basketball. With former guard Johnny Juzang out because of COVID-19 protocols and then-junior guard/forward Jaime Jaquez Jr. exiting the game early because of an ankle injury, the Bruins pulled out a win even in the absence of two of their stars. UCLA scored 66 points and Stanford 43.
I may not know a lot about football, but I do know that history repeats itself. As the saying goes, the best predictor of future success is past performance. That's why, for my prediction, I have chosen to rely vehemently on it.
Now, perhaps every bone in your body is telling you that this is very unlikely to happen – that 66 is an astronomically high score for a football game and that I haven't watched a single UCLA football game all year. You'd be right, but my prediction is almost written, and I don't have time to start over. So this, dear reader, is where I leave you.