UCLA women's volleyball seeks to turn tables in rematches against Colorado, Utah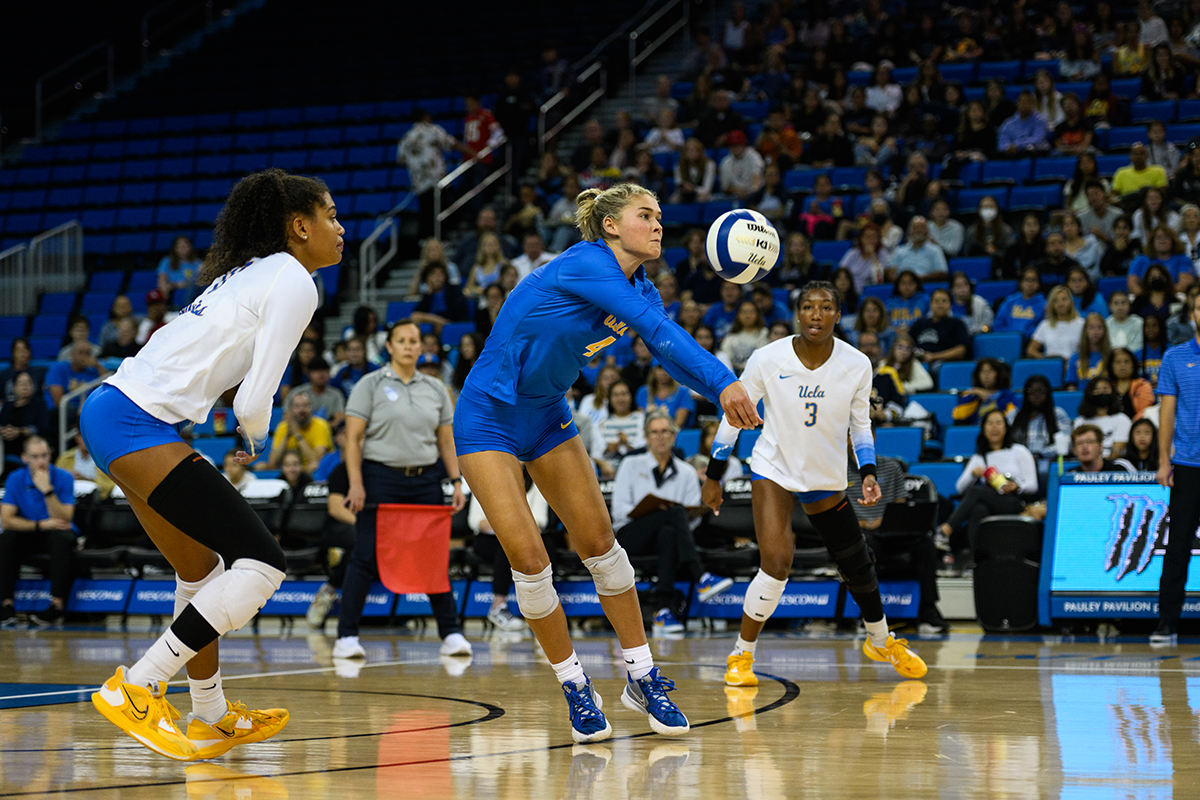 Graduate student defensive specialist/libero MacKenzie Cole gets a dig during a match. Cole currently leads the team in digs and got a combined 44 the last time the Bruins played the Utes and the Buffaloes in one weekend. UCLA will look to avenge those two losses on Friday and Sunday against Colorado and Utah, respectively. (Alex Driscoll/Daily Bruin staff)
Women's volleyball
---
Colorado
Friday, 5 p.m.
Boulder
Pac-12 Networks
---
Utah
Sunday, 11 a.m.
Salt Lake City
Pac-12 Networks
This post was updated Oct. 27 at 10:21 p.m.
The last time the Bruins faced the Buffaloes and the Utes, they earned their third and fourth straight Pac-12 losses.
Now, after a month of roster turnover, they will confront those same teams on the road.
UCLA women's volleyball (10-9, 4-6 Pac-12) will face off against Colorado (13-7, 5-5) and Utah (12-9, 5-5) away on Friday and Sunday, respectively. UCLA is looking to flip the script after it previously fell to both teams at home.
The Bruins have endured a slew of injuries this season, including having three of their four middle blockers unavailable against California on Sunday. Graduate student outside hitter/opposite élan McCall was absent as well, and the blue and gold has been battling injuries and players out since the preseason.
Coach Michael Sealy said despite the disappointments his team has faced this season, he is impressed with the players' ability to persevere.
"I've never had a season with this much adversity," Sealy said. "I've had talented teams that have had a fraction of these challenges that completely imploded. So it's so much credit to this group of what they're able to do. … They're still a very cohesive unit and a very great team regardless of the challenges."
Freshman outside hitter/opposite Cheridyn Leverette, who made her first start against California, said having some of these teammates back this weekend will help UCLA feel more prepared to face its opponents.
"We get some pieces back," Leverette said. "We get (redshirt junior middle blocker) Anna Dodson back and élan back, so we'll have a little bit more certainty, and we'll be more comfortable as opposed to this weekend."
The lack of consistency hit UCLA particularly hard at the beginning of the month, as it went 0-4 against its first four Pac-12 opponents. Since then, the team has turned a corner, posting a 4-2 record against its last six Pac-12 opponents, including two 3-0 wins against Oregon State and California.
Redshirt senior middle blocker Tristin Savage said the Bruins' recent wins are a product of their level-headed mindset.
"We're not the type of team to dwell on games that don't go in our favor," Savage said. "We're always just ready for the next point, next play, next game."
UCLA will be facing a greater challenge this weekend. All four of the Bruins' wins came against teams lower than them in the Pac-12 standings, and they have yet to win a game against a team with a better record. Additionally, in its first games against Colorado and Utah, the blue and gold fell in four both times.
Sealy said the team will be focusing on itself this weekend, not how it has fared previously or its opponents' rankings.
"If you look at the challenges we have, all of the injuries and all the things going on with us, it's really not looking at opponents right now," Sealy said. "It's going to be about us figuring out which lineups are available, enjoying playing, and that's it."
UCLA will begin play against Colorado at 5 p.m. on Friday at the CU Events Center.
Trimbell is currently a contributor on the gymnastics and rowing beats.
Trimbell is currently a contributor on the gymnastics and rowing beats.