UCLA women's volleyball prepares to play Stanford, California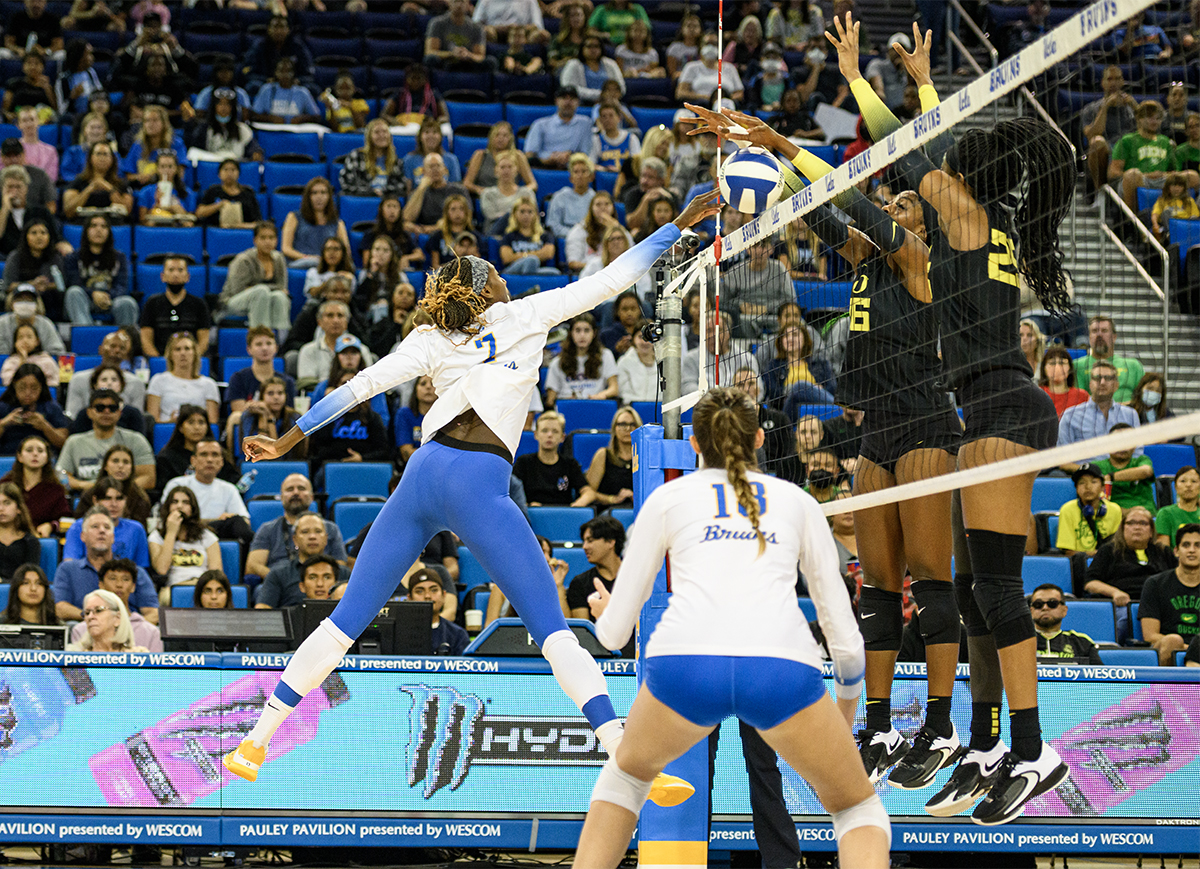 Junior outside hitter/opposite Iman Ndiaye tips the ball over the net. Ndiaye has been a leading force for the Bruins in the past four matches, notching double digit kills in all but one of the four. (Alex Driscoll/Daily Bruin staff)
Women's Volleyball
---
Stanford
Friday, 8 p.m.
Stanford
Pac-12 Networks
---
California
Sunday, 1 p.m.
Berkeley
Pac-12 Networks
After a conference record full of highs and lows, the Bruins are continuing play in Northern California as they take on two more Pac-12 rivals.
UCLA women's volleyball (9-8, 3-5 Pac-12) will be making the trip up north to play No. 7 Stanford (12-4, 7-1) and California (7-11, 0-8) on Friday and Sunday, respectively. The game against Stanford will be the Bruins' first top-10-ranked opponent since they lost to then-No. 8 San Diego on Sept. 16.
Junior outside hitter/opposite Iman Ndiaye said UCLA is looking forward to the challenge of its next opponent.
"We're excited for more opportunities to compete," Ndiaye said. "Obviously, Stanford is a challenging team, so we're just really looking forward to playing a good team again."
Ndiaye was a key part of the Bruins' success in their recent stretch of wins against Arizona State, Arizona and Oregon State before their three-game streak ended with a narrow loss to then-No.17 Oregon in five sets.
Ndiaye recorded double-digit kills in three out of the last four games. As a whole, UCLA recorded a hitting percentage over .250 in all four games – something it only managed to do once in its previous four-game losing streak.
Coach Michael Sealy said the improved hitting percentage was critical after the Bruins' disappointing stretch of games.
"We looked at who we became when things got tight, and I think we got a little soft," Sealy said. "Our quality of touch declined."
The offensive improvement came alongside turnover on the starting roster, with only two middle blockers cleared to play in Friday and Sunday's games against Oregon State and Oregon, respectively. Redshirt senior middle blocker Tristin Savage made her first career start during the Bruins' matchup against the Ducks.
Freshman setter Mokihana Tufono said the turnover among UCLA's starting roster has been helpful in growing the team's unity.
"Having limited options is really forcing us to connect as a team on the court and play different positions that we're not necessarily used to," Tufono said. "But at the end of the day, it's just volleyball. So we're excited to go have fun and play with each other."
In addition to offensive improvements, UCLA has also cleaned up its play. It averaged 17.25 errors per game in its most recent four games compared to 24.25 in its previous four conference matchups.
Ndiaye said this will continue to be a key area in preparation for facing Stanford.
"The team has been working on executing a lot more and just playing a little bit cleaner so that we cannot give the other team as many points from our own mistakes," Ndiaye said.
Although UCLA is focused on playing a clean game, Tufono said bringing the game back to a point where the team is having fun on the court is what the main focus will be.
"Moving into these next couple games is all about having fun and playing loose," Tufono said. "Being able to make good plays but not getting caught up in the plays we don't make."
UCLA will begin play at 8 p.m. against Stanford on Friday in Maples Pavilion.
Trimbell is currently a contributor on the gymnastics and rowing beats.
Trimbell is currently a contributor on the gymnastics and rowing beats.