No. 9 UCLA football to face Chip Kelly's former team No. 10 Oregon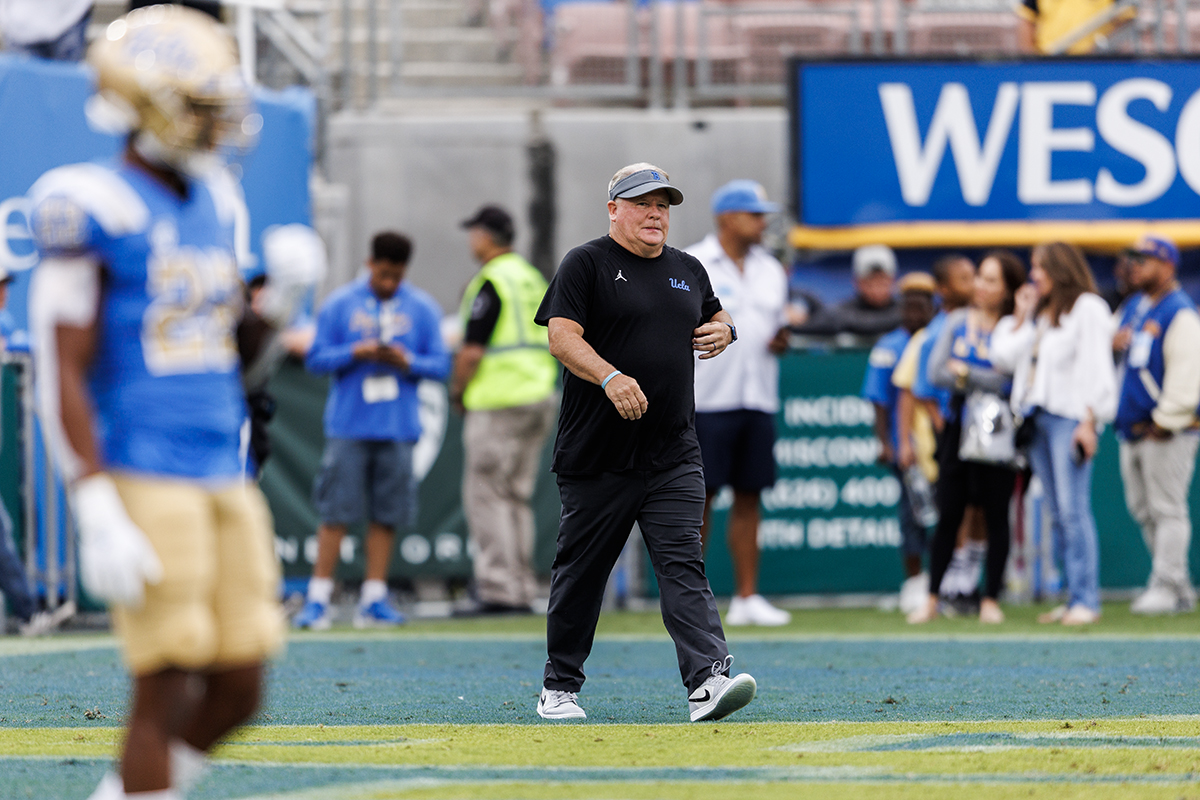 Coach Chip Kelly walks onto the field. Kelly will look for his first win against his former team when No. 9 UCLA football takes on No. 10 Oregon on Saturday. (Joseph Jimenez/Assistant Photo editor)
Football
---
No. 10 Oregon
Saturday, 12:30 p.m.
Autzen Stadium
FOX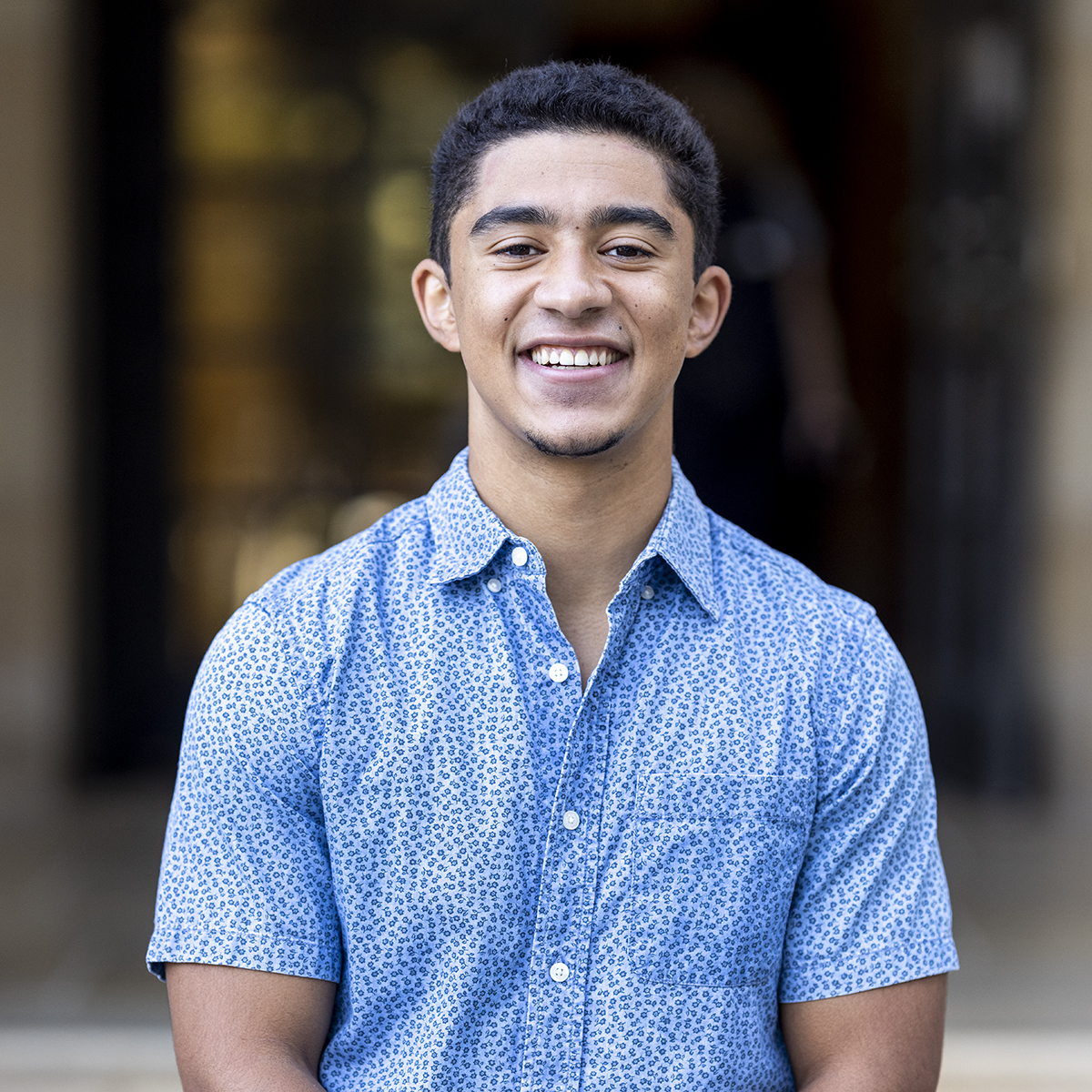 Since the turn of the century, history has not been kind to the Bruins in their matchups against the Ducks.
The blue and gold is 3-13 against the Pac-12 powerhouse since 2000, including six straight losses in Autzen Stadium. Ducks-turned-Bruins coach Chip Kelly – the Ducks' all-time winning percentage leader – is responsible for two of those blue and gold defeats.
But now it's 2022, Kelly is in the midst of his best season in Westwood and both programs are about to square off in one of the biggest games in the history of this matchup.
For just the fourth time in the last 17 matchups, both teams will be ranked when No. 9 UCLA football (6-0, 3-0 Pac-12) travels to Eugene to take on No. 10 Oregon (5-1, 3-0). Covered by ESPN's "College GameDay" for the second-straight season, the Bruins' showdown against the Ducks will be the first top-10 matchup for the blue and gold since 2001.
"This team – and myself included – wants to win this for this university," said redshirt senior quarterback Dorian Thompson-Robinson. "Coach Kelly includes that and everything he's done for this program, so I think we're just trying to put this program back in the national spotlight."
Kelly – who went 46-7 for a program-best 86.8% winning percentage in four seasons as the head coach in Eugene – is 0-3 against his former team as UCLA's head coach. However, the two most recent defeats were each just three-point losses, and the Bruins are now the higher-ranked team with a better record for the first time in the Chip Kelly era against the Ducks.
Earning his first victory against his former program would be the latest accomplishment in Kelly's two-year turnaround at UCLA.
After starting 10-21 in his first three seasons in Westwood, Kelly led the Bruins to an 8-4 record in 2021 and came within a game-winning drive away from upsetting the Ducks on national television after UCLA campus hosted ESPN's "College GameDay" for the first time ever. But after Kelly has led UCLA to its best start since 2005, the Ducks once again stand in his way.
"You grow up, and you always knew Chip Kelly – when Oregon was popular, he was over there," said redshirt senior offensive lineman Atonio Mafi. "Now we want to get the win just because coach Kelly is our coach, not because of what you had over there at Oregon, but because that's our head coach, and we want to play for him and get the W for him."
UCLA enters the matchup as a six-point underdog on the road and is only being given a 28.6% chance to win according to ESPN.
The Autzen Stadium effect is probably a large reason why.
The Bruins have lost their last six contests in what is arguably the most difficult road venue on the West Coast, but few teams have had success defeating the Ducks in Eugene. Oregon has won its last 22 games at Autzen Stadium and hasn't lost a home game since 2018 when it fell to then-No. 7 Stanford in overtime.
Yet no current coach knows the venue better than Kelly himself.
Redshirt sophomore defensive lineman Grayson Murphy said the coach has been preparing the team the past two weeks for Eugene's roaring home-field advantage.
"They're playing crowd noise out here (at practice) – we know it's going to be loud," Murphy said. "Coach Kelly, coming from there back in the day, he was talking about how the atmosphere, the stadium kind of bounces noise off it and back into the stadium. So it's going to be loud, that's really what he's been pressing on us."
In addition to the fans, the weather could play a factor, as forecasts call for an 80% chance of rain in Eugene at kickoff. Wet conditions may be the only thing that prevents a high-scoring affair between two of the nation's best offenses.
Led by dual-threat quarterbacks Bo Nix and Thompson-Robinson, Oregon and UCLA rank ninth and 12th in the nation in scoring offense, respectively.
After overcoming recent career struggles against Utah with a five-touchdown performance against the Utes two weeks ago, Thompson-Robinson said he'll look to do the same against the Ducks on Saturday.
"I haven't beaten Oregon," Thompson-Robinson said. "Just like Utah, I have a bad taste in my mouth, so we're going to come out … go to work and see where the tables land on Saturday."
Carlson is currently a staff writer on the football, men's basketball and women's basketball beats. He was previously a reporter on the softball and men's golf beats.
Carlson is currently a staff writer on the football, men's basketball and women's basketball beats. He was previously a reporter on the softball and men's golf beats.