UCLA team creates wearable patch to monitor drug concentrations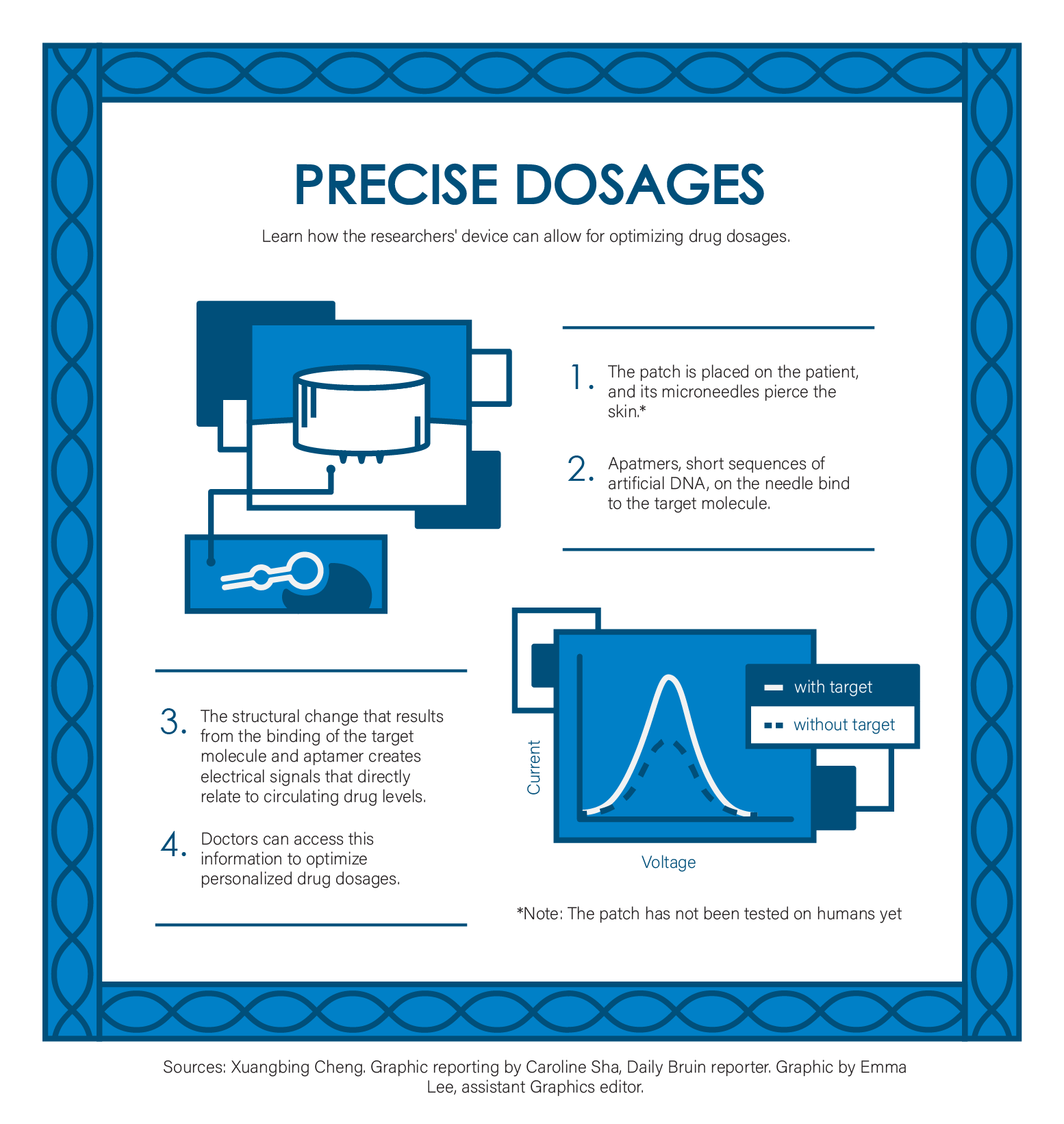 UCLA researchers have developed a wearable patch that could continuously measure drug concentrations in the bloodstream, helping doctors quickly deliver precise doses of drugs.
The study, published Sept. 23, found a strong correlation between drug concentration measurements recorded by the created patch and bloodstream drug levels in rats, indicating accuracy of the device.
Such a device falls under the field of precision medicine, which takes into account personalized factors such as life history and specific molecular features of diseases when determining diagnosis or prevention strategies, said Paul Boutros, associate director of cancer informatics at the Institute for Precision Health at UCLA.
"In traditional medicine, we group patients into pretty large groups that we expect will respond similarly to therapy or will show similar disease trajectories or features," Boutros said. "It's (Precision medicine is) the idea of bringing down the group sizes in medicine to one, treating everybody uniquely."
The mainstream method of drug monitoring, blood draws, are invasive, and analysis of blood work is time consuming, said Xuanbing Cheng, a graduate student researcher and co-author of the study. He added that this inability to provide timely measurements can cause problems such as acute kidney issues, as the appropriate dosage may have changed between the time of testing and that of a drug's administration.
The amount of drug circulating in one's bloodstream is dependent on individualized physiological factors such as body weight and kidney function, said Jialun Zhu, a graduate student researcher and co-author of the study. Zhu added that the optimal dosage of a drug for individuals varies. If the dosage administered is too high, it may be toxic for organs like the liver, but if the dosage is too low, the drug may not be able to have an effect, he said.
Cheng said the patch uses needles to pierce skin in order to reach the target drug molecules. Aptamers, short pieces of DNA, on the needles are used to bind to the molecules, causing structural changes in the drug molecules, which can be translated into circulating drug concentrations, he said.
The study tested the accuracy of the patches on rats using two antibiotics, tobramycin and vancomycin, Zhu said. He added that these drugs, while highly efficient in killing bacteria, often cause patients to have a large number of side effects resulting from accidental overdosing.
In the United States, the cost of tobramycin and vancomycin treatment-related complications totaled more than $5 billion yearly, according to the study. With advanced technology such as the researchers' patch, however, this cost could be reduced by as much as two-thirds, Cheng said.
The patch can also be adapted to measure concentrations of other substances by changing the identity of the aptamers to bind with other molecules, Zhu said. He added that the paper also demonstrated the patch could be used with thrombin, an anticoagulant found in the body, and doxorubicin, a chemotherapy drug.
"There's a lot of groups that are working to select different aptamers for different targets," Zhu said. "So once they have reported that we can really … foresee that, in the future, we can have different aptamers, and then we can use these devices … specifically for different patients."
Precise medical measurements can be extremely useful for a variety of medical conditions, from inherited diseases to infections, Boutros said. He added that, for example, due to the genetic variability of cancer, precision medicine is important in treating cancers, as it can be difficult to choose the right cancer drug and dose.
Boutros also said advances in precision medicine can greatly benefit groups underrepresented in clinical trials, especially those from certain races and ethnicities or those from smaller countries, as their medical characteristics may be different from groups overrepresented in these trials.
In the future, the researchers also want to see if the device can function in rats with different types of medical issues to see if the patch would need to be adapted depending on the clinical situation, Zhu said.
The group also wants to do studies on humans to compare the measurements of the device with measurements taken from traditional drug-monitoring techniques, such as blood draws, Zhu said. This will allow them to confirm whether there is a strong correlation between these two assessments to determine if the patch could be released into the market and replace these traditional methods, he added.
"It's (This device is) not limited to one type of patient but (can do) all sorts of drug monitoring," Cheng said.