UCLA researchers develop non-invasive lithium concentration sensor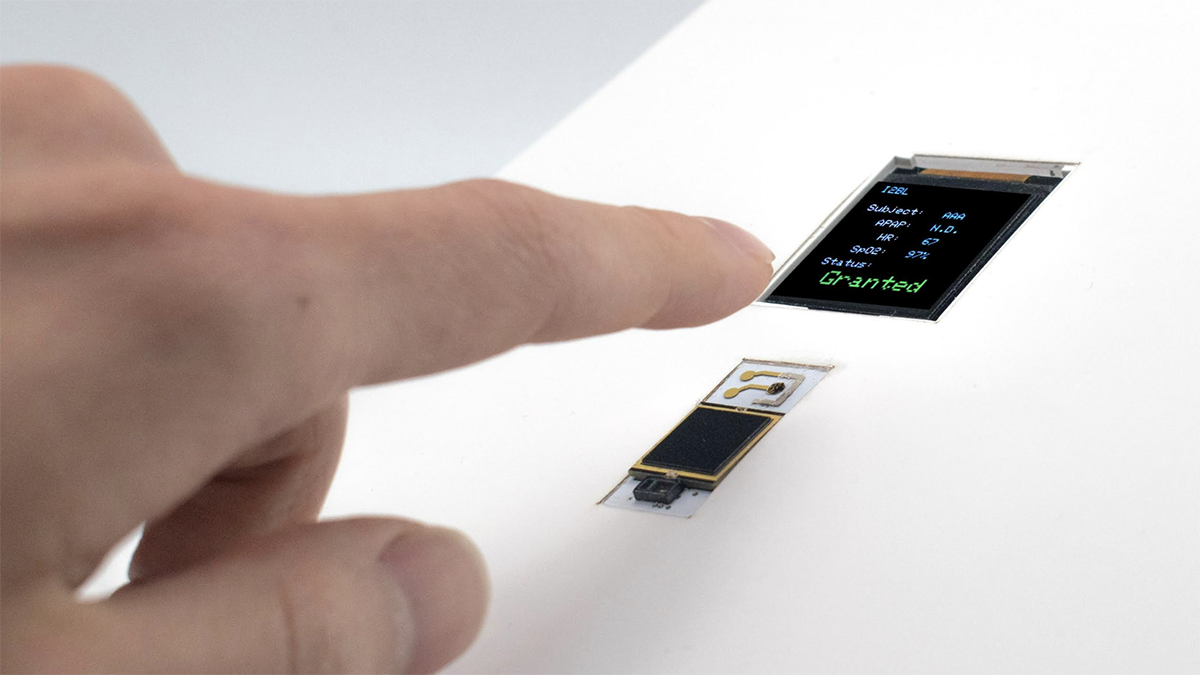 A sensor created by UCLA researchers to detect lithium is pictured. The sensor is attached to a finger and gives a reading in less than a minute. (Courtesy of Jialun Zhu & Shuyu Lin/I²BL)
UCLA researchers have developed a sensor to attach to a finger that optimizes treatment for patients with bipolar disorder by helping them track their medication levels.
The sensor detects lithium concentration in the body through sweat on the finger, said Shuyu Lin, a former doctoral student in electrical engineering and co-author of the study. Lithium is present in Lithobid, a medication used to treat patients with bipolar disorder, according to WebMD. Lin said that Lithobid requires intensive monitoring of its concentration to maintain efficacy and minimize side effects. There is currently no technology for direct monitoring of a patient's adherence to these medications, Lin said.
Jialun Zhu, a doctoral student in electrical engineering and co-author of the study, said the process of putting a finger on the sensor and receiving information within a minute is simpler, more convenient and less invasive than the normal method of measuring concentration of a drug, which is having blood drawn on a monthly basis.
"If we can have this kind of system available for everyone, it can really decentralize the Medicaid and hospital resources, and help to fight really for the minorities or those who do not really have much hospital or medication resources," Zhu said.
The sensor works by selectively capturing charged particles in sweat called ions from biomarkers – substances that can be monitored and that can provide insight into health conditions – such as lithium. Zhu said the sensor detects the ion concentration, converting the information into electrical signals that are analyzed to give a reading within less than a minute.
Zhu said the motivation behind the project is to help patients with psychiatric disorders take the right amounts of medicine.
"Our motivation for this project is to really provide a more general accessibility for those patients to monitor their medications" he said.
The information provided by the sensor can also help doctors optimize treatment for patients with mental illnesses, Zhu said. These patients can monitor their medicine intake, and by taking appropriate dosages could help improve their mood as well, he added.
Lin said they have built another prototype of the sensor to detect concentrations of alcohol and acetaminophen, which is more commonly known as Tylenol. Lin added he believes the technology has potential applications yet to be explored.
"I do believe that the bigger opportunity is to sense other more important biomarkers which are of lower concentration," Lin said. "What if you know every day how your glucose level goes up and down to adjust your diet, or how your cortisol level goes up and down to better control your mood, to evaluate your mental health."
Lin said their two goals for the technology are to promote general wellness and for use in hospitals for things such as medication decision-making by physicians.
"If you provide (doctors) with much more dynamic, longitudinal data about how your (medication) levels go up and down, how adhered you are to a medication they give to you … they can better help you to cure your disease," Lin said.