UCLA women's volleyball to face Arizona, Arizona State in bid to end losing streak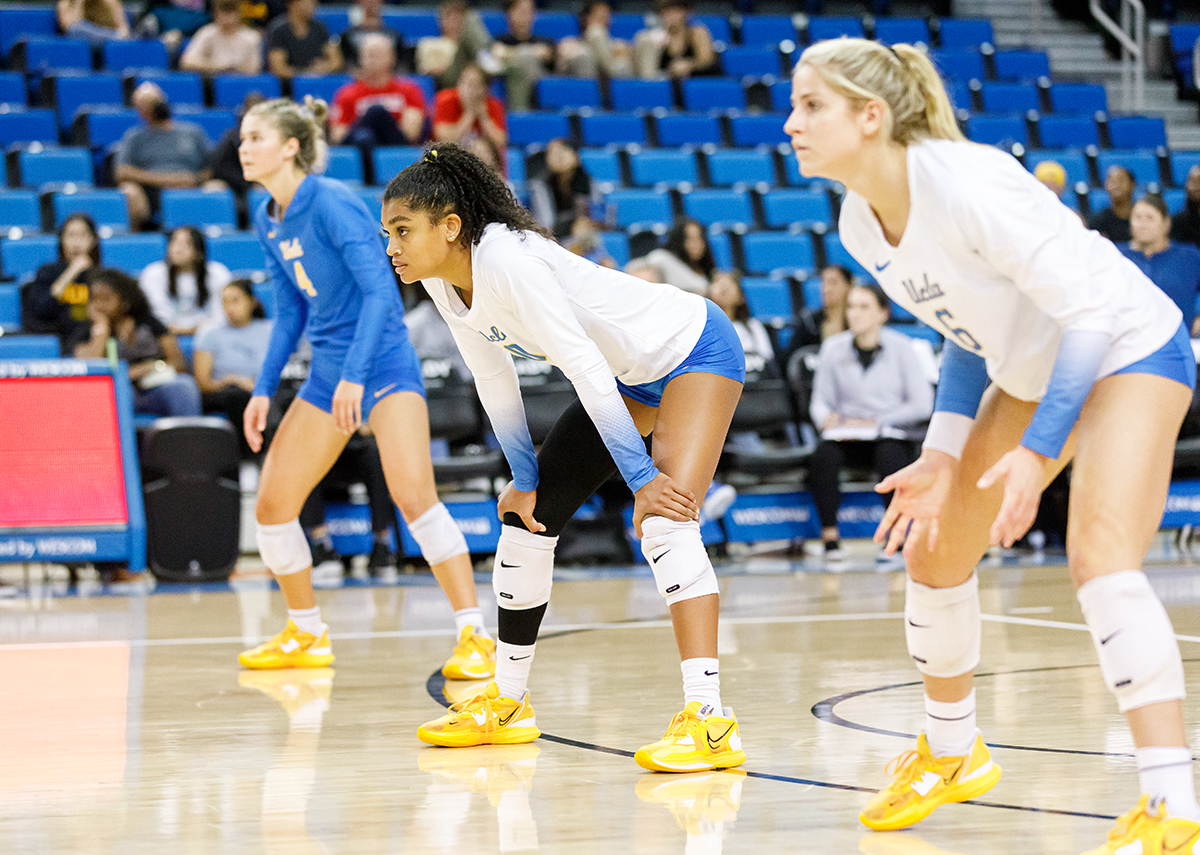 Members of the UCLA women's volleyball team prepare to receive a serve. The Bruins fell in four sets to all four conference opponents this season and will continue Pac-12 play with Arizona and Arizona State over the weekend. (Anya Yakimenko/Daily Bruin staff)
Women's Volleyball
---
Arizona State
Friday, 7 p.m.
Tempe
Pac-12 Insider
---
Arizona
Sunday, 12 p.m.
Tucson
Arizona Live Stream
The Bruins are going back on the road after a homestand marked by four straight four-set losses.
UCLA women's volleyball (6-7, 0-4 Pac-12) will face Arizona State (8-8, 2-2) on Friday and Arizona (11-4, 1-3) on Sunday to continue Pac-12 play. Last year, the Bruins recorded four conference losses for the entire season. Four conference games into this season, they've already managed to match that number.
Coach Michael Sealy said as the Bruins transition to the road, they're focusing solely on the game itself.
"Our only mindset is we've got to get better," Sealy said. "It has nothing to do with home and away or who we're playing."
UCLA saw several close sets throughout the four-game stretch, with four of its losing sets decided by three or fewer points.
Despite the losses, the Bruins' games were highlighted by personal-best performances from some players. Graduate student setter Matti McKissock matched a season-high 51 assists against Colorado.
McKissock said the close games took a toll on the team but will provide it with the motivation to improve.
"Mentally, it's really challenging, but we're definitely trying to work on strengthening that," McKissock said. "We work on communication and just mentally processing the game faster, and that's something that we're always trying to improve."
In Sunday's game against Colorado, junior outside hitter/opposite Iman Ndiaye also achieved a personal best, recording a career-high 22 kills and besting her previous career high of 15, a number set in the second conference game of the season.
Ndiaye said the Bruins are homing in on the technical aspects of their play in practice.
"We'll watch film and see where we're missing points and where we need to execute more," Ndiaye said. "It's just reflecting on our past or previous games and trying to work on things that aren't scoring."
Despite getting more digs than all four opponents, the blue and gold also saw more errors in offensive play, with 97 kill errors across all four games in comparison to its opponents' combined 67.
Sealy said the Bruins' recent challenges will make relying on their sense of community even more important.
"Everybody's good when it's good," Sealy said. "Well, now it's bad. So now we need to stick together and focus on what we can do to move us collectively forward."
The Bruins suffered in nonconference play as well, dropping three of four sets against an unranked Utah State team to begin the season and getting swept by an unranked Loyola Marymount team after sweeping the Outrigger Volleyball Challenge.
Nevertheless, McKissock said UCLA is focusing on bringing its all to every single point.
"We're going to work to turn this season around, and when we do win, it's going to mean so much more," McKissock said. "We're focused on getting those wins and winning every single point, not just overall matches."
UCLA will begin play against Arizona State at 7 p.m. on Friday.
Trimbell is currently a contributor on the gymnastics and rowing beats.
Trimbell is currently a contributor on the gymnastics and rowing beats.