Gina Conti returns to UCLA women's basketball backcourt for 6th collegiate season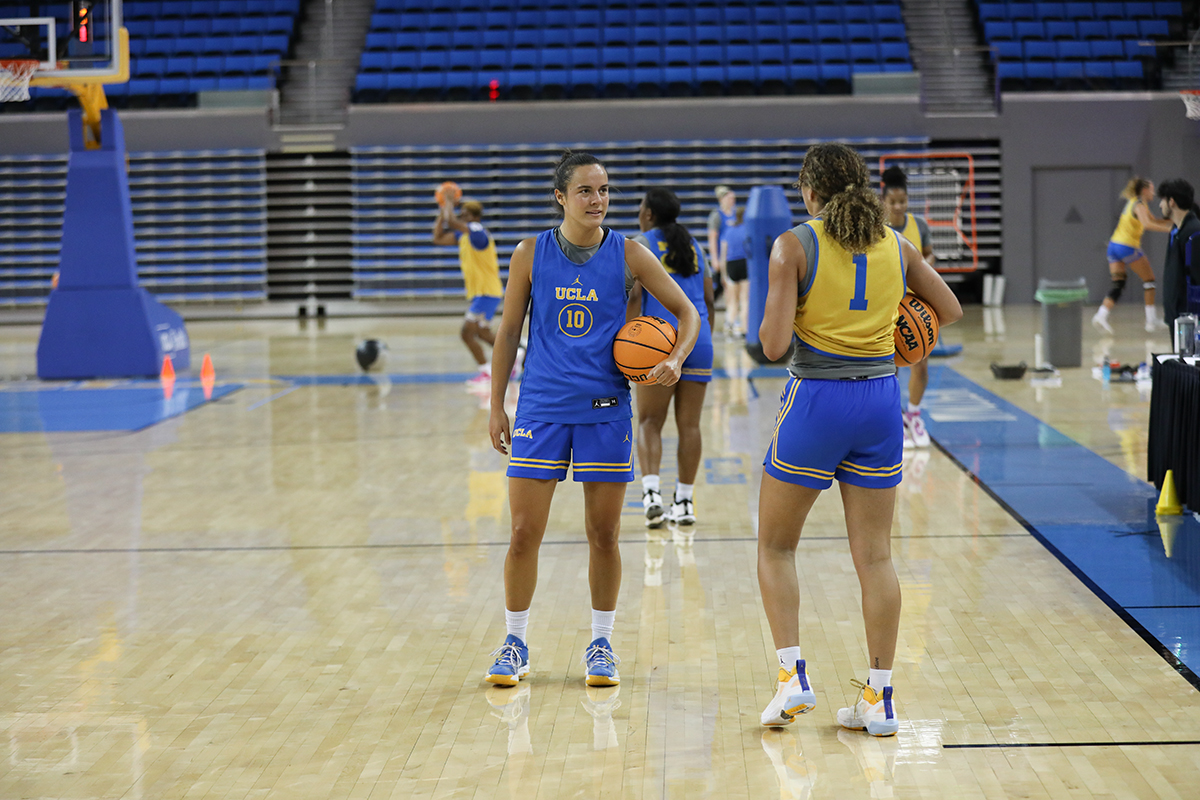 Graduate student guard Gina Conti speaks with freshman guard Kiki Rice at practice. Conti is set to make her debut in the blue and gold this November. (Courtesy of Corey Mueller/UCLA Athletics)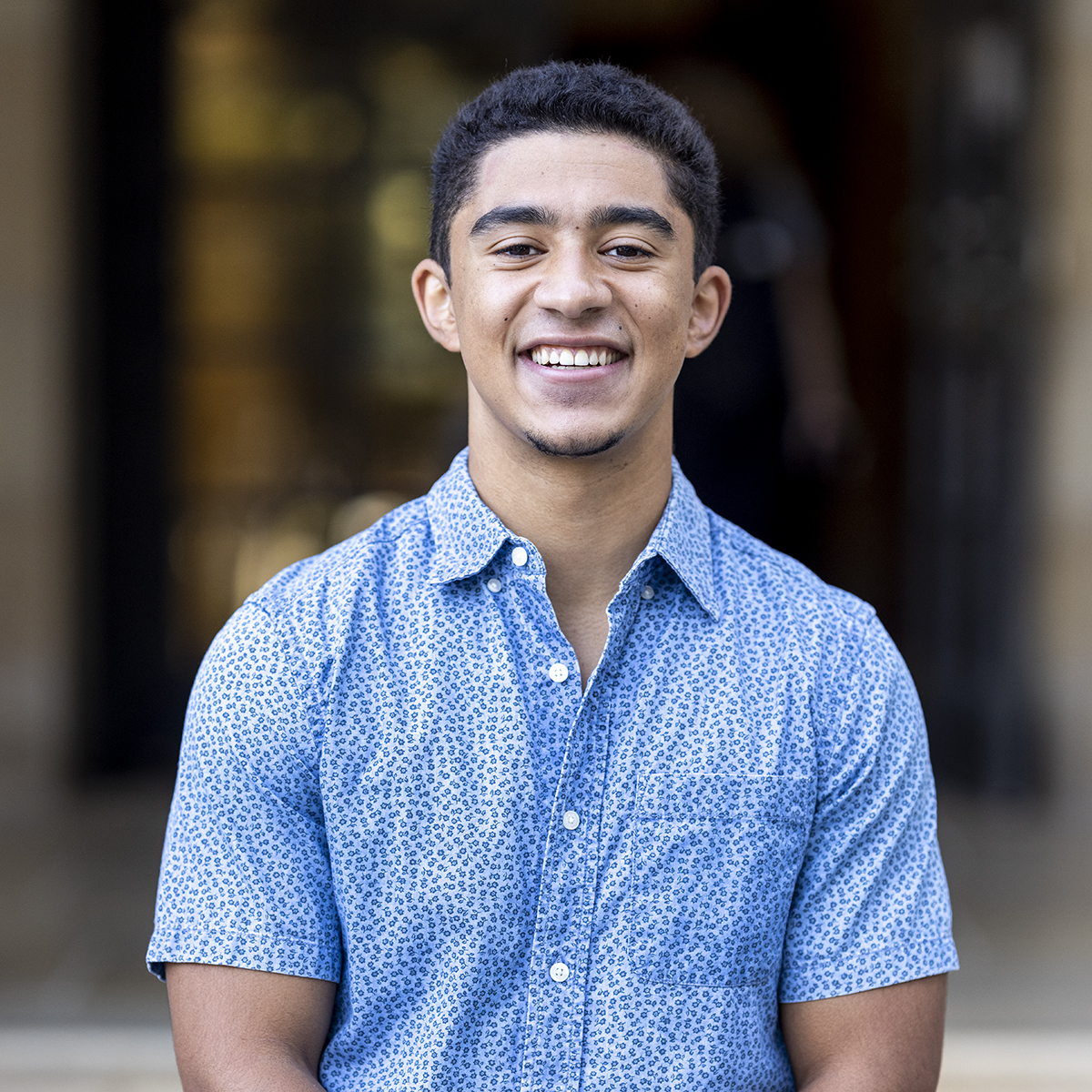 When Gina Conti transferred to UCLA women's basketball in 2021, her motivations were clear.
"I came to UCLA to play and to win games," Conti said. "That's what I wanted to do. … That was my mission."
After she sustained a foot injury during a practice in the fall of 2021, the graduate student was forced to miss what was supposed to be her fifth and final collegiate season, so there was little hesitation on her end regarding her decision to run it back in Westwood for the 2022-2023 season.
"That was my vision. That never changed," Conti said. "I just wanted to see the progress on my foot, and what that was gonna look like, and what was gonna be best for me health-wise, and now my foot's healed. … The mission stayed the same."
Conti participated in her first official practice with the new squad of Bruins on Sept. 26, as the team took part in its inaugural practice of the 2022-2023 season. The point guard enters a rare sixth collegiate season after playing her first four seasons at Wake Forest, exercising the COVID-19 redshirt to play a fifth season with UCLA and now using her medical redshirt after missing the entirety of last season.
Conti said it was difficult to sit out all of last season, but the time off allowed her to learn about her teammates and have a new outlook on her basketball career.
"I watched a lot of film with (coach Cori Close) and the other coaches to just watch and see how my players and my teammates, how they play and what their tendencies are," Conti said. "That time off, … I was so sad about it at the beginning, and it ended up being something, and it showed me a whole new perspective."
When Conti sustained her injury last season, the Bruin backcourt was left with then-junior guard Charisma Osborne, then-graduate transfer guard Jaelynn Penn and, arguably, then-redshirt freshman guard Dominique Onu as potential point guards and ball handlers.
That's far from the case this season.
This year's UCLA roster features the three veteran ball handlers in Conti, Osborne and Onu but adds freshman guards Kiki Rice and Londynn Jones, who almost exclusively played point guard in high school and were the No. 1- and No. 5-ranked point guards – and the No. 2- and No. 22-ranked players overall – in espnW's 2022 recruiting rankings.
The veteran Osborne is coming off her second All-Pac-12 season, in which she ranked third in the conference in points per game with 16.4 and ranked fourth in total assists at 108. Meanwhile, Conti averaged 13.8 points and 4.7 assists in her last healthy season playing in the Atlantic Coast Conference in 2020-2021 and figures to play a significant role this season.
Then there's Onu, a redshirt sophomore who's already played nearly two full seasons after enrolling early during the 2020-2021 season that didn't count against her college eligibility. Onu started seven of her 27 games last season, averaged nearly 20 minutes per game and filled in for Conti at point guard despite little collegiate experience at the position.
When asked which player has stood out in offseason training and early on in the fall thus far, Close said Onu was her pick.
"I promised them I wouldn't coach them to what they've been but what I knew they could become, and I think Dominique has really jumped into that," Close said. "She doesn't want to be boxed in. She wants to show that she's learned, she's changed, she's matured, and I really think she has."
Onu tied for third on the team last season with 19 steals, and her 39% shooting from 3-point range was second among Bruins who attempted double-digit 3s during the campaign. Despite that success, Close said she's made even more strides in those areas lately.
"She's (Onu's) the most fit she's ever been. She's shooting the 3 ball better than she ever has," Close said. "She's someone that really comes to mind with how she stepped into that (improving)."
Onu, Conti and the rest of the Bruins will continue ramping up practices prior to the start of their season in November.
Carlson is currently a staff writer on the football, men's basketball and women's basketball beats. He was previously a reporter on the softball and men's golf beats.
Carlson is currently a staff writer on the football, men's basketball and women's basketball beats. He was previously a reporter on the softball and men's golf beats.