Women's volleyball sees longest losing streak since 2013 after loss to Colorado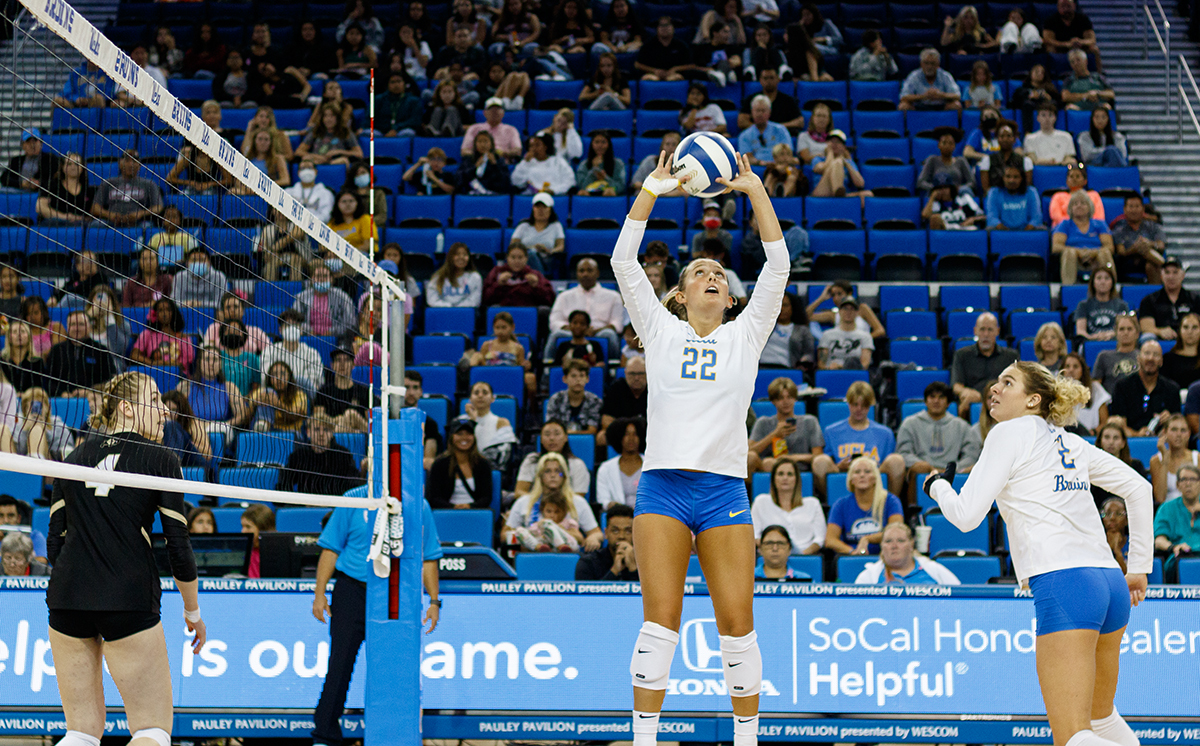 Graduate student setter Matti McKissock sets the ball. McKissock led in assists throughout the game with 51 and hit two successful kills to lead in hitting percentage at a .667 clip. (Mattias de los Rios Rogers/Daily Bruin)
Despite leading at several points throughout each set, the Bruins were unable to secure a victory against Colorado.
UCLA women's volleyball (6-7, 0-4 Pac-12) fell to Colorado (11-3, 3-1 Pac-12) on Sunday afternoon at Pauley Pavilion. The 3-1 loss marked the Bruins' fourth straight four-set loss at home and increased their losing streak to five games, the longest since 2013.
Coach Michael Sealy said the Bruins need to regroup and focus on gameplay in practice.
"We've got to get better at playing volleyball, both technically and tactically," Sealy said. "At this point, it's just sticking together and figuring out what's next and making the right progressions."
The first set saw UCLA and Colorado trade the lead multiple times, with neither team ever trailing by more than three points until Colorado pulled away and established a 15-11 lead. The Bruins again cut the deficit to two but were ultimately unable to overtake Colorado, who won the set 25-19.
Graduate student setter Matti McKissock – who recorded a season-high-tying 51 assists – said UCLA tries to keep a grounded mindset after disappointing outcomes.
"We just keep controlling what we can control and trying to string points together," McKissock said.
The second set was neck and neck with 15 ties between the two teams. Led by graduate student outside hitter/opposite élan McCall's eight kills, the Bruins managed to catch up to the Buffaloes and tie the score at 17 apiece. A series of six ties followed, with the score sitting at 24-24 as the second set neared its end.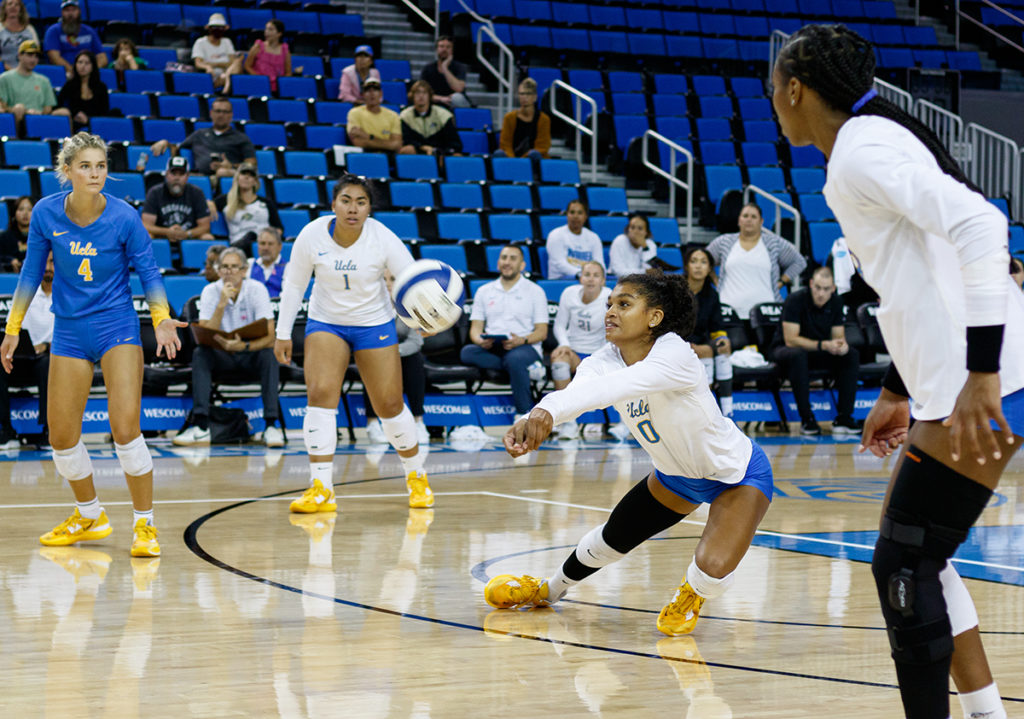 Following an unsuccessful challenge by UCLA and another kill, Colorado gained the two-point advantage and won the second set, establishing a 2-0 lead over UCLA.
Junior outside hitter/opposite Iman Ndiaye said going into the third set, the Bruins knew they had to stay positive to have a chance.
"Anything could happen to switch up who has momentum," Ndiaye said. "Knowing that helps us fight and not give up early."
The third set was once again close with 10 ties, and UCLA and Colorado hit at .146 and .159 clips, respectively. This time, the Bruins managed to prevail over the Buffaloes, defending an early lead en route to a 25-23 win.
The set was highlighted by Ndiaye's eight kills. She posted a career-high 22 total kills in the game, besting her previous high of 15 by seven.
"I'm just trying to help the team in any way that I can," Ndiaye said. "When I sense that someone needs to step up, I just try my best to step up and be the person that puts the ball away."
UCLA came out strong in the fourth set behind more performances from McCall and Ndiaye. The blue and gold took the lead and did not relinquish it through the first half of the set, where the score sat at 12-7.
Sealy said it was the Bruins' mental strength that allowed them to come back after the disappointing first two sets.
"Mental fortitude has got to be there," Sealy said. "You have to deal with the good and the bad."
However, a series of errors from UCLA allowed Colorado to come from behind and take the lead. The Bruins managed to tie the score at 21-21 but were ultimately unable to overtake the Buffaloes.
"Volleyball's a game of runs," Sealy said. "We had a run early in the fourth set, and we kind of gave it back, and that affected momentum a little bit."
UCLA will be back on the road to take on Arizona State in Tempe on Friday at 7 p.m.
Trimbell is currently a contributor on the gymnastics and rowing beats.
Trimbell is currently a contributor on the gymnastics and rowing beats.