Editorial: UCLA must invest in better Wi-Fi as education becomes increasingly digitized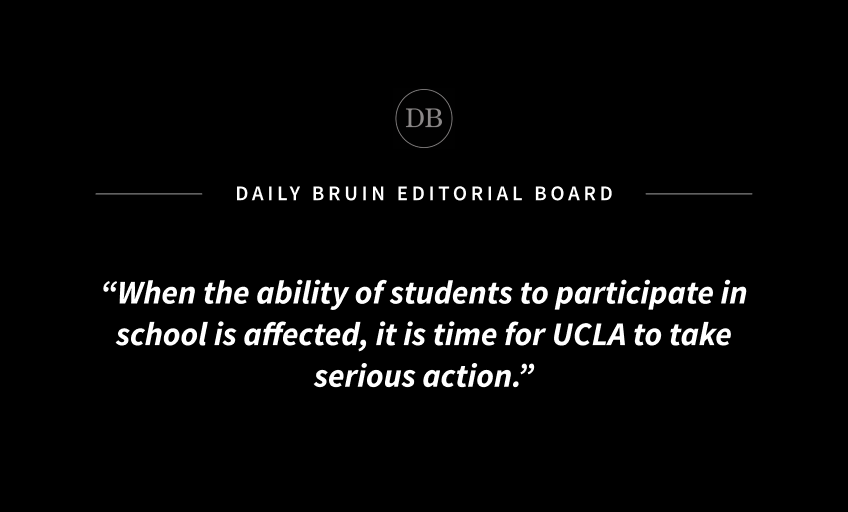 Editor's note: Editorials do not represent the Daily Bruin as a whole. The board encourages readers to respond to our editorials at dailybruin.com/submit.
For the "birthplace of the internet," UCLA is currently a Wi-Fi dead zone.
Students have been reporting Wi-Fi connectivity issues all across campus over the past week.
According to UCLA Information Technology Services, an estimated 10% of wireless users are intermittently facing problems where they appear to be connected to the internet on a device but will lose connection after a while. These outage periods usually last between three and four minutes but can be much longer.
IT Services said Apple devices with M1 processors, including many iPad and Mac models, are currently experiencing problems with on-campus Wi-Fi networks. Although Aruba, UCLA's wireless network manufacturer, said there are no solutions on its end, the company is actively coordinating with Apple to find a fix. In addition, UCLA has reported that it will be assisting students by troubleshooting and implementing mitigation strategies.
However, there's no time to wait – a solution for students needs to be implemented now.
Students need Wi-Fi in order to attend lectures, take notes, study and complete assignments. Note-taking in class should not be a frantic effort to switch Wi-Fi networks every couple of minutes while trying not to miss any of the content needed for an upcoming midterm.
The lack of internet access, therefore, can have dramatic consequences on students' potential to learn and succeed in class.
When the ability of students to participate in school is affected, it is time for UCLA to take serious action.
While some of these issues could be partially mitigated by having students rely on the analog methods of pen and paper, students should by no means have to – especially when almost every facet of academic and extracurricular collegiate life has become digitized in ways that make this nearly impossible.
For instance, almost every course has a BruinLearn website where readings, assignments, syllabi and essential information related to the class are located. Textbooks and course materials available online, including those available through UCLA's Inclusive Access program, are another valuable resource for students' backs and wallets that is made inaccessible by shoddy networks.
Wi-Fi issues can also be particularly detrimental to students taking classes online because of how demanding apps such as Zoom, which often transmit several live video and audio feeds simultaneously, can be on the network. For those who are immunocompromised or do not feel safe attending lectures, this also becomes an accessibility issue.
As the size of enrollment grows over the years, ensuring that internet access on campus is secure and reliable will be an absolute must. Although this is an issue that needs to be addressed as soon as possible, UCLA must also dedicate some effort, including greater funding, to preparing for future generations of students who will only be increasingly dependent on technology such as Wi-Fi.
A simple and basic resource such as reliable Wi-Fi should be the minimum provided for all students who attend the No. 1 public university.