Iranian Student Group organizes vigil in remembrance of Mahsa Amini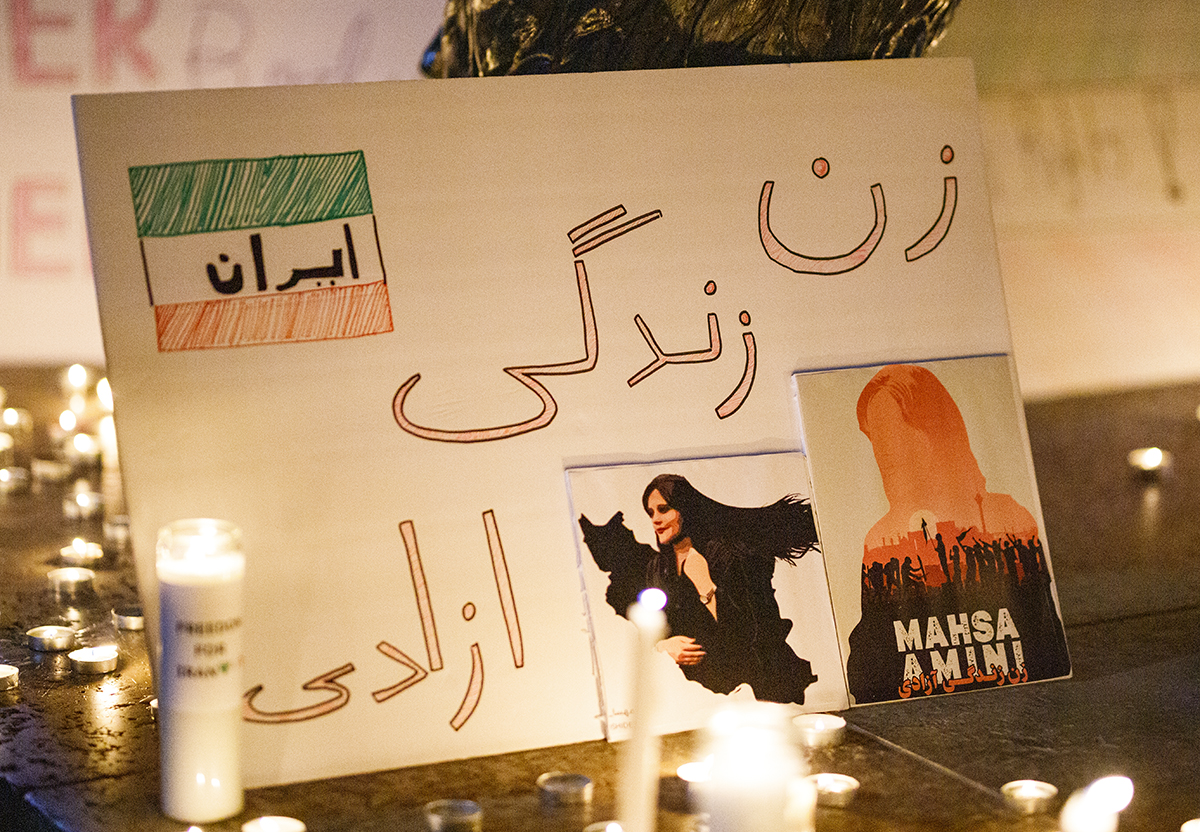 A sign with Mahsa Amini's photo and name is placed in front of the Bruin Bear statue with candles lit around it. The Iranian Student Group at UCLA organized a candlelight vigil to honor Amini, a 22-year-old woman who died after being detained by the Iranian morality police.(Ethan Manafi/Daily Bruin staff)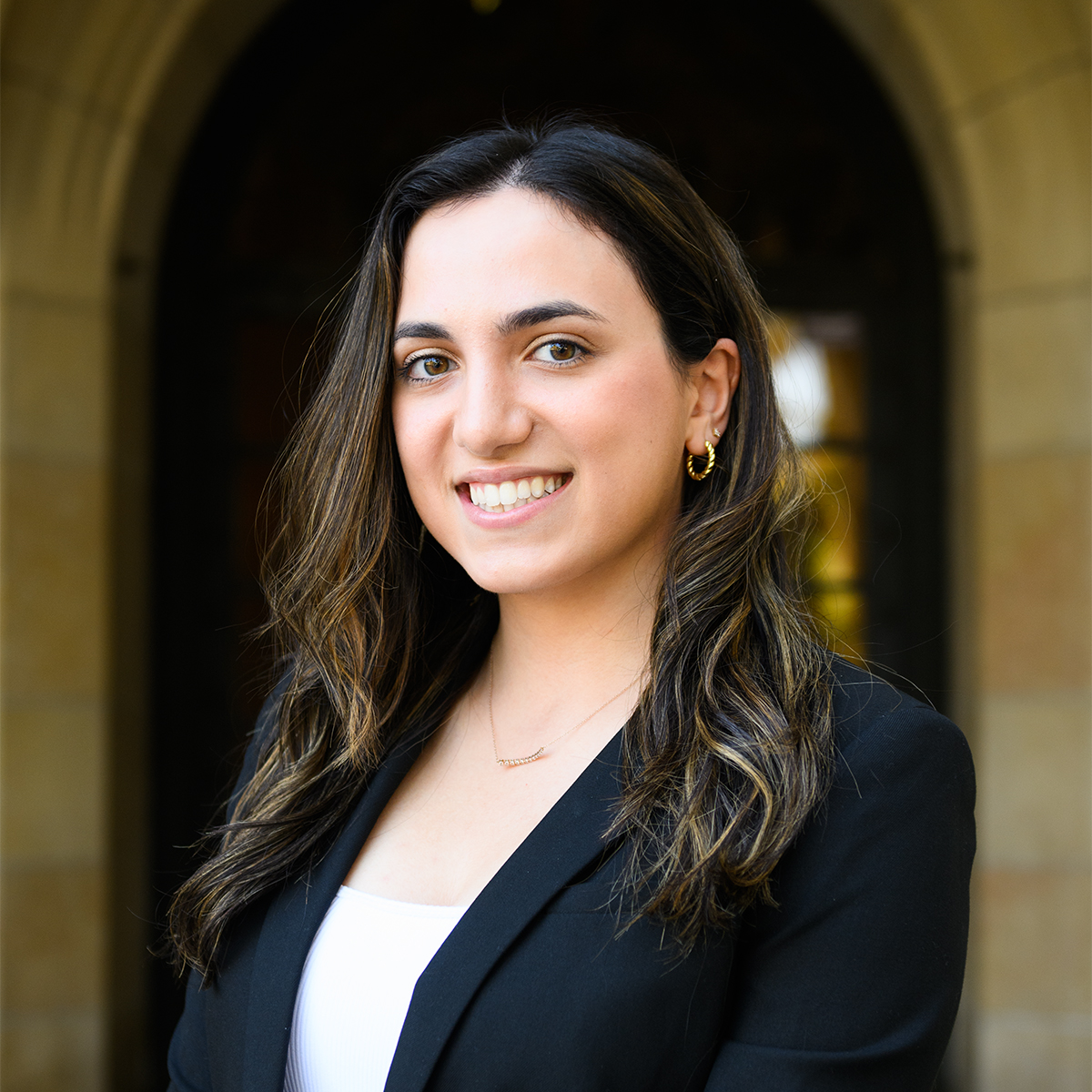 Sept. 25, 2022 10:40 p.m.
More than a hundred attendees gathered at a vigil in Bruin Plaza on Thursday evening, lighting candles that shone by a sign reading "Her name was Mahsa Amini" on the Bruin Bear statue.
Organized by the Iranian Student Group at UCLA, the vigil honored 22-year-old Amini, a woman who died after being detained by the Iranian morality police for allegedly violating Iran's dress code that requires women to wear head coverings. Amini's death prompted the United States government to release sanctions on Thursday which criticized Iran's morality police and several of its high-ranking officials.
Amini's death sparked the largest anti-government protests in Iran since 2009, according to The New York Times. The Iranian government – whose current regime came to power in the 1979 Iranian Revolution – also restricted internet access for most citizens Wednesday following its violent crackdown on peaceful protestors, according to POLITICO.
"It is our responsibility to take advantage of our freedom of voice and freedom of speech and to speak on behalf of our fellow Iranians back home and amplify their voices," said Sasha Gladkikh, a first-generation Iranian American and the ISG's director of philanthropy.
Gladkikh, a second-year computational and systems biology student, added that this vigil provided a space for Iranian people and supporters of the community to peacefully mourn the loss of Amini and stand in solidarity with those protesting for justice. According to The New York Times, around 80 cities in Iran have had protests following Amini's death. In Westwood, hundreds of protesters also gathered Wednesday and Sunday to call for accountability from the Iranian government.
A fourth-year economics student – who moved to the U.S. in 2009 and requested anonymity for the safety of their family who still lives in Iran – said taking action was important because of UCLA's deep connection to Iranians.
"Iranians in Iran look to UCLA because historically, after the revolution happened, a lot of Iranian students came to UCLA," they said. "It's very well known that Iranians at UCLA are very active, very in tune with our culture, especially because we have Persian Square right in Westwood."
A third-year physiological science student who emigrated from Iran at the age of 13 and also requested anonymity for their family's safety said their friends who still live in Iran have been asking for international support and awareness, especially as they experience a lack of internet access.
"I'm living in a country where I can voice my opinion without being persecuted or being thrown into prison," the student said. "My friends in Iran are students like me, but they cannot go outside and fight for their rights. … I just feel guilty because I'm in a position that I can voice my opinion, but I cannot do anything for them."
The U.S. Department of Treasury said Friday that it is taking steps to offer more options for secure internet platforms and services to most of Iran's 80 million citizens whose global internet access was cut off by the Iranian government, according to a department press release.
The ISG will continue to serve as a home for UCLA's Iranian community and those interested in Iranian culture and heritage through its social, cultural and fundraising events throughout the year, said ISG's vice president who requested anonymity for their family's safety.
They added that members value the channels they have to share stories of friends and family in Iran and ways to continue support.
Gladkikh said she is grateful for her mother's choice to immigrate to the U.S. and the freedoms it has afforded her. She said she believes this freedom should be used to recognize and take action against the injustices done to her community.
"We have to stand up for our people and speak on this issue and galvanize change," Gladkikh said.