UCLA football to face Colorado in first Pac-12 contest of season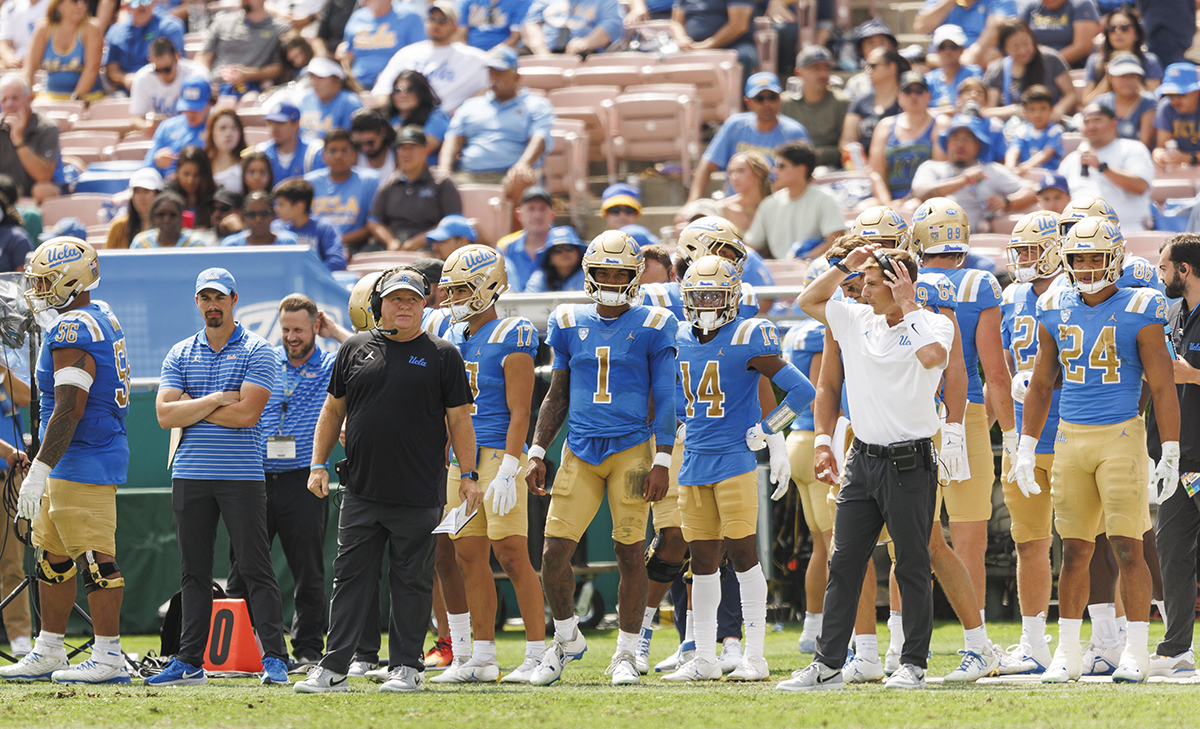 Members of UCLA football stand on the sideline. The blue and gold will take on Colorado in its first Pac-12 game of the season Saturday. (Joseph Jimenez/Assistant Photo editor)
Football
---
Colorado
Saturday, 11 a.m.
Folsom Field
Pac-12 Networks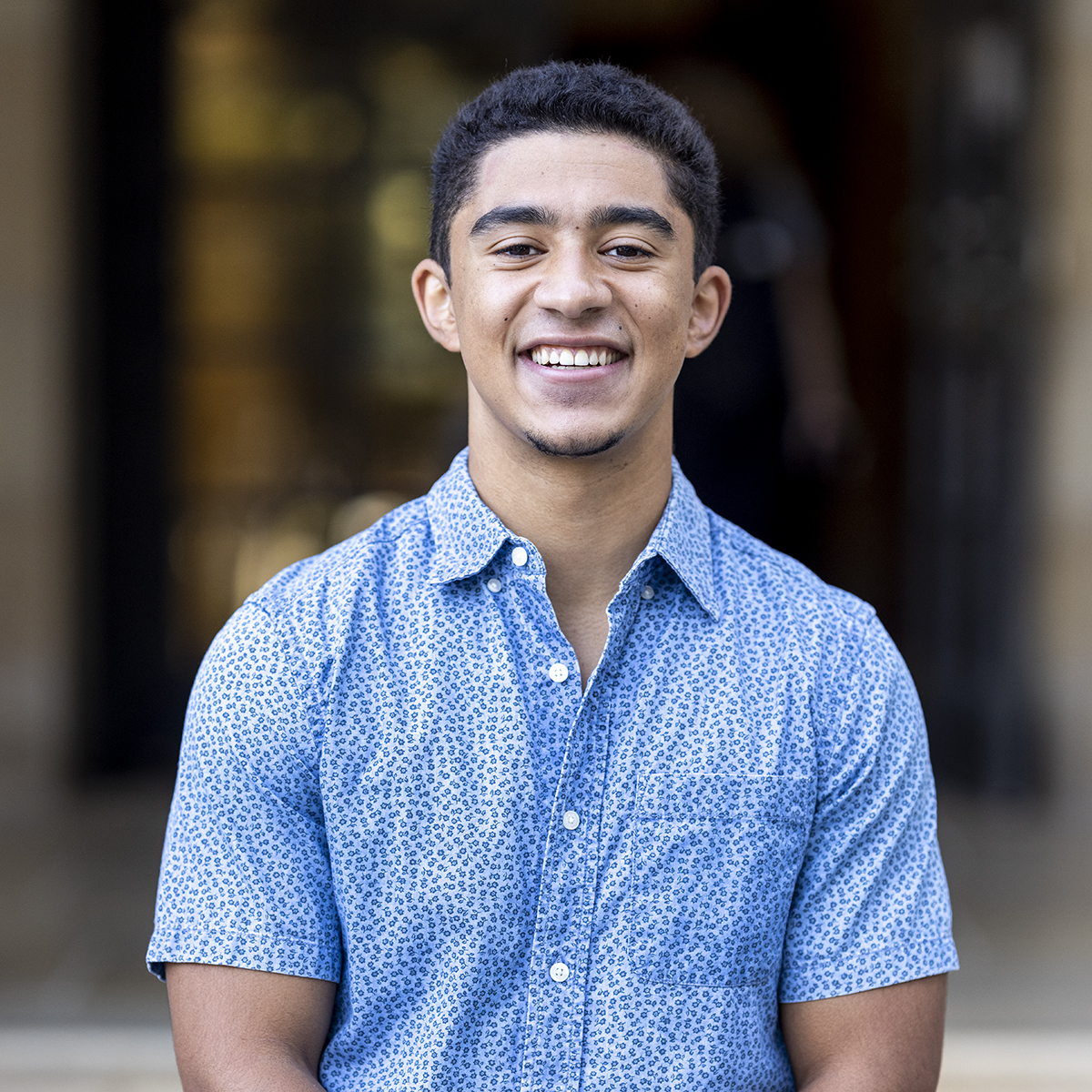 The Bruins will open conference play against a team having a historically poor start to its season.
UCLA football (3-0) will play its first Pac-12 contest of the season and first game away from the Rose Bowl against a winless Colorado team (0-3) on Saturday in Boulder. The Buffaloes have lost each of their first three games by at least 25 points for the first time in their program's 132-year history.
Colorado opened its season with a 38-13 home loss against TCU, fell 41-10 at Air Force the next week and is now coming off a 49-7 defeat at Minnesota. Last week's 42-point loss was the program's largest margin of defeat since 2019.
When asked about his upcoming opponent's slow start, redshirt senior quarterback Dorian Thompson-Robinson recalled the Bruins' poor starts to the 2018 and 2019 seasons and said he expects the Buffaloes to come out hungry.
"My freshman and sophomore season, we were starting out the season 0-3 or 0-4 or whatever, so we know the type of feeling that they have in their locker room right now," Thompson-Robinson said. "They're going to be a real hungry team. … We are definitely aware of the stakes that they have at hand."
In its most recent loss, Colorado played three different quarterbacks – sophomore J.T. Shrout, sophomore Brendon Lewis and freshman Owen McCown – who combined for 90 yards passing and completed just 10 of their 24 attempts.
Coach Chip Kelly said his team is preparing for all three quarterbacks and suspects multiple could see the field Saturday.
"You have to (prepare for all three) because they've played all three," Kelly said. "We've got to be aware of who's in the game, what their strengths and weaknesses are and how is the play-calling, … does it change depending on who the quarterback is."
While Colorado has yet to announce its starting quarterback for Saturday's Pac-12 battle, UCLA's veteran quarterback Thompson-Robinson is heading into the contest coming off his best game this season with his new pair of transfer wide receivers.
Prior to last Saturday's 32-31 comeback win against South Alabama, Duke transfer and redshirt senior Jake Bobo had yet to exceed three receptions and reach 50 yards receiving, while UCF transfer and sophomore Titus Mokiao-Atimalala had a combined three catches for 28 yards in the Bruins' first two games donning the blue and gold.
Both had their best games at UCLA against South Alabama.
Bobo caught five passes for 89 and notched his first touchdown as a Bruin, while Mokiao-Atimalala caught three passes for 47 yards, including the first two completions of UCLA's game-winning drive.
Now the pair of wide receivers will face off against a Colorado defense giving up 42.7 points and 452 total yards per game, which are 127th and 119th in the nation, respectively.
Colorado has allowed 348 rushing yards per game so far this season, which ranks dead last in the nation and is 99 yards per contest worse than the next best team. That's compared to its passing defense, which ranks fifth in the nation, but the defense has faced just 48 pass attempts – the second lowest in the country – because of the large deficits they've faced.
Despite Colorado's defensive struggles, Bobo said the UCLA wide receiver room will have to be well prepared against the Buffaloes' young, athletic secondary.
"Good secondary, corners are young, but again, guys can run, they're physical, they make plays in the run game," Bobo said. "Schematically, they'll throw some wrinkles at you, so we've got to be ready to go for sure."
The Bruins have the opportunity Saturday to earn their first win on the road in Boulder since 2014 after losing their last three games at Folsom Field.
Carlson is currently a staff writer on the football, men's basketball and women's basketball beats. He was previously a reporter on the softball and men's golf beats.
Carlson is currently a staff writer on the football, men's basketball and women's basketball beats. He was previously a reporter on the softball and men's golf beats.