Gameday predictions: UCLA vs. Colorado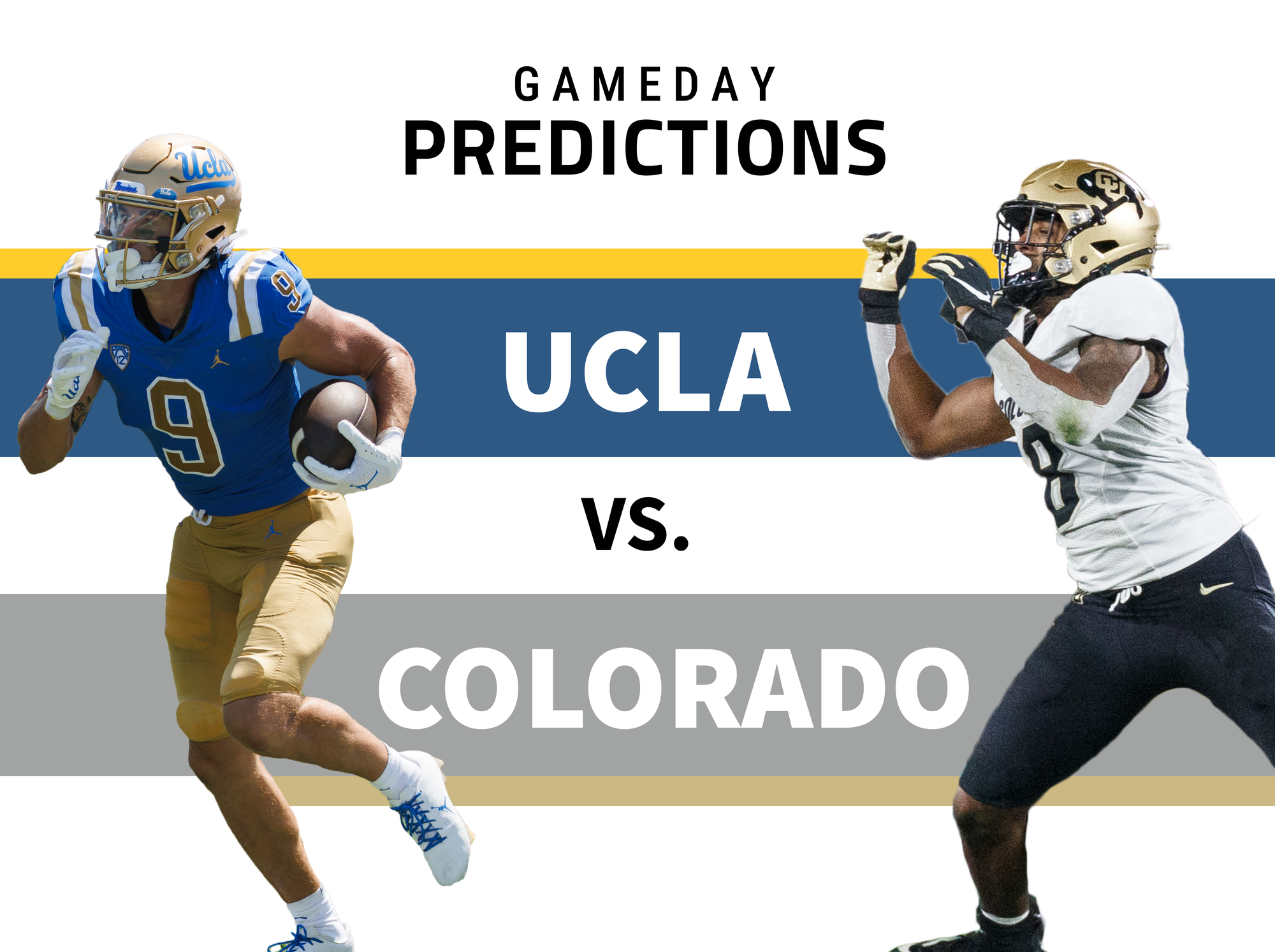 Pictured are UCLA football redshirt senior wide receiver Jake Bobo (left) and Colorado running back Alex Fontenot (right). (Maya O'Kelly/Design director, photos (left to right): Kaiya Pomeroy-Tso/Daily Bruin senior staff, Christine Kao/Daily Bruin staff)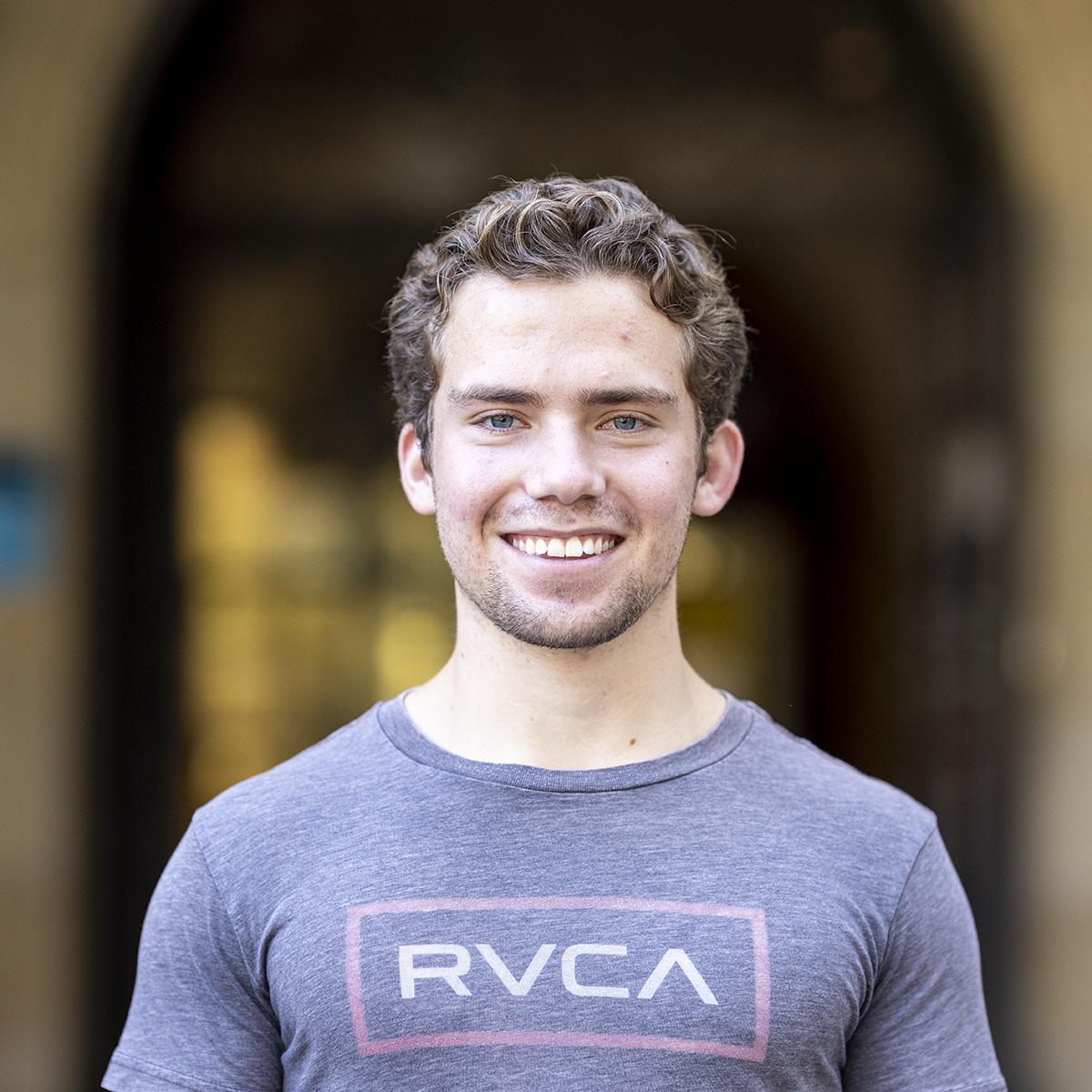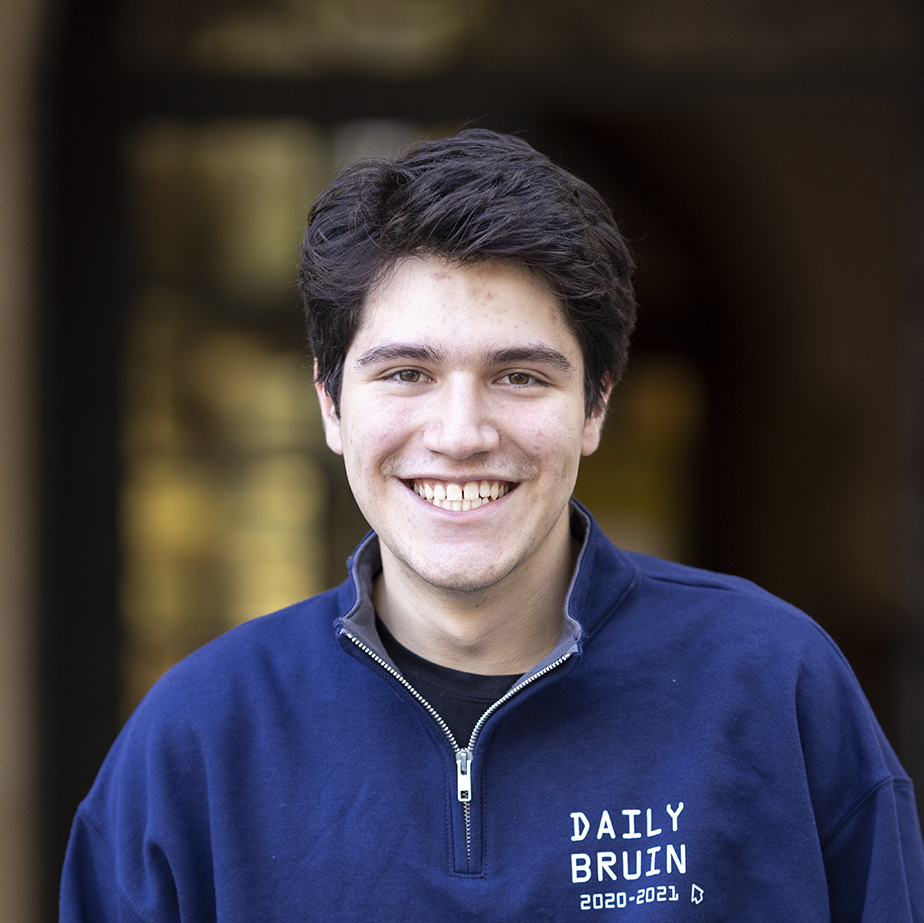 Sam Settleman
Sports editor
Prediction: UCLA 38, Colorado 7
Usually when a team has an abysmal start to the season, a head coach loses their job.
Buffalo fans probably thought that's exactly what they were in for when Colorado athletic director Rick George released a statement on social media Sunday. Maybe former UCLA coach Karl Dorrell's time in Boulder had come to an end.
Instead, George penned a letter to Colorado fans pleading for continued support of a program that has seemed to be one of the worst Power Five teams to ever step on a field three games into the season. Asking Buffalo fans to put their time and energy into supporting the product Colorado football is currently putting on the field is desperate – and quite frankly, pathetic.
While I could write 1,000 words about how bad this team has been on paper, I think that just about sums it up.
But I'll throw just one stat out there for the sake of brevity. Through three contests, Colorado has allowed 348 rushing yards per game. No, that's not a typo. Not only is that the worst in the country, it is 99 yards more than the mark set by the nation's second-worst rushing defense.
Senior running back Zach Charbonnet, redshirt junior running back Keegan Jones, redshirt senior quarterback Dorian Thompson-Robinson or anyone else that gets a carry Saturday should be able to feast against this historically bad defense.
UCLA has looked far from dominant in the trenches thus far, but these first three games of the year have proven it's hard not to find success against Colorado's run defense.
I'm going slightly conservative with my score prediction given what happened last weekend in Pasadena, but this will be a blowout – and maybe one Dorrell can't escape from.
Jon Christon
Daily Bruin senior staff
Prediction: UCLA 45, Colorado 10
Colorado is bad – very, very bad.
But how brutally bad is this Boulder-based Buffalo bunch? Not only are they the worst current Power Five team by a country mile, I believe they are one of the worst major-conference teams of all time.
Granted, that is a very bold proclamation after only three games. But those three contests are about as bad as it gets to begin a campaign.
Colorado was outscored 128-30 in nonconference play – all against unranked opponents. Stretched out over a whole season, that 32.7-point average margin of defeat would be the second-worst mark by a Power Five team in the last decade and the third worst in at least the last 19 years.
Some teams pride themselves on offense, others defense. Colorado does neither. The Buffaloes have given up 1,356 yards to their own 736-yard total – a truly mind boggling statistic when you consider they have actually outpassed their opponents – simultaneously boasting both the 13th-worst defense and the fifth-worst offense in the entire nation.
A prime example is Colorado's 41-10 loss to Air Force on Sept. 10, which provided one of the most unintentionally comedic box scores I've ever seen. The Buffaloes only allowed one pass completion for eight yards, but let the Falcons run for 435 yards on the ground – among the most allowed by any team in the country so far this season. Meanwhile, Colorado quarterback J.T. Shrout went 5-for-21 while his team accumulated only 111 rushing yards.
I could go on and on, but again I state: Colorado is bad – all-time bad.
As such, UCLA will win and it won't be close. Although I do believe the Bruins are better than consensus, this claim has little to do with them.
Instead, it has everything to do with the bad-news Buffaloes.
Jay Fenn
Daily Bruin staff
Prediction: UCLA 41, Colorado 13
The Bruins started their season 3-0 for the first time since 2015, yet they didn't receive a single vote in this week's AP Top 25 poll.
That pretty much tells you all you need to know about UCLA this year.
After starting its season with a 17-7 second-quarter deficit against Bowling Green, the Bruins appeared to get on track with a 45-17 victory over the Falcons, and followed that up with a dominant 45-7 win against Alabama State.
The hype train quickly came to a screeching halt after UCLA narrowly escaped with a victory over South Alabama last week – a program that hasn't had a winning season since 2011.
The good news? Colorado is comfortably the worst team in the Pac-12 and could even be the worst Power Five team in college football.
After finishing 4-8 last season, the Buffaloes saw 22 players enter the transfer portal – a list that included their leading rusher, top two wide receivers and almost entire starting secondary.
Thompson-Robinson and Charbonnet – who have lived up to their preseason hype – will tear apart an atrocious Buffalo defense. Colorado's offense won't be able to get anything going either, and this game will quickly turn into a blowout.
UCLA fans should enjoy this beatdown of Colorado because after Saturday, the blue and gold will prepare for a three-game stretch that includes No. 18 Washington, No. 13 Utah and No. 15 Oregon – three teams that should easily defeat the same Bruin team we saw take the field against South Alabama.
Anya Yakimenko
Daily Bruin photographer
Prediction: UCLA 42, Colorado 3
Not only am I a photographer, I also haven't watched a single football game since Super Bowl LV – and I didn't even really watch that – so I would definitely bet money on this prediction if I were you.
The first thing that sticks out to me about this matchup is the mascots.
When I think about a Bruin fighting a Buffalo, I would expect the Bruin to win. Although the Buffalo has horns, they are stationary and cannot be easily used in combat. On the other hand, the bear has two razor-sharp claws and a great set of teeth which it can use to attack on multiple fronts.
Although a bit unpredictable, the bear would ultimately come out victorious thanks to its aggressiveness, while the Buffalo would just stand around and try to headbutt things.
Extending this metaphor to some easy-to-find stats, I think I might be onto something here. Colorado has lost three straight games to start the season, allowing its opponents to score at least 38 points in every game while barely reaching double digits itself. The Bruins are undefeated so far this season, scoring over 30 points in each of their past three games.
Although last week's contest against South Alabama was close, UCLA has consistently had good offensive performances and Colorado has consistently had bad defensive performances. I predict this game will go down just as how I imagine a bear would quickly dismantle the armor of an incapable buffalo.