No. 1 UCLA women's soccer kicks off conference slate with California matchup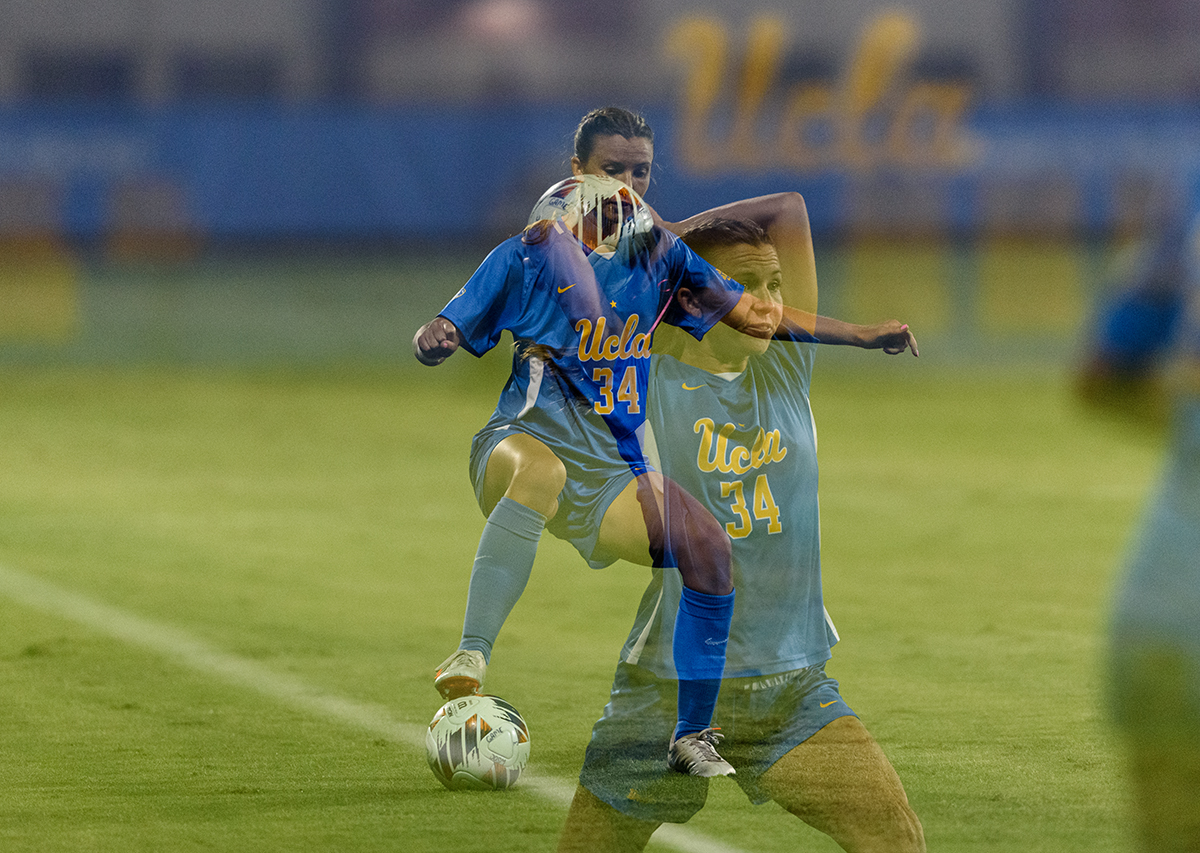 Pictured: a double exposure of UCLA women's soccer senior defender Brianne Riley. She played in every game for the Bruins a season ago. (Daily Bruin file photo)
Women's Soccer
---
California
Friday, 8 p.m.
Wallis Annenberg Stadium
Pac-12 Networks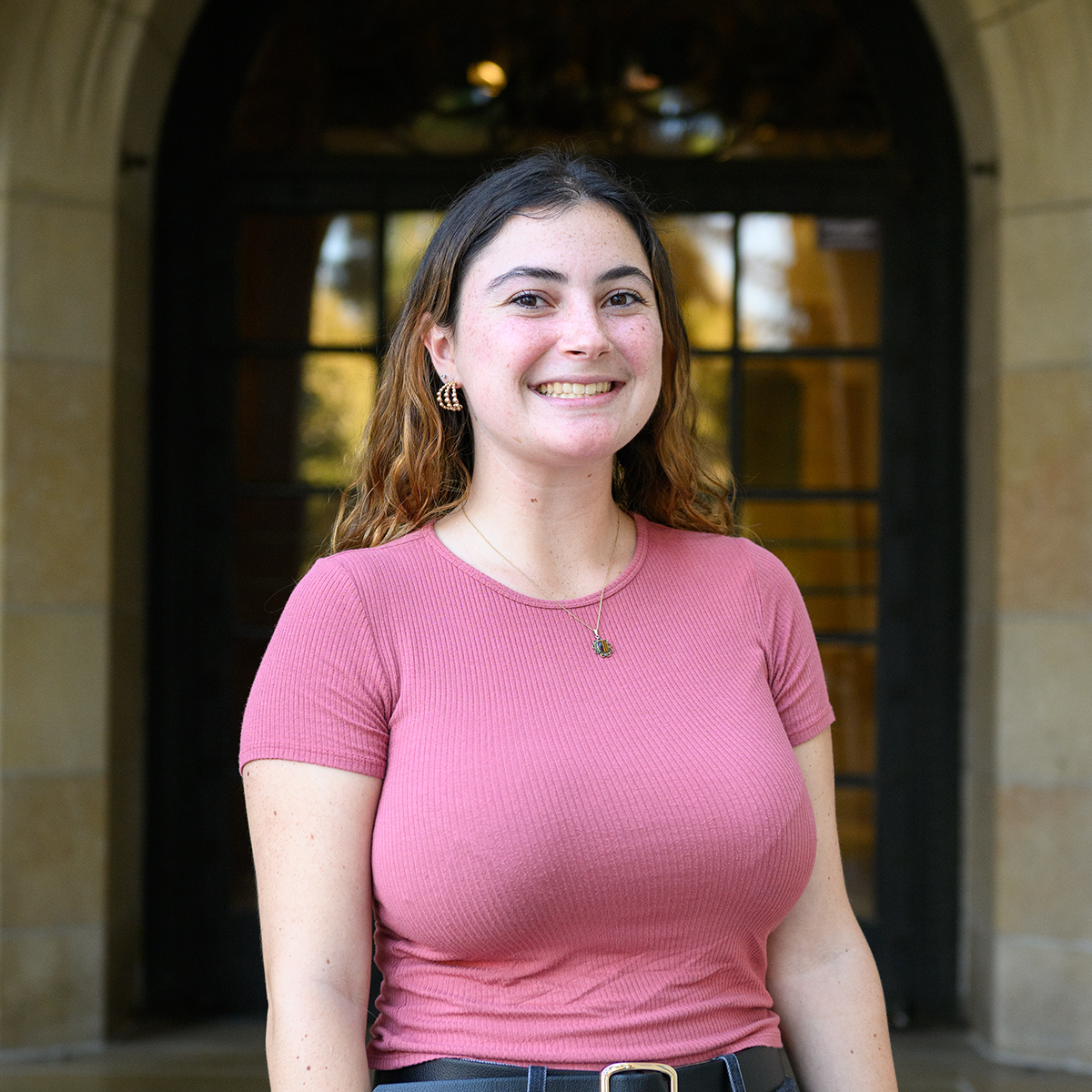 Sept. 22, 2022 12:09 p.m.
Friday night lights are back at Wallis Annenberg Stadium.
No. 1 UCLA women's soccer (8-0) is set to take on California (5-1-3) on Friday at 8 p.m. in Westwood to kick off conference play. The blue and gold is the reigning Pac-12 title-holder, having gone undefeated in the conference and defeating USC for its second straight conference crown in 2021.
Senior defender Brianne Riley – who played in every game and started in nearly every conference matchup last season – said despite playing Pac-12 opponents annually, every team is a new challenge when rosters change so much.
"It'd be really big for us to come in and make a statement at the start of Pac-12 (play) and show that we're ready for conference," Riley said.
Coach Margueritte Aozasa iterated the importance of conference play for success in the postseason.
UCLA's ultimate goal for the 2022 season is a national title, and Aozasa said conference competition prepares the team for the pressure of playoffs.
"What conference gives us is one, playing for something every single game," Aozasa said. "What we love about conference is we play 11 different teams, 11 different styles, 11 different challenges. And so we really look at it as kind of a prolonged preparation for playoffs."
This UCLA squad is no stranger to bearing the Pac-12 crown. The Bruins won the conference championship for the last two years, but before that, Aozasa claimed five conference titles with Stanford as an assistant coach.
Riley added that being conference champions doesn't mean the Bruins should get ahead of themselves.
"I would say it's definitely something that we want to uphold – our quality of play," Riley said. "Pac-12 is always competitive, so I think every game, every team will bring it no matter what."
Aozasa agreed that no one team is going to be the Bruins' biggest competition, but she mentioned that the conference as a whole seems stronger than it was last year.
"Last year was a bit of a down year for Pac-12. But this year, it looks like things are actually, from top to bottom, looking better," Aozasa said.
Despite being an unranked squad and earning a mixed record, Cal won't necessarily be an easy win for UCLA, according to Aozasa.
She said the Bruins will need to remain disciplined.
"They have quite a few very talented, incredible individual players," Aozasa said. "We have to respect the fact that at any point, those players could really hurt us, and so we want to make sure we're organized. … Cal's a very talented team, whether or not their record reflects that."
In the Bruins' most recent matchup against the Golden Bears toward the end of the 2021 season, former forward Mia Fishel scored the game winner. Fishel led UCLA on the scoring front in 2021 but has since left the Bruins for the professional ranks.
Thus far, 11 Bruins have contributed to the team's goal tally, including freshman midfielder Sofia Cook, who reached the back of the net against both Cal State Northridge and San Diego State. Cook said UCLA has depth across the field, and no one player is doing more than the rest.
"So many people have (shown) up for so many different games, and it doesn't even have to be them scoring," Cook said. "It can be them doing the hard work in the midfield or on defense or out wide, and they're like the unsung hero, putting in the assist, the crosses."
UCLA's 4-0 victory over Pepperdine on Sunday wrapped up an undefeated nonconference slate, which began well before UCLA's official instruction starts Thursday.
Riley said being able to kick off the season before school began meant the student-athletes were able to spend a lot of energy on the team, getting closer on and off the field.
"With the quarter system, we're able to have the big chunk of time where we don't have classes," Riley said. "With the new staff and just a new season, it was really helpful to have a lot of time for things like team bonding or just meals together."
UCLA's school schedule also meant much of the student body wasn't in Westwood for the Bruins' three home games thus far. Friday's game against Cal marks UCLA's first matchup at Wallis Annenberg Stadium following fall move-in, creating the potential for increased student section attendance.
Cook, who has yet to experience a home game with a true turnout from The Den, said she already loves the energy fans have brought.
"I love when we play at home. Our fans show up, and it's just so exciting," Cook said. "When you're on the field, you can hear people cheering you on, and I just – I'm super excited for it."
UCLA's conference slate will commence with an 8 p.m. kickoff against Cal on Friday.
Friedman is the 2022-2023 Copy chief and a Sports contributor on the women's soccer beat. She was previously a Slot editor, Copy intern and Sports contributor on the women's golf beat.
Friedman is the 2022-2023 Copy chief and a Sports contributor on the women's soccer beat. She was previously a Slot editor, Copy intern and Sports contributor on the women's golf beat.