Opinion: BeReal is no more real than any other social networking app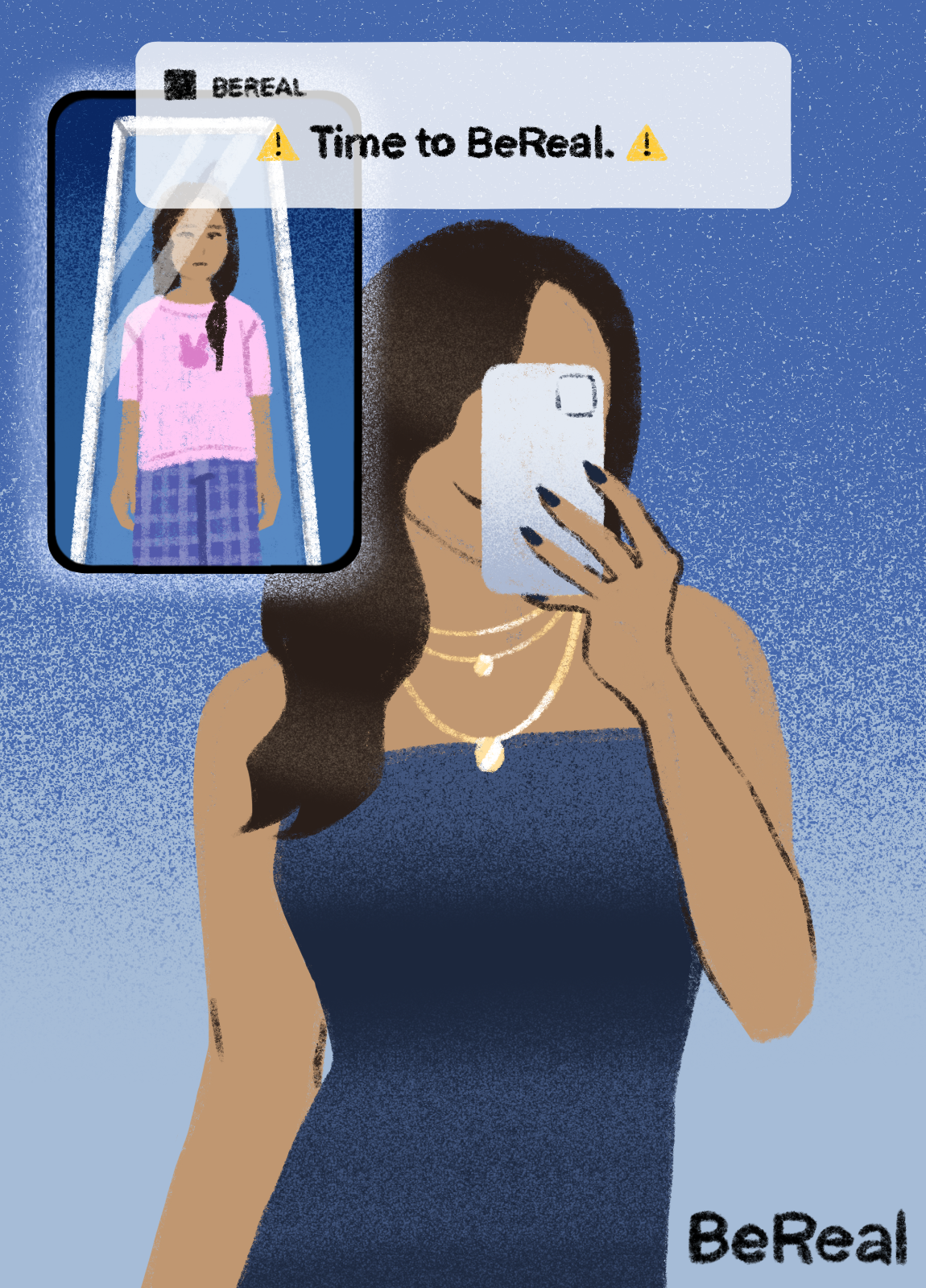 (Isabella Lee/Illustrations Director)
Every day, more than 10 million people get a notification that initiates two minutes of chaos. Poses are struck. Lighting is adjusted. Selfies are taken.
It's time to BeReal.
Two years after launching, BeReal has secured its place as a social necessity among students, celebrities and brands with its unique approach to posting. Unlike other forms of social media, BeReal sends all users a spontaneous notification – every day, at a different time – that gives them two minutes to post simultaneous forward and reverse-facing photos.
While BeReal advertises itself as a way to share your real life with true friends, it has fallen victim to the very problems it is trying to solve. BeReal has become the newest way to stage how you want friends to view your life and could easily become the next toxic social media company.
Let's be real: BeReal is anything but real.
Widespread research about the harmful effects and addictiveness of social media has fed a new generation of apps that attempt to safely connect people without negative emotional and social consequences. But these apps often utilize a business model that requires users to spend extensive amounts of time scrolling through posts mixed with highly curated advertisements.
With limited access to news organizations, influencers and addictive algorithms, BeReal looks to be much safer than other forms of social media. But it's difficult to see how it will become profitable without changing something.
An app that shows just your friends with no advertisements or infinite scroll pages seems too good to be true – and that's because it is.
Facebook evolved to curate your feed with news and suggested posts. TikTok features a never-ending stream of computer-crafted content. Snapchat introduced Discover with news and entertainment content. Instagram emphasizes reels on the explore page.
These features were designed to keep us looking at posts and advertisements for as long as possible.
Ofir Turel, a professor of Information Systems and Decision Sciences at California State University, Fullerton, said viewing engaging content or receiving likes and comments on our posts releases dopamine, the hormone responsible for pleasure and satisfaction. This random and occasional dopamine hit – a phenomenon called variable reward – is similar to the experience of occasionally winning at a casino, which keeps us scrolling and posting.
BeReal uses variable reward when we view our friends' posts or get reactions and comments on our posts, releasing dopamine that encourages us to open BeReal throughout the day and post again next time.
Even though it doesn't keep us scrolling for long, BeReal still hooks us.
Turel added his research showed that individuals who don't receive as many likes are more likely to post risky photos in hopes of increasing their engagement, feeding a social pressure to achieve the same amount of likes as our friends.
"Variable rewards, together with very tailored content that creates ongoing engagement – and together with these social pressures – creates a perfect storm for people to be more than engaged," Turel said.
As a culture, we've collectively decided that whenever something impressive happens – whether it's going on an exotic vacation or visiting a new restaurant – it's a moment to be shared on social media. This allows us to control how others view our lives, even if it's not necessarily the truth.
BeReal attempts to solve this issue by asking users to show off the mundane parts of their lives through images that would traditionally never make it onto a social media feed – in this case, the other side of the camera.
Unfortunately, many people have a hard time admitting their life isn't always exciting, and being immersed in a fabricated version of reality doesn't make it any easier.
Natalie Nielsen, a second-year public affairs student, said she sometimes won't take her BeReal at all if nothing interesting has happened, like if she's been at work all day.
Nielsen added that she will occasionally "post late" when she knows something eventful will happen later – a phenomenon where users can post their BeReal outside of the two-minute window accompanied by a disclaimer that it was posted late.
Likewise, Colin McMahon, a third-year English student, said he posts late more than half the time. He said he saves BeReal for a moment that reflects how he wants to be represented to his followers.
"It (BeReal) actually promotes users to embellish their posts and sensationalize their lives," McMahon said.
Posting late or never posting has become a way for people to curate their BeReal in a similar way to Instagram with the caveat that this is their everyday life, not just some rare vacation.
Although tame now, BeReal could easily morph from an innocent app into another dangerous social media nightmare. This may simply prove the limitations of social media – no matter how hard an app tries, business factors and human nature will inevitably reproduce problems of addictiveness and social comparison.
BeReal is a fun new way to show others what you want them to see. But at the end of the day, it's no more real than any other social networking app.