Robert Hertzberg, Lindsey Horvath vie for LA County Board of Supervisors position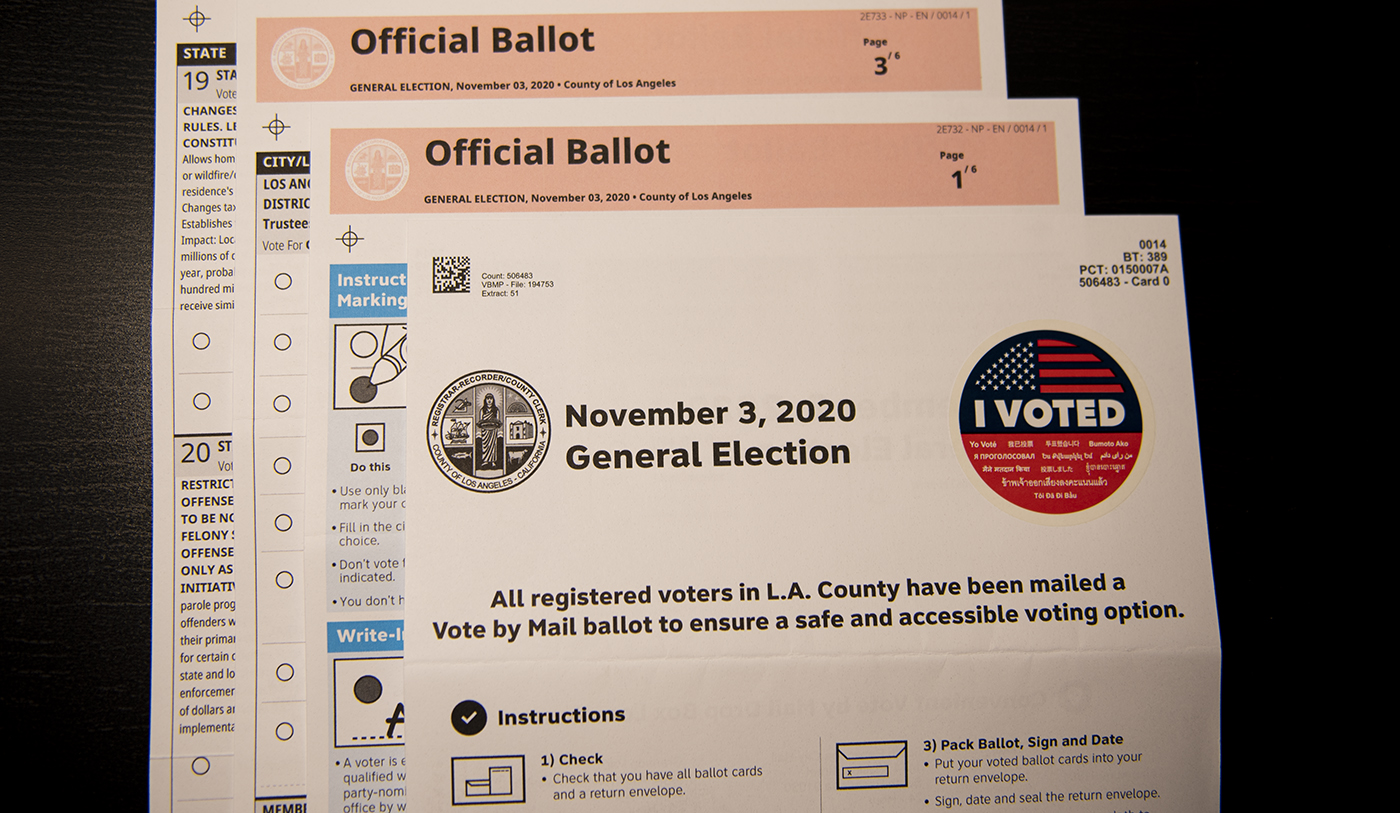 A paper mail-in ballot lays open on a table. Current California State Senate majority leader emeritus Robert Hertzberg and West Hollywood City Council member Lindsey Horvath will remain candidates for District 3's Los Angeles County Board of Supervisors representative in the Nov. 8 general election. (Jason Zhu/Daily Bruin staff)
Two candidates for District 3's Los Angeles County Board of Supervisors representative have advanced to the Nov. 8 general election.
Candidates Robert Hertzberg – the current California State Senate majority leader emeritus – and Lindsey Horvath – a member of the West Hollywood City Council – received the highest number of votes in the June 7 primary with 31.08% and 27.74% of votes, respectively, according to the LA County Registrar's Office. District 3, which includes UCLA and Westwood, extends northward to Westlake Village and eastward to San Fernando, housing close to two million of LA County's nearly 10 million residents.
Zev Yaroslavsky, who served as District 3's representative from 1994 to 2014, said the five-member Board of Supervisors is primarily responsible for providing the county with human and social services such as health care, mental health and public defense.
The Board of Supervisors also serves as the municipal government for unincorporated regions of the county, Yaroslavsky said. In such areas, the Board of Supervisors provides services such as police protection, street repair and park maintenance – responsibilities usually held by city governments.
He added that the board advocates for people from marginalized communities who may be in poverty or without proper health care and lack the resources to contact their local government officials.
Both Horvath and Hertzberg said helping people experiencing homelessness would be a top priority for them as supervisor.
Horvath said she wants to implement policies that were previously successful in her neighborhood, such as setting aside a portion of housing developments for low-income people. She added that she also hopes to prevent individuals from experiencing homelessness by offering legal assistance and passing a rent stabilization ordinance.
Hertzberg said that to offer housing to individuals experiencing homelessness as quickly as possible, he would convert empty shopping malls and office buildings into affordable units. He also said he plans to push to send mental health professionals, rather than police, to help relocate those with drug addictions or mental illnesses.
Both candidates also said they would like to increase funding for public safety services.
Hertzberg said police presence is crucial to deterring crime, making the increase in funding necessary.
"People are so scared," he said. "People say they go out of their home and never wear jewelry. Somebody else says, … 'I won't go to the shopping malls anymore, and I buy everything online.'"
For situations where police would be unnecessary, Horvath said she aims to place unarmed security ambassadors in communities and expand response teams for 988, the national suicide prevention lifeline.
County supervisors also serve on the LA Metro board, which manages LA's public transit system, Horvath said. Both Hertzberg and Horvath said they want to modify and expand existing transport systems.
Horvath said she wants to prioritize implementing Measure M, which approved a sales tax to fund the repair of streets and sidewalks and subsidize transit fares, according to LA Metro.
To incentivize the use of public transport, Hertzberg said he hopes to develop housing along transportation routes. He added that he would use his experience in the clean energy business to promote the use of other energy sources and create more jobs to build the necessary infrastructure.
Horvath also said she would push for sustainability in the county by closing gas wells and develope plans to fight wildfires.
With the wide range of responsibilities and powers that supervisors have over LA County, Yaroslavsky said residents should pay attention to the election.
"The County Board of Supervisors is a very powerful job because of the power that's concentrated in these five people because of the resources that it has available to it," he said. "And if the person is really committed, … they can really make a difference in people's lives."