Bruin 101: Dining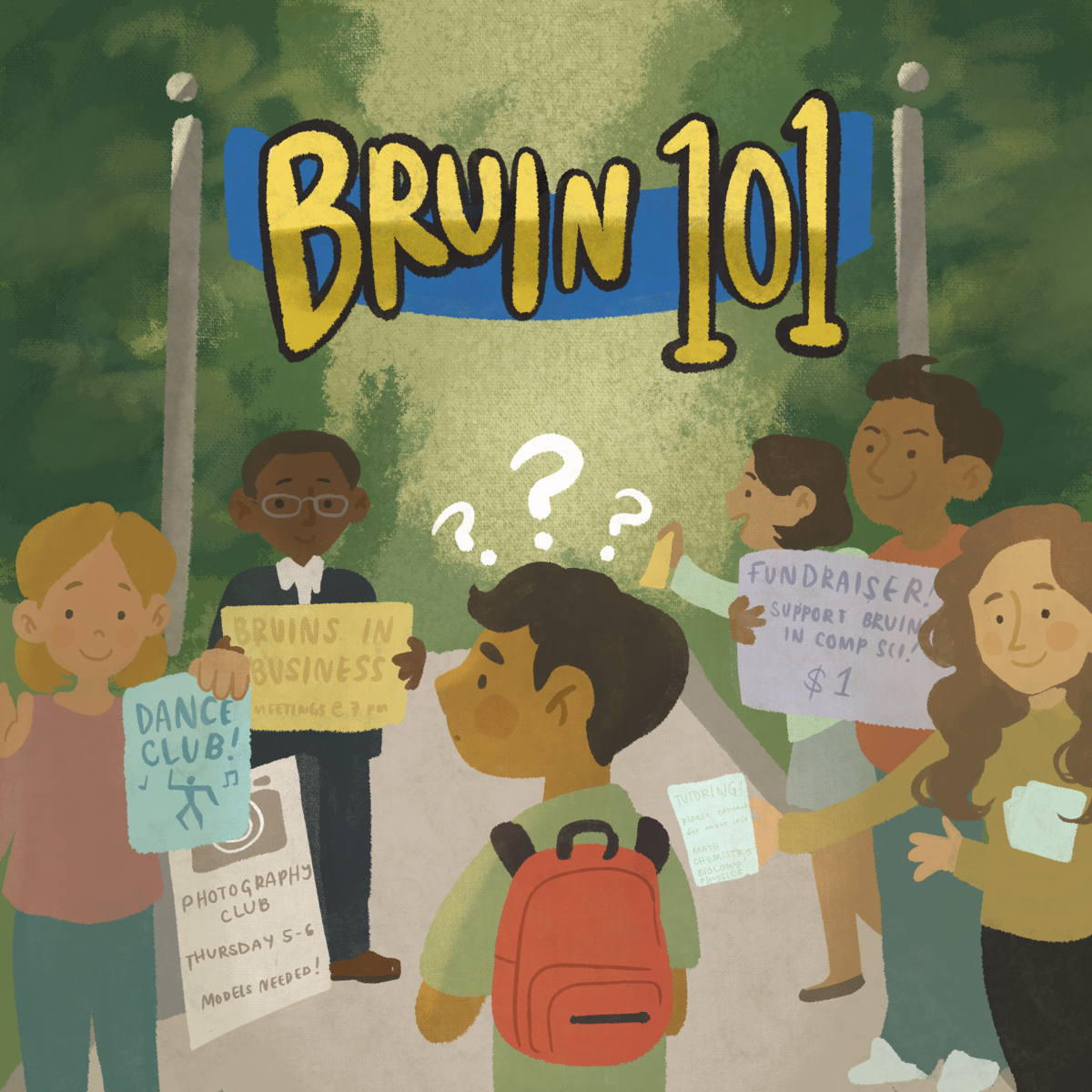 (Katelyn Dang/Daily Bruin senior staff)
In this episode of "Bruin 101," a Daily Bruin podcast about life at UCLA, Podcasts contributors Wendy Minn, Kyla Ventura and Sonia Wong review meal plans and dining options at UCLA.

KV: Hello and welcome to Bruin101, a Daily Bruin podcast that is made by Bruins for Bruins. In this series we hope to help students and prospective students learn about and adapt to UCLA by providing insight into the school, sharing helpful tips and discussing concerns. In this episode, we will be talking about UCLA dining and breaking down how meal plans work and all the different places you can get food. I'm Kyla Ventura, one of the podcast producers.
SW: I'm Sonia, another one of the producers.
WM: And I'm Wendy.
WM: So before we talk about the dining halls, I just want to explain a little bit about the different meal plan options. So there are two parts of the meal plan. And the first part is the number of meals per week. And then the second part is the type of plan. For the options for the number of meals per week, they are 11, 14 and 19. So you choose one of these numbers and then the type of meal plan to go with it. So we have two meal plans, which is the regular and premium, which we refer to as R and P. For R, you're only able to swipe once during a meal period and your swipes don't carry over each week, so if you don't use them up, they're just gone. For example, if you have like 14R and you only ate like 12 meals that week, then those extra two swipes will not carry over. But this is not the case with P because you get all your swipes at the beginning of the quarter and then you have until finals week to use them up, and so you're able to swipe as many times as you want within a meal period. What meal plan did you guys have?
SW: So for me, personally, I'm currently on the 11P meal plan.
KV: I also have the 11P. And I really like it because I go home a lot and I'm gluten free. So sometimes there's nothing for me to eat. And so I just, I like that it carries over to the next week.
WM: So I had 19R which meant I was only able to swipe once per meal period. And as someone who eats all meals, breakfast, lunch and dinner, I thought this was really great. Except I, as the year went on, I kind of regretted this decision because I actually didn't eat breakfast as much as I thought I did or I could easily find food to eat for breakfast. So I didn't feel it was necessary for 19R. If I were to be on a meal plan next year, I would have chosen something like 14P or 11R just because I do eat more, I eat out more frequently than I thought.
SW: Yeah, I definitely have the same feelings of, as Wendy when I went into choosing a meal plan, because I know that I would have wanted to eat off campus more, especially considering last year, which was my first year. And sometimes that I probably won't be able to make the effort to walk up and have breakfast in the morning. So I chose 11P and ended up really liking it. Because another common situation that I realized that a lot of students run into is that they have a huge excess of meals at the end of the quarter. So a lot of people think that they're eating regular meals, but sometimes during weekends, they go out and they forget about the meals that they actually spend on campus. So then at the end of the year, a lot of people end up with like tens of meals left over. And like near week eight to week 10 we just see people using like an upwards of like five to seven swipes per meal. So, plus, it's actually pretty easy to change your meal plan if you wanted to between quarters. So I would actually say that it would be easier to start with a smaller meal plan, and then move up the scale if you feel like it's not enough for you,
WM: You are able to change your meal plan in the middle of a quarter. There is a fee though, even in the middle of the quarter and in between quarters as well. And it's honestly not the greatest idea, I feel like, to switch meal plans because there is a fee on top of the price difference. So it might not necessarily be worth it at the time if you do decide to switch so I think it is important to decide at the beginning of quarters what you think will work best. Yeah, to add on that note, you're also always able to pay for food with your own money. You can add money to your Bruin card and pay for it that way. Some places even take credit card. This is at the takeout places; for the dining halls, you can only swipe with your Bruin card, which is why it's nice to have those swipes. So now that we're talking about dining halls, so dining halls are all you can eat kind of like a buffet style. Various stations serve different kinds of food and you go pick them up with plates, they usually pre portion them for you. In some places you can grab things yourself and put it on your own plate. But if there's not enough food, you can always just go back for more. And so first up I guess we can talk about De Neve dining. This is open for all meals, breakfast through dinner. None of the dining halls do extended dinner. And so De Neve serves like American food: burgers, pizza, mashed potatoes and assorted meat with mashed potatoes. What are your guys's thoughts on De Neve.
KV: So I mentioned earlier that I'm gluten free so I had to like provide a doctor's note that said that I need to eat gluten free and then that gives me access, because of an allergy, and that gives me access to a gluten free pantry. So De Neve has a gluten free pantry and so I go there if I want, like—the gluten free pantry offers, like Amy's frozen meals pretty much and those aren't certified, so I don't know, if you have celiac disease, if you should be eating them, or most of them. But I've noticed I do get sick from any of the food there. So I don't really—I don't like De Neve.
SW: Personally, I'm not the biggest fan of De Neve either. I remember at the start of the quarter or my first quarter, everybody was rushing to get there, because they were saying that the food was really nice. And the only reason I went along was because I really liked fries. And as a side note, I'm also vegetarian. And I would say one good thing about De Neve is that there are surprisingly a lot of vegetarian options if you do look out for them and pay attention to them. And I remember this one time I went there was this really good, I think it was an Indian curry and rice, that they served but then, or some other curry and rice, but it only came up once and never happened again. But in general, I don't go to De Neve that much, mainly because it's not that close to where I live. And also, most of the time after I eat I feel pretty full and pretty bloated after that. And I think it has to do with how, when most of the time I'm there, even though they have a lot of vegetarian options. They're still pretty heavy options such as like burgers, or just really huge portions like mashed potatoes and other American style foods. So I'd say it's not my favorite either. What about you, Wendy?
WM: Yeah, I'm also on the same boat. I don't really like De Neve either, especially on the location part. It is definitely one of the further dining halls to where I'm located. And yeah, I'm also not the biggest on American food. I would say what De Neve has the best though is pizza. I think no other place serves better, as good pizza as enough does. And I think they have the biggest salad bar, they have the greatest variety of things to get at the salad at De Neve dining, so that's good. So instead of De Neve I'd say I'm more of an Epicuria person. So Epicuria is Mediterranean food, they serve pasta, they also serve pizza and kind of like an assortment of potatoes is something that I remember. And Epicuria is the only dining hall that isn't open for breakfast, so they just do lunch and dinner. I think one of the best things they have is just the pasta. I can't think of anything else in particular, what about you guys?
KV: Sometimes they have chicken and it has like a green sauce on it and I'm not sure what it's called. But that's gluten free, and I really like it. But that's pretty much that's it for me. What about you, Sonia?
SW: Yeah, I quite like Epicuria as well, I would say compared to B-Plate and De Neve, they have relatively less vegetarian options, actually. But the pastas are always really good. And I remember near the end of the last spring quarter as well, they started doing a build-your-own pasta bar thing as well. So that allowed a lot of students to have freedom in terms of what kind of pasta they wanted, even though that really hugely increased the lines. And I think one thing that I really remember about Epicuria is that their rice is always really good. So they serve different Mediterranean styled rice, as well as with other veggies along with it. And I remember really liking it. And they also serve pretty good soup. So there's a Tuscan bean soup, I think, that I go for a lot. So yeah, but moving on, I think my favorite is actually B-Plate. And I know B-Plate is a really controversial dining hall. But obviously being vegetarian, I think B-Plate is one of the places where I can eat and then not really worry about what I'm actually getting, or having to go ahead and ask staff about clarifying the menus. And another thing about B-Plate is that I really liked that it had like a huge fruit bar and dessert option, because I'm personally a huge dessert person. And most days, if not all, they serve frozen yogurt. There's a variety of cereal that they serve all day because obviously they do breakfast. And they have really good chocolate tarts, or cheese tarts. And I remember the cheese sorts only came for one day as well and then I never saw them again. So that was pretty disappointing, but overall they have pretty good dessert. What do you guys think about B-Plate?
WM: I agree with Sonia's statement that B-Plate is definitely a controversial opinion of whether you like it or not. So I'm on the other side I'm a B-Plate hater. B-Plate mainly serves healthy food. So for me I feel like I do tend to eat pretty healthy but B-Plate is an extreme. So B Plate serves things like brown rice and like vegetables that are just like lightly sauteed and just kind of like salted. Other things they serve are like proteins, that they aren't like really heavy on like saucing and like flavoring, and it's definitely the go to place for people that want to diet or that frequent the gym. So since I'm not in either one of those categories, I would not say I'm the biggest fan. I know B-Plate, since B-Plate and De Neve are the only options for breakfast, I do prefer B-Plate because it is a little bit lighter than De Neve breakfast. And so they would serve things like lentil pancakes or carrot pancakes, which can definitely be a hit or miss.
KV: So I'm on Sonia's side. I love B-Plate. And I think like you said, because there's no sauce or anything, I can usually, almost every time eat the chicken, which I really like appreciate. And then I'll get it with brown rice. And then they usually have broccoli or green beans or something. And then they also have a really big salad bar, which I love. And then each of the dining halls have like a big, like, fruit bar, which is also fun. And then B-Plate also has the gluten free pantry. So I usually eat at B-Plate.
SW: So now that we're done talking about dining halls, let's talk about takeout places. So takeout places are essentially restaurants where one swipe gets you a set meal, where you usually get an entree with a side and a drink. So the first one I really like to mention and that I also think is a really popular one is Rendezvous. So Rendezvous is located right in the middle of Rieber Court, and it serves a meal and a fountain drink. And it's divided into two sides, which is what makes it so special. The east side gives you a variety of Asian food, whereas the west side gives you Mexican food. So both sides have different combos and specials. And some specials, especially on the east side, are only available daily during lunch. So for me personally, I'm really into Rende West, which serves Mexican food, because I think their burritos are always really great. And I can always get a bean burrito, I could get like a tofu burrito. And I really like that you get the option of choosing what's inside each burrito, which is also what gives it such a huge line and sometimes takes a really long time to get your meal. But at the end of the day, I always think getting stuff at Rende West is worth it. And I would always do it if I have time for dinner especially. What about you guys?
WM: Yeah, I also really like Rende West. I feel like it's very solid, especially the combo which is basically, it's like a choose your own build your own kind of bowl thing. You can choose bowls like tacos, burritos, so it's basically UCLA's take on Chipotle. And so it's always really solid, you can go to like, everything is pretty likable, I feel like, and you could always switch things up if you're feeling like a burrito one day and like a taco another day. And you can like switch up the toppings, which is really nice. And that's— West is definitely something I go to pretty frequently because it's very reliable and consistent. And I mean, I actually haven't had many of the specials at West but I have had the spinach cheese quesadilla, which I really liked. What about you, Kyla?
KV: I went to Rende West one time. And I like—it was good. And I—it is, like, I feel like one of the most popular ones. But there's a lot of cross contamination, so I never went back. But it looks good.
WM: Yeah, and then the other side I wouldn't say is as popular. It's Rende East and they do Asian food. So their combo is basically UCLA's take on kind of like a Panda Express, they give you like, like a main course to choose from. So like fried rice, white rice, chowmein, kind of thing. And they have like sides to go with that. I'm not the biggest fan of Panda Express in general. And so that also wasn't really my type of food. But they did have some pretty good specials. I've had the banh mi, I've had that pretty frequently. And they have like ramen and pho, which are nice because they're actually hot, whereas if you go to like The Drey, which we'll mention soon, it's kind of like ready made and kind of warm, if anything. So yeah, some of the specials at East have been pretty good. And they've also done like some special days. At the end of the quarter last year, they were doing like a Filipino night and they had like a lot of different Filipino kind of foods to choose from. And that one was actually pretty good.
SW: Yeah, I would say the same about East. Rende East is a place I go when I'm really short on time and I just really want to get a quick meal. And on the other side, there's also not a lot of vegetarian options at Rende East. So that's another reason why I don't go there often. I would say their chowmein is pretty good so I have it pretty often. But apart from that I haven't really tried any of the specials. But I would say I went to the Filipino night a few times. And even though the lines were always really long there was like this rice that was really good. So I would definitely say that Rende East is known to be pretty good at the specials that they do, whereas for the combos I think it's mostly to serve students who really want like a quick meal or just, you know, not a lot of options to choose from and so they could just get a really quick meal done in a really short time.
WM: Yeah, talking about quick meals. I think The Drey is definitely the quickest because it is just a grab and go place. They have like ready-made entrees where you just like heat them up, you add some broth to it. So like they have ramen, and then you would add broth to it. They have like bento boxes, some sushi, and it's just basically a grab, swipe and go. I know The Drey is not the greatest place, but I lived in Centennial, which is one of the closer buildings to The Drey, so I'm not going to deny that I frequented The Drey pretty often. And it's also a good place to use up your swipes because they do have like frozen foods and stuff that you could store for later, whereas other places, not the best at storing and like the fridge or freezer for long periods of time. What about you guys, have you guys frequented The Drey often?
SW: For me, I've went when I first started, but I remember not liking it the first few times. I remember getting the pho the first time, but that the broth was not warm enough. And some of my other friends got the bento boxes. And for some reason everybody that got the bento boxes told me that it wasn't great. But another thing that I really like about the Drey obviously apart from how quick it is, is that I was pleasantly surprised by the vegan cookies that they had. And they also had this like vegan brownie if I remember correctly. And they always came— and so the reason why I really liked it was because it not only came in really huge sizes that I could split up and have over the course of multiple meals, but also that it was actually pretty tasty. And it was something that really drew people's attention in, even if they weren't vegetarian or vegan. So I think that was something that really surprised me. And a place that I, like Wendy, always go if I'm really short on time. Moving on, some other place that's really similar to The Drey, I would say is actually The Study. Whereas The Drey is located somewhere in the middle of the Hill, The Study is like on top of the Hill. And I would say while The Drey has more ready made bowls with a variety of like Western and Asian food, The Study has a little more of like sandwiches and other lighter meals. And so I would actually say The Study is a really good choice for extended dinner, especially considering it's one of the few places that open till late at night. And it's a place I go to whenever I'm done with work and just want to relax with friends and get like dessert or get some really quick food before I head for bed. So what are you guys's experience with The Study?
KV: I love The Study. So they have like a build your own salad, like or salad, sandwich or pizza. And so I get the salad. And it's just something I can always go to if there's nothing else for me to eat. And then I also just love the atmosphere there. It's like a library kind of but you can eat or like be with your friends and like talk, but everyone's still studying. So I really like it in there. And I also get the coffee in the morning.
WM: Yeah, I actually worked at The Study. So I'm pretty familiar with their menus and everything. The Study is definitely one of the most popular places. The lines are usually crazy, so I actually never got The Study besides while I was on a shift. So The Study does like basically what you guys talked about, build your own stuff. So at breakfast, they do a build your own bagel and build your own skillet. They have like the Build Your Own salads, pizzas and sandwiches, like you said, and so I think a lot of people really like it because it's so customizable. And I would say that I do like a solid sandwich there. They have a lot of different toppings and different like sauces that you can put. So it's just very solid ingredients together.
KV: Yeah, I've definitely waited over an hour for my food.
SW: I remember the first time I went, I actually waited upwards for two hours, one hour in the line and then another hour to get my food, just because of how popular it was at the start of the quarter in the start of the school year. But nevertheless, I still think the experience was pretty worth it because you get a taste of the UCLA dining halls because UCLA dining halls in general are just pretty crowded, but also that The Study has pretty consistent quality across all of their menu items. And I think that's why students go back a lot and why it's such a popular place for students. And so personally I also really liked the dessert options that they have, the crepes and like the waffles and even though the sizing of the portions have changed I still go back every now and then when I have an extra swipe or when I have some time before bed.
WM: Yeah The Study is definitely the place for extra swipes because they are the only takeout place besides B-Caf at the end of the quarter that was doing extended dinner so it was always super packed in there and I know myself that I love a good midnight waffle kind of thing; their waffles are really good, speaking as a former worker of The Study. Yeah. So kind of The Study's biggest competitor would be B-Caf, and B-Caf also does something similar to The Study. They do like ready made sandwiches so you can't really choose and then they also have like ready set pizzas. B-Caf also did breakfast, but I actually never went because The Study was closer but I do know they do like bagels and like coffee and if you guys want to speak on that some more, I didn't really go to B-Caf.
KV: Well, spring quarter, I went there almost every day because they also— like I don't know if they had that in the previous quarters, but they have a build your own salad. And then it's like, you don't have to walk all the way up to The Study and the line usually isn't as long. So I go there pretty often to.
SW: For me, I go to B-Cafe when I'm on my way to class, actually, because most of the time I have mostly afternoon classes. And B-Caf is along the way where I head for classes, which is where I go behind the Hill. So I usually get quick lunch on behalf and I can eat it on the way, for example, I get a quick sandwich or I get a pizza so I can have it while walking to class. So that saves me a lot of time as well. And I think another thing that B-Cafe is really known for is their smoothies. So I actually started having them during fall and winter quarter. But at the time, they only had really limited options, so I remember it was only a mango or strawberry smoothie. So not all people knew about like the smoothies at the time, and friends that I went with, we all kind of kept it on the downlow, because we were like this is so good and people haven't found out about it yet. So before the lines come, we should have it more. But one really special thing that they did during spring quarter as well was that they started making build your own smoothies. So then students could pick and choose the smoothies that they wanted with different toppings, different, yeah, different scoops of ice cream. And it just added a lot of variety to the menu. And they also added this option to extended dinner. So I think that's also why B-Cafe was so crowded and so packed at the end of spring quarter as well, despite being like a competitor of The Study and offering less build your own options in terms of other menu items.
KV: Also, like it's called like B-Cafe, and for like half the year I was just like, I wonder if they had coffee, but I never went in and they do have coffee, you can get like, a latte or whatever. And you can get it. It's like on the side. Like farther from the sandwiches. But yeah, so I also get that a lot.
WM: Yeah, so those are the main takeout places that were open. And we do have two more, but these were interesting because they were different from regular school year. So first we'll, we can talk about Bruin Bowl, and Bruin Bowl was only open fall quarter. And this was really interesting because I would also describe it as like an idea of like Chipotle where you kind of have a base and then you choose like all your toppings. So, to my memory they had like a Latin American bowl, an Indian bowl, a Pan Asian bowl, I think is what they called it. And then the Mediterranean bowl, which was actually so good. So I would describe the Mediterranean bowl as like a CAVA, and it's really good. They have like greens and like some really good like saffron, rice and meats. So that was really one of my favorite places. And it's really close to De Neve. And even though it was really far I would take the walk because it was that good. It was worth it. What about you guys? What were your experience with it when the short quarters that we had with it.
KV: I like the Greek Week, like the Greek, I think Mediterranean, and the Farmers one because those are like pretty plain and like, and yeah, I missed it when it was gone.
SW: I remember that I heard a lot about it before it was open. So I definitely have my eyes peeled for that. And I remember as soon as it was open, I would always go and intentionally go during lunchtime where hopefully the lines would be shorter, but still would take like an upwards of 20 to 30 minutes. But still, it was always really worth the wait. And they still have pretty good vegetarian options as well. And I remember the Indian bowl was really memorable for me. I remember the rice was really well cooked and that the sauces that they had and the toppings that they had, just everything just went along really well with each other and considering how it's like a pick and choose your type of bowl thing, I definitely missed it because of the variety that it had, just in terms of like the cuisine style that they had, and everything else and it's also a really quick dining option as well if you, if excluding the lines. So I definitely really missed it when I was gone and I really hoped that it would be back like sometime soon.
WM: Yeah, it's definitely a shame that it was only open for lunch and dinner. But I guess I can't really be complaining because Feast, for us, was only open dinner. I think Feast popped up maybe around winter quarter. And so Feast is actually usually an Asian dining hall. But due to COVID and staffing shortages, they have like this interesting pop up thing where they would like invite like guest chefs essentially to cook inside of Feast for us. And so they would usually serve like specials. And they had like the vegetarian option, so it was really just like two different things they had. But sometimes it was really a big hit or miss. I know Kogi is a really popular food truck and kind of food location. But for some reason at UCLA, Kogi was not the best. So that would— those days where Kogi would show up, I would definitely avoid it. But usually like Hanchic and ML Eats, I've had really good experiences. I've had some really good soba like kimbap, they do a lot of Korean food. So I would frequent Feast pretty often.
KV: I think a couple things to just note like about dining halls is that you, like, I remember my first time eating in the dining hall I like brought my backpack in and I walked around like no one told me anything. And then the second time I got stopped, they're like, "Oh, you need to put it in the lockers." And so, and then forever on you always, when you go into a dining hall, you need to put your backpack in the lockers, I feel like that's just a good thing to know. And then also, if you have food allergies, or anything, you can check on the UCLA website, I just look up UCLA menu, and then it will tell you everything that they're having that day, because the menu changes too, and then it will have like everything, that if there's gluten in it, if there's shellfish, peanuts, you know, dairy, whatever your like allergies or like dietary restrictions are.
SW: Yeah, so circling back to Feast. I actually did a little research and Feast before I came into UCLA, because I was really looking forward to their dining halls. And I was pretty disappointed to find that not only was it not open for the first quarter, but that it ended up serving different types of just expanded menus, I feel for certain food trucks, for example, like Kogi, like Wendy mentioned. But I would say even though I didn't go there a lot, and I've always felt really limited by their options, because there was always only one vegetarian option, so it was always a hit or miss, their fortune cookies are always really good. So I always go back for a lot of them.
WM: And so now we're getting to our last options of food. So for the 2021 to 2022 school year, we did something different due to staffing shortages. So we actually had tickets in regular times, we did have, like tickets that you can exchange for like a meal. So these were for food trucks or for ASUCLA tickets. So first, we can talk about the ASUCLA tickets were, which were usually I'm pretty sure part of UCLA, these were available to breakfast to dinner. And so you would get you would go to a front desk, and you would ask for a ASUCLA ticket, and those vouchers are worth $8. For our school year, it went towards any restaurant on campus, and it would like take away $8. Some places let you stack them. There's one specific place that I know it's Kikka. And it serves like sushi, and they do not let you use multiple tickets. But otherwise, yeah, you get you can get like a full six inch subway for that value. So it was really convenient for me when I didn't eat breakfast on the hill, I could actually use it for lunch. Because if you are on the P plan, you are able to use multiple tickets. So that was really nice and especially very convenient when you have class on campus and you're able to eat at as UCLA restaurant, so you don't have to come all the way back to the hill.
KV: Yeah, I like to go to Anderson Cafe and Veggie Grill. And Sonia actually taught me how to use it. But um, yeah, I think once you like it saved me a lot of money in the end, because you get like a for it's like worth $9. And then you turn it in and then you if they subtract $9 from your total.
SW: Yeah, I remember those are my favorite places as well, mainly because Veggie Grill obviously has a lot of vegetarian options. And at the beginning, when they started using the tickets, they actually did a really generous offer of having like a few set menu items along with a drink, which was included. And they didn't really count the amount of value that the meal was, they didn't count the cash value of the meal. So then it ended up giving me like a really huge like lunch and it was always really filling. And then nachos were just always really good. As for Anderson Cafe, I usually go there when I have time between maybe like my second or third classes, but whenever I want to get like a lighter plate, but I think the coffee they serve is always really good. So even though it's a lot further than the other places that I take the tickets, it's always worth the walk.
KV: Yeah, Anderson Cafe is like— they serve Starbucks. So I am always there.
SW: So apart from ASUCLA I know that the food trucks on the Hill also do like ticket option. And even though I haven't had a lot of experiences with the food trucks, mainly because the lines are always really long and I usually just am not patient enough to enter those lines. So I just go to a random dining hall instead. I think that it's a really good idea to have like multiple food trucks and just allow students especially with the P plan to get multiple tickets and so they could get multiple meals with and try out different things during like the same meal time because they always serve like smaller portions or smaller meals. So what are you guys's experience with the food trucks?
WM: Yeah, I was definitely a food truck frequenter because I definitely liked the variety because sometimes you have the same things in the dining halls. And so the food trucks were really convenient when you just want something to go but you didn't want to have something that you've constantly had like the other takeout places at UCLA. These yeah, and especially because like the food trucks vary per day, it's necessarily not the same one came every day. Some were more common than others. So we have like a Thai food truck that everyone loves, I think was called 8EA Thai food truck. And so that one was some of the really popular ones were there really frequently and I know the Thai food truck lines could be up to an hour. And especially because they were located in like Rebier, or Sproul court, they were a lot closer to my dorm, which is also a reason I frequented. I would say one of my favorites that I can think of off the top of my head is Austin's Burgers. And the funny thing is, I waited like two hours in line for a burger, even though in the end, like, we do have like an In-n-Out out in Westwood. You could literally just walk there and back. And Austin burgers honestly weren't that great. But what was really good was I had the strawberry lemonade that I was I literally waited two hours for that lemonade. They had like a passion free version and maybe like a third one that I can't really remember. So like that was really good. And they have like some cool Mediterranean I think so like Kalamaki they have like Euros and they had some really good like lamb beef pita euros, and another one is like Habibi, which I really enjoyed. So those are some of my favorites. But there definitely were bad ones like Kogi, you would never see a line in front of it. And so there are definitely some misses for the food trucks as well.
SW: So for me personally, I'm actually a big fan of the really popular food trucks, which is probably why I mentioned that near the end of the school year, I got really lazy about waiting in the line. And so I never really went that often the last quarter. But I definitely had really good experiences with the Thai food truck, Austin Burgers, as Wendy mentioned, as well as another one, which is called Dena Dumpling, Dina's dumplings, which serves different types of dumplings, and they had vegetarian dumplings as well, which is a pleasant surprise. And even though the lines were always really long, I would get it if I'm going with friends. And just whenever I really, really craved it. But apart from that, I think, usually I only ever get the vegetarian food truck, which I'm not really sure of the name. But I usually only get that when I'm in need of a really quick meal. And other times I usually just look at the lines and then decide whether I have the time or not regardless of how good they are. Also, because of how popular they are.
WM: I would say the only disappointing thing about food trucks though is definitely the portion sizes are a little bit small. And for some places, you can get kind of like a side thing, but that's still worth one swipe. So for example, Tokyo Style has some really good Takoyaki but you get like six Takoyaki's for like a single swipe when you can get like a rice and curry instead. Which is definitely though, what I feel like P would be the most useful for I feel like I would definitely want something like a side like that to go with my meal, because some of the sides are really good.
KV: Um, I've never really been to the food trucks because there's not really a lot of, there's no option for me, but they do smell really good. And I think it's really cool that UCLA does that because if you're getting sick of the dining hall food it's definitely like a good option.
SW: I would definitely say with my the year of experience that I had with the UCLA dining, I would definitely say it's pretty pleasant. And I'm really satisfied with the food that they serve. And the variety of foods that they have, which was something I was really pleasantly surprised by. So I'd say I feel pretty blessed that we have these many options. And even though at certain times, we did say certain dining halls or certain places were a miss, they still improvised a lot. And I know the staff have been working really hard considering how much staff shortage there was and a lot of COVID restrictions. So I'm really grateful that we got all these experiences and we still have this, like this huge variety of food even during COVID.
WM: Yeah, on that note, I just want to add, like please treat the staff well, because we work really hard. And there are definitely a lot of students, especially with a staffing shortages. So just like on that note, like please, when you're in dining halls and stuff, please clean up, be nice to the staff, because we are just trying our best here with what were given. And for me actually though, I know Sonia said that she actually likes the food for me, I actually didn't really have the most pleasant experience because I do eat a lot of Asian food at home. And this is also the reason why I'm actually choosing to live in an apartment next year so I can cook for myself. I think UCLA dining definitely does have a lot of variety. And I think for people that maybe aren't as picky, aren't looking for certain foods. It's definitely like a really great place. But like Kyla, who has like a dietary restriction and I know people that have allergies and the cross contamination is pretty bad at UCLA given there's so many people to serve. It's definitely something that's overlooked a lot. So yeah, UCLA dining can definitely be super great for some but maybe depending on like your dietary habits can be not the greatest for others.
KV: I yeah, I do really appreciate like when I was looking into what schools to go to and finding like UCLA or like which school I was going to choose and finding out that UCLA had like a gluten free pantry. I was really appreciative of that. So I do feel like we're very lucky to have like multiple dining halls and a different option every day.
KV: Bruin 101 is brought to you by The Daily Bruin, UCLA's student newspaper. You can listen to the show and others by The Daily Bruin on Spotify, Apple podcasts, and SoundCloud and the transcript for this show is available at dailybruin.com. Thanks, everyone. See you next week.