UCLA women's basketball dribbles past sports to participate in community outreach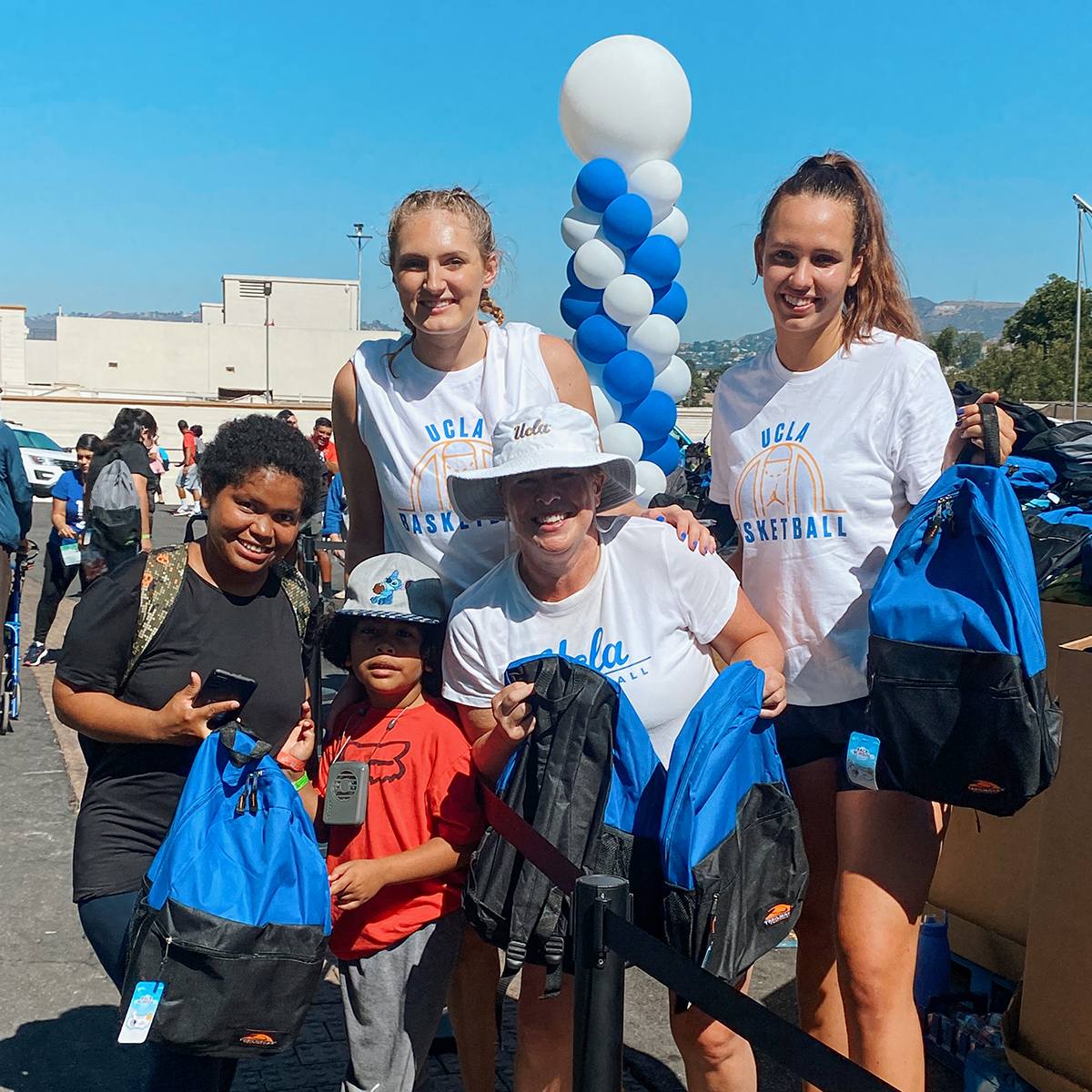 Coach Cori Close and redshirt sophomore forwards Emily Bessoir and Izzy Anstey hold up backpacks beside children at the Mo Ostin Basketball Center. The Bruins partnered with the Los Angeles Dream Center to host a backpack giveaway. (Courtesy of UCLA Athletics)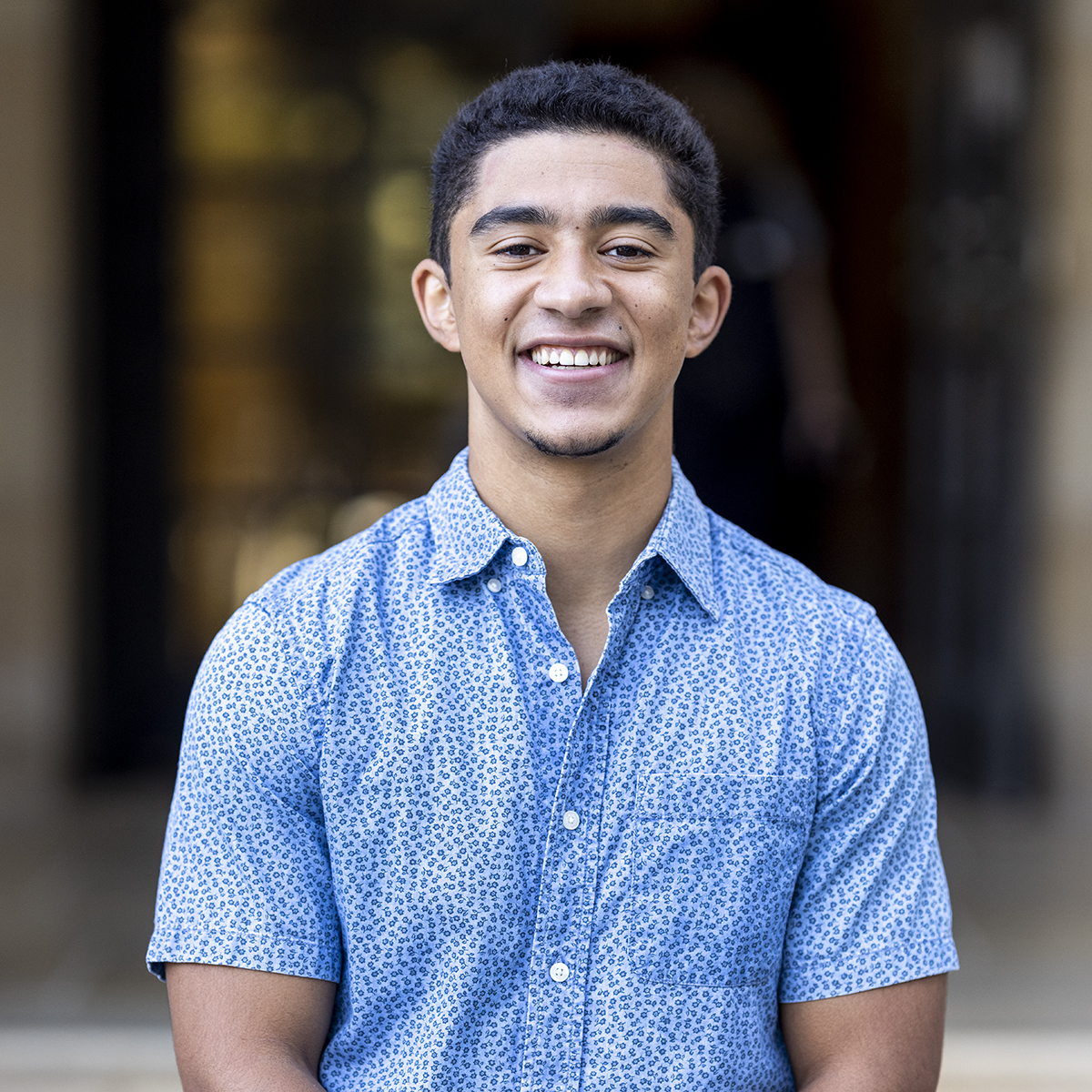 Sept. 16, 2022 11:11 a.m.
The blue and gold program prides itself on being bigger than basketball.
This summer, UCLA women's basketball has partnered with various organizations to give back to its community through backpack drives and even signed an honorary member to the team.
Redshirt sophomore forward Emily Bessoir said she noticed the difference between other programs' commitment to community service and that of UCLA before deciding to head to Westwood herself.
"I've heard from a lot of recruiting coaches that they do community service while I was being recruited, and I've always asked, 'What is the community service?' Some could give me answers, but it was always very vague," Bessoir said. "I remember here I asked, and it was very specific, so I do think it's really unique what we do here."
Coach Cori Close said she believes it's the primary reason her program landed the nation's No. 1 recruiting class and especially Gatorade Female High School Athlete of the Year and freshman guard Kiki Rice.
"I would say candidly that that's one of the reasons actually that we got Kiki Rice," Close said. "There's a lot of programs that could offer her good basketball, there's a lot of programs that could offer her good academics, … but I think we were the most well-rounded. It was about helping her become the person she wants to become, and that includes having a service legacy that lives on beyond her."
After the COVID-19 pandemic prevented the Bruins from having their typical focus on initiatives during the offseason summers of 2020 and 2021, they've resumed their usual community service ways this summer.
In July, UCLA's More Than a D.R.E.A.M. initiative – which was started by African American players such as senior guard Camryn Brown and alumnus and current WNBA player Michaela Onyenwere following the murder of George Floyd – partnered with the city of Compton to host a back-to-school drive to benefit elementary school students of Compton Unified School District.
Brown – who acts as the overseer of outreach for MTAD – decided in late April and early May to do the drive. She said the shift of focus from basketball to community service is natural for her.
"Just the thought of, 'I can impact somebody else's day' – that's an immediate switch for me," Brown said. "As soon as we're done with practice, I want to be myself again, I want to stop being the player. … So for me to turn it off and just be able to get to impact somebody else's life, it's a super easy transition for me."
The Bruins began by collecting backpacks and other school supplies in July at UCLA's Mo Ostin Basketball Center. On Aug. 13, 10 players and multiple members of the coaching staff gave away backpacks and provided entertainment to the students during the MTAD drive itself.
But the team didn't stop there.
On Aug. 6, the blue and gold partnered with the Los Angeles Dream Center for a backpack giveaway hosted by LA Dodgers pitcher Clayton Kershaw.
On Aug. 19 UCLA completed a monthlong partnership with Team IMPACT – a nonprofit organization that partners college teams with children with serious illnesses and disabilities – by completing an honorary signing of its Team IMPACT child – Brandi Monroy – to the team.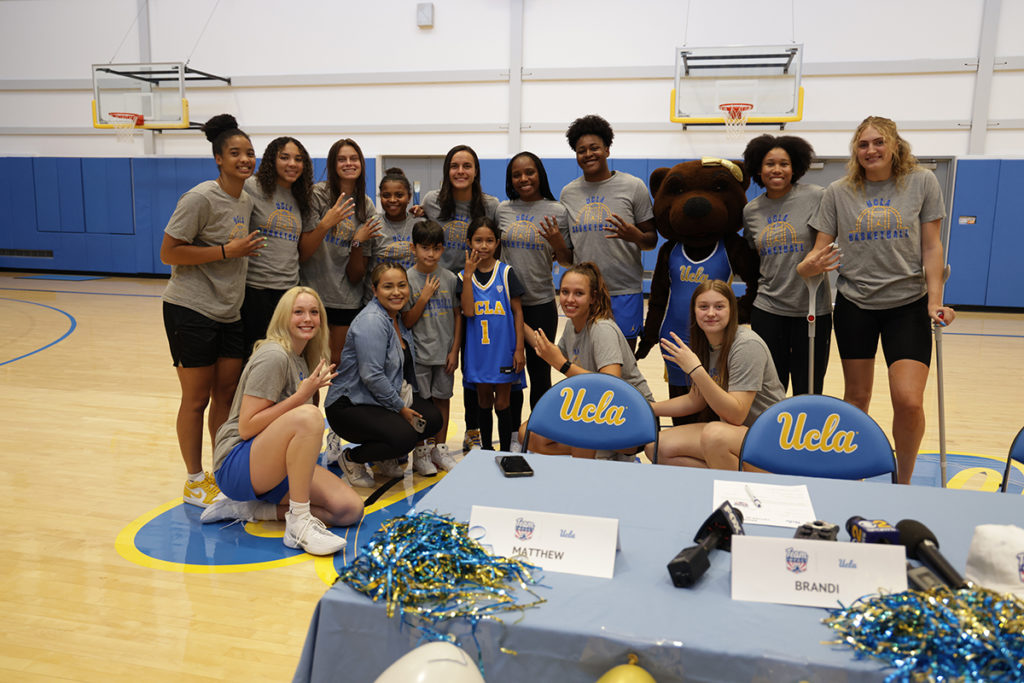 Monroy – a Cerritos, California, native – has already endured both kidney and liver transplants, was on dialysis and had a gastrostomy tube placed on her stomach when she was three years old to help assist with feeding and hydration. She is now 10 years old and awaiting surgery to have the tube removed.
Brown said Monroy's story is eye-opening and inspirational.
"Her story in total was very inspiring. We think we go through a lot, and this little girl got so much going on," Brown said. "It was really fun to just talk to her mom. … Her mom was just saying how big of a deal this was. Having Brandi as our new teammate – as a family member – is just really, really cool."
Alongside individual contributions, UCLA women's basketball has also begun to work with UCLA men's basketball to advertise the upcoming Dribble for Victory Over Cancer fundraising event that will take place Oct. 9. For the annual event, both teams partner with UCLA Mattel Children's Hospital, the Pediatric Cancer Research Foundation and the V Foundation for Cancer Research to raise money through a public race along Bruin Walk on campus.
Close credits her late father for emphasizing the importance of giving back as well as her youth coaches and college coach, Mark French, for instilling the bigger-than-basketball approach to coaching. She also said UCLA coaching legend John Wooden mentored her for 15 years and shaped her into the coach she is today.
"He (Wooden) would always tell me, 'Remember, you're not coaching people's jump shots, you're coaching people's hearts. But if you coach their hearts well, their jump shots are usually pretty good too,''' Close said with a smile. "He was the one who made me believe that you could be an elite competitive championship level program and coach people's hearts first."
Carlson is currently a staff writer on the football, men's basketball and women's basketball beats. He was previously a reporter on the softball and men's golf beats.
Carlson is currently a staff writer on the football, men's basketball and women's basketball beats. He was previously a reporter on the softball and men's golf beats.