UCLA to extend mental health services to community college students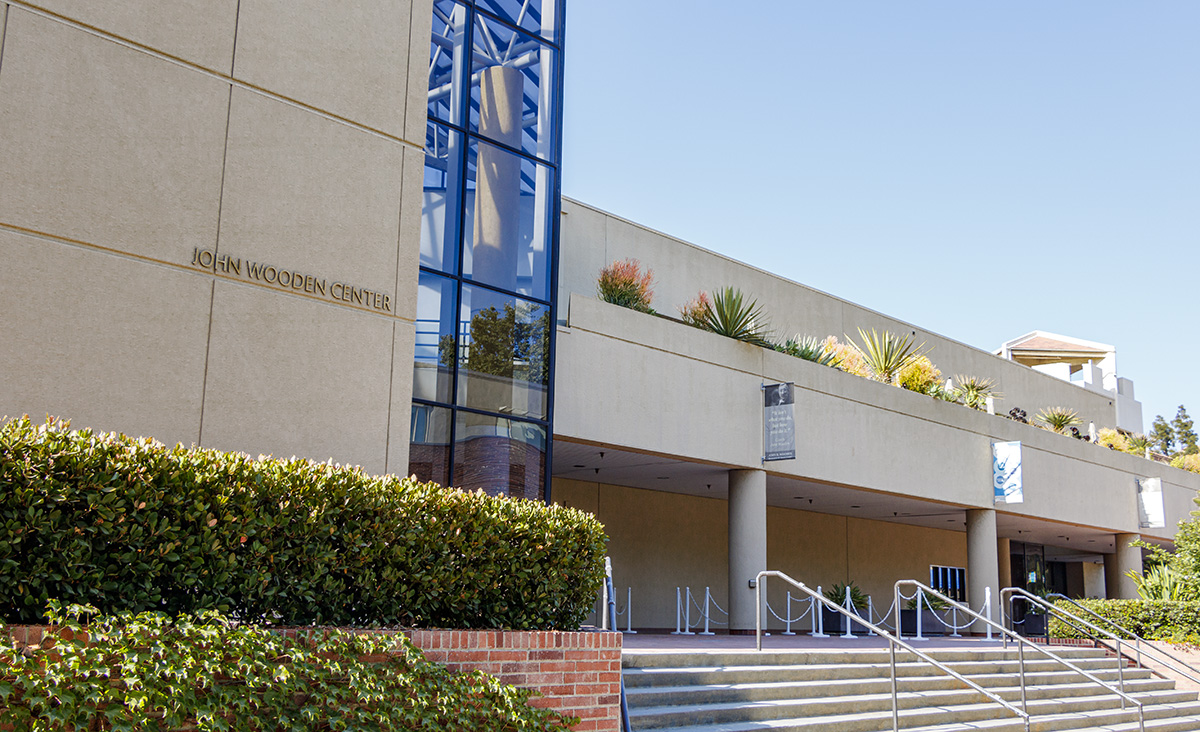 The UCLA Counseling and Psychological Services office can be found in the John Wooden Center (pictured). UCLA is increasing efforts to address students' mental health in nearby community colleges. (Daily Bruin file photo)
UCLA is expanding access to mental health services for community college students using a new, scalable and cost-effective care system.
The National Institute of Mental Health is funding UCLA's ALACRITY Center through a $12 million five-year grant, said Kate Wolitzky-Taylor, co-director of the program and associate faculty of the Anxiety and Depression Research Center. Michelle Craske, a professor of psychology, psychiatry and behavioral sciences, is the other co-director.
Using a UCLA-developed model of care, ALACRITY team members will partner with the Los Angeles County Department of Mental Health and East LA College to provide care for students through screening, treating and monitoring symptoms of anxiety and depression, according to the center's website.
Jocelyn Meza, an assistant professor of psychiatry and biobehavioral sciences, said the center's model of care offers multitiered treatment programs in which students are assigned to an appropriate tier option based on an initial mental health assessment.
The project expands on UCLA's Depression Grand Challenge, an initiative from Chancellor Gene Block aiming to cut the impact of depression in half by 2050, said Wolitzky-Taylor.
David Miklowitz, a professor of psychiatry, said ALACRITY's multitiered treatment methods supplement traditional options such as psychotherapy and medication, which can be expensive and undesirable to individuals seeking care.
Factors that can influence one's health, such as low-income and first-generation student status, make community college students especially vulnerable to mental health challenges, Meza said.
Daniel Eisenberg, professor of health policy and management, said community college students tend to have higher socioeconomic stressors, struggle more with food and housing security, and their schools tend to provide fewer mental health services compared to four-year universities. Community colleges that manage to operate counseling centers are usually short-staffed, he added.
The first tier of the center's approach offers a self-directed digital program in which students learn skills to help prevent depression and anxiety symptoms, such as shifting negative thinking, facing fears and improving mood, Wolitzky-Taylor said. Tier two offers personalized modules of weekly digital therapy with support from ELAC student coaches, she added.
In an emailed statement, Richard LeBeau, associate director of the Anxiety and Depression Research Center, said ALACRITY trains peer coaches to keep students engaged with lesson content and helps students implement coping strategies in their everyday lives by emphasizing asking open-ended questions, active listening and interacting authentically.
Tier three offers traditional clinical care with a LACDMH provider, Wolitzky-Taylor said. Team members monitor student progress and adjust treatment strategies if a student is not showing improvement, she added.
The ALACRITY team will conduct multiple projects to optimize the UCLA model of care for community college students, Wolitzky-Taylor said.
The main project evaluates the effectiveness of an ALACRITY-developed algorithm in determining level of care, Wolitzky-Taylor said. Unlike typical models of mental health symptom severity assessment, the algorithm considers many factors, including student demographics, experiences of discrimination, food and housing insecurity, social support and early life adversity, she added.
One project aims to increase student engagement, and another will improve ELAC peer coaching by evaluating whether matching students to coaches on race and ethnicity improves outcomes, Wolitzky-Taylor said.
The last project builds on the UCLA model's suicide prevention and risk management strategies through a safety planning and risk management app, Wolitzky-Taylor said, adding that team members will examine factors that predict suicide risk using the data from the main project.
The free app allows students to upload pictures and videos that bring them joy, Meza said, adding that this content could address a lack of campus resources, promote culturally responsive care and provide immediate intervention.
"If you think about somebody that may be really distressed, and it's at night, how are they going to go to a provider or to a clinic? We need to act fast and in time," Meza said. "This app is really going to allow us to intervene at the right moment."
ALACRITY will also conduct student surveys to better understand the prevalence of anxiety and depression on community college campuses and quantify the use of mental health services among the student population, Eisenberg said.
"The survey is trying to lay the groundwork for future expansion of the program to other community colleges, to get a sense of the needs at a variety of community colleges in the LA area and help those colleges make a case for more resources and new services like the STAND (the care model) program," Eisenberg said.
Eisenberg said his team hopes to conduct the survey with LA community colleges in the coming year. The ALACRITY team also hopes to work with policymakers to roll out the UCLA model of care on a larger scale in the California Community College system by the end of the five-year grant, Wolitzky-Taylor said.
"This is a really exciting opportunity that we are getting from NIMH, to bring together leaders in the field to improve the effectiveness and implementation of a scalable model of treatment for anxiety and depression, which we know is so prevalent, particularly among college students, and even more so among community college students where their needs have typically not been met," Wolitzky-Taylor said.